2023 US Open Wrestling Championships
Every Ranked High School Wrestler Headed To The U17 & U20 US Open
Every Ranked High School Wrestler Headed To The U17 & U20 US Open
Registrations for the US Open are coming in, and the U17 and U20 fields are already looking tough. Here's every ranked high schooler heading to Vegas.
Apr 23, 2023
by David Bray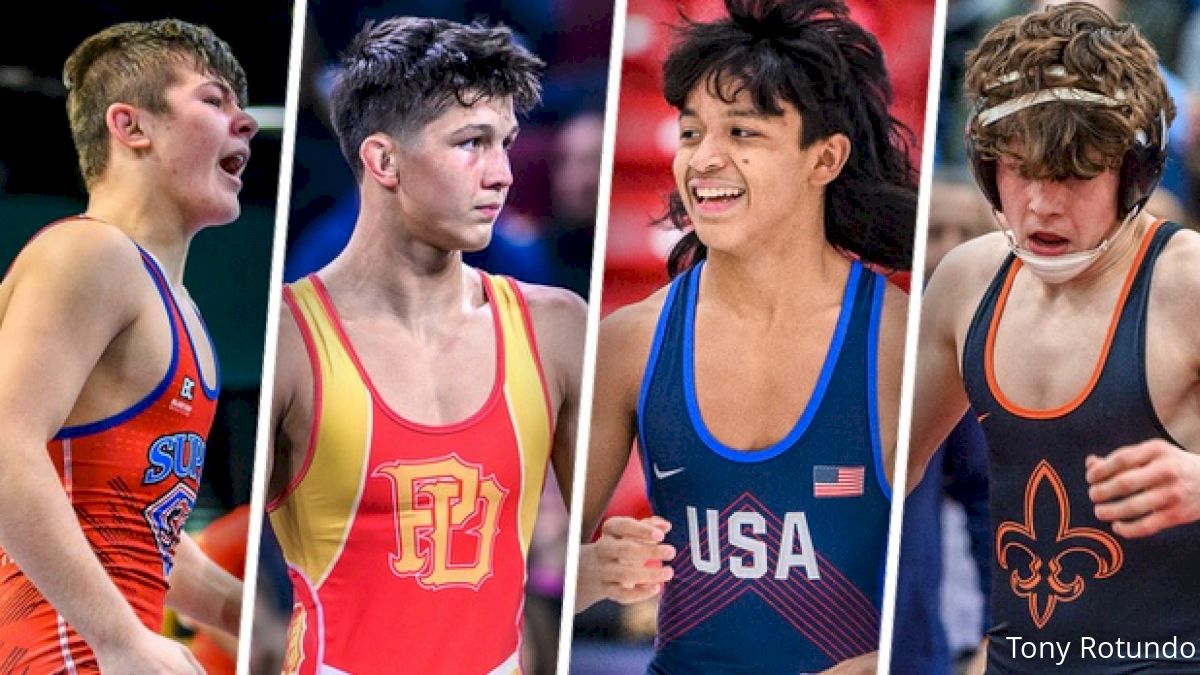 On the Senior level, the US Open will set the stage for Final X, but there's plenty to watch at the U17 and U20 divisions as well. The U17 division will conclude with a best-of-three series that will decide the World Team, shake up the high school rankings, and establish some wrestlers' cases to be in Who's Number One. High Schoolers in the U20 division will compete against other elite peers but will also test themselves against guys who have been seasoned in college rooms for a year or two.
Even though the Open is still several weeks away, the field is already extremely deep. Check out the ranked wrestlers who are already registered, and check back in between now and the Open as we'll keep this list updated regularly. If you're looking for complete U17 or U20 registration lists, Jon Kozak has you covered at the following links.
Complete U17 US Open Registration List
Complete U20 US Open Registration List
U17 Ranked Wrestlers
45 kg - #6 (106) Haakon Peterson, Dodgeville High School Wrestling, Wisconsin
45 kg - HM Caleb Noble, Toss Em Up Wrestling Academy, Illinois
45 kg - HM Cason Craft, Threestyle Wrestling Of Oklahoma, Oklahoma
45 kg - HM Kole Davidheiser, Team Renegade Wrestling Club, Pennsylvania
45 kg - HM Mac Crosson, Sebolt Wrestling Academy, Iowa
45 kg - HM Ignacio Villasenor, Pomona Elite (PWCC), Colorado
48 kg - #1 (106) Dominic Munaretto, , Illinois
48 kg - #8 (106) Dominic Deputy, Pennsylvania
48 kg - #16 (106) Lincoln Sledzianowski, Pennsylvania
48 kg - HM Slater Hicks, Sunkist Kids/Monster Garage, California
48 kg - HM Grey Burnett, Perrysburg Wrestling Club, Ohio
48 kg - HM Revin Dickman, Brownsburg Wrestling Club, Indiana
48 kg - HM Griffin Rial, Colorado
48 kg - HM Alex Rozas, Predator Wrestling, Louisiana
48 kg - HM Cole Welte, MWC Wrestling Academy, Nebraska
48 kg - HM Che Jenkins, Cyclones Wrestling & Fitness, Arizona
48 kg - HM Paul Kenny, New Jersey
48 kg - HM Evin Gursoy, , New York
48 kg - HM Dunia Sibomana, LONG BEACH-USA WRESTLING CLUB, New York
51 kg - #1 (106) Christian Castillo, Thorobred Wrestling Club, Arizona
51 kg - #2 (106) Keanu Dillard, Steller Trained Wrestling, Pennsylvania
51 kg - #5 (113) Seth Mendoza, Region Wrestling Academy, Illinois
51 kg - #9 (120) Isaiah Cortez, Gilroy High School Wrestling, California
51 kg - #9 (113) Jayden Raney, Union County High School Wrestling, Kentucky
51 kg - #13 (113) Jake Knight, Sebolt Wrestling Academy, Iowa
51 kg - #17 (106) Hudson Loges, MWC Wrestling Academy, Nebraska
51 kg - #19 (113) Ayden Smith, Lost Boys Wrestling Club, Pennsylvania
51 kg - #20 (113) Edwin Sierra, Poway Wrestling, California
51 kg - HM Nikos Filipos, X-Calibur Athletics Wrestling Club, Pennsylvania
51 kg - HM Rylan Seacrist, Seasons Freestyle Club, Ohio
51 kg - HM Tyson Roach, Bronco Wrestling Club, Louisiana
51 kg - HM Cadell Lee, Integrity Wrestling Club, Virginia
51 kg - HM Jace Hedeman, Immortal Athletics WC, Iowa
51 kg - HM Kody Tanimoto, Spartan Mat Club, Texas
51 kg - HM Lawson Eller, New Prague Wrestling, Minnesota
51 kg - HM Mikey Ruiz, Omada Kitrinos Wrestling Club, Texas
51 kg - HM Titan Friederichs, No Nonsense Wrestling, Minnesota
51 kg - HM Aydan Thomas, Cowboy Wrestling Club, Oklahoma
51 kg - HM Landon Sidun, Knights Wrestling Club, Pennsylvania
51 kg - HM Evan Sanati, Integrity Wrestling Club, Virginia
55 kg - #1 (120) Bo Bassett, Bishop McCort High School Wrestling, Pennsylvania
55 kg - #2 (120) Marcus Blaze, Perrysburg Wrestling Club, Ohio
55 kg - #2 (126) Anthony Knox, Rhino Wrestling LLC, New Jersey
55 kg - #5 (120) Jordyn Raney, Union County High School Wrestling, Kentucky
55 kg - #7 (113) Moses Mendoza, Gilroy High School Wrestling, California
55 kg - #8 (113) Lukas Littleton Mascaro, Malvern Wrestling Club, Pennsylvania
55 kg - #9 (120) Gauge Botero, Lion's Den Wrestling Club, Pennsylvania
55 kg - #10 (106) Liam Neitzel, Pinnacle Wrestling Club, Wisconsin
55 kg - #14 (120) Caio Aron, Boneyard Wrestling Academy, Texas
55 kg - HM Devon Harrison, Victory Wrestling, Missouri
55 kg - HM Jackson Blum, Michigan
55 kg - HM Declan Koch, Team Nazar Training Center, Wisconsin
55 kg - HM Isaiah Schaefer, Maurer Coughlin Wrestling Club, Indiana
55 kg - HM Christian Fretwell, Lake Gibson High School Wrestling, Florida
55 kg - HM Jason Worthley, Sanderson Wrestling Academy, Utah
55 kg - HM Maximus Riggins, Moen Wrestling Academy, Iowa
55 kg - HM Elijah Cortez, Gilroy High School Wrestling, California
55 kg - HM Nathan Carrillo, Sunkist Kids/Monster Garage, California
55 kg - HM Gus Cardinal, Arizona
55 kg - HM Keyan Hernandez, Montana
55 kg - HM Adam Bilby, South Central Punisher Wrestling, Kansas
55 kg - HM Geronimo Rivera, Sanderson Wrestling Academy, Utah
55 kg - HM Ronnie Ramirez, Pounders WC, California
55 kg - HM Seach Hibler, New Jersey
55 kg - HM Mason Carlson, Sanderson Wrestling Academy, Utah
55 kg - HM Michael Romero, Sunkist Kids/Monster Garage, California
55 kg - HM Kolter Burton, J.E.T., Idaho
60 kg - #1 (126) Benjamin Davino, St. Charles WC, Illinois
60 kg - #3 (132) Jax Forrest, Pennsylvania
60 kg - #6 (132) Landon Robideau, MN Elite Wrestling Club, Minnesota
60 kg - #10 (120) Kellen Wolbert, Askren Wrestling Academy, Wisconsin
60 kg - #15 (132) Sam Herring, Bishop McCort High School Wrestling, Pennsylvania
60 kg - #16 (132) Cooper Hilton, Boom Ranch Wrestling Club, Tennessee
60 kg - HM Anthony Lucchiani, Integrity Wrestling Club, Virginia
60 kg - HM Elias Navida, Poway High School Wrestling, California
60 kg - HM Gunner Andrick, Mothman Wrestling Club, West Virginia
60 kg - HM Giosue Hickman, Aces Wrestling Academy, Arizona
60 kg - HM Noah Torres, Black Cat Wrestling Club, Arizona
60 kg - HM Owen Pritchard, Askeo International Mat Club, Washington
60 kg - HM Matthew Botello, Massachusetts
60 kg - HM Manuel Saldate, Gold Rush Wrestling, Nevada
60 kg - HM Timothy Koester, Big Game Wrestling Club, Iowa
60 kg - HM Leo Macias, California
60 kg - HM Max Wirnsberger, Buffalo Valley Regional Training Center, Pennsylvania
60 kg - HM Eren Sement, Pennsylvania
60 kg - HM Wyatt Medlin, Super Soldiers Wrestling Club, Illinois
65 kg - #3 (138) Kollin Rath, Pennsylvania
65 kg - #4 (145) Collin Gaj, Quakertown High School Wrestling, Pennsylvania
65 kg - #4 (138) Brock Mantanona, Coachella Valley Wrestling Club, California
65 kg - #17 (145) Vince Bouzakis, Pennsylvania
65 kg - #19 (138) Maddox Shaw, Pennsylvania
65 kg - HM Emil Necula, Level Up Wrestling Center, Georgia
65 kg - HM Billy Greenwood, GRIT Athletics Wrestling Club, Colorado
65 kg - HM Gabriel Bouyssou, Mayo Quanchi Wrestling Club, Rhode Island
65 kg - HM Benjamin Weader, Integrity Wrestling Club, Virginia
65 kg - HM Donny Almeyda, Edge Wrestling, New Jersey
65 kg - HM Brock Weiss, M2 Training Center, Pennsylvania
65 kg - HM Blue Stiffler, Roundtree Wrestling Academy, Georgia
65 kg - HM Tyson Charmoli, Pinnacle Wrestling Club, Minnesota
65 kg - HM Kane Naaktgeboren, Big Game Wrestling Club, Iowa
65 kg - HM Tre Haines, Ascend Wrestling Academy, Washington
65 kg - HM Bas Diaz, Big Game Wrestling Club, Iowa
65 kg - HM Adyn Bostick, Arizona
65 kg - HM Melvin Miller, Bishop McCort High School Wrestling, Pennsylvania
65 kg - HM David Gleason, Team Central Wrestling Club, Missouri
65 kg - HM Garrett Reece, Black Fox Wrestling Academy, Colorado
65 kg - HM Gabriel Delgado, Gold Rush Wrestling, Nevada
65 kg - HM Nolan Fellers, Sebolt Wrestling Academy, Iowa
71 kg - #2 (152) Ladarion Lockett, Cowboy Wrestling Club, Oklahoma
71 kg - #9 (152) Claudio Torres, Spartan RTC FL, Florida
71 kg - HM Jake Stoffel, Askren Wrestling Academy, Wisconsin
71 kg - HM Cade Parent, Level Up Wrestling Center, Georgia
71 kg - HM Nicholas Campagna, New Jersey
71 kg - HM Cameron Clark, Warrior Regional Training Center, Indiana
71 kg - HM Waylon Cressell, North Dakota
71 kg - HM Aliaksandr Kikiniou, Poway High School Wrestling, California
71 kg - HM Evan Rizzo, Seasons Freestyle Club, Ohio
71 kg - HM Christopher Mance, Climmons Trained/AWC, Georgia
71 kg - HM Christopher Creason, Wrestling Prep - Virginia, Virginia
71 kg - HM Brandon Ploehn, Stallions Wrestling Club, Utah
71 kg - HM Bronson Baxter, Spartan Mat Club, Texas
71 kg - HM Tristan Steldt, Fennimore Wrestling Association, Wisconsin
71 kg - HM Jamar Dixon, DELSEA JR. WRESTLING ASSOC., New Jersey
71 kg - HM Christopher Crawford, KD Training Center, New York
71 kg - HM Kody Routledge, Dark Horse Wrestling Club, Oklahoma
80 kg - #2 (182) Zack Ryder, M2 Training Center, New York
80 kg - #18 (170) Adam Waters, Lion's Den Wrestling Club, Pennsylvania
80 kg - #19 (182) De'Alcapon Veazy, Legends of Gold Wrestling, Indiana
80 kg - HM Elijah Diakomihalis, New York
80 kg - HM Samuel Watkins, Hoxie Kids Wrestling Club, Kansas
80 kg - HM Aydan Carlson, Pinnacle Wrestling Club, Minnesota
80 kg - HM Hudson Rogers, Team Idaho Wrestling Club, Idaho
80 kg - HM Bryce Burkett, Pinnacle Wrestling Club, Minnesota
80 kg - HM Cade Ziola, M2 Training Center, Nebraska
80 kg - HM Braedon Welsh, Knights Wrestling Club, Pennsylvania
80 kg - HM Brent Slade, Moen Wrestling Academy, Iowa
80 kg - HM Dylan Pile, Bay Area Dragons Wrestling Center, California
80 kg - HM Peyton Westpfahl, Victory Wrestling, Missouri
80 kg - HM Anthony Rinehart, Howe Wrestling School, LLC, Indiana
80 kg - HM Isaac Sheeren, Spring Klein Wrestling Club, Texas
80 kg - HM Marcell Booth, Pinnacle Wrestling Club, Minnesota
80 kg - HM David Alonso, California
80 kg - HM Mason Ontiveros, Pitman High School Wrestling, California
80 kg - HM Conor Mccloskey, Teknique Wrestling, Georgia
80 kg - HM Aiden Peterson, Eagle Club, Ohio
80 kg - HM Jordan Chapman, New Jersey
80 kg - HM Tyrel Miller, Eagle Club, Ohio
80 kg - HM Peter Snyder, McDonald Wrestling Academy, Maryland
92 kg - #3 (195) Aeoden Sinclair, Askren Wrestling Academy, Wisconsin
92 kg - #12 (195) Dreshaun Ross, Sebolt Wrestling Academy, Iowa
92 kg - #16 (195) Vincenzo Lavalle, Edge Wrestling, New Jersey
92 kg - HM Brennan Carey, Nixa High School Wrestling, Missouri
92 kg - HM Kayden Cartee, Sunkist Kids/Monster Garage, California
92 kg - HM Melvin Whitehead, Gold Rush Wrestling, Nevada
92 kg - HM Carson Gooley, Team Idaho Wrestling Club, Idaho
92 kg - HM Jason Singer, Pennsylvania
92 kg - HM Rocco Dellagatta, New York Athletic Club, New Jersey
92 kg - HM aiden cooley, Allen High School Wrestling, Texas
92 kg - HM Karson Tompkins, Warrior Trained Wrestling, Texas
92 kg - HM Mason Ellis, Alabama Takedown Academy, Alabama
110 kg - #13 (285) Sampson Stillwell, Kobra Kai Training, Missouri
110 kg - #16 (220) Nicholas Sahakian, Sunkist Kids/Monster Garage, California
110 kg - HM Adam Farha, Poway High School Wrestling, California
110 kg - HM Jacob Levy, Georgia
U20 Ranked Wrestlers
57 kg - #7 (126) Alan Koehler, Pinnacle Wrestling Club, Minnesota
57 kg - #8 (126) Vinny Kilkeary, Young Guns Wrestling Club, Pennsylvania
57 kg - 12 Adrian Meza, Arizona
57 kg - #HM (126) Logan Frazier, Region Wrestling Academy, Indiana
57 kg - #HM (126) Cael Nasdeo, Billtown Elite Wrestling Club, Pennsylvania
57 kg - HM Koufax Christensen, Iowa
57 kg - HM Cameron Clark, Illinois
57 kg - HM Tahir Parkins, Pennsylvania
57 kg - HM Dante Rigal, New York
57 kg - HM Blake Gioimo, Big Game Wrestling Club, Iowa
57 kg - HM Kale Petersen, Sebolt Wrestling Academy, Iowa
57 kg - HM Dominic DiTomasso, Georgia
57 kg - HM Koda Holeman, The Club, California
57 kg - HM Sergio Vega, Cyclones Wrestling & Fitness, Arizona
57 kg - HM Reid Nelson, Arkansas Regional Training Center, Minnesota
57 kg - HM Gabe Gonzales, Arizona
57 kg - HM Christian Davis, Arizona
57 kg - HM Anthony Ruzic, , Illinois
61 kg - #1 (132) Cael Hughes, Cowboy Wrestling Club, Oklahoma
61 kg - #1 (138) Nasir Bailey, Harvey Twisters WC, Illinois
61 kg - #4 (132) Zan Fugitt, Nixa High School Wrestling, Missouri
61 kg - #5 (132) Kyler Larkin, Thorobred Wrestling Club, Arizona
61 kg - #9 (132) Dalton Perry, Pennsylvania
61 kg - #14 (132) Daniel Zepeda, Gilroy High School Wrestling, California
61 kg - #20 (132) Drew Gorman, Teknique Wrestling, Georgia
61 kg - HM Mitchell Neiner, NWWC, Washington
61 kg - HM Wyatt Richter, Ohio
61 kg - HM JJ McComas, Cowboy RTC, Oklahoma
61 kg - HM Joey Buttler, Whiteland Wrestling Club, Indiana
61 kg - HM Mason Kernan, Pennsylvania
61 kg - HM Kyrel Leavell, Warren Wrestling Academy, Indiana
61 kg - HM Adam Stanley, California
61 kg - HM Allan Hendricks, Valdez Wrestling, California
61 kg - HM Carter Schmidt, Big Game Wrestling Club MT, Montana
61 kg - HM Garrett McChesney, McChesney Grappling Academy, Texas
61 kg - HM Yoshiya Funakoshi, West Coast Regional Training Center, California
61 kg - HM Derek Guanajuato, Arizona
61 kg - HM Haden Hernandez, Marina High School Wrestling, California
65 kg - #2 (145) Koy Buesgens, Pinnacle Wrestling Club, Minnesota
65 kg - #3 (145) Tyler Kasak, Pennsylvania
65 kg - #4 (138) Greyson Clark, Askren Wrestling Academy, Wisconsin
65 kg - #8 (145) Pierson Manville, M2 Training Center, Pennsylvania
65 kg - #12 (132) Jaxon Joy, Wadsworth Grizzly Wrestling Club, Ohio
65 kg - #14 (138) Paul Kelly, Poway High School Wrestling, California
65 kg - #15 (138) Cole Brooks, OKRTC, Oklahoma
65 kg - 18 Gabriel Bouyssou, Mayo Quanchi Wrestling Club, Rhode Island
65 kg - #19 (145) August Hibler, NJ Scorpions Wrestling School, LLC, New Jersey
65 kg - #20 (145) Kael Voinovich, Cowboy RTC, Oklahoma
65 kg - HM Dyson Dunham, Lexington Wrestling Club, Virginia
65 kg - HM Smokey McClure, X-Calibur Athletics Wrestling Club, Washington
65 kg - HM Avery Allen, Big Game Wrestling Club MT, Montana
65 kg - HM Dorian Olivarez, Texas
65 kg - HM KJ Evans, Oklahoma Regional Training Center, Oklahoma
65 kg - HM Blake Cushing, Nebraska Wrestling Training Center, Nebraska
65 kg - HM McKinley Robbins, Sebolt Wrestling Academy, Iowa
65 kg - HM Gavin Linsman, Missouri
65 kg - HM Beau Hickman, Oklahoma
65 kg - HM Eric Almarinez, Southern Illinois Regional Training Center, Illinois
65 kg - HM Ayson Rice, Legends of Gold, South Dakota
65 kg - HM Moses Mirabal, Gilroy High School Wrestling, California
70 kg - #1 (152) Beau Mantanona, Coachella Valley Wrestling Club, California
70 kg - #2 (152) Nicco Ruiz, Sunkist Kids/Monster Garage, California
70 kg - #4 (160) William Henckel, Blairstown Wrestling Club, Connecticut
70 kg - #10 (152) Brock Herman, Seasons Freestyle Club, Ohio
70 kg - #15 (152) Grigor Cholakyan, Sunkist Kids/Monster Garage, California
70 kg - #18 (145) Logan Fowler, Higher Calling Wrestling Club, Tennessee
70 kg - #19 (152) Jeremiah Price, Boone RTC, North Carolina
70 kg - HM Cutter Sheets, Cowboy RTC, Oklahoma
70 kg - HM Ivan Morris, Colorado
70 kg - HM Meyer Shapiro, Maryland
70 kg - HM Jadon Skellenger, Team Idaho Wrestling Club, Idaho
70 kg - HM David Mayora, Illinois
70 kg - HM Paul Ognissanti, Blairstown Wrestling Club, Maryland
70 kg - HM Brodie Dominique, Ohio
70 kg - HM Cade Wirnsberger, Buffalo Valley Regional Training Center, Pennsylvania
70 kg - HM Drew Lang, Utah
74 kg - #2 (160) Joseph Sealey, Pennsylvania
74 kg - #12 (170) Jasiah Queen, New Jersey
74 kg - #18 (160) Charlie Millard, Askren Wrestling Academy, Wisconsin
74 kg - HM Zane Licht, Askren Wrestling Academy, Wisconsin
74 kg - HM Jed Wester, Pinnacle Wrestling Club, Minnesota
74 kg - HM Payton Handevidt, Viking RTC, Minnesota
74 kg - HM Derek Johnson, Next Level Training Academy, Kansas
74 kg - HM Thor Michaelson, NWWC, Washington
74 kg - HM Kendrick Hodge, Project Grapple Wrestling Club, Florida
74 kg - HM Isaias Jimenez, Arizona
74 kg - HM Jackson Morgan, California
79 kg - #1 (170) Rocco Welsh, Young Guns Wrestling Club, Pennsylvania
79 kg - #2 (170) Josh Barr, Team Donahoe Wrestling Club, Michigan
79 kg - #3 (182) Gabe Arnold, Level Up Wrestling Center, Iowa
79 kg - #4 (170) Lorenzo Norman, New Jersey
79 kg - #8 (182) Noah Mulvaney, Askren Wrestling Academy, Wisconsin
79 kg - #10 (170) Lucas Condon, Poway High School Wrestling, California
79 kg - #13 (170) Ethan Riddle, Askren Wrestling Academy, Wisconsin
79 kg - HM Will Harmon, Juab Wrestling Club, Utah
79 kg - HM Danny Diaz, Iowa
79 kg - HM Lars Michaelson, NWWC, Washington
79 kg - HM Talon McCollom, Husky Wrestling Club, Oklahoma
79 kg - HM Dalton Loyden, Arizona
79 kg - HM Timothy Cowan, Livermore Elite Wrestling Club, California
79 kg - HM Will Miller, Boone RTC, Alabama
79 kg - HM Marcus Murabito, Texas
86 kg - #1 (195) Max McEnelly, Waconia Wrestling Club, Minnesota
86 kg - #1 (182) Brayden Thompson, Cowboy RTC, Oklahoma
86 kg - #4 (182) Connor Mirasola, Askren Wrestling Academy, Wisconsin
86 kg - #5 (182) Tate Naaktgeboren, Big Game Wrestling Club, Iowa
86 kg - #6 (182) Payton Thomas, OKRTC, Oklahoma
86 kg - #11 (182) Justin Rademacher, All-Phase Wrestling Club, Oregon
86 kg - HM Abraham Galicia, Sunkist Kids/Monster Garage, California
86 kg - HM Henry Baronowski, Pennsylvania
86 kg - HM Daniel Gurovich, California
86 kg - HM Mark Ayala, St. John Bosco High School Wrestling, California
86 kg - HM Jakob Gilfoil, Pennsylvania
86 kg - HM Jake Jones, Grit Mat Club, Pennsylvania
86 kg - HM Carsten Rawls, 3F Wrestling, California
86 kg - HM Khristian Dove, , California
92 kg - #2 (220) Gavin Nelson, Minnesota
92 kg - #6 (195) Cole Mirasola, Askren Wrestling Academy, Wisconsin
92 kg - #7 (195) Joey Novak, Pinnacle Wrestling Club, Minnesota
92 kg - HM Damion Schunke, Legends of Gold, South Dakota
92 kg - HM Hunter Sonnenberg, FordDynastyWrestlingClub, Washington
92 kg - HM Wesley Wilson, California
92 kg - HM Carson Floyd, Boone RTC, North Carolina
92 kg - HM Isaiah Huus, Greco-Roman Development, North Dakota
97 kg - #6 (220) Sawyer Bartelt, Gladiator Wrestling, Florida
97 kg - #8 (195) Camden McDanel, Ohio
97 kg - HM Noah Duran, California
97 kg - HM Devin Kendrex, Central Indiana Academy Of Wrestling, Indiana
125 kg - #6 Daniel Herrera, California
125 kg - #7 (285) Dmarian Lopez, Montrose Elite Wrestling, Colorado
125 kg - #11 (285) Aden Attao, Suples Wrestling Club, Idaho
125 kg - #20 (285) Max Acciardi, New Jersey
125 kg - HM (285) Christian Carroll, Cowboy RTC, Texas
125 kg - HM Nathan Taylor, Lehigh Valley Wrestling Club, Pennsylvania
125 kg - HM Connor Barket, Indiana
125 kg - HM Dirk Morley, Black Fox Wrestling Academy, Colorado