2023 US Open Wrestling Championships
The Process For Making The 2023 Senior World Wrestling Team Explained
The Process For Making The 2023 Senior World Wrestling Team Explained
A breakdown of how USA Wrestling will decide the 2023 Senior World Team.
Mar 29, 2023
by Jon Kozak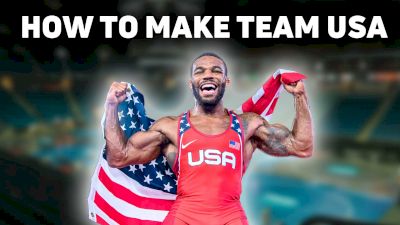 The college wrestling season is over and that means it's time to shift our attention to the international styles of wrestling! Over the next few months, the best wrestlers in the United States will compete for the right to represent Team USA at the World Championships this September in Belgrade, Serbia. Because the process for earning a spot on the world team slightly changes from year to year, the below article is a quick breakdown of how athletes will earn their spot on the 2023 Senior World Team.
Final X - June 10
We'll start with the end - Final X on June 10 at the Prudential Center in Newark, NJ. This final step of the world team trials process will be a best 2 of 3 wrestle-off between the top 2 wrestlers at every weight in every style with the winners heading to the World Championships. This is the first year all three styles will be featured at the same location with all weights being contested.
So how do the best wrestlers in the country qualify for Final X? First, every returning senior world medalist is eligible to accept their bid directly to Final X. Check out all of the returning medalists who are eligible to wrestle at Final X:
Men's Freestyle
57kg: Thomas Gilman
65kg: Yianni Diakomihalis
70kg: Zain Retherford
74kg: Kyle Dake
79kg: Jordan Burroughs
86kg: David Taylor
92kg: J'den Cox
97kg: Kyle Snyder
Women's Freestyle
50kg: Sarah Hildebrandt
53kg: Dom Parrish
57kg: Helen Maroulis
62kg: Kayla Miracle
65kg: Mallory Velte
68kg: Tamyra Mensah-Stock
72kg: Amit Elor
*The above wrestlers must accept their bid to Final X and have until April 21 to do so
US Open - April 26-30
The first step for non-returning medalists to qualify for Final X is the US Open. In past years the US Open was only a qualifier for the World Team Trails Challenge tournament. Not this year! Every champion of the 2023 US Open will automatically qualify for Final X at his or her respective weight. With so much at stake, we should expect all of the top wrestlers in the United States to enter the Open.
*We're tracking all of the entries for the 2023 US Open here.
World Team Trials Challenge Tournament - May 20-21
The final step to qualify for Final X is winning the World Team Trials Challenge tournament. This event is only relevant for weights where there is NOT a returning world medalist. That means the wrestler who wins World Team Trials Challenge Tournament will earn a spot at Final X in every weight in Greco-Roman, 61kg and 125kg in Men's Freestyle, and 55kg, 59kg, and 76kg in Women's Freestyle.
A Simple Summary
That's the process - hopefully, it's simple and easy for you to understand! If not, I'll try to make it even simpler for you in bullet points:
Weights with a returning world medalist -- Final X = US Open Winner vs 2022 Medalist
Weights without a returning world medalist -- Final X = US Open Winner vs WTT Challenge Winner
Again, the above is a quick summary of the process. CLICK HERE to see the complete process explained in even more detail, and to see who's eligible to wrestle at the WTT Challenge tournament.