2023 NCAA Championships Watch Party
Wilson, Fish Wins Kick Off 165-Pound Mayhem At NCAA Wrestling Championships
Wilson, Fish Wins Kick Off 165-Pound Mayhem At NCAA Wrestling Championships
The star-studded 165-pound bracket at the NCAA Wrestling Championships was set up for chaos. The script began to play out in Thursday's opening round.
Mar 16, 2023
by Andy Hamilton
The star-studded 165-pound bracket at the NCAA Wrestling Championships was set up for mayhem.
Three national champions in the bracket. A fourth returning NCAA finalist. Four All-Americans coming back as double-digit seeds. A deep cast of rising stars.
It's a combination for chaos.
That script began to play out in Thursday's opening round in Tulsa, where Michigan State's Caleb Fish pulled off the biggest upset of the tournament's first session by toppling #4 seed Julian Ramirez, Nebraska's Bubba Wilson stunned Pac-12 champ Matthew Olguin and two other upsets set the stage for fascinating matchups on both sides of the bracket Thursday night.
Fish, the #29 seed, cooled off Ramirez's recent red-hot run, using a four-point near-fall in the second period to take the lead before sealing an 8-4 win with a pair of third-period takedowns.
"I kept the pressure," Fish said. "I wanted it, so I went for it. Before this match, we were training staying low, staying in the match, and I think that was the key to succeeding."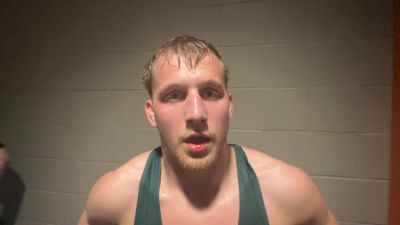 Ramirez entered the tournament with a 14-match winning streak that included a pair of victories against returning NCAA finalist Quincy Monday of Princeton. He seemed primed to make a run on the championship side of the bracket. Instead, though, he got bounced to the backside, where he'll face #13 seed Alex Facundo of Penn State in a first-round consolation match.
Facundo got dropped into the consolations by Pittsburgh's 20th-seeded Holden Heller, who scored takedowns in the second and third periods on his way to a 5-3 win.
Heller advanced to take on Fish, assuring that a wrestler seeded 20th or lower will wrestle in Friday morning's 165-pound quarterfinals.
Elsewhere at 165, Illinois' #19 seed, Dan Braunagel, used a big third period to blow away returning All-American and 14th-seeded Peyton Hall of West Virginia. Braunagel led 5-3 entering the third before piling up two takedowns and a four-point near-fall on his way to a 16-5 major decision.
Nebraska's 25th-seeded Wilson authored the other big opening-round upset when he capitalized on a 75-second sudden-victory scramble, kicking free and covering eighth-seeded Olguin for a takedown and a 3-1 win.
Wilson initiated the final exchange when he fired off a sweep single shot early in the extra frame and nearly scored neutral-danger points before he finally finished the match-winning takedown. The Wilson win prevented a rematch of the Pac-12 finals between Olguin and Stanford's Shane Griffith, a two-time NCAA finalist and 2021 national champion.
There's no shortage of second-round intrigue at 165, though. At the top of the list is a Big Ten semifinal rematch between Iowa's sixth-seeded Patrick Kennedy and #11 seed Cameron Amine, a returning All-American from Michigan. Kennedy used a late takedown earlier this month to beat Amine 3-2.
In another compelling second-round bout, returning All-American Carson Kharchla of Ohio State will take on #7 seed Michael Caliendo of North Dakota State. Kharchla used a third-period reversal to win a 2-1 decision against his Olentangy Liberty (Ohio) High School teammate Connor Brady of Virginia Tech.