2023 NCAA Watch Party: Conference Weekend
ACC Wrestling Championships Brackets, Schedule, And Rankings
ACC Wrestling Championships Brackets, Schedule, And Rankings
The ACC Wrestling championships are Sunday, March 5 in Raleigh, North Carolina. Here are the rankings, brackets, and schedules.
Feb 27, 2023
by Kyle Klingman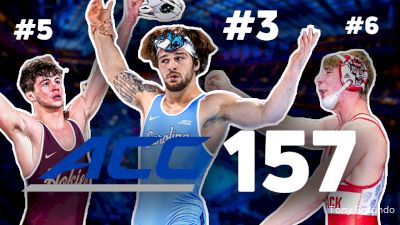 The ACC Wrestling Championships will crown conference champions and determine 34 automatic qualification spots for the 2023 NCAA Championships. The action begins on March 5 at the James T. Valvano Arena at William Neal Reynolds Coliseum in Raleigh, North Carolina.
FloWrestling will have a watch party on Saturday, March 4, and Sunday, March 5 for wrestling fans interested in a second-screen experience to follow all of the action across the seven NCAA conferences.
The first three sessions of the event will be broadcast on ACCNX, and the finals will be on ACCN.
Wrestling teams in the ACC include Duke, North Carolina, North Carolina State, Pittsburgh, Virginia, and Virginia Tech.
ACC Championship Brackets
Once seeds are released, brackets will be available on Trackwrestling here.
ACC Conference Rankings
Big 12 Conference Rankings are updated by Mason Lindenmuth and are available here.
ACC Automatic NCAA Championship Qualifying Spots
Here is the number of wrestlers who will automatically qualify for the NCAA Championships at each weight class. Complete information about this year's automatic qualifiers is available here.
125 - 2
133 - 3
141 - 4
149 - 4
157 - 3
165 - 3
174 - 3
184 - 5
197 - 4
285 - 3
Complete ACC Championships Preview
For a complete weight-by-weight preview along with team race implications, check out the following article.
Full Event Schedule
Sunday, March 5
11:00 AM ET: FIRST-ROUND MATCHES
1:00 PM ET: SEMI-FINALS
3:30 PM ET: CONSOLATION SEMIFINALS
5:00 PM ET: CONSOLATION FINALS
7:00 PM ET: FINALS