2023 NCAA Watch Party: Conference Weekend
Tight Team Race Should Lead To Memorable ACC Championships
Tight Team Race Should Lead To Memorable ACC Championships
Virginia Tech and North Carolina State appear to be headed toward a photo finish at this year's ACC Wrestling Championships on March 5.
Feb 22, 2023
by Kyle Klingman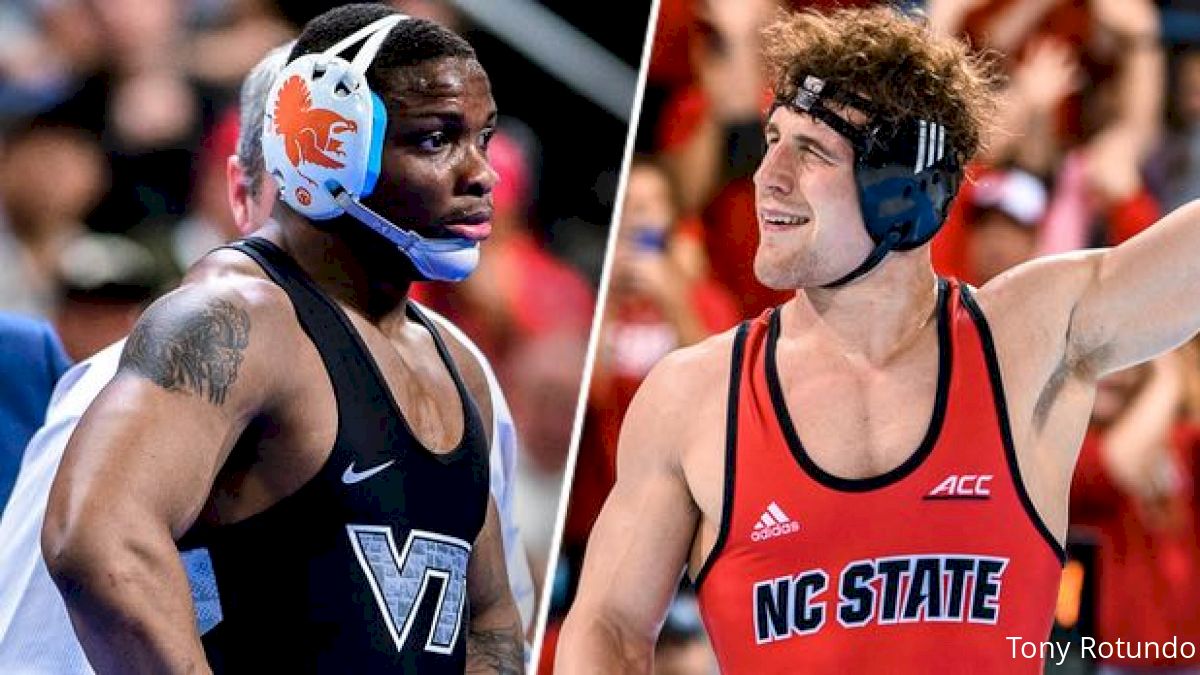 FloWrestling recently released its Atlantic Coast Conference rankings and a quick glance shows how tight the team race will be at the ACC Championships on March 5 in Raleigh. It appears to be a two-team sprint to the finish with North Carolina State and Virginia Tech vying for the crown.
Here are what the predicted tournament points look like based on Flo's individual conference rankings.
1 NC State — 85
2 Virginia Tech — 84.5
3 Pittsburgh — 65
4 North Carolina — 37.5
5 Virginia — 24.5
6 Duke — 13.5
A half a point separates the Wolfpack and the Hokies, which makes sense since these two teams have combined to win nine of the last 10 conference titles, with NC State winning the last four.
Every win, every bonus point, and every placement point matters down the stretch. The first round is just as important as the finals with only six teams in the conference. Virginia Tech struck first with a 16-14 dual win on January 20 in Blacksburg, but that hardly matters now that it's tournament time.
North Carolina State won by 22.5 points over Virginia Tech in 2022, although that gap hardly seems possible this time around. This has the potential to be the best team race of any D1 conference championship.
Be on the lookout for Pittsburgh and North Carolina, though. Each team has proven success in multiple weight classes and could play spoiler.
Zach Sherman is predicted as the #5 seed at 149 and Clay Lautt is predicted to be the #4 seed at 174. Both are returning All-Americans who haven't competed much this season, but they could change the course of the team race and catapult the Tar Heels into the title hunt.
Pittsburgh has top-end firepower that will keep the Panthers competitive. Micky Phillippi (133), Cole Matthews (141), Holden Heller (165), and Nino Bonaccorsi (197) could all win titles, which will put pressure on NC State and Virginia Tech.
Below are the full set of Flo's conference rankings with national rankings (if applicable) listed at the end.
125 Pounds
1 Jarrett Trombley (NC State), JR, #18
2 Eddie Ventresca (Virginia Tech), FR, #22
3 Jack Wagner (North Carolina), SR, #24
4 Colton Camacho (Pittsburgh), JR
5 Patrick McCormick (Virginia), JR
6 Ethan Grimminger (Duke), FR
Trombley and Ventresca are expected to meet in the finals, although Wagner has a chance to play spoiler if he meets Ventresca in the semifinals. Trombley's 3-1 sudden victory win over Ventresca during the dual should give the Hokies optimism that they can get this match back — if it happens.
133 Pounds
1 Sam Latona (Virginia Tech), JR, #6
2 Micky Phillippi (Pittsburgh), SR, #8
3 Kai Orine (NC State), SO, #15
4 Jace Palmer (North Carolina), SO
5 Marlon Yarbrough (Virginia), FR
6 Logan Agin (Duke), SO
There's a razor-thin line between the top three wrestlers in this weight. Phillippi lost to Orine 2-1 in tiebreakers but he defeated Latona 3-2 in tiebreakers. Orine lost 3-1 to Latona in a crazy round-robin where everyone has a significant win over each other. A title by Phillippi is essential for Pittsburgh to stay in the title hunt.
141 Pounds
1 Cole Matthews (Pittsburgh), SR, #4
2 Ryan Jack (NC State), SO, #5
3 Lachlan McNeil (North Carolina), FR, #9
4 Tom Crook (Virginia Tech), FR, #10
5 Brian Courtney (Virginia), SO
6 Jarred Papscy (Duke), JR
Matthews is 17-1 on the season with no conference losses, which makes him the clear favorite in the wild and wacky 141-pound weight class. Don't let records deceive you, though. Jack, McNeil, and Crook aren't far behind and could take the title. The semifinal round should feature four top-10 wrestlers, which will make this a weight class to watch.
149 Pounds
1 Caleb Henson (Virginia Tech), FR, #7
2 Jackson Arrington (NC State), FR #14
3 Jarod Verkleeren (Virginia), SR
4 Tyler Badgett (Pittsburgh), SO
5 Zach Sherman (North Carolina), SR
6 Patrick Rowland (Duke) SO
Freshman Caleb Henson is perfect this season against conference opponents. The wild card here is returning All-American Zach Sherman, who Henson hasn't faced this season. Sherman's last competition was a 6-4 loss to Verkleeren on January 27 so he could play spoiler if he's healthy and ready to go. Arrington has a 6-1 loss to Henson but has run the table against everyone else in the conference.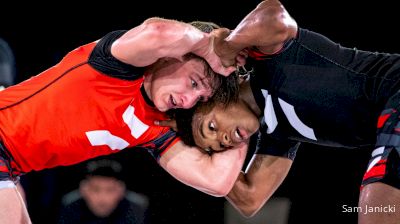 Unlock this video, live events, and more with a subscription!
Get Started
Already a subscriber? Log In
Caleb Henson picked up a big win over Jordan Williams at Who's Number One in 2021
157 Pounds
1 Austin O'Connor (North Carolina), SR, #3
2 Bryce Andonian (Virginia Tech), JR, #5
3 Ed Scott (NC State), SO, #6
4 Dazjon Casto (Pittsburgh), SR
5 Jake Keating (Virginia), SR
6 Logan Ferrero (Duke), SO
Returning NCAA champion Austin O'Connor won his title at 149 pounds and looks ready to win a second title this season. He'll have to get past two tough conference foes to win an ACC title. Bryce Andonian and Ed Scott are credible threats — although O'Connor has victories this season over both.
O'Connor defeated Andonian, 11-3, but Andonian defeated Scott 24-10 and O'Connor defeated him, 3-1. Who knows what will happen in Raleigh? This three-horse race should be fun.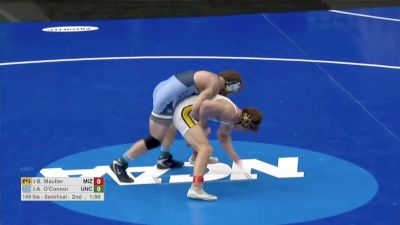 Unlock this video, live events, and more with a subscription!
Get Started
Already a subscriber? Log In
Austin O'Connor had a semifinal win over Brock Mauller at the 2021 NCAA Championships
165 Pounds
1 Holden Heller (Pittsburgh), JR, #20
2 Justin McCoy (Virginia), JR, #21
3 Matthew Singleton (NC State), FR
4 Connor Brady (Virginia Tech), SO
5 Joey Mazzara (North Carolina), JR
6 Gabe Dinette (Duke), SR
Heller is 12-5 this season but has done everything right within the conference. He is perfect against ACC opponents with a 9-3 win over McCoy. This is the only weight class where a wrestler from Virginia Tech or NC State isn't seeded in the top two, so the team race could be determined by how Singleton and Brady perform — especially if they face each other.
174 Pounds
1 Mekhi Lewis (Virginia Tech), JR, #3
2 Alex Faison (NC State), JR, #23
3 Luca Augustine (Pittsburgh), FR
4 Clay Lautt (North Carolina, SR, #24
5 Victor Marcelli (Virginia), JR
6 Conor Becker (Duke), SO
This appears to be Lewis's weight class all the way. The 2019 NCAA champion is undefeated against conference competition with no opponent getting closer than six points. Keep your eye on returning All-American Clay Lautt.
184 Pounds
1 Trent Hidlay (NC State), JR, #3
2 Hunter Bolen (Virginia Tech), SR, #7
3 Gavin Kane (North Carolina), SO, #12
4 Neil Antrassian (Virginia), SR, #18
5 Reece Heller (Pittsburgh), SO, #16
6 Luke Chakonis (Duke), SO
Another deep weight that will set the tone for the team race. Hidlay is 18-1 this season with no losses to conference opponents, but his 5-3 sudden victory win over Bolen on January 20 could make for an interesting finals showdown. Kane, Antrassian, and Heller will have their say about whether that happens.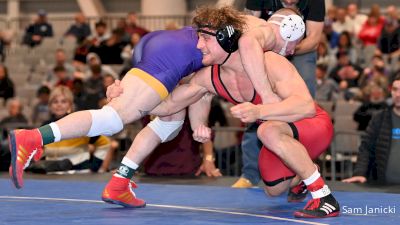 Unlock this video, live events, and more with a subscription!
Get Started
Already a subscriber? Log In
Trent Hidlay defeated Northern Iowa's Parker Keckeisen during the 2022 Cliff Keen-Las Vegas Invite finals
197 Pounds
1 Nino Bonaccorsi (Pittsburgh), SR, # 1
2 Andy Smith (Virginia Tech), JR, #22
3 Issac Trumble (NC State), SO, #7
4 Michael Battista (Virginia), SR
5 Vincent Baker (Duke), JR
6 Max Shaw (North Carolina), SO
Bonaccorsi is the only national #1 in the conference thanks to an undefeated season. Smith and Trumble will test the returning NCAA Championship finalist. Trumble pushed him to the brink but lost 6-4 in tiebreakers, while Smith lost 4-1. The expected semifinal between Smith and Trumble will have major implications for the team race. Smith has a 3-2 win over Trumble, so that match could go either way this time around.
285 Pounds
1 Owen Trephan (NC State), FR, #11
2 Jonah Niesenbaum (Duke), SR
3 Hunter Catka (Virginia Tech), FR, #16
4 Jacob Slinger (Pittsburgh), JR
5 Brandon Whitman (North Carolina), SR
6 Ethan Weatherspoon (Virginia), SO
Trephan hasn't lost in 2023 and has a 3-1 win over Catka, but hasn't faced Niesenbaum. Niesenbaum is 23-3 on the year with wins over Slinger, Whitman, and Weatherspoon. This isn't the deepest ACC weight class, but drama could happen if the tournament comes down to heavyweight.
And it could!
ACC Conference Team champions since 2013
2013 — Virginia Tech
2014 — Virginia Tech
2015 — Virginia
2016 — North Carolina State
2017 — Virginia Tech
2018 — Virginia Tech
2019 — North Carolina State
2020 — North Carolina State
2021 — North Carolina State
2022 — North Carolina State