2023 National Collegiate Women's Wrestling Championship
Brackets Released For National Collegiate Women's Wrestling Championships
Brackets Released For National Collegiate Women's Wrestling Championships
Brackets are here for the 2023 National Collegiate Women's Wrestling Championships held in Cedar Rapids, Iowa, on March 3-4.
Feb 25, 2023
by Kyle Klingman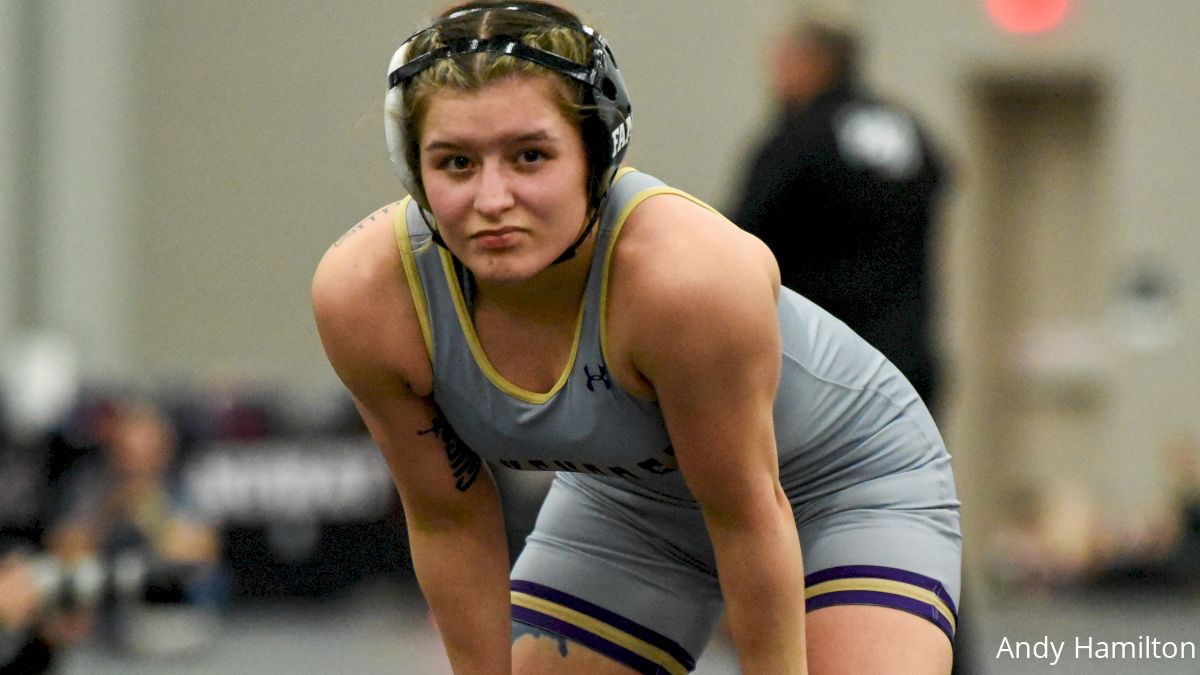 It's time to get excited for the 2023 National Collegiate Women's Wrestling Championships in Cedar Rapids, Iowa on March 3-4. FloWrestling is streaming the entire tournament, so be sure to tune in live.
Click here for full 2023 brackets
Past college national championships
2022 NCWWC brackets
2021 NCWWC brackets
2020 NCWWC brackets
McKendree is the reigning three-time team champion (2020-22) and the only team to win the tournament since its inception in 2020.
The Bearcats have 10 qualifiers and four returning national champions. North Central and King qualified 15 and are the favorites following solid regular season performances.
Each team can qualify up to 15 wrestlers, but only one at each weight can score. If a team has two wrestlers in the finals (it has happened before) then only the champion will score. However, this can prevent another team from earning placement points.
Bonus points cannot be scored if two wrestlers from the same team face each other. This prevents a coach from fixing matches to get additional team points. Below is a breakdown of how tournament scoring works.
Reminder: women's college wrestling uses freestyle rules so there are no major decisions.
Championship advancement: 1
Consolation advancement: 0.5
Technical superiority: 1.5
Fall: 2
Placement points
First: 16
Second: 12
Third: 10
Fourth: 9
Fifth: 7
Sixth: 6
Seventh: 4
Eighth: 3
Qualifiers by schools (head coach)
Adrian: 10 (Cliff Cushard)
Albion: 5 (Adam Wilson)
Augsburg: 8 (Jake Short)
Aurora: 1 (Justin Pearch)
Carthage: 3 (Jake Calhoun)
Chadron State: 4 (Alijah Jeffery)
Colorado Mesa: 12 (Travis Mercado)
Delaware Valley: 1 (Andrew Taylor)
East Stroudsburg: 6 (Anibal Nieves)
Elmira: 6 (Cody Griswold)
Emmanuel: 7 (Bryce Killian)
Emory & Henry: 1 (Pete Hansen)
Gannon University: 8 (Breonnah Neal)
King: 15 (Jason Moorman)
Limestone: 7 (Brandy Green)
Lincoln Memorial: 1 (Andy Bricker)
Lindenwood University: 1 (Mike Mena)
Linfield University: 2 (Chad Hanke)
Lock Haven: 5 (Matt Lackey)
McKendree: 10 (Alexio Garcia)
Minot State: 3 (Brittney Mitchem)
Mount Olive: 3 (Dan Willis)
New Jersey City: 2 (Barry Hart)
North Central: 15 (Joe Norton)
Northern Michigan: 7 (Tony DeAnda)
Presbyterian: 6 (Brian Vutianitis)
Sacred Heart: 10 (Paulina Biega)
Schreiner University: 4 (Tarkyia Mensah)
Simon Fraser: 9 (Justin Abdou)
Simpson: 1 (Jeff McGinness)
Texas Woman's: 5 (Randi Miller)
Tiffin University: 4 (Chandler Minnard)
Ozarks: 1 (Charlotte Fowler)
Ursinus: 2 (Joe Jamison)
Westminster: 1 (Tony Eierman)
William Jewell: 1 (Desiree Ramos)
Wisconsin-Stevens Point: 11 (Jake Wozniak)
Teams represented at nationals
2020: 19
2021: 21
2022: 30
2023: 37
Team champion
2020: McKendree (Sam Schmitz)
2021: McKendree (Sam Schmitz)
2022: McKendree (Sam Schmitz)
Top Five Teams
2020 NCWWC
1. McKendree - 191
2. Simon Fraser - 178.5
3. King - 123
4. Colorado Mesa - 92.5
5. Emmanuel - 86
2021 NCWWC
1. McKendree - 209
2. King - 171.5
3. Emmanuel - 133.5
4. Colorado Mesa - 97
5. Augsburg - 88.5
2022 NCWWC
1. McKendree - 188
2. King - 166
3. Simon Fraser - 145.5
4. North Central - 128
5. Colorado Mesa - 89
Individual champions
2020
101: Pauline Granados (McKendree)
109: Emily Shilson (Augsburg)
116: Karla Godinez-Gonzalez (Simon Fraser)
123: Alex Hedrick (Simon Fraser)
130: Alexia Ward (McKendree)
136: Emma Bruntil (McKendree)
143:Ana Godinez-Gonzalez (Simon Fraser)
155: Alex Glaude (McKendree)
170: Jessika Rottier (UW-Stevens Point)
191: Sydnee Kimber (McKendree)
2021
101: Angelina Gomez (Emmanuel)
109: Emily Shilson (Augsburg)
116: Felicity Taylor (McKendree)
123: Cheyenne Sistenstein (King)
130: Cameron Guerin (McKendree)
136: Brenda Reyna (McKendree)
143: Emma Bruntil (McKendree)
155: Alara Boyd (McKendree)
170: Yelena Makoyed (North Central)
191: Sydnee Kimber (McKendree)
2022
101: Olivia Shore (Tiffin)
109: Emily Shilson (Augsburg)
116: Karla Godinez-Gonzalez (Simon Fraser)
123: Alex Hedrick (Simon Fraser)
130: Cameron Guerin (McKendree)
136: Zoe Nowicki (Adrian)
143: Ashlynn Ortega (King)
155: Alyvia Fiske (Simon Fraser)
170: Yelena Makoyed (North Central)
191: Sydnee Kimber (McKendree)
Returning NCWWC champions
Pauline Granados (McKendree), 2020
Emily Shilson (McKendree), 2020, 2021, 2022
Cameron Guerin (McKendree), 2021, 2022
Ashlynn Ortega (King), 2022
Yelena Makoyed (North Central), 2021, 2022
Sydnee Kimber (McKendree), 2020, 2021, 2022