2023 NCAA Watch Party: Conference Weekend
2023 Big Ten Championship Preview: 165-285
2023 Big Ten Championship Preview: 165-285
Breaking down the 165, 174, 184, 197 & 285-pound weight classes at the 2023 Big Ten Championship in Ann Arbor, Michigan.
Feb 24, 2023
by Andrew Spey
Continuing our breakdown of all ten weights of the 2023 Big Ten Championships in Ann Arbor, Michigan. Join our watch party as we keep tabs on all the championships of Conference Weekend, especially Big Tens!
165 Pounds, 8 NQ Spots
Favorites
#5 Cam Amine, Michigan
#6 DJ Hamiti, Wisconsin
#9 Patrick Kennedy, Iowa
#10 Alex Facundo, Penn State
#11 Carson Kharchla, Ohio State
It's one of the deepest weight classes in any conference. Five 165-pound wrestlers in the Big Ten are ranked in the top 11 nationally, and very starter in the conference also has eligibility left, so get used to seeing these names during the college season.
The top quartet are all involved in a 'ranker's delight', as Amine beat Hamiti, Hamiti beat Kennedy, Kennedy beat Facundo, and Facundo beat Amine. So good luck sorting that out in the seeding meeting!
Those four, plus Kharchla, despite his losses to Amine and Facundo, are Big Ten title contenders. They're also strong candidates to reach the NCAA podium, as Amine, Hamiti and Kharchla have all attained All-American status before, and Kennedy and Facundo both have at least one win over an All-American in their burgoening careers.
Watch Pat Kennedy put up 22 points over Army's Dalton Harkins: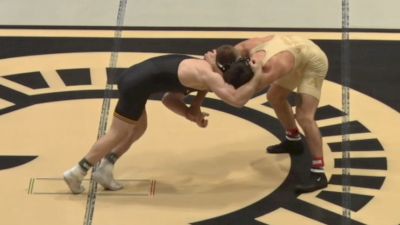 Unlock this video, live events, and more with a subscription!
Get Started
Already a subscriber? Log In
Contenders
#15 Maxx Mayfield, Northwestern
#18 Danny Braunagel, Illinois
#24 Caleb Fish, Michigan State
HM Andrew Sparks, Minnesota
HM Bubba Wilson, Nebraska
As if five top 11 wrestlers in the conference wasn't gnarly enough, how about five more in the top 33? Mayfield and Braunagel have been the most consistent this year but Fish, Sparks and Wilson have been right there with them.
Braunagel has qualified for the NCAAs twice already, in 2020 and 2021. Mayfield has wins over just about everyone in the conference except the big five, though he did split matches with Braunagel this season. Fish and Wilson are 2022 national qualifiers, while Sparks qualified in 2021 during his monster true freshman season.
Sleepers and Landmines
It's difficult finding sleepers in a conference with 10 ranked wrestlers but how about Nick South from Indiana? He's 7-5 on the year against D1 competition including five wins over Big Ten rivals. He's in his fourth season in Bloomington having started the previous two years as well.
Predictions: 1) Amine, 2) Hamiti, 3) Kharchla, 4) Facundo, 5) Kennedy, 6) Braunagel, 7) Mayfield, 8) Fish
With only eight auto-bids allocated to them (Amine and Kharchla did not have enough matches to get an RPI rating and thus could not earn bids for the conference), this is going to be an absolutely brutal bracket, with at least two ranked wrestlers guaranteed to be on the outside hoping for a wild card bid to NCAAs after the conference tournament.
174 Pounds - 7 NQ Spots
Favorites
#1 Carter Starocci, Penn State
We go from a weight class with five contenders to a weight with one clear-cut favorite. Carter Starocci, the two-time defending NCAA champion and 2022 U23 world bronze medalist hasn't dropped a match since the 2021 Big Ten Championship and isn't be expected to drop another for the rest of his collegiate career.
The biggest question mark for Starocci is whether or not he'll take advantage of the extra year of eligibility he has available and try to become a five-time NCAA Champion. It goes without saying that such an accomplishment would be unprecedented.
Contenders
#2 Mikey Labriola, Nebraska
#5 Ethan Smith, Ohio State
#7 Bailee O'Reilly, Minnesota
#8 Edmond Ruth, Illinois
#9 Donnell Washington, Indiana
#11 Nelson Brands, Iowa
Like most Big Ten divisions, this one is also ridiculously loaded, as evidenced by six more wrestlers ranked in the top 11.
It's difficult to imagine a #2 ranked wrestler, who is also a three-time All-American, being overlooked, but Mikey Labriola doesn't get enough credit for the consistent winning he has done while in Lincoln. Only covid kept him from putting up 20+ wins for a fifth year in a row (he was 17-2 in the covid-shortened 2021 season). The Pennsylvania native from the Lehigh Valley is 24-0 this season which includes a win over former national champ Mekhi Lewis in the CKLV finals. While Starocci remains the heavy favorite to win the 2023 Big Ten Title, it would be foolish to think Labriola has no shot at an upset victory.
Watch the epic CKLV final:
Unlock this video, live events, and more with a subscription!
Get Started
Already a subscriber? Log In
Smith, O'Reilly, Ruth and Washington are similarly preposterously slept on for being top 10 wrestlers. Smith is a four-time national qualifier and a 2021 All-American. O'Reilly doesn't just have a name that reminds people of a famous song by the Who, he also wins a lot of wrestling matches, having qualified for the 2020 and 2022 NCAAs.
Though he's been out of high school for four years, Ruth is at Illinois for his first year and has finally found his groove, winning 24 of 27 bouts this year. Having his older brother Ed on the Illinois coaching staff is no doubt a plus for younger brother Edmond.
DJ Washington still has sky high potential, having made a U20 world team and qualified for the past two NCAAs. This could be his breakout collegiate season as he'll head to the tournament with his best record to date.
And it's truly impossible to be overlooked in the wrestling world when your dad is living legend Terry Brands, but Nelson has done well carving a name out for himself, earning a starting spot on the 2021 Hawkeye team and winning a match at the NCAA tournament. Injuries derailed his 2022 season and gave him trouble this year but Brands capped off the season with an impressive 3-2 win over last year's 6th placer Dustin Plott of Oklahoma State and looks to be in fine form heading into the postseason.
Sleepers and Landmines
#18 Troy Fisher, Northwestern
Max Maylor, Michigan
Jackson Turley, Rutgers
Ceasar Garza, Michigan State
Dominic Solis, Maryland
More insanity as we have to include a top 20 wrestler (Fisher) and an All-American (Turley) in the Sleepers and Landmines sections (that's why we added 'landmines' to the title). Maylor, Garza and Solis are all capable of spoiling a nationally ranked wrestlers' weekend as well.
Predictions: 1) Starocci, 2) Labriola, 3) Smith, 4) Washington, 5) Brands, 6) Ruth 7) O'Reilly
There's absolutely no margin for error in this weight class as the Big Ten was awarded a paltry seven qualifying spots. Fisher will have a solid shot at a wild card if he doesn't get in but the unranked wrestlers will probably need to 'steal' a spot if they want to go dancing in March.
184 Pounds - 9 NQ Spots
Favorites
#1 Aaron Brooks, Penn State
Brooks is in a similar position as his teammate Starocci is at 174, although Brooks looks slightly more mortal, having lost a match in both the 2022 and 2023 season. He's also wrestled less total matches per season than Starocci.
When Brooks is on, however, there are few as dominant as him in the NCAA. Brooks is also a 2017 U17 world gold medalist and a 2018 U20 silver medalist, so he's been winning at a high level domestically and internationally for a while now.
Brooks' lone loss this season was a 9-7 thriller to Marcus Coleman of Iowa State. Kaleb Romero of Ohio State also wrestled Brooks to a tough 3-2 decision. Still, when Brooks, a two-time NCAA champ, looks good, as he did against two-time 3rd-placer Parker Keckeisen at the NWCA All-Star Classic, he leaves little doubt that he will be the favorite to hoist a Big Ten title next weekend.
Watch Brooks beat Keckeisen at last fall's All-Star Classic: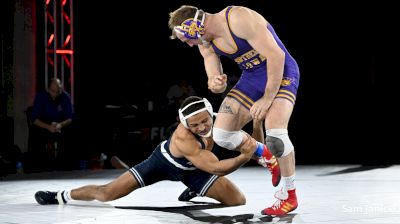 Unlock this video, live events, and more with a subscription!
Get Started
Already a subscriber? Log In
Contenders
#5 Kaleb Romero, Ohio State
#8 Mattew Finesilver, Michigan
#9 Abe Assad, Iowa
#10 Isaiah Salazar, Minnesota
#13 Layne Malczewski, Michigan State
#14 Lenny Pinto, Nebraska
#15 Brian Soldano, Rutgers
The aforementioned Romero, a 6th-placer last year and a three-time national qualifier, is a favorite to reach the finals opposite Brooks. Finesilver is a Duke transfer and one of four Finesilver brothers to qualify for the NCAA Championship (they are two sets of twin brothers).
Assad missed a few weeks of action in February but, like his teammate Nelson Brands, came back strong in the final bout of the year to defeat an All-American from Oklahoma State, in Assad's case, Travis Wittlake.
Salazar and Malczewski have both qualified for the NCAAs before and have been quietly plugging away for their respective teams. Pinto is a redshirt freshman and Soldano is a true freshman and both are poised for a breakout season.
Sleepers and Landmines
Dylan Connell, Illinois
Tyler Dow, Wisconsin
With nine auto-bids, the Big Ten conference thankfully has a weight with more bids than top 20 wrestlers for a change. Look for either Dylan Connell or Tyler Dow to snag one of the remaining bids.
Predictions: 1) Brooks, 2) Romero, 3) Assad, 4) Salazar, 5) Fineslver, 6) Pinto, 7) Malczewski, 8) Soldano, 9) Connell
The most likely result is chalk for this bracket, however, that is only the most likely event out of nigh-infinite permutations, so look for something to go out of whack with regard to the seeds at some point in this tournament.
197 Pounds - 9 NQ Spots
Favorites
#3 Max Dean, Penn State
It's music to Nittany Lion faithful ears, though the rest of the conference may not be as thrilled to hear it, but Dean is the third consecutive returning national champ for Penn State and the third consecutive favorite to win a Big Ten title in the upperweight divisions.
Though Dean is 'only' ranked #3, due to his rare back-to-back losses this season to Ethan Laird of Rider and Michael Beard of Lehigh, those matches were in early December, and Dean has looked like his normal dominant self ever since.
Max still has concrete hands, deceptively funky defense, and a back-breaking bow-and-arrow bent-leg turn from top that will make you squirm in your seat as you watch. Thankfully for fans of opposing teams, Dean has exhausted his eligibility, and mercifully won't be around to torture collegiate opponents next season.
Watch Dean get a first-period pin over Hofstra's Trey Rogers at the Black Knight Invite:
Unlock this video, live events, and more with a subscription!
Get Started
Already a subscriber? Log In
Contenders
#10 Silas Allred, Nebraska
#11 Zac Braunagel, Illinois
#12 Jacob Warner, Iowa
#14 Gavin Hoffman, Ohio State
#15 Cam Caffey, Michigan State
#16 Braxton Amos, Wisconsin
#17 Michial Foy, Minnesota
#18 Jaxon Smith, Maryland
There is a decent amount of distance between Dean and the rest of the Big Ten field, despite 197 having been one of the wildest and most competitive divisions this season across the country.
Allred (a great name for one of the Cornhuskers aka Big Red) is having a breakout season in his first year on the varsity squad in Lincoln. Braunagel is in his fourth season as the starter in Champaign, though it's his first year at 197, having spent the previous three years at 184. Braunagel also qualified for the NCAAs the last three years and is looking to climb the All-American podium for the first time after falling one match shy last year.
Warner is having perhaps his most challenging season in Iowa City in his fifth year as the 197-pound Hawkeye starter. He's already a three-time NCAA All-American, finishing 7th in 2019, 4th in 2021, and runner-up in 2022. Warner was the 5th seed in the canceled 2020 NCAAs. Though he's certainly capable of another podium run, he'll have to reverse some results he's had this season to do so.
Gavin Hoffman had his best season ever last year, placing 6th in Detroit. He'll have his work cut out for him to repeat in Tulsa, but the way 197 has played out this year, anything is possible.
Caffey, Amos, Foy and Smith are all bunched together with Hoffman, and it wouldn't be a surprise at all if they finished at Big Tens in a completely different order than that in which they're currently ranked. Nor would it be a surprise if they all finished in a different order 2 weeks later at NCAAs, either.
Watch Allred and Hoffman scrap at the 2022 CKLV: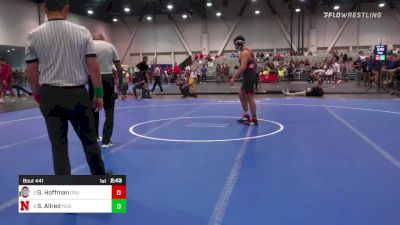 Unlock this video, live events, and more with a subscription!
Get Started
Already a subscriber? Log In
Sleepers and Landmines
Nick Willham, Indiana
Billy Janzer, Rutgers
Andrew Davison, Northwestern
Willham is having one of his best years in his fourth season in the Hoosier lineup. Janzer is a two-time national qualifier trying to find the success he had in 2019 as a redshirt freshman down at 184. And Davison transferred from Michigan to Northwestern last season, to join his younger brother's team. Once in the Wildcat lineup he qualified for the 2022 NCAAs in his fifth year of college competition.
Predictions: 1) Dean, 2) Warner, 3) Allred, 4) Braunagel, 5) Caffey, 6) Hoffman, 7) Amos, 8) Foy, 9) Smith
With 9 qualifying spots, every nationally ranked wrestler will have an opportunity to wrestle to their seed and qualify for the NCAAs. With little margin for error, however, and with a weight class as wacky as 197 has been this season, don't bet on the bracket being wrestled to chalk.
285 Pounds - 9 NQ Spots
Favorites
#1 Mason Parris, Michigan
#2 Greg Kerkvliet, Penn State
#3 Tony Cassioppi, Iowa
#4 Lucas Davison, Northwestern
It doesn't get much better than a bracket that could see the top four nationally-ranked wrestlers all make the semifinals. But that's Big Ten wrestling for you.
Mason Parris exercised some demons with a 3-1 dual meet victory over Kerkvliet in a dual meet about a month ago. The Penn Stater had beaten the Michigan Man three times last season. That plus a win over Cassioppi in February gave Parris pole-position for the Big Ten title, and potentially the #1 seed at NCAAs.
But you can't count out Kerkvliet nor Cassioppi, nor Davison for that matter. Between the three of the other B1G contenders are five All-American honors, and all three will be jockeying with Parris and the rest of the bracket for the best possible seed in Tulsa, as the national field still has the like of Cohlton Schultz, Wyatt Hendrickson and others that could wrestle their way into the finals on Saturday night of March 18.
What happens when you throw the top 4 heavyweights in the country in the same conference championship bracket? pic.twitter.com/5bklDdj717

— FloWrestling (@FloWrestling) February 23, 2023
Contenders
#10 Trent Hillger, Wisconsin
#13 Tate Orndorff, Ohio State
Unbelievably, the Big Ten still has two more top 15 wrestlers with All-American honors to add to the mix beyond those aforemention four contenders. Or maybe you're starting to believe how stacked these brackets are, seeing as we're all the way to heavyweight now.
Hillger is a four-time qualifier with an 8th and 6th NCAA place to his name, while Orndorff, a transfer from Utah Valley after the 2020 season, placed 8th in 2021 and qualified three other times. Both are capable of finding their way into the top four if they wrestle to the maximum of their capabilities.
Sleepers and Landmines
#20 Boone McDermott, Rutgers
HM Jaron Smith, Maryland
HM Jacob Bullock, Indiana
And we're still not done with nationally ranked wrestlers, so once again please place these names in the 'landmine' bucket rather than categorize them as 'sleepers'.
McDermott is battling his way back from an injury he suffered (or aggravated) at Midlands, but still managed to rack up several wins over wrestlers in the honorable mentions this season against just two non-injury default losses, both to All-Americans (Schultz and Hillger).
Smith was coaxed into coming back to wrestle in his eighth collegiate season and it may turn out to be his best yet. Bullock is also having his best season to date. Bullock was a true freshman starter for the lamentably shuttered Old Dominion program in 2020, and still has another year of eligibility to use.
Predictions: 1) Parris, 2) Kerkvliet, 3) Cassioppi, 4) Division, 5) Orndorff, 6) Hillger, 7) McDermott, 8) Bullock, 9) Smith
Head-to-heads from this season paints a pretty clear picture for all the Rankers, and I haven't deviated much from that order in these predictions. With 9 qualifying spots, everyone in the national rankings should punch tickets to Nationals, which is what I am also predicting.
So now that you've previewed all ten Big Ten weights, all you've got to do now is watch the actual wrestling this weekend. I'd say that sounds like a propitious plan to me!