2023 NCAA Watch Party: Conference Weekend
Predicting Every Seed For The 2023 Big Ten Wrestling Championships
Predicting Every Seed For The 2023 Big Ten Wrestling Championships
Predicting the seeds at every weight for the 2023 Big Ten Wrestling Championships on March 4-5 in Ann Arbor, Michigan.
Feb 22, 2023
by Jon Kozak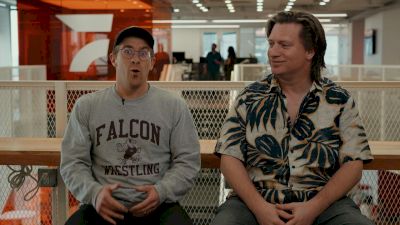 The 2023 Big Ten Wrestling Championships are set to go down March 4-5 in Ann Arbor, Michigan, and will feature some of the nation's best wrestlers on their quest to NCAAs. We should get the "official" seeds for Big 10's in the next 7-10, and that gives us plenty of time to speculate and predict what they might be. Take a look at the below article for a breakdown of what the seeds we're predicting at each weight.
First things first, the official seeds are decided on a vote from the Big 10 coaches. There are not set "criteria" for these seeds but for the below seeds we used head-to-head results against Big 10 opponents to sort out the seeds. When there were a group of 3 or 4 wrestlers who traded wins and losses, we then looked at each wrestler's complete resume that included prior years results and competition against out-of-conference opponents.
125 Pounds
Projected Seeds:
Allocations - 9
There aren't too many challenges in sorting out 125. Spencer Lee is obviously the top spot but Cronin and Ramos could both justifiably be the #2 seed. Both have only lost to Spencer Lee but I gave the edge to Cronin based on the number of his quality wins. This year he's defeated Eric Barnett, Patrick McKee, Michael DeAugustino, Malik Heinselman, and Dean Peterson. Matt Ramos' best wins in this field are over Eric Barnett, Patrick McKee, and Braxton Brown.
After that, the rest of the above seeding is based purely on head-to-head results. This won't be the case for every weight, but the above order doesn't have any wrestler seeded below a wrestler he defeated on the year.
133 Pounds
Projected Seeds:
Roman Bravo-Young, Penn State
Jesse Mendez, Ohio State
Lucas Byrd, Illinois
Dylan Ragusin, Michigan
Chris Cannon, Northwestern
Joe Heilmann, Rutgers
Brody Teske, Iowa
Aaron Nagao, Minnesota
RayVon Foley, Michigan State
Taylor LaMont, Wisconsin
Henry Porter, Indiana
Kyle Burwick, Nebraska
Dustin Norris, Purdue
King Sandoval, Maryland
Allocations - 9
133 isn't quite as easy to sort out as 125. The top 3 seeds are clear - RBY, Mendez, and Byrd based on head-to-head results. Things get a little "muddy" after that. Dylan Ragusin hasn't wrestled Chris Cannon this year but is 2-0 in his career against him. However, Ragusin lost to RayVon Foley but has wins over Heilmann, Porter, and LaMont. I believe the coaches should take into account Ragusin's past wins over Cannon but they could swap them and it'd be justifiable.
Joe Heilmann has Big 10 wins this year over RayVon Foley, Baylor Shunk, and Boo Dryden while only losing to Cannon, Ragusin, Mendez, and Byrd. Heilmann's also wrestled a full schedule whereas Brody Teske only has 8 matches on the year. For that reason, Heilmann should get the nod above Teske.
Aaron Nagao could move all the way up to the #6 seed with wins over LaMont, Foley, and Burwick. However, Nagao missed Big 10 matches against both Teske and Byrd. Because of that, I think he'll fall behind Teske and above Foley.
Speaking of Foley, his only win this year in Big 10 competition was the 12-4 major over Dylan Ragusin. Foley lost to Porter, Byrd, Mendez, RBY, Heilmann, and Nagao. Those losses (especially the one to Porter) could drop Foley lower but I think his win over Ragusin is enough to keep him at the 9.
141 Pounds
Projected Seeds:
Real Woods, Iowa
Beau Bartlett, Penn State
Brock Hardy, Nebraska
Danny Pucino, Illinois
Frankie Tal-Shahar, Northwestern
Jake Bergeland, Minnesota
Joey Olivieri, Rutgers
Parker Filius, Purdue
Dylan D'Emilio, Ohio State
Cole Mattin, Michigan
Joe Zargo, Wisconsin
Cayden Rooks, Indiana
Jordan Hamdan, Michigan State
Kal Miller, Maryland
Allocations - 9
Real Woods is the clear #1 seed at 141 with both Beau Bartlett and Brock Hardy having a case for #2. Their only Big 10 loss is against Real Woods but Bartlett is 19-1 on the season while Hardy is 24-4 with a recent loss to true freshman Emilio Ysaguirre. That result might not come into play in the coaches vote but it's enough for me to give the edge to Bartlett.
Seeds 4-8 is where things get challenging. I chose to give Danny Pucino the #4 seed because of his wins over Tal-Shahar and Filius while only losing to Bergeland and Hardy. Tal-Shahar comes in at the #5 seed based on wins over D'Emilio, Olivieri, and Bergeland but losses to Pucino, Hardy, and Woods. Bergeland's best Big 10 win is over Pucino but he lost to Filius and Tal-Shahar. Olivieri has wins over Mattin, Hamdan, and D'Emilio but lost to Bartlett and Tal-Shahar. Filius beat Bergeland and D'Emilio but lost to Hardy, Zargo, and Pucino. You can see how complicated this weight is but the above order rewards the best wins while taking into account each loss.
149 Pounds
Projected Seeds:
Allocations - 9
Austin Gomez hasn't wrestled since January 27 when he was injured during a match against Yahya Thomas. Because of that result, there's a chance Gomez could fall to the #3 seed leaving Sasso the #1 and Thomas the #2. However, Gomez's past wins over Sasso, including this year at the All-Star Classic, give him the edge in my seeding. After that, it's pretty clear with Yahya defeating Max Murin, Murin defeating Shane Van Ness, and Van Ness with only losses to wrestlers seeded above him.
Seeds 6-11 could go a number of different ways. Though Blockhus lost to Dayne Morton, Blockhus also defeated Graham Rooks. Rooks has wins over Ethen Miller and Anthony White. White lost to Miller but defeated Dayne Morton.
Chance Lamer is the wildcard in that group. Lamer wrestled a limited Big 10 schedule with his only Big 10 win over Peyton Omania while losing to Austin Gomez and Max Murin. Lamer's out-of-conference results could earn him a high seed but the coaches could also punish his lack of Big 10 results.
157 Pounds
Projected Seeds:
Allocations - 10
Peyton Robb and Levi Haines are both unbeaten in Big 10 competition and should come in at the #1 and #2 seeds respectively. After that, Kendall Coleman has put together a phenomenal season with Big 10 wins over Will Lewan, Trevor Chumbley, Brayton Lee, Derek Gilcher, and Michael North. Coleman did lose to Robb and Model but his wins should keep him at the #3 seed.
Similar to Coleman, Chase Saldate had only 2 losses to Big 10 opponents (losing to Robb and Gilcher), but had wins over Will Lewan, Brayton Lee, Andrew Clark, Paddy Gallagher, Derek Gilcher, and Terrell Barraclough. That resume should earn Saldate the #4 seed.
From there, Mike Carr has only wrestled 4 matches this year and is undefeated with a win over Cobe Siebrecht. Siebrecht and Lewan come in at the #6 and #7 - Siebrecht defeated Lewan head-to-head and neither have losses to anyone seeded below them.
Seeds 8-12 could be sorted out in a number of different ways. For the 8, I gave Chumbley the "nod" because of his wins over Lee, Model, and Gallagher. Model's win over Coleman keeps him above Brayton Lee whose only Big 10 win this year is over Derek Gilcher. Gilcher closed his Big 10 season with 5 straight losses but does have a win over Paddy Gallagher giving him the edge in the above seeding.
165 Pounds
Projected Seeds:
Cam Amine, Michigan
Dean Hamiti Jr., Wisconsin
Patrick Kennedy, Iowa
Alex Facundo, Penn State
Carson Kharchla, Ohio State
Caleb Fish, Michigan State
Maxx Mayfield, Northwestern
Danny Braunagel, Illinois
Andrew Sparks, Minnesota
Bubba Wilson, Nebraska
Nicholas South, Indiana
Robert Kanniard, Rutgers
John Martin Best, Maryland
Cooper Noehre, Purdue
Allocations - 8
Any of the top 4 seeds have a claim to the #1 spot - Amine beat Hamiti, Hamiti beat Kennedy, Kennedy beat Facundo, and Facundo beat Amine. I gave Amine the top spot because of his wins over Hamiti and Kharchla. Beyond that, Amine is the most proven of the bunch as a two-time All-American.
Hamiti, also an All-American, has the win over Kennedy along with a win over Julian Ramirez. Coaches might look at his overall resume and give Hamiti the top spot. After that, the order falls in line with head-to-head results. If Amine and Hamiti take the top 2 spots, then Kennedy and Facundo will fall in line as the #3 and #4 seeds respectively.
There are two things that could keep Amine from getting the top seed. First, Amine has a loss on the year to Ohio State's Bryce Hepner (who's redshirting this season). While Hepner is solid, that loss is likely the "worst" of any of the top 4. Also, Amine wrestled a shortened Big 10 schedule because of an injury and missed potential matches against Patrick Kennedy, John Martin Best, and Nicholas South. Missing those matches, especially the match against Kennedy, might cause enough coaches to vote against Amine and for a wrestler who competed in a full schedule.
After the top 4, Kharchla is the clear #5 seed with losses to Amine and Facundo and wins over Mayfield, Fish, and Best. Caleb Fish and Maxx Mayfield both have an argument for the #6 seed. Both have wins over Braunagel and Sparks but Mayfield split with Braunagel so I gave Fish the #6 spot. The rest of the seeds fall in line with head-to-head results and should be fairly simple from 8-14.
174 Pounds
Projected Seeds:
Carter Starocci, Penn State
Mikey Labriola, Nebraska
Ethan Smith, Ohio State
Bailee O'Relly, Minnesota
Edmond Ruth, Illinois
Donnell Washington, Indiana
Nelson Brands, Iowa
Troy Fisher, Northwestern
Max Maylor, Michigan
Jackson Turley, Rutgers
Caesar Garza, Michigan State
Dom Solis, Maryland
Josh Otto, Wisconsin
Macartney Parkinson, Purdue
Allocations - 7
Unlike 165, the seeding at 174 should be fairly simple. Starocci and Labriola are undefeated with the rest of the order falling in line with head-to-head results. 174 is especially simple in that there are no "ranker's delights" throughout the weight. That means there isn't a group of 3 or 4 wrestlers who have traded wins and losses like there are at other weights.
184 Pounds
Projected Seeds:
Aaron Brooks, Penn State
Kaleb Romero, Ohio State
Isaiah Salazar, Minnesota
Matt Finesilver, Michigan
Layne Malczewski, Michigan State
Abe Assad, Iowa
Lenny Pinto, Nebraska
Brian Soldano, Rutgers
Dylan Connell, Illinois
Tyler Dow, Wisconsin
Evan Bates, Northwestern
Ben Vanadia, Purdue
Clayton Fielden, Indiana
Kevin Makosky, Maryland
Allocations - 9
Like at 174, the seeding at 184 shouldn't be too complicated. Aaron Brooks and Kaleb Romero are the clear #1 and #2 seeds. Both Finesilver and Salazar have a claim for the #3 spot. I gave the edge to Salazar because he's undefeated in Big 10 competition with wins over Pinto and Malczewski, however, Salazar never faced Romero or Brooks.
Assad is also a challenging wrestler to seed. He defeated Dylan Connell and Lenny Pinto but dropped a match to Tyler Dow. I believe that puts Assad at the #6 spot ahead of Pinto but behind Malczewski. Unlike Assad, Malczewski wrestled a full Big 10 schedule and hasn't lost to anyone seeded below him. On top of that, Malczewski has wins over Soldano, Pinto, and Connell. After the top 6, seeds #7-#14 fall in line with head-to-head results and should play out as listed above.
197 Pounds
Projected Seeds:
Max Dean, Penn State
Silas Allred, Nebraska
Zac Braunagel, Illinois
Jacob Warner, Iowa
Jaxon Smith, Maryland
Gavin Hoffman, Ohio State
Cam Caffey, Michigan State
Braxton Amos, Wisconsin
Michial Foy, Minnesota
Nick Willham, Indiana
Billy Janzer, Rutgers
Andrew Davison, Northwestern
Brendin Yatooma, Michigan
Hayden Filipovich, Purdue
Allocations - 9
197 pounds - the weight of chaos all season long and it's no different in Big 10 seeding! Max Dean is the reigning NCAA champion at 197 pounds and managed to go undefeated in Big 10 competition with wins over Hoffman, Warner, Caffey, and Amos. Dean is the clear #1 seed.
Seeds #2-#9 will be a nightmare to sort! In that group, only Jaxon Smith is undefeated against Big 10 competition, however, he missed matches against Gavin Hoffman, Cam Caffey, and Max Dean. The rest of those wrestlers have all traded wins and losses this year - check out the results of those seeded #2-9:
Silas Allred - Wins over Hoffman, Braunagel, Amos, and Foy. Lost to Warner
Zac Braunagel - Wins over Warner, Amos, and Foy. Lost to Smith, Allred, and Caffey
Jacob Warner - Wins over Allred and Yatooma, Lost to Foy, Dean, and Braunagel
Jaxon Smith - Wins over Braunagel and Willham
Gavin Hoffman - Wins over Caffey and Janzer. Lost to Braunagel, Allred, and Dean
Cam Caffey - Wins over Braunagel, Willham, Janzer, and Foy. Lost to Hoffman
Braxton Amos - Wins over Foy, Davison, and Franklin. Lost to Dean, Allred and Braunagel
Michial Foy - Wins over Warner, Willham, and Davison. Lost to Amos and Braunagel
While there isn't a clear way to sort out those 8 wrestlers, I believe the above order rewards quality wins balanced with losses in the most rational way. Warner might drop further with his only quality win coming against Allred but I believe his history as a 3X All-American proves he's worthy of a high seed. Smith might be able to come up to the 2 or 3 but I don't believe he should be rewarded for 1 win over Zac Braunagel. However it works out in the seeding, this weight should be incredibly fun to watch unfold at the Big 10s.
285 Pounds
Projected Seeds:
Mason Parris, Michigan
Greg Kerkvliet, Penn State
Tony Cassioppi, Iowa
Lucas Davison, Northwestern
Trent Hillger, Wisconsin
Boone McDermott, Rutgers
Tate Orndorff, Ohio State
Jaron Smith, Maryland
Jacob Bullock, Indiana
Hayden Copass, Purdue
Cale Davidson, Nebraska
Garrett Joles, Minnesota
Ryan Vasbinder, Michigan State
Matt Wroblewski, Illinois
Allocations - 9
The seeds at 285 should be pretty straightforward. Mason Parris has wins over Greg Kerkviet, Tony Cassioppi, Lucas Davison, and Trent Hillger this year. Kerkvliet beat Cassioppi, Cassioppi beat Davison, Davison beat Hillger, Hillger beat McDermott.
McDermott hasn't wrestled Orndorff or Bullock this season, however, McDermott did defeat Jaron Smith. Orndorff, Smith, and Bullock have all traded wins and losses this year. Because of that, I gave McDermott the edge over Orndorff but the coaches could push McDermott lower because of his losses to Orndorff and Bullock last season.
Seeds #10-14 should fall in line with the above order based on head-to-head results this year.
Again, these are simply hypothetical seeds on how we THINK they will shake out. The real seeds will be decided by a vote from the Big 10 coaches. As always, we're open to hearing your feedback - I'd love to hear what you think the seeds should be at 165 - you can let me know by emailing me at jonathan.kozak@flosports.tv or sending me a dm on Twitter @KozakJon.