2023 Ranking Series # 1 Zagreb Open
Valencia vs Yazdani Headlines Best Matches At The Zagreb Open
Valencia vs Yazdani Headlines Best Matches At The Zagreb Open
A breakdown of the best potential matches for Team USA in men's freestyle at the 2023 Zagreb Open.
Jan 30, 2023
by Jon Kozak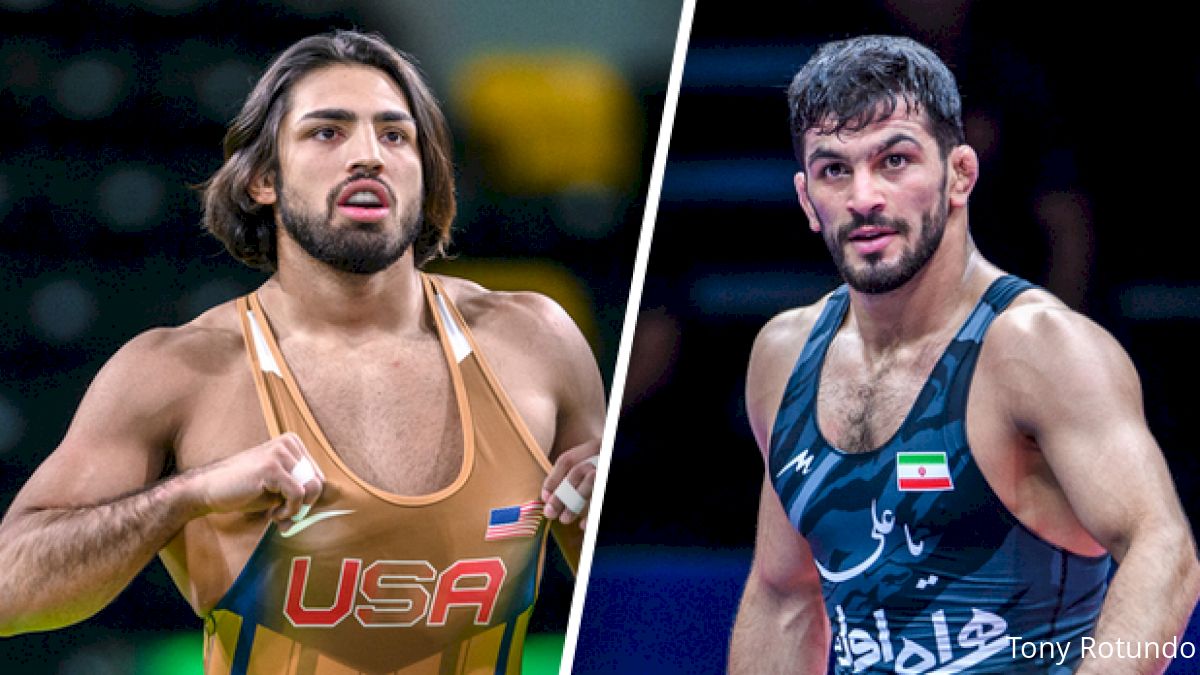 The Zagreb Open is the first Ranking Series event of the year and will feature some of the world's best wrestlers on February 1-5. Check out the below article for a breakdown of some of the best potential men's freestyle matches for Team USA in Croatia.
Zahid Valencia has firmly established himself as the second-best wrestler in America behind David Taylor. Similarly, Hassan Yazdani is clearly the second-best wrestler in the WORLD…like Zahid, behind only David Taylor. So the question is - does Zahid Valencia have the chops to challenge Yazdani?
There are a few things that suggest Valencia is ready. First, Valencia only lost to David Taylor 4-2 in their first Final X match - Yazdani lost 7-1 at worlds. Beyond that, Zahid hasn't lost to an international opponent since January of 2022 - that loss came against Russia's Amanula Rasulov at the 2022 Yarygin. Since then, Zahid has continued to show major improvement both in his offense and his stamina - things he'll need against Yazdani. It's also worth noting that Rasulov is an incredibly defensive wrestler, but Yazdani likes to push the pace and engage in wrestling positions. That makes me think Zahid will be in numerous positions to score against Yazdani and convert at least once. Yazdani is certainly the favorite in this potential bout, but I expect Valencia to be in this match til the end.
Zahid's recent win over world medalist Alireza Karimi: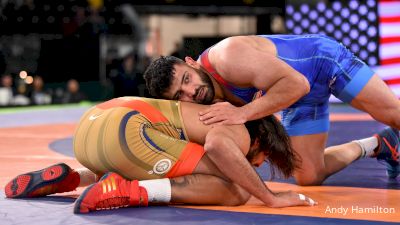 Unlock this video, live events, and more with a subscription!
Get Started
Already a subscriber? Log In
Tajmuraz Salkazanov has placed second at both of the past two world championships losing only to Kyle Dake in the finals both years. Beyond that, Salkazanov has incredible wins on his resume including those over Frank Chamizo (3X), Soner Demirtas, Razambek Zhamalov, and Avtandil Kentchadze. Simply put, Salkazanov is clearly the third-best 74kg wrestler in the world, behind only Zaurbek Sidakov and Kyle Dake.
Is Jason Nolf ready to beat Salkazanov? Nolf has steadily improved his freestyle game over the past few years. He's worked his way into the top 10 in the world after defeating 2021 world bronze medalist Timur Bizhoev at the 2022 Yarygin. He also went from getting destroyed by Kyle Dake at the Olympic Trials to losing two, razor-thin matches at 2022 Final (4-2 and 2-1). If Jason Nolf continues to make gains, we should expect him to wrestle Salkazanov competitively in Croatia!
Salkazanov's win over Frank Chamizo at the 2022 European Championships: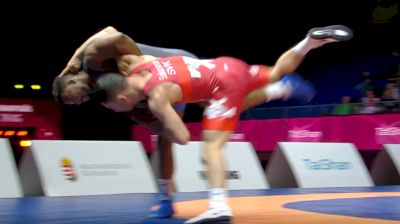 Unlock this video, live events, and more with a subscription!
Get Started
Already a subscriber? Log In
OH MY! 65kg is LOADED and has the potential to pit some of America's top wrestlers against some of the best in the world. All three of America's reps are ranked in the top 5 of our domestic men's freestyle rankings - #2 Joey McKenna, #3 Nick L33, and #5 Evan Henderson.
The Americans will be challenged by some top 5 guys in the world - #2 Ismail Musukaev and #4 Tulga Tumur-Ochir. Musukaev is a two-time world medalist (bronze in 2022 and 2019) and is one of the most exciting wrestlers in the world regardless of weight. Tumur-Ochir won world bronze in 2021 and has recent wins over Joey McKenna and Yianni Diakomihalis. If any of the Americans can take out Tumur-Ochir or Musukaev, then they'll be ready to challenge Yianni this year for the world team spot.
Tumur-Ochir's win over Yianni at the 2022 World Cup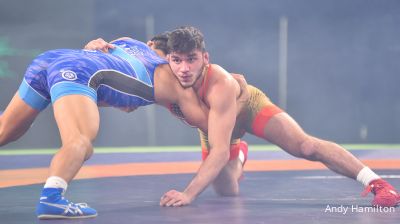 Unlock this video, live events, and more with a subscription!
Get Started
Already a subscriber? Log In
#14 Chance Marsteller vs #1 Ali Savadkouhi, 79kg - February 2
Ali Savadkouhi has recorded the best wins of anyone in the world over the past three months. Savadkouhi defeated world silver medalist Mohammad Nokhodi and world/Olympic Champion Zaurbek Sidakov in November. He followed up those wins by being the first Iranian ever to defeat Jordan Burroughs. Savadkouhi took out Burroughs in December at the World Cup in a tight, 6-6 match.
Savadkouhi's win over Burroughs: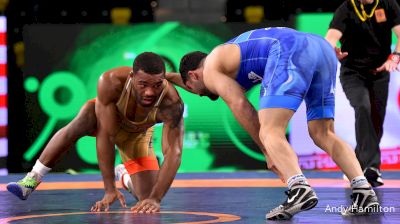 Unlock this video, live events, and more with a subscription!
Get Started
Already a subscriber? Log In
So why wasn't Savadkouhi on Iran's world team last year? Answer - CHANCE MARSTELLER. Savadkouhi was primed to represent Iran at the 2022 World Championships after he defeated countrymen Nokhodi in the opening round of the Ranking Series Event in Tunisia. All Savadkouhi needed to do was defeat Chance Marsteller and win gold. However, Marsteller shocked Savadkouhi in the next round, 9-6. Then, because it was a round-robin, Marsteller lost to Nokhodi eliminating Savadkouhi from the tournament. Nokhodi went on to win gold in Tunisia and Savadkouhi was kept off the world team.
Since then, Savadkouhi once again looks ready to take over the world team spot for Iran but Marsteller has also been making his case for Team USA at 79kg. Marsteller notably defeated Jordan Burroughs in Match 2 of Final X and has made steady improvements to his freestyle game over the past few years. Can Marsteller take out Savadkouhi again and prove he's ready to challenge for a world title this year? This potential match in Zagreb will be a great help in answering that question.
Marsteller's win over Savadkouhi from last Summer in Tunisia: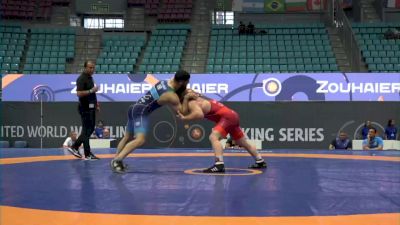 Unlock this video, live events, and more with a subscription!
Get Started
Already a subscriber? Log In
Alec Pantaleo vaulted up the rankings after defeating world silver medalist Amir Yazdani and U23 World Champ Giorgi Elbakidze at the World Cup in December. However, Pantaleo isn't the only rep from the United States who could make some noise in Zagreb. Both Tyler Berger and Hayden Hidlay have past wins over Pantaleo and will be worth watching against this field.
While the matchups between the US competitors will be incredible for fans, it will also be interesting to see how Team USA's reps match up against the top wrestlers from around the world. The two international competitors to look out for are the aforementioned Elbakidze and 3-time world champion Haji Aliyev. Whoever comes out on top of this bracket, will absolutely prove they're ready to medal at the world level. Along with the win over Elbakidze, Pantaleo also has a win over Haji Aliyev back at the 2021 Poland Open, check out that match below: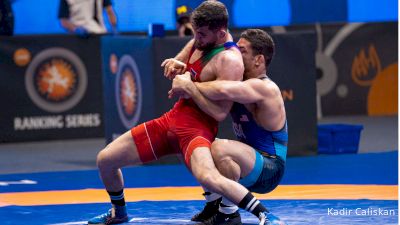 Unlock this video, live events, and more with a subscription!
Get Started
Already a subscriber? Log In
At only 22 years old, Amir Zare is Iran's next superstar. He burst onto the scene with an Olympic bronze in Tokyo and followed that performance with a world title in Oslo in 2021. At those world championships, he defeated legends Geno Petriashvili and Taha Akgul. Zare took a slight step back in 2022 - losing to Akgul and winning world bronze. However, Zare has proven he will contend for world titles for as long as he wants.
While Zare burst onto the scene, it took Hayden Zillmer years of work to earn a spot on Team USA's world team. After competing on the senior level at both Greco and Freestyle for 6 years, Zillmer surprised everyone last year when he beat Nick Gwiazdowski in an incredible best-of-three series at Final X. Since making the team, Zillmer has continued to put on size and make improvements after suffering close losses to 3-time world champion Geno Petriashvili and world medalist Lkhagvagerel Munkhtur. Zillmer will be tested against Zare but this will be the perfect opportunity for him to prove his performance at Final X wasn't a fluke.
Zillmer's incredible win over Nick Gwiazdowski to make the 2022 World Team: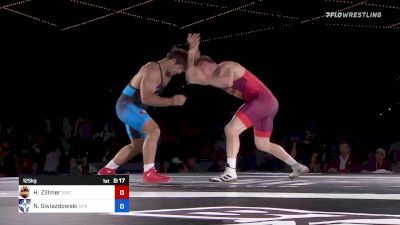 Unlock this video, live events, and more with a subscription!
Get Started
Already a subscriber? Log In
The above matches are just a taste of some of the incredible wrestling we could see in Zagreb! Check out the complete entry list for the Zagreb Open here along with a schedule for the event here.