Women's Weekly
Women's Weekly: Can McKendree Compete With Iowa?
Women's Weekly: Can McKendree Compete With Iowa?
McKendree will challenge King and North Central at this year's national championships, but can the Bearcats take down the Hawkeyes next season?
Jan 24, 2023
by Kyle Klingman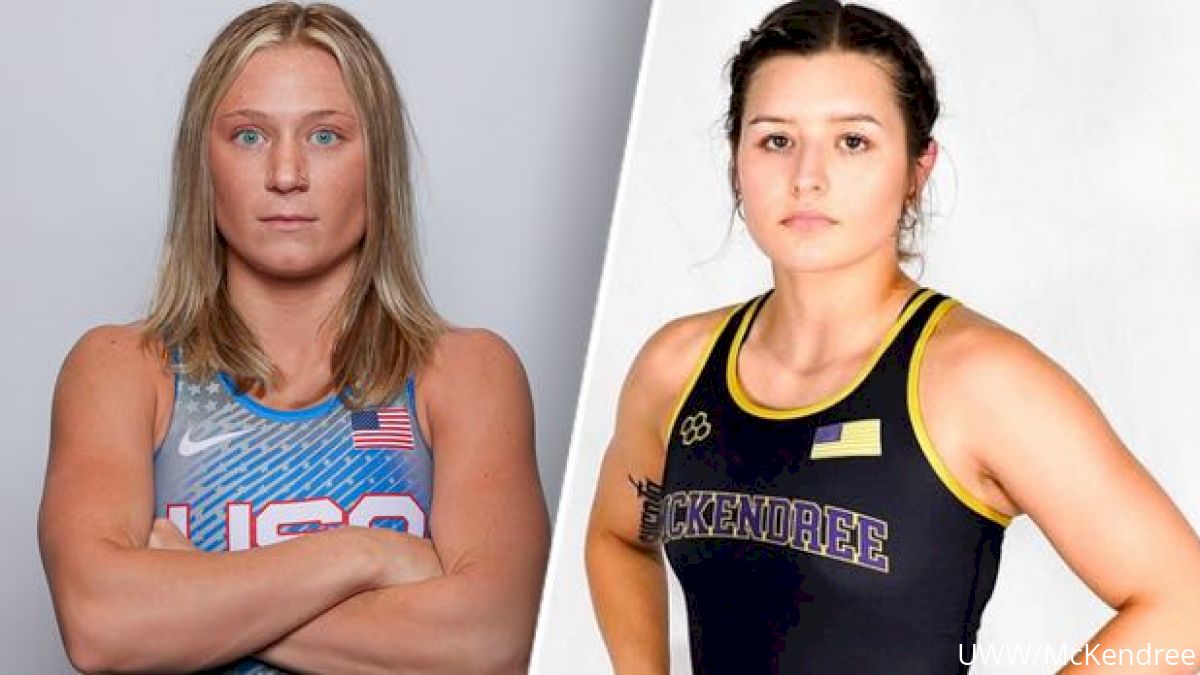 Don't count out the reigning three-time national collegiate champions just yet.
McKendree's rookie head coach Alexio Garcia is designing a team that can compete for a fourth straight title after a rocky start to the season. The team is currently 6-4 after finishing third at the NWCA Multidivisional National Duals, but much has changed in the past two weeks.
The Bearcats are the only team to hoist a championship trophy over their heads since the inception of the National Collegiate Women's Wrestling Championships (NCAA programs) in 2020. It seemed inevitable that the streak would end after several top wrestlers transferred to different schools once Sam Schmitz — the architect of the program — left for Central Methodist.
Now, it's a three-team race between North Central, King, and McKendree.
It's not like the cupboard was completely bare when Garcia arrived in Lebanon, Illinois. He inherited four national champions — Pauline Granados, Cam Guerin, Alara Boyd, and Sydnee Kimber — to build around. Two-time All-Americans Lizzette Rodriguez and Payton Stroud were also in the line-up, which gave McKendree a fighting chance.
However, the Bearcats had holes — and Garcia went on a recruiting frenzy to fill them.
None was bigger than Emily Shilson.
The undefeated four-time national champion (one WCWA and three NCWWC) from Augsburg announced on Instagram that she is transferring to McKendree. There's no such thing as a lock, but don't be surprised if Shilson dominates her way to the 109-pound title.
Garcia also picked up Sophia Mirabella — an All-American from King University who transferred during the semester. It's uncertain where she will fit into the line-up, but these are two key additions to the team.
McKendree's potential national tournament line-up looks formidable on paper (NCWWC placings in parenthesis):
101: Lizzette Rodriguez (3-3)
109: Emily Shilson (1-1-1)
116: Payton Stroud (8-5)
123: Jennifer Soto
130: Cameron Geurin (1-1)
136: Sophia Mirabella (4)
143: Alara Boyd (2-1-2)
155: Abigail Varady
170: Alexandra Castillo
191: Sydnee Kimber (1-1-1)
Here's where North Central and King have an edge, though. Each team can qualify 15 wrestlers for the national tournament (no more than two per weight) and the best 10 score points (one per weight). That means a strong and balanced team has an edge.
Take 101 pounds as an example.
McKendree has Lizzette Rodriguez, a legitimate title contender. King has two legitimate title contenders: Jessica Corredor and Avery Kibelbek.
Let's say Corredor wins, Kibelbeck gets third, and Rodriguez gets fourth. Kibelbeck won't score team points but it will push Rodriguez's placement potential down.
The best-case scenario for McKendree is for Rodriguez to win and for both King wrestlers to place as low as possible.
North Central has the same depth as King, so this is to their advantage. It might take five national champions for McKendree to win, but this is now a realistic possibility. McKendree and King each finished with 12 All-Americans in 2022, so it will likely take that type of team effort to win in 2023.
Either way, we are in for a treat at the National Collegiate Women's Championships in Cedar Rapids, Iowa, on March 3-4.
How About The Hawkeyes?
Now, let's get way ahead of ourselves.
Garcia went on a recruiting spree this season. McKendree has commitments from Shelby Moore (#2 P4P), Destiny Rodriguez (#3 P4P), Alex Szkotnicki (#11 P4P), Savannah Gomez (#13 P4P), and U17 World bronze medalist Lilly Freitas.
If Garcia can get his best wrestlers to take their COVID year, McKendree has a legitimate chance to compete with Iowa next season.
Remember, this is pure speculation. Injuries, transfers, incoming recruits, and wrestle-offs can change everything. This is just a guess at where certain wrestlers might end up. Below is a hypothetical dual between McKendree and Iowa.
101: Lizzette Rodriguez (McKendree) vs Sterling Dias (Iowa)
109: Emily Shilson (McKendree) vs Nyla Valencia (Iowa)
116: Payton Stroud (McKendree) vs Felicity Taylor (Iowa)
123: Jennifer Soto (McKendree) vs Emily Frost (Iowa)
130: Cam Geurin (McKendree) vs Nanea Estrella (Iowa)
136: Sophia Mirabella or Savannah Gomez (McKendree) vs Ester Han (Iowa)
143: Alara Boyd (McKendree) vs Reese Larramendy (Iowa)
155: Destiny Rodriguez (McKendree) vs Bella Mir (Iowa)
170: Lilly Freitas (McKendree) vs Kylie Welker (Iowa)
191: Sydnee Kimber (McKendree) vs Sam Calkins (Iowa)
Rodriguez, Shilson, Soto, Guerin, Mirabella, Boyd, Rodriguez, and Kimber could win their matches if the Hawkeyes use this line-up. Taylor (a McKendree transfer) and Welker are probably a lock for Iowa, while the other eight are toss-ups to varying degrees.
Estrella wrestled at 59 kg (approximately 130 pounds) during the international season but bumped up to 136 for college opens. There's no telling where she'll end up and, really, there's no telling where anyone will end up. Boyd, Kimber, and Shilson will have to use their COVID years for this to work.
And there is no guarantee that these two teams will dual next season, although it would be sad if they didn't.
Robert Horton Memorial Open
It was a light weekend for women's college wrestling, but the Robert Horton Memorial Open in Franklin Springs, Georgia had some interesting results. Most teams didn't send a full line-up so the results were mixed.
— King had four champions: Dianna Holmes (109), Danielle Garcia (116), Ashlynn Ortega (143), and Cheyenne Bowman (170). Ortega, a 2022 national champion, has looked sharp during his last two competitions after a lengthy layoff.
— Presbyterian's Samantha Miller had a nice run through the 101-pound bracket, including a 14-4 tech over King's Avery Kibelbek. Her teammate, Paige Wehrmeister, won the 143-pound title.
— Xochitl Mota-Pettis of Rise RTC has won two college opens after recovering from an injury following the 2022 U.S. Open in April.
Individual champions
101: Samantha Miller (Presbyterian)
109: Dianna Holmes (King)
116: Danielle Garcia (King)
123: Naomi Henry (New Jersey City)
130: Xochitl Mota-Pettis (Rise RTC)
136: Paige Wehrmeister (Presbyterian)
143: Ashlynn Ortega (King)
155: Katie Mulkay (Alberta)
170: Cheyenne Bowman (King)
191: Maquoia Bernabe (Cumberlands)
Henri Deglane
Five women kicked off their international season at the Henri Deglane tournament in Nice, France. Audrey Jimenez (50 kg) and Forrest Molinari (68 kg) were the lone Americans to secure medals.
Audrey Jimenez, 50kg - Silver
Rd 16: 10-0 over Juliette Lescure, FRA
Quarters: 11-2 over Katie Dutchak, CAN
Semis: 13-2 over Natalia Walczak, POL
Finals: 7-2 loss to Christianah Ogunsanya, NGR
Emily Shilson, 50kg - DNP
Rd 16: 6-2 loss to Julie Sabatie, FRA
Repechage match 1: 6-0 win over Svenja Jungo, SUI
Repechage match 2: forfeit to Augusta Eve, CAN
Savannah Cosme, 57kg - DNP
Rd 16: Pinned by Anna Michalcova, CZE
Repechage: 3-2 loss to Celeste Sion, FRA
Forrest Molinari, 68kg - Bronze
Quarters: 11-1 win over Eyleen Sewina, GER
Semis: 5-3 loss to Pauline LeCarpentier, FRA
Bronze match: 11-1 win over Sofiya Hristova Georgieva, BUL
Kennedy Blades, 76kg - DNP
Round Robin 1: Pinned Taylor Follensbee, CAN
Round Robin 2: Pinned by Elmira Syzdykova, KAZ
Round Robin 3: Forfeited to Laura Kuehn, GER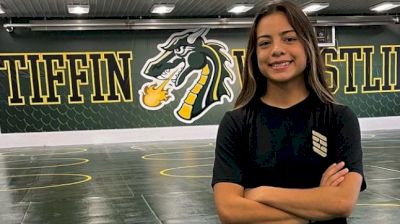 Tiffin freshman Jenavi Alejandro recently won the 2022 Soldier Salute, which proves she belongs in a loaded college field vying for a national title.