2023 NCAA Watch Party: Penn State vs Michigan & Iowa vs Nebraska
The 5 Most Important Stories For Iowa Against Nebraska & Wisconsin
The 5 Most Important Stories For Iowa Against Nebraska & Wisconsin
Iowa will be tested this weekend as the Hawkeyes take on Nebraska at home and Wisconsin on the road.
Jan 19, 2023
by Kyle Klingman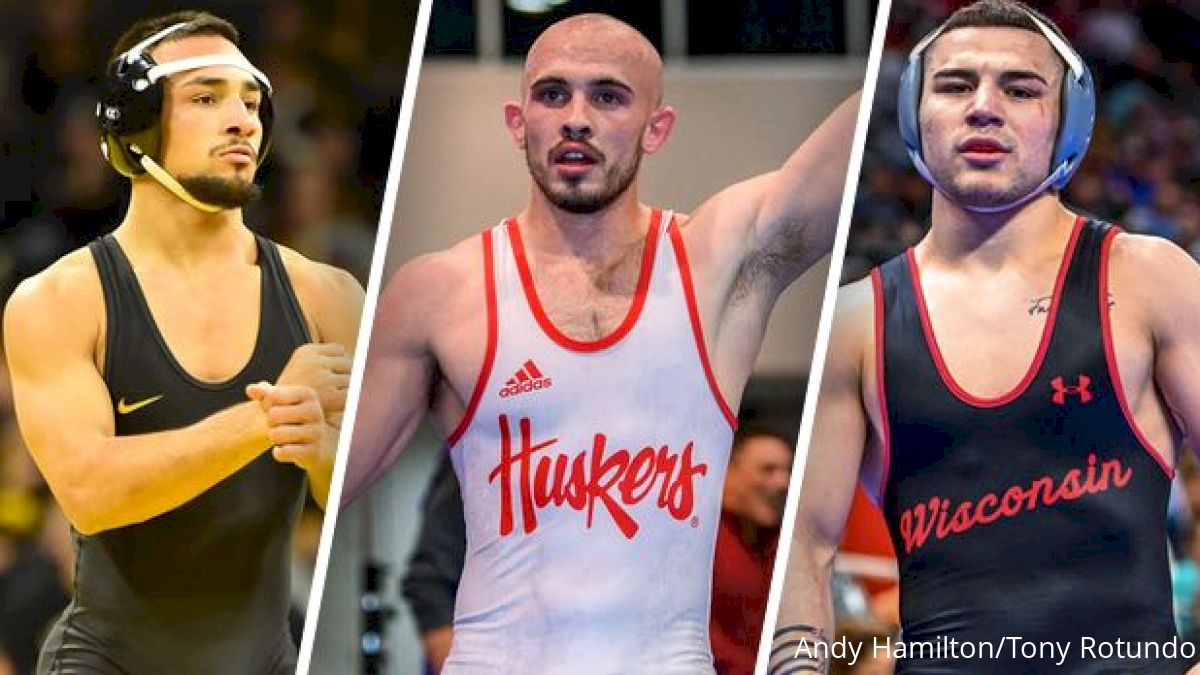 Iowa's dual schedule doesn't let up after a solid 27-9 win over Northwestern last weekend. The undefeated Hawkeyes face Nebraska at home on Friday, January 20 at 8 p.m. CT, and on the road against Wisconsin on Sunday, January 22 at 2 p.m. CT.
The Cornhuskers are currently tied with Iowa in the team tournament rankings but there's still a gap between the two in duals. Nebraska secured a 21-9 win over Minnesota on Friday then defeated Northwestern, 22-15, two days after the Wildcats were in Iowa City.
Wisconsin fell to Michigan, 27-6, on January 15 but the Badgers have plenty of firepower in their line-up to make things interesting against the Hawkeyes in Madison.
Both duals are live on the B10 Network, or you can follow along with FloWrestling's watch party on Friday.
Below are five storylines to follow as all three teams push toward the B10 and NCAA Championships in March.
125: #1 Spencer Lee (Iowa) vs #3 Liam Cronin (Nebraska) and #8 Eric Barnett
The wrestling world stops when Spencer Lee takes the mat — and for good reason. The Hawkeye senior is on a tear and no one appears to be safe. His last four matches have ended with a first-period fall — the most recent against previous #3 and current #5 Michael DeAugustino of Northwestern.
Nebraska's Liam Cronin picked up an 11-2 major decision over DeAugustino several hours after Lee's win, so the question is this: Can Cronin make it out of the first period?
The Hawkeye superstar secured a pin in 1:21 during last season's Nebraska dual and won 15-0 (3:16) and by fall in 54 seconds when Cronin was at Indiana. Barnett — a two-time All-American — has never faced Lee, but the same question applies. How long can he last?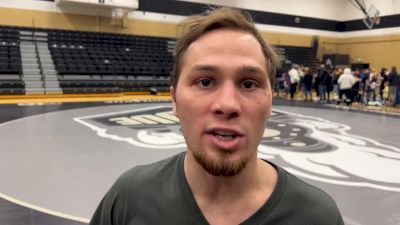 Spencer Lee broke down his crazy match with Purdue's Matt Ramos where he was thrown to his back but eventually secured a first-period fall
141: #2 Real Woods (Iowa) vs #4 Brock Hardy (Nebraska)
Keep Brock Hardy on your radar, because he will be a tough out for anyone in the wide-open 141-pound class. The Nebraska freshman is 19-2 on the season but has won his last 18 in a row, including a 6-0 win over Northwestern's #10 Frankie Tal-Shahar and a 9-0 major decision over Minnesota's #11 Jake Bergeland last weekend.
Woods is 7-0 on the season and looked stellar during his match against Tal-Shahar, garnering a 17-2 tech with a dominant first period that included bundles of near-fall points.
This is the best match on paper and it should live up to the hype. Hardy is a stingy wrestler who doesn't give up points, while Woods is an explosion of offensive output. This will be a significant win for either wrestler.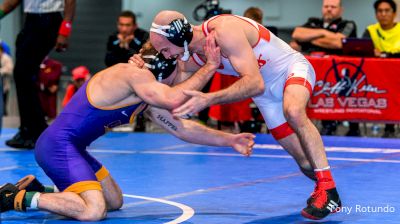 Unlock this video, live events, and more with a subscription!
Get Started
Already a subscriber? Log In
Brock Hardy defeated Northern Iowa's Cael Happel during the finals of the 2022 Cliff Keen-Las Vegas Invite
149: #10 Max Murin or Caleb Rathjen (Iowa) vs #2 Austin Gomez (Wisconsin)
This has been quite a season to be a 149-pounder, with most of the top-tier wrestlers garnering at least one significant win.
Austin Gomez is at the top of the list.
He knocked off Cornell's three-time NCAA champion Yianni Diakomihalis, 9-3, on November 19 followed by a come-from-behind thriller over Ohio State's national finalist Sammy Sasso at the All-Star Classic. His lone loss was a 9-4 setback to Iowa State's Paniro Johnson two weeks prior to his win over Diakomihalis.
Murin is 12-2 this season with close losses to Johnson and to Northwestern's Yahya Thomas. Murin and Gomez have not faced off in college, so this could add to the chaos of an already chaotic season.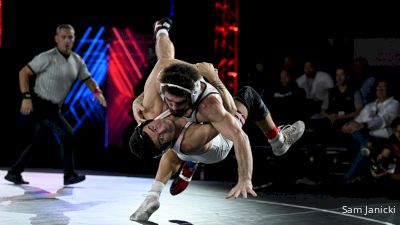 Unlock this video, live events, and more with a subscription!
Get Started
Already a subscriber? Log In
Austin Gomez and Sammy Sasso hung 19 points on the board in an absolute barn burner at the 2022 All-Star Classic
165: #10 Patrick Kennedy (Iowa) vs #6 Dean Hamiti (Wisconsin)
It's always a contrast of styles when Dean Hamiti competes, and this match is no different.
Hamiti is long and lanky with an unorthodox style. Kennedy is straightforward with a relentless pace.
The Badger sophomore is 12-3 on the season and is coming off a 5-3 loss to Michigan's #5 Cameron Amine. Kennedy is 11-1, but this will be his toughest test since a 10-4 loss to Iowa State's #2 David Carr on December 4.
A win by Kennedy will be his biggest win in a Hawkeye singlet, while a victory for Hamiti gets him back to his winning ways.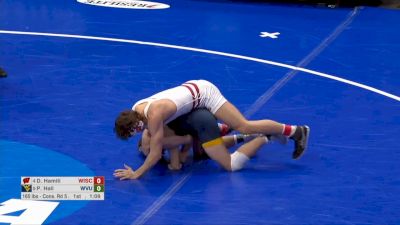 Unlock this video, live events, and more with a subscription!
Get Started
Already a subscriber? Log In
Dean Hamiti's unique style was on display at the 2022 NCAA Championships
197: #10 Jacob Warner (Iowa) vs #13 Silas Allred (Nebraska) and #17 Braxton Amos (Wisconsin)
Zach Glazier was the Iowa starter last weekend against Northwestern, but, if Warner gets the nod, he'll have two significant matches. Allred is on a four-match winning streak with few a nice wins this season. Amos has lost two of his past three matches but, remember, he is still a 2021 Junior World champion who is capable of defeating anyone at 197.
Warner is a three-time national place winner and a returning finalist who has the tools to make a championship run this season. He fell to Zach Braunagel, 3-1, on January 6 so this weekend is an opportunity to right the ship if he gets the nod.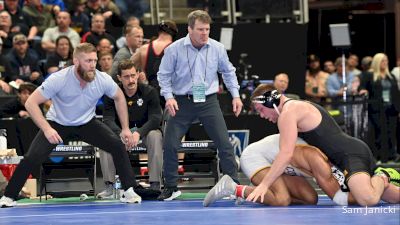 Unlock this video, live events, and more with a subscription!
Get Started
Already a subscriber? Log In
Jacob Warner reached the 2022 NCAA tournament finals with this win over Stephen Buchanan
#12 Nebraska (6-2, 2-0) vs #2 Iowa (10-0, 3-0) Probables
125: #3 Liam Cronin (Nebraska) vs #1 Spencer Lee (Iowa)
133: Kyle Burwick or Boo Dryden (Nebraska) vs #12 Brody Teske or Cullan Schriever (Iowa)
141: #4 Brock Hardy vs #2 Real Woods (Iowa)
149: Dayne Morton or Blake Cushing (Nebraska) #10 Max Murin or Caleb Rathjen (Iowa)
157: #1 Peyton Robb (Nebraska) vs #13 Cobe Siebrecht (Iowa)
165: HM Bubba Wilson or Adam Thebeau (Nebraska) vs #10 Patrick Kennedy (Iowa)
174: #2 Mikey Labriola (Nebraska) #17 Nelson Brands (Iowa)
184: #15 Lenny Pinto or Brandyn Van Tassell (Nebraska) vs #8 Abe Assad (Iowa)
197: #13 Silas Alred (Nebraska) vs #10 Jacob Warner (Iowa)
285: HM Cale Davidson (Nebraska) #3 Anthony Cassioppi (Iowa)
#2 Iowa (10-0, 3-0) vs #10 Wisconsin (6-4, 0-3) Probables
125: #1 Spencer Lee (Iowa) vs #8 Eric Barnett (Wisconsin)
133: #12 Brody Teske or Cullan Schriever (Iowa) vs Taylor LaMont or Nicolar Rivera (Wisconsin)
141: #2 Real Woods (Iowa) vs HM Joseph Zargo (Wisconsin) or Felix Lettini
149: #10 Max Murin or Caleb Rathjen (Iowa) vs #2 Austin Gomez (Wisconsin)
157: #13 Cobe Siebrecht (Iowa) vs #22 Garrett Model (Wisconsin)
165: #10 Patrick Kennedy (Iowa) vs #6 Dean Hamiti (Wisconsin)
174: #17 Nelson Brands (Iowa) vs James Rowley or Josh Otto (Wisconsin)
184: #8 Abe Assad (Iowa) vs Tyler Dow (Wisconsin)
197: #10 Jacob Warner (Iowa) vs #17 Braxton Amos (Wisconsin)
285: #3 Tony Cassioppi (Iowa) vs #11 Trent Hillger (Wisconsin)