NCAA
Nearly 40 Upsets At The Start Of Dual Season
Nearly 40 Upsets At The Start Of Dual Season
All of the upsets from the tenth week of Division 1 collegiate wrestling.
Jan 10, 2023
by Andrew Spey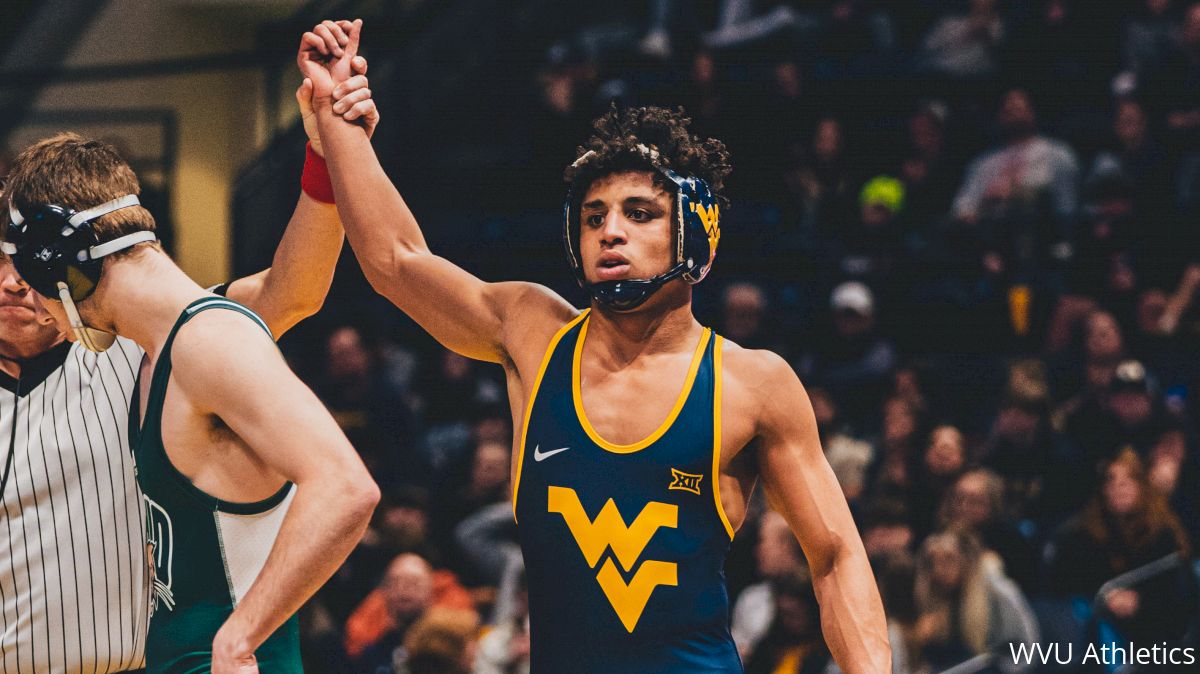 Your regularly scheduled upset blog is back. Now that we've entered dual meet season, expect to see your this upset article at the beginning of every week. Things got a little hairy over the holidays as our rankers kept updating the rankings every dang day and it was nigh impossible to keep up!
But we still compiled all the upsets for you, from both the Midlands and the Scuffle, so you can check those out if you want to know what you missed.
The usual caveats apply here. What looks like an upset today may not look like won next week, or even today, what with our busy rankers releasing a fresh set of rankings already. But still, credit where credit is due!
141lbs Jordan Titus, West Virginia over #2 Cole Matthews, Pittsburgh
157lbs Derek Holschlag, Northern Iowa over #9 Jacob Wright, Wyoming
141lbs Frankie Tal-Shahar, Northwestern over #10 Jakob Bergeland, Minnesota
165lbs Frank Almaguer, California Baptist over #10 Izzak Olejnik, Northern Illinois
174lbs HM Aaron Olmos, Oregon State over #4 Dustin Plott, Oklahoma State
174lbs Jared McGill, Edinboro over #13 Darrien Roberts, Oklahoma
157lbs Michael Carr, Illinois over #15 Cobe Siebrecht, Iowa
184lbs Matt Zuber, Northern Illinois over #16 Cade King, South Dakota State
141lbs HM Jesse Vasquez, Arizona State over #8 Casey Swiderski, Iowa State
157lbs Levi Haines, Penn State over #19 Garrett Model, Wisconsin
125lbs Micah Roes, Binghamton over #22 Jarrett Trombley, NC State
141lbs Lawrence Saenz, Cal Poly over #22 Cole Mattin, Michigan
165lbs Maxx Mayfield, Northwestern over #22 Andrew Sparks, Minnesota
125lbs Jack Medley, Michigan over #23 Antonio Lorenzo, Cal Poly
285lbs HM Jacob Bullock, Indiana over #15 Tate Orndorff, Ohio State
165lbs HM Rodrick Mosley, Gardner-Webb over #15 Bubba Wilson, Nebraska
141lbs Amonn Ohl, Edinboro over #24 Mosha Schwartz, Oklahoma
149lbs Tony White, Rutgers over HM Cade Balestrini, Bloomsburg
133lbs Ryan Franco, Army West Point over HM Gable Strickland, Lock Haven
133lbs Brendan Ferretti, Navy over HM Gabe Hixenbaugh, Campbell
133lbs Nico Nardone, Penn over HM Gable Strickland, Lock Haven
285lbs Tyrie Houghton, NC State over HM Nathan Taylor, Lehigh
174lbs Sal Perrine, Ohio over HM Brody Conley, West Virginia
133lbs Todd Carter, Gardner-Webb over HM Boo Dryden, Nebraska
157lbs Luke Kemerer, Edinboro over HM Jacob Butler, Oklahoma
125lbs Jack Wagner, North Carolina over HM Ryan Miller, Penn
165lbs Joseph Mazzara, North Carolina over HM Lucas Revano, Penn
141lbs Devon Britton, Rutgers over HM McKenzie Bell, Rider
149lbs Kyle Schickel, Clarion over HM Johnny Lovett, Central Michigan
174lbs Luca Augustine, Pittsburgh over HM Brody Conley, West Virginia
157lbs #16 Trevor Chumbley, Northwestern over #8 Brayton Lee, Minnesota
184lbs HM Anthony Carman, West Virginia over #17 Reece Heller, Pittsburgh
133lbs #9 Sam Latona, Virginia Tech over #3 Vito Arujau, Cornell
197lbs #12 Zac Braunagel, Illinois over #6 Jacob Warner, Iowa
165lbs #17 Patrick Kennedy, Iowa over #11 Dan Braunagel, Illinois
141lbs HM Carter Young, Oklahoma State over #19 Cleveland Belton, Oregon State
141lbs #16 Vince Cornella, Cornell over #11 Tom Crook, Virginia Tech
149lbs #6 Kyle Parco, Arizona State over #3 Paniro Johnson, Iowa State
125lbs #16 Trevor Mastrogiovanni, Oklahoma State over #13 Brandon Kaylor, Oregon State