2023 NWCA National Duals - NCWA Division
NWCA National Duals Day 1 Women's Notes
NWCA National Duals Day 1 Women's Notes
Top-seeded King University (NCAA) and Southern Oregon (NAIA) held court, while McKendree survived a nailbiter against Augsburg.
Jan 7, 2023
by Kyle Klingman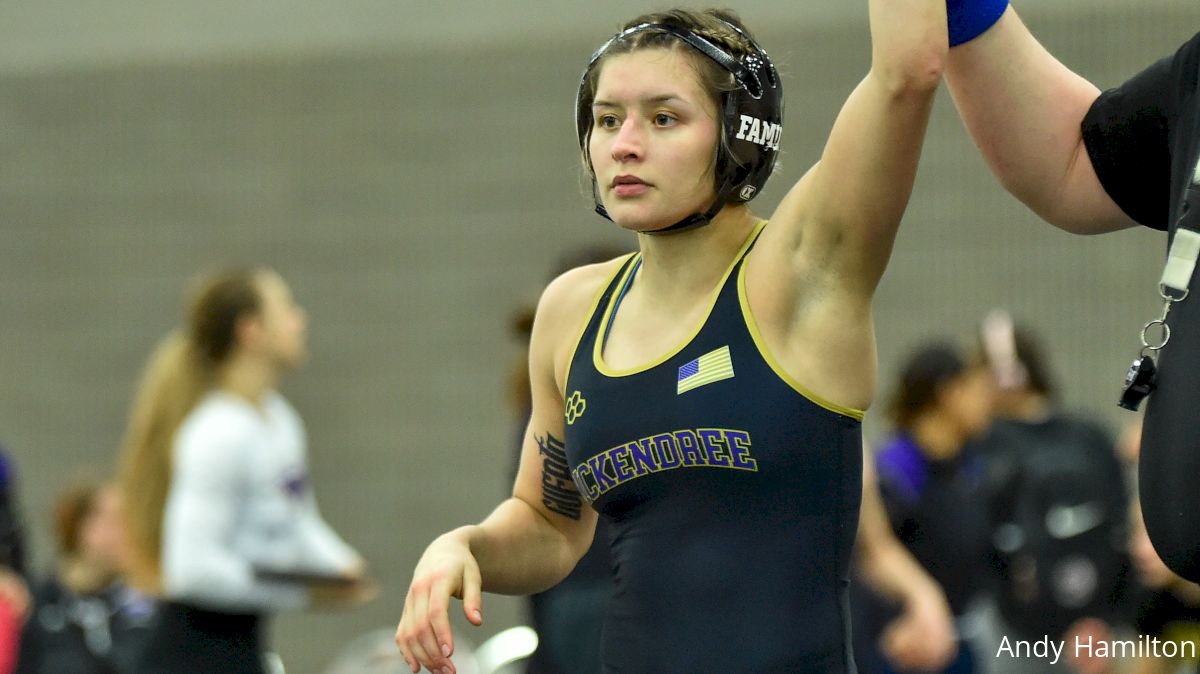 Day one of the NWCA National Duals had plenty of intrigue highlighted by McKendree's quarterfinal thriller over Augsburg in the NCAA division. The Auggies led by five entering the 191-pound final and the Bearcats needed a fall for a tie.
Enter McKendree's three-time national champion, Sydnee Kimber. She was up 8-0 but a 10-0 technical superiority win would give Augsburg a one-point win. Kimber scored a takedown but continued through the move and eventually secured the dramatic fall.
Both coaches approached the scorer's table to figure out which team won on criteria since the score was tied, 23-23. McKendree eventually won, 24-23, based on the most match points scored (24-18) in matches that did not include a fall.
McKendree is the reigning three-time NCWWC championships and National Duals champions in 2020 prior to reaching the finals in 2022.
McKendree vs Augsburg Box Score
101: Lizette Rodriguez (McKendree) Forfeit, 5-0
109: Pauline Granados (McKendree) Forfeit, 10-0
116: Payton Stroud (McKendree) over Tateum Park (Augsburg) TF 12-0, 14-0
123: Gabby Skidmore (Augsburg) over Elvie Villa (McKendree) Fall 2:29, 14-5
130: Cameron Guerin (McKendree) over Autumn Flanigan (Augsburg) Dec 10-2, 17-6
136: Ellisa Jimenez (Augsburg) over Abigail Varady (McKendree) TF 10-0, 17-10
143: Katie Lange (Augsburg) over Alara Boyd (McKendree) Dec 6-2, 18-13
155: Marlynne Deede (Augsburg) over JoLynn Harris (McKendree) Fall 1:08, 18-18
170: Brooklyn Hays (Augsburg) over Alexandra Castillo (McKendree) Fall 2:01, 18-23|
191: Sydnee Kimber (McKendree) over Faith Tuttle (Augsburg) Fall 2:30, 23-23
McKendree won 24-23 on match points (24-18)
Fit For A King
Jason Moorman's top-seeded King University is missing a 191-pounder but it didn't matter during the team's lone match of the day. The Tornado had a first-round bye then won eight of nine contested matches for a 34-12 quarterfinal win over Gannon.
North Central Has Near Perfect Day
Cardinals coach Joe Norton's team might be seeded second but they may be the team to beat after the first day. North Central won 19 of 20 bouts in duals against Tiffin (45-2) and Sacred Heart (38-7). The lone individual loss was Alexandra Fitzgerald's 14-4 tech over Sara Sterner at 130.
They will face Colorado Mesa in the semifinals following a pair of wins over D1 Lindenwood (30-16) and Presbyterian (29-14). The Mavericks are without top-ranked Marissa Gallegos who did not make the trip due to illness.
A Good Life
Life University was back to its winning ways following a dramatic NAIA National Duals title in 2022. The Running Eagles defeated Baker, 37-9, in the first round and upended Providence, 38-10, in the quarterfinals.
Grand View University reached the semifinals following a come-from-behind win over Indiana Tech in the quarters. The Vikings were down 17-9 after six matches but dominated the final four bouts for a 26-17 win.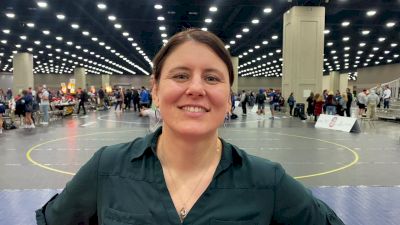 Life University coach Ashley Flavin reflects on her team's 2-0 day at the NWCA National Duals
Raiders Of The Lost Ark
There's a reason Southern Oregon is the top-seeded NAIA team at the National Duals. The Raiders toppled Ottawa 43-6 in the first round by winning nine of 10 matches. It was more of the same in the quarters when they won eight of 10 bouts against Texas Wesleyan for a 38-10 quarterfinal win.
Southern Oregon will face Menlo in the semifinals after the Oaks handled reigning two-time NAIA Invitational champions Campbellville, 38-8. Menlo won a title in 2019, so the two teams have combined for every championship since the inception of the NAIA championships.
Click here for full women's freestyle brackets
NWCA National Duals Day One In Pictures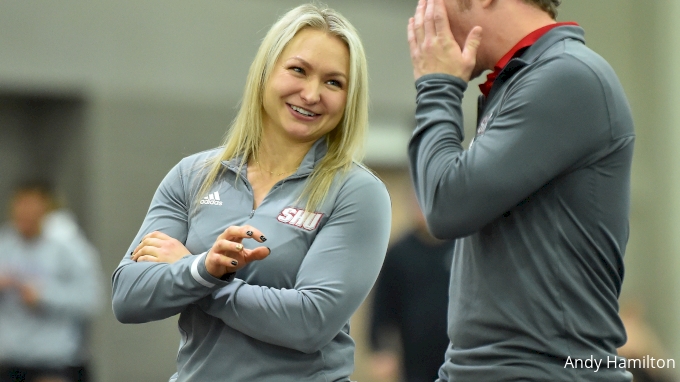 Sacred Heart's Paulina Biega leads one of four D1 women's wrestling programs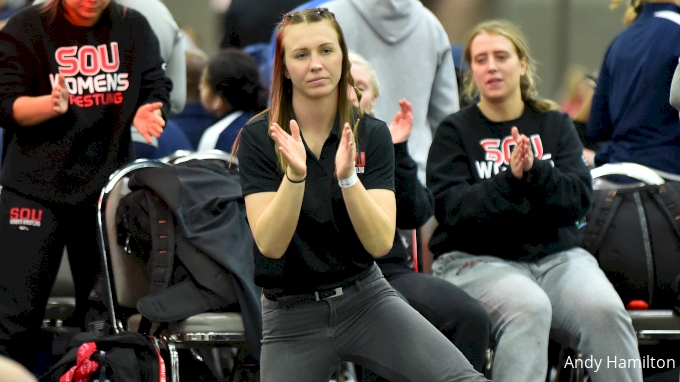 Southern Oregon coach Gabby Weyrich has the top-seeded NAIA team at the National Duals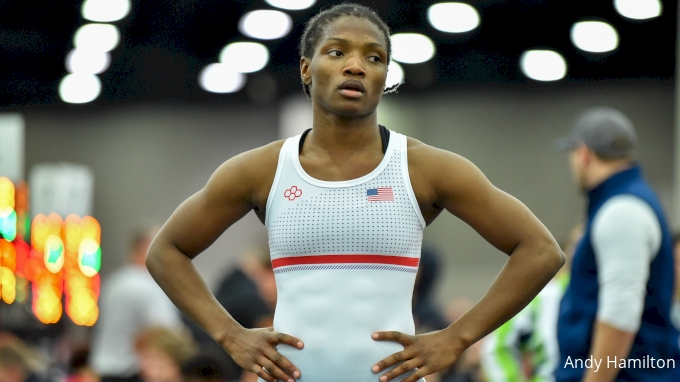 Adaugo Nwachukwu of Iowa Wesleyan is ranked first at 136 pounds (NAIA)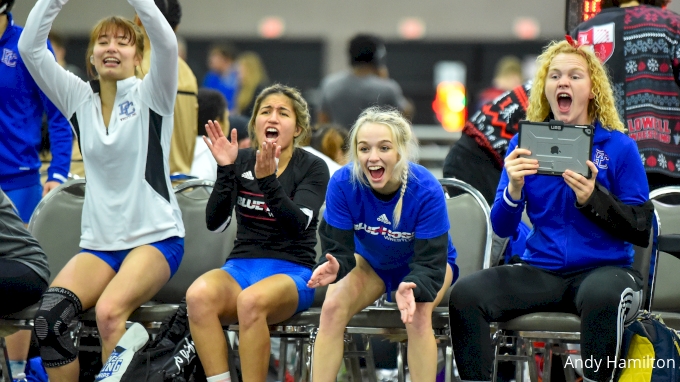 Presbyterian was fired up during its opening dual at the NWCA National Duals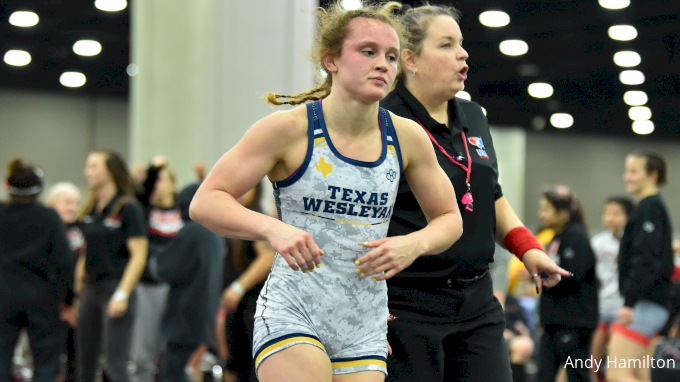 Texas Wesleyan's Lexi Basham competed at the World Cup prior to participating in the NWCA National Duals