2022-23 Iowa Wrestling
5 Big Tests For Iowa On Opening B10 Dual Weekend
5 Big Tests For Iowa On Opening B10 Dual Weekend
There are a handful of matches to keep an eye on when Iowa faces Illinois and Purdue this weekend.
Jan 5, 2023
by Kyle Klingman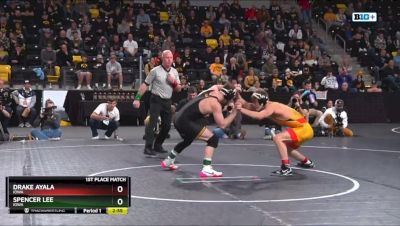 Unlock this video, live events, and more with a subscription!
Get Started
Already a subscriber? Log In
Iowa kicks off its B1G schedule with a pair of weekend duals. The Hawkeyes face Illinois at home on Friday, January 6 at 7 p.m. CT then hit the road for a dual at Purdue on Sunday, January 8 at 1 p.m.
Friday's dual is on BTN+ and Sunday's dual is on the Big Ten Network. FloWrestling is hosting a watch party for Illinois vs Iowa.
There are several intriguing storylines highlighted by the possibility of Spencer Lee in the line-up for the remainder of the season. Lee has earned two falls, two major decisions, and a technical fall in five matches.
Below are five must-watch matches heading into the weekend.
125: #1 Spencer Lee (Iowa) vs #11 Matt Ramos (Purdue)
Lee, as mentioned above, has been on a tear. Iowa's three-time NCAA champion shows no signs of slowing down but this is the toughest test so far this season.
The Boilermaker sophomore is 19-2 and recently won the prestigious Southern Scuffle after reaching the finals of the Cliff Keen-Las Vegas Invitational, where he fell to Arizona State's Richard Figueroa, 3-2. His only other loss was a 6-4 sudden victory setback to Campbell's Anthony Molton on December 20.
This is the first college meeting between the two.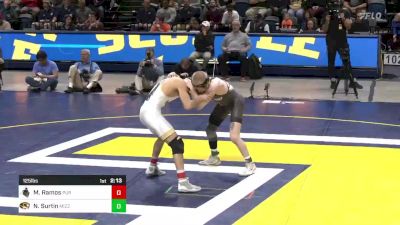 Unlock this video, live events, and more with a subscription!
Get Started
Already a subscriber? Log In
Ramos defeated Missouri's Noah Surtin in the Southern Scuffle finals
133: #8 Lucas Byrd (Illinois) vs #12 Brody Teske (Iowa)
Teske has been sidelined since a 6-4 win over Cal Baptist's Hunter Leake on November 13. The Hawkeye junior is listed as "probable" so there's no assurance that he faces Byrd on Friday.
Byrd is known for running the gauntlet at the NCAA Championships. He placed fifth at the previous two tournaments but wrestled 16 total matches. He was pinned in the first round by Ramos in 2022 and lost in the second round in 2021 before working his way through the consolation bracket.
The Illini sophomore is 14-3 on the season so he is clearly battle-tested entering his match against either Teske or Cullan Schriever. He reached the Midlands semifinals before dropping a 15-13 shootout against Penn's Michael Colaiocco. Byrd bounced back for third with a pair of decisions.
Teske will have his hands full if he is Iowa's starter. The Hawkeye junior only has one match at 133 after competing for Penn State and Northern Iowa at 125.
157: #15 Cobe Siebrecht (Iowa) vs #3 Kendall Coleman (Purdue)
This could be the best match of the weekend if Siebrecht starts. His explosive and go-for-broke style has electrified the Hawkeye faithful every time he wrestles. He is 6-0 on the season with three major decisions and two falls, but he hasn't competed since a 5-2 win over Lincoln Heck (Tennessee-Chattanooga) on December 10.
Coleman is 20-2 on the season, and his only two setbacks are to the #1 and #2 ranked wrestlers in the country. The Boilermaker junior reached the finals of the Southern Scuffle but fell to North Dakota State's Jared Franek in tiebreakers — so he's right with the best wrestlers in the weight.
This could be a shootout, but Coleman will likely dictate if it is. His deliberate and precise style makes him difficult to score on. And he can scramble, too. This is the match that will excite the hometown Boilermaker fans.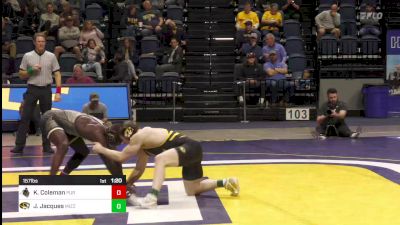 Unlock this video, live events, and more with a subscription!
Get Started
Already a subscriber? Log In
Coleman had a thrilling sudden victory win during the semifinals of Southern Scuffle
165: #17 Patrick Kennedy (Iowa) vs #11 Dan Braunagel (Illinois)
Kennedy is what Iowa needed after the departure of Alex Marinelli due to graduation. His tough, gritty, and high-octane style is exactly what Iowa fans like. His lone setback this season was a 9-4 loss to Iowa State's David Carr on December 4.
Braunagel poses an interesting test for the Hawkeye freshman. He qualified for the NCAA Championships in 2020 and 2021 but didn't compete last year due to a concussion prior to the B10 Championships.
The Illini junior has made strides this season following a strategic and intense summer of training. He'll need all of that when he faces Kennedy inside Carver-Hawkeye Arena. Braunagel faced Marinelli three times during his career and lost twice by major decision, but only fell 4-1 on January 16, 2022.
His recent Midlands performance might mean he's ready to make a breakthrough. He fell to eventual champion Quincy Monday (Princeton), 6-4, in the semifinals before bouncing back for third.
This could be the best match of the dual, so don't look away when the action begins.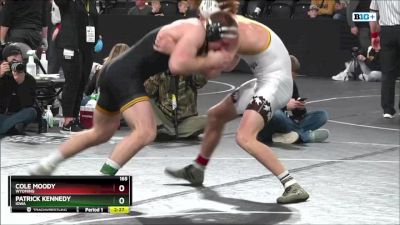 Unlock this video, live events, and more with a subscription!
Get Started
Already a subscriber? Log In
Watch Kennedy's semifinal win at the Soldier Salute
174: #18 Nelson Brands (Iowa) vs #7 Edmond Ruth (Illinois)
Family legacy match-ups add a layer of interest, and this one is no different. Brands is the son of associate head coach Terry and the nephew of head coach Tom. Ruth is the brother of assistant coach Ed who wrestled at Penn State.
The three coaches combined for eight NCAA titles and 11 All-American honors.
Ruth lost to Ohio State's Ethan Smith during the opening dual of the season and has been perfect ever since. His 2022 Midlands championship should add to his confidence that he can contend for an NCAA title.
Brands is 2-1 on the season and his last match was a 3-1 loss to Chattanooga's Rocky Jordan on December 10. The Hawkeye junior doesn't give up many points so this one might be low scoring if Brands is the starter.
Iowa Probables
125: #1 Spencer Lee
133: #12 Brody Teske or Cullan Schriever
141: #3 Real Woods
149: #8 Max Murin
157: #15 Cobe Siebrecht
165: #17 Patrick Kennedy
174: #18 Nelson Brands
184: #8 Abe Assad
197: #6 Jacob Warner
285: #3 Anthony Cassioppi
Illinois Probables
125: Maximo Renteria
133: #8 Lucas Byrd
141: Danny Pucino
149: Kevon Davenport
157: Anthony Federico
165: #11 Danny Braunagel
174: #7 Edmond Ruth
184: HM Dylan Connell
197: #12 Zac Braunagel
285: Matt Wroblewski
Purdue Probables
125: #11 Matt Ramos
133: Dustin Norris
141: #20 Parker Filius
149: Trey Krus
157: #3 Kendall Coleman
165: Stoney Buell
174: Macartney Parkinson
184: Ben Vanadia
197: Hayden Filipovich
285: Tristan Ruhlman