Women's Weekly
Women's Weekly: 15-Year-Old Wins Midlands
Women's Weekly: 15-Year-Old Wins Midlands
A high school freshman won the prestigious Midlands Championships, while North Central and Life University won holiday team titles.
Jan 4, 2023
by Kyle Klingman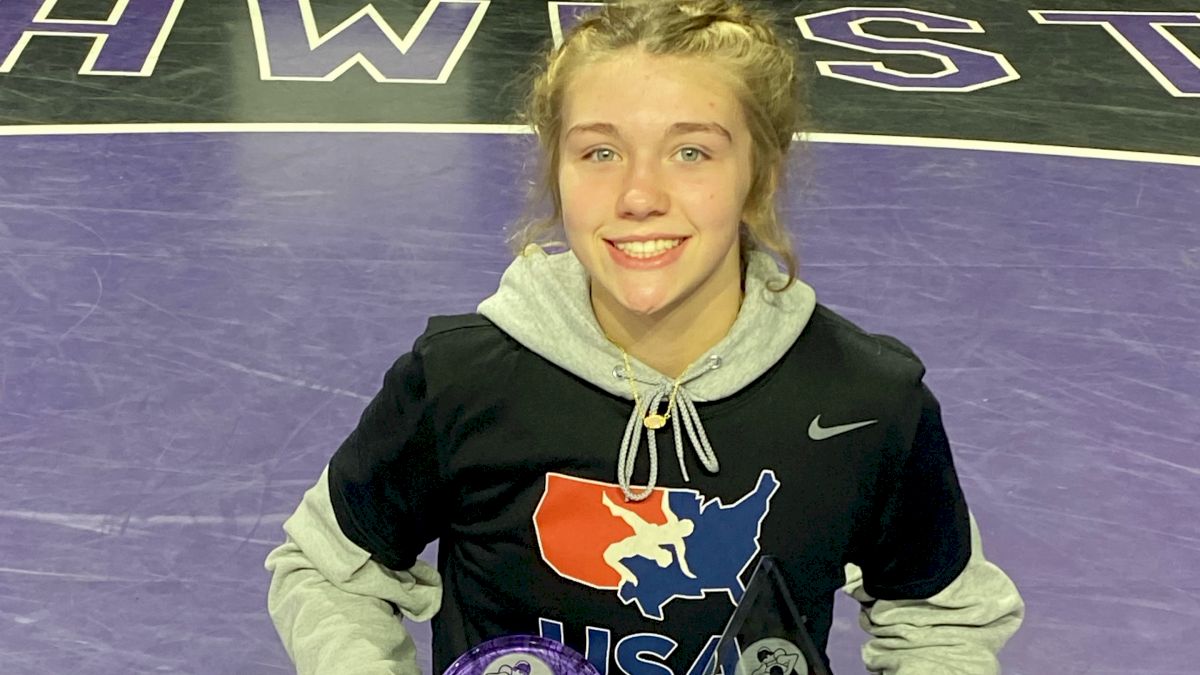 Carley Ceshker just won the Midlands Championships as a freshman — in high school.
Take three seconds and let that sink in. A 15-year-old from Lake Geneva, Wisconsin, just won a major college tournament against a handful of the top wrestlers in the country.
Her run through the 123-pound looked like this:
Quarterfinals: 10-0 tech over Hannah Laurence of Wyoming Seminary
Semifinals: 7-6 win over #1 seed Amani Jones of North Central
Finals: 31-second fall over #2 seed Gabby Skidmore of Augsburg
Jones has already placed once at the national collegiate championships and Skidmore has placed twice — so the quality of competition was high.
The inevitable question is this: How?
Ceshker is currently ranked seventh at 122 pounds in the national high school rankings. She placed second at Preseason Nationals in October and third at the U15 Pan-Am Trials in August, which doesn't indicate a breakthrough performance was on the horizon.
Current Iowa wrestler Kylie Welker — another teenage prodigy who reached the 202One Olympic Trials finals at the age of 18 — offered her take on why Ceshker wrestled so well at Midlands. The two trained together at Ringers Wrestling in Burlington, Wisconsin, and Welker continues to mentor the young star.
"Carley puts in the time and work every day," Welker said. "She's always going and always working. I'd assume that's why. She has the technique and the conditioning. Once she's in the right mentality she can do anything she wants."
Another reason: she found high-level training partners. Ceshker attends Iowa RTC practices and she went to an international training camp following the recent World Cup.
"I have always been wrestling up in age divisions," Ceshker said. "Now that I'm a freshman in high school, college seemed like the next best competition. I am grateful for my family, coaches, teammates, and all the great people I have met on this journey. I am happy for how I ended this year with this tournament, but it's not the end — it's the start for me."
Diego Avila — Ceshker's club coach — knew this day would come. He just didn't know it would happen on December 30.
"She definitely made a statement and put the country on notice," Avila said. "We told her that it's going to come and you'll get there. We just didn't know it was going to be at Midlands."
Ceshker was awarded the Dan Gable Outstanding Wrestler for her performance.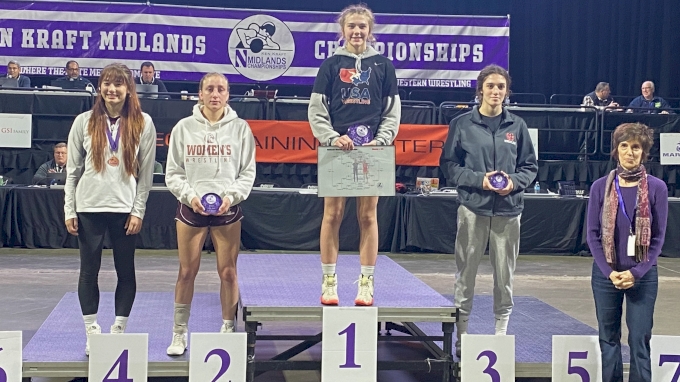 15-year-old Carley Ceshker took the top spot in the 123-pound field at the Midlands Championships
North Central Laps The Midlands Field
Joe Norton should be pleased with his team's overall performance at Midlands a week prior to the NWCA National Duals. The Cardinals scored 107.5 points to Augsburg's 54. Seven college teams participated along with Wyoming Seminary and a handful of unattached wrestlers.
Most teams didn't have a full line-up, so it's not an accurate indication of any team's overall strength. However, North Central has performed well all season and it's hard to ignore the team's final results.
Fourteen wrestlers placed in the top four and four won titles for an impressive showing at the inaugural women's tournament.
"Midlands was a blast," Norton said. "It was awesome for our women to get to compete in an environment like that. The brackets were small but very competitive with five top-10 ranked teams in attendance.
"They did an awesome job running the tournament and making it special for the women. It was great to prove once again that we are a top-two team in the country."
North Central results
101: Amber Turner — 4th
101: Madison Avila — 2nd
109: Kendra Ryan — 3rd
109: Sydney Petzinger — 1st
116: Amaya Yoshizumi — 4th
116: Jaslynn Gallegos — 1st
123: Amani Jones — 3rd
130: Sara Sterner— 1st
136: Yele Aycock — 2nd
143: Riley Aamold — 4th
155: Tiera Jimerson — 1st
155: Malea Palahniuk — 3rd
155: London Houston — 4th
191: Traeh Haynes — 2nd
Midlands Team Scores
1. North Central — 107.5
2. Augsburg — 54
3. Presbyterian — 45
4. McKendree — 31.5
5. Lock Haven — 15.5
6. Grand View — 15
7. Aurora — 14.5
8. Wyoming Seminary — 6
Midlands Individual champions
101: Rianne Murphy (Unattached)
109: Sydney Petzinger (North Central)
116: Jaslynn Gallegos (North Central)
123: Carley Ceshker (Unattached)
130: Sara Sterner (North Central)
136: Nina Makem (Augsburg)
143: Alexis Gomez (Grand View)
155: Tiera Jimerson (North Central)
170: Stella Steigler (Wyoming Seminary)
191: Sydnee Kimber (McKendree)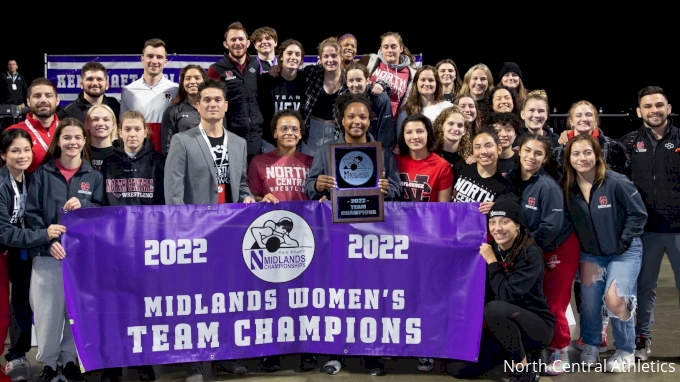 North Central won the inaugural Midlands Women's Championships by 53.5 points
Notable Midlands Matches
Midlands offered a few significant rematches highlighted by the anticipated 136-pound finals showdown between Augsburg's Nina Makem and North Central's Yele Aycock. Aycock won the first match of the series, 2-1, on November 15. It's been all Makem since that point, including a fall in the Midlands finals after posting 8-6 and 4-3 wins earlier in the season. The Augsburg star currently holds a 3-1 edge but there's a chance the two meet at the upcoming National Duals.
North Central's Sara Sterner won the rubber match over Aurora's Lexi Janiak in the 130-pound finals. Sterner pinned Janiak during a dual on November 1 but lost 10-0 a few days later. The Cardinal standout made a statement with a fall in 2:36 at Midlands.
Grand View only sent one wrestler to the tournament but she took a title back to Des Moines. Alexis Gomez won 14-2 and 12-1 before securing a 9-7 win over McKendree's Alara Boyd in the 143-pound finals. Boyd is a three-time national collegiate finalist and 2021 champion, so it was a significant win for Gomez who placed third at the NAIA Invitational Championships in 2022.
Click here for the final Midlands results
Soldier Salute
The inaugural Solider Salute took place in Coralville, Iowa, on December 29-30 and it included a solid women's field. Ten Hawkeyes participated unattached and the results were encouraging for rookie head coach Clarissa Chun.
Three women won titles and four finished second. Kylie Welker (170) was in a bracket with three wrestlers but forfeited her final two round-robin matches against Tristan Kelly after winning 10-0 in the first match. Nanea Estrella won her opening match at 136 pounds, 10-0, but did not continue after that.
Iowa-Unattached Placers
101: Sterling Dias — 1st
101: Emilie Gonzalez — 2nd
109: Ava Bayless — 3rd
109: Brianna Gonzalez — 2nd
116: Felicity Taylor — 1st
143: Reese Larramendy — 1st
155: Bella Mir — 2nd
170: Kylie Welker — 2nd
Life Of The Party
Life University coach Ashley Flavin led her team to the inaugural Soldier Salute title. The Running Eagles sent 10 wrestlers and all 10 placed.
Latifah McBryde won the lone individual title for the team but Sarah Savidge's third-place finish deserves special mention. Savidge only had one team practice after serving six months of Basic Training.
"Competing at Soldier Salute was a great atmosphere for our team to kick off championship season," Flavin said. "It gave us experience in a large venue, which helps with other competitions.
"Winning the first ever Soldier Salute was a testament to how strong our team is — especially since we left several of our heavy hitters at home due to travel issues. We're proud of how all of the athletes wrestled and how they represented Life. We're looking forward to riding that momentum into National Duals this week."
Life University Placers
101: Devyn Gomez — 7th
109: Kory Phillips — 5th
116: Brianna Funakoshi — 8th
116: Paige Denke — 5th
123: Anna Krejsa — 5th
130: Zaynah McBryde — 5th
136: Sarah Savidge — 3rd
136: Riley Dalrymple — 5th
143: Jamilah McBryde — 4th
155: Latifah McBryde — 1st
Soldier Salute Team Scores
Life — 129
Army WCAP — 128.5
Iowa Wesleyan — 118.5
Indiana Tech — 116
Tiffin — 60.5
Columbia — 39
Umpqua CC — 34
William Penn — 28.5
North Carolina — 16.5
Click here for full Soldier Salute results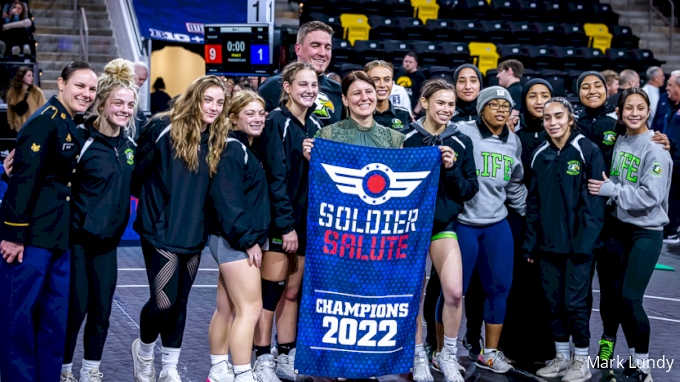 Life University won the inaugural Soldier Salute by half a point
Adaugo Nwachukwu Looked Unstoppable At Soldier Salute
Iowa Wesleyan's Adaugo Nwachukwu made her four-match run in the 136-pound bracket look easy. She won 10-0, Fall :40, 10-0, and 12-0. Her 12-0 win in the finals included three four-point takedowns over Army WCAP's Bridgette Duty.
Nwachukwu was recently sworn into the Iowa National Guard. She was in the California Army Reserves but she had to fly back and forth between states, so this is an opportunity to stay in Iowa and train full-time for wrestling.
"The Soldier Salute was definitely one of my best college tournaments so far," Nwachukwu said. "I got to a lot of stuff I have been working on and I think that will build going into the rest of the season."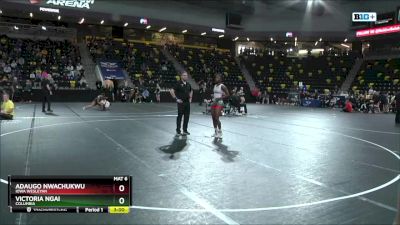 Unlock this video, live events, and more with a subscription!
Get Started
Already a subscriber? Log In
It only took Adaugo Nwachukwu 40 seconds to secure a fall in her quarterfinal match
Women's Spotlight: Naomi Henry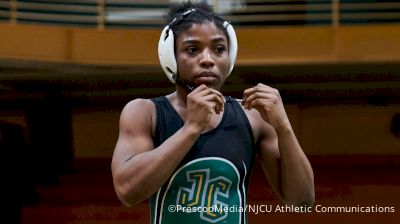 New Jersey City's Naomi Henry is already an All-American, but she's out to prove that D3 programs can compete with the best in the country. Henry reflects on her Beat the Streets experience, head coach Barry Hart, and her wrestling influences.
National Duals Is Here!
Tune into FloWrestling to watch the NWCA National Duals on January 6-7. The top NAIA and NCAA teams will compete in separate divisions to determine the best duals team in the land. It's an event you won't want to miss.