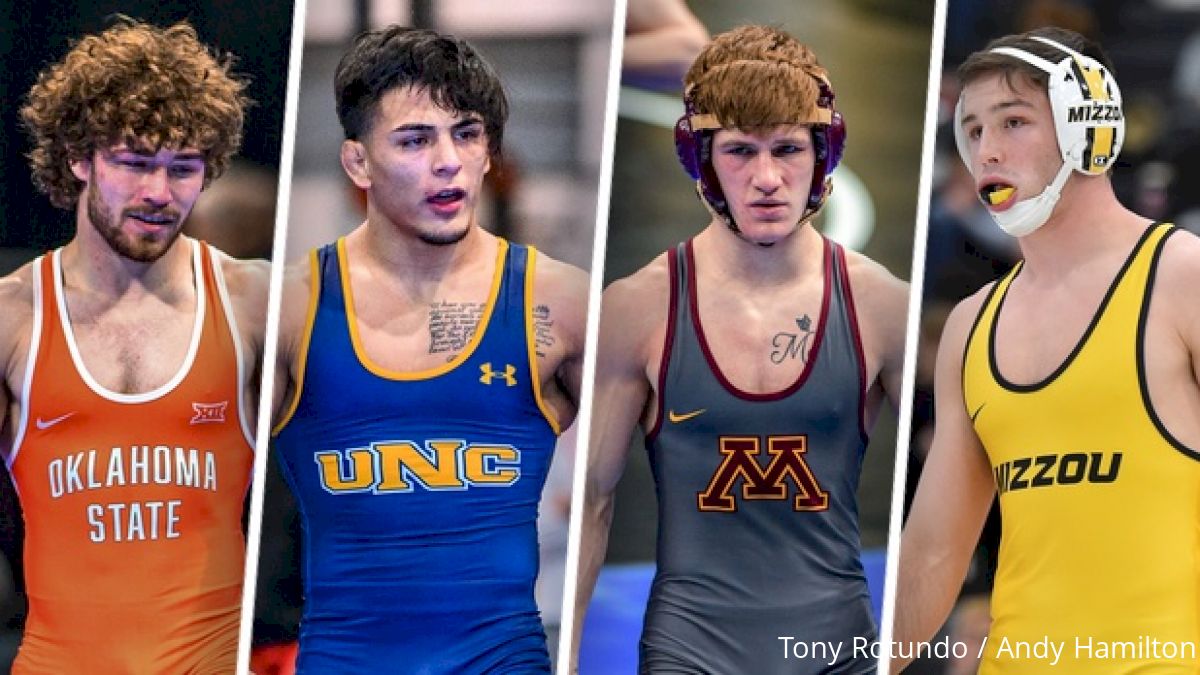 Most people watch college football on New Year's Day. But wrestling fans know where the real action will be on Tuesday morning: Chattanooga,
Now in its 19th year, and 11th time being hosted by the University of Tennessee at Chattanooga, the Southern Scuffle is one of the premier events every year in college wrestling. You will be able to find the brackets on FloArena when they are set.
We've combined our three previews done by myself, Kyle Klingman, and Andrew Spey, into one mega-preview for you to get up to speed on all 10 weight classes before things get started. Included are top-four predictions, as well as guys looking to upset the apple cart.
Teams
#3 Iowa State
#4 Missouri
#11 Virginia Tech (non starters)
#14 Oklahoma State
#19 Minnesota
#21 Northern Colorado
#T23 Purdue
#T23 Rider
#T23 Stanford
#27 North Dakota State
#32 Appalachian State
#T36 Maryland
#T46 Binghamton
#T46 Bucknell
#T 49 Cal State-Bakersfield
#T49 Duke
#T49 Tennessee-Chattanooga
Gardner-Webb
Hofstra
Little Rock
Schedule
In Eastern time
Sunday, January 1st
10:00 a.m. Pigtail Round
10:45 a.m. Championship Round of 32
1:30 p.m.* Pigtail Consolation
2:15 p.m.* Championship Round of 16
4:00 p.m.* 2nd Round of Consolations
5:45 p.m.* 3rd Round of Consolations
7:30 p.m. Championship Quarterfinals & 4th Round of Consolations
Monday, January 2nd
11:00 a.m. 5th Round of Consolation
1:00 p.m. Championship Semifinals & Consolation Quarterfinals
3:00 p.m.* Consolation Semifinals
7:00 p.m. Championship Finals & Medal Matches
* Denotes approximate start times.
---
125 pounds
The Favorite
#3 Patrick McKee (Minnesota)
There's every reason to believe that Patrick McKee will win this weight if the Golden Gopher enters. McKee won in 2022 with an impressive series of wins. His only close match was a 6-5 semifinal victory over Iowa's Drake Ayala before receiving a forfeit in the finals.
The Minnesota star is off to a 7-0 start but had a tussle with Cal Poly's #23, Antonio Lorenzo, during a dual on November 11. McKee won 5-3 in sudden victory, which opens the door for the Southern Scuffle field to earn a win over a highly credentialed opponent.

The Contenders
#11 Trevor Mastrogiovanni (Oklahoma State)
#12 Matt Ramos (Purdue)
Oklahoma State's Trevor Mastrogiovanni should be seeded second behind McKee and he's likely excited about the opportunity to pick up a win over his Minnesota foe. Mastrogiovanni won 10-6 during a dual on November 22, 2021, but fell 9-1 at the 2022 NCAA championships and 4-1 on December 4. Evening the series is significant for seeding as these two traditional powers look to climb back into college wrestling's elite.
Don't sleep on Purdue's Matt Ramos if he enters. Ramos is 14-2 this season after reaching the Round of 12 at the 2022 NCAA Championships. The Boilermaker star reached the finals of the Cliff Keen Invitational before dropping a 3-2 match against Arizona State's Richie Figueroa.
Purdue's last national place winner was Ivan Lopouchanski's seventh-place finish in 2013, so Ramos is looking to end a 10-year streak. A solid showing will enhance his seeding at the B10 Championships and, ultimately, at the NCAA Championships.

Sleepers & Landmines
#16 Noah Surtin (Missouri)
#18 Stevo Poulin (Northern Colorado)
#24 Caleb Smith (Appalachian State)
Missouri enters as a favorite to take home the team title, and Noah Surtin will play a factor. Surtin reached the Round of 12 at the 2022 national tournament but doesn't have a significant win this season. The Tiger lightweight is 4-2 on the season so the Southern Scuffle provides an opportunity to snag a key win or two as Missouri makes its push for a team trophy at the NCAA Championships.
Northern Colorado's Stevo Poulin might be the one to watch at the Southern Scuffle. The freshman phenom — known for his viral internet fame as an eight-year-old — will get tested in Chattanooga. Poulin is 13-0 on the season but only has one notable victory over a current college wrestler: a 2-1 sudden victory win over Cornell's Brett Ungar. This Southern Scuffle could be the breakout tournament for Poulin as he looks to add to his legacy.
Appalachian State's Caleb Smith should not be taken lightly, either. Smith is 8-3 on the season after going 2-2 at the Cliff Keen Las Vegas Invite without placing. The Southern Scuffle will provide his best competition prior to the Southern Conference tournament in March.
Klingman's predictions
1) McKee 2) Ramos 3) Mastrogiovanni 4) Poulin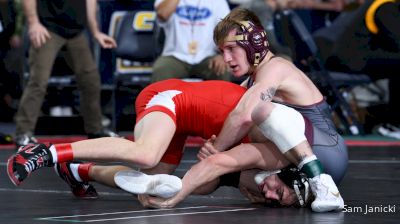 Minnesota's Pat McKee had a 6-5 semifinal shootout against Iowa's Drake Ayala at the 2022 Southern Scuffle
---
133 Pounds
The Favorite
#2 Daton Fix (Oklahoma State)
It's Oklahoma State's Daton Fix and everyone else — and for good reason. The Cowboy star only has four career losses and three came in the NCAA tournament finals.
He also has a 2019 Southern Scuffle title, which doesn't mean anything for this season other than further proof that Fix is really good. The 2021 World silver medalist is 5-0 on the year and is looking to earn a significant title as he seeks his first NCAA title.
Contenders
#16 Ramazan Attasauov (Iowa State)
HM Aaron Nagao (Minnesota)
Iowa State's Russian-born Ramazan Attasauov should give Fix his toughest test — if he reaches the finals. Attasauov won his first six matches this year but fell to Cornell's #3 Vito Arujau, 3-1, and Penn State's #1 Roman Bravo-Young, 10-2. He fell to Fix twice last season so it will take a significant effort for the Cyclone to take out the Cowboy.
Zach Redding will move back down to 133 pounds after competing at 141 for three matches at the Collegiate Duals. This could also serve as a wrestle-off for Iowa State coach Kevin Dresser since he has two quality options at this weight.
The remainder of the field will look to find a spot near the top of the podium. Minnesota's Aaron Nagao is 8-1 this season but hasn't entered the rankings yet. He reached the 2022 Southern Scuffle finals and placed fifth at the 2022 U23 Freestyle World Championships, so this could be his breakout tournament. Nagao lost to Fix, 10-3, on December 4 and fell to Redding, 7-0, early last season but has an opportunity to avenge both losses at the Scuffle.
Sleepers & Landmines
#20 Chance Rich (Cal State-Bakersfield
#23 Sean Carter (Appalachian State)
#24 Kurt Phipps (Bucknell)
HM Brayden Palmer (Tennessee-Chattanooga)
HM Connor Brown (Missouri)

Chance Rich (Cal State-Bakersfield), Sean Carter (Appalachian State), Kurt Phipps (Bucknell), Brayden Palmer (Tennessee-Chattanooga), and Connor Brown (Missouri) are in about the same place this season and will contend for the highest available spot after Fix. All are seeking wins against each other as a way to maintain their rankings or to move up a spot or two.
Klingman's predictions
1) Fix 2) Nagao 3) Brown 4) Attasauov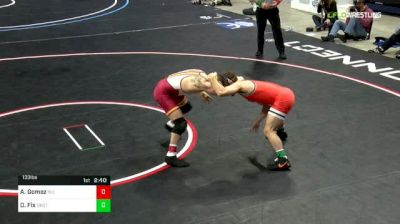 Unlock this video, live events, and more with a subscription!
Get Started
Already a subscriber? Log In
Oklahoma State's Daton Fix defeated former Cyclone Austin Gomez during the 2019 Southern Scuffle finals
---
141 Pounds
The Favorite
#1 Andrew Alirez (Northern Colorado)
Top-ranked Andrew Alirez of Northern Colorado enters with two falls, three technical falls, and a major decision for a dominant start to the season. The level of competition increases as the UNC junior looks to separate from the pack.

The Contenders
#9 Allan Hart (Missouri)
#10 Jake Bergeland (Minnesota)
#11 Dylan Droegemueller (North Dakota State)
Missouri's Allan Hart, Minnesota's Jake Bergeland, and North Dakota's State's Dylan Droegemueller are bunched together and each has a legitimate shot at taking the title — if they all attend.
Hart is 4-1 so he doesn't have a large body of work this season, but a 26-second fall over Droegemueller on December 20 should boost his confidence. Bergeland has a win over Droegemuller but has a setback to Oklahoma State's Carter Young and a head-scratching loss by fall to Lindenwood's Kalen Napier on December 11.
The Golden Gopher star pinned Alirez during the Round of 12 at the 2022 NCAA Championships, which ultimately led to a seventh-place finish.
Alirez placed third behind Hart at the 2022 Southern Scuffle but the two did not meet during the tournament, although they did meet twice during the season with Alirez winning both times.
Klingman's predictions
1) Alirez 2) Hart 3) Bergeland 4) Filius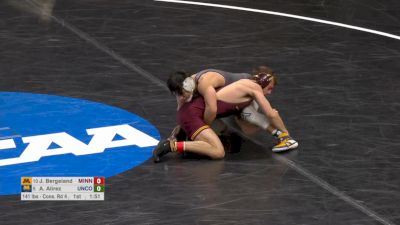 Unlock this video, live events, and more with a subscription!
Get Started
Already a subscriber? Log In
Minnesota's Jacob Bergeland pinned Northern Colorado's Andrew Alirez during the blood round of the 2022 NCAA Championships. Could we see a rematch at the Southern Scuffle?
---
149 Pounds
The Favorite
#3 Paniro Johnson, Iowa State
If you had said this preseason that Iowa State's Paniro Johnson would be the highest-ranked wrestler in a field with Jon Jon Millner, Brock Mauller, Jaden Abas, Quin Kinner, and other national qualifiers, I would have called you crazy. That's exactly where we're at, however. With wins over Austin Gomez and Max Murin, Johnson has passed every test he's faced this season. His only loss this season was to 3X NCAA champion Yianni Diakomihalis and even then he impressed by taking him to overtime.
Johnson isn't the type to blow his opponents out of the water. He'll wrestle most close regardless of their level. However, he's extremely hard to take down.
This will be the first big tournament test for Johnson at the Division I level. Although he did have matches on back-to-back days at the Collegiate Duals, we've only seen him in a dual format up to this point. If he stays on the front side, Johnson will have three matches on Sunday and two on Monday. You can find the full schedule HERE.
The Contenders
#7 Jonathan Millner, App State
#9 Brock Mauller, Missouri
While Johnson is the odds-on-favorite, it would not be surprising to see any of these guys end up on top of the podium on Monday. Millner took 4th the last time he competed in this tournament in 2020. He's gotten a lot better in the past three years going from national qualifier to 8th at NCAAs to 6th last season. Millner's length, top game, stinginess, and experience could pose problems for a young guy who picks his shots carefully like Johnson.
Brock Mauller is another All-American who could potentially get the better of Johnson. Mauller's biggest test so far this season came against true freshman Caleb Henson. The two wrestled a razor-thin 7-5 match in their dual three weeks ago. A last-second takedown gave Mauller the win. Could he do the same to another young gun in Paniro Johnson? A Millner - Mauller semi would be excellent has they have never wrestled in their careers.
Sleepers & Landmines
Ethen Miller, Maryland
Noah Castillo, Chatanooga
Ethan Miller is a redshirt freshman with a 9-1 record. The only blemish on his record is a 7-4 loss to Brock Mauller. That has been the only ranked opponent his seen so far this season, however. That will obviously change this week.
Falling one win short of qualifying for the national tournament last year, Noah Castillo hasn't had the results I'm sure he was looking for so far. A sophomore competing in his home gym, this could be a breakout tournament for him.
Rader's Predictions
Johnson 2) Millner 3) Mauller 4) Henson
---
157 Pounds
The Favorites
#3 Kendall Coleman, Purdue
#6 Jared Franek, ND State
Another weight with a surprise highest-ranked wrestler. Going into the season, Kendall Coleman was ranked #14 and behind three other wrestlers in this field. With a 16-1 record this season including a win over #4 Will Lewan and the only loss to #2 Peyton Robb, Coleman is coming into the Southern Scuffle ranked #3 in the country.
Sitting at 5-1 with wins over Jarrett Jaques and Brayton Lee, Jared Franek is off to a great start of his own this season. His only loss is also to Peyton Robb. The NDSU fifth-year wrestler won the Scuffle last season.
Contenders
#9 Kaden Gfeller, OK State
#10 Brayton Lee, Minnesota
#13 Jarrett Jacques, Missouri
Kaden Gfeller is trying to become the first three-time Southern Scuffle champion at three-different weights since Kyle Dake did it in 2012. Gfeller won it as a redshirt in 2018 at 141 lbs, then again in 2019 at 149 lbs. Now he's competing at 157 lbs and looking good doing it. He has a 2-0 win over Brayton Lee from earlier this month. Lee isn't having the season a lot of fans expected from him after coming back from a season-ending injury last year. He could get the opportunity to avenge both of his losses this season with the other coming to Franek.
Franek also has a win over Jarrett Jacques this season. The winning takedown came in sudden victory, however. Franek beat Jacques at last year's Scuffle in overtime as well.
Sleepers & Landmines
Daniel Cardenas, Stanford
To any hardcore wrestling fan, Daniel Cardenas isn't a sleeper. However, to the casual college fan, they may not be familiar with the Stanford freshman yet. A Colorado native, he was the #23 overall recruit coming out of high school last year. Currently ranked #20, Cardenas hasn't faced anyone in the top 15 yet this year. However, he's 12-0 and I'm very confident stating that he's isn't going to be very good, but already is very good. I wouldn't be surprised to see him push for a spot in the top four here especially if we see some forfeits on day two.
Watch Daniel Cardenas win the Doc B as a senior last year below.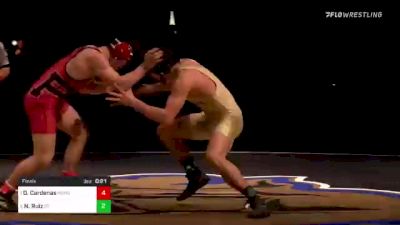 Unlock this video, live events, and more with a subscription!
Get Started
Already a subscriber? Log In
Rader's Predictions
Franek 2) Lee 3) Gfeller 4) Coleman
---
165 Pounds
The Favorites
#1 Keegan O'Toole, Missouri
#2 Shane Griffith, Stanford
#3 David Carr, Iowa State
This is the weight of the tournament, folks. I can't remember the last time there was a regular season tournament bracket with three national champions in it. With this being David Carr's first year up at 165, he's the big question mark. O'Toole and Griffith met in the NCAA finals last year with O'Toole winning 6-5. Obviously, a match that could flip if adjustments are made by Griffith and not by O'Toole. O'Toole will receive the #1 seed meaning it will be a Carr - Griffith semifinal with the winner getting O'Toole. Both of those matches will occur on Monday.
Watch O'Toole and Griffith's 2022 NCAA final below.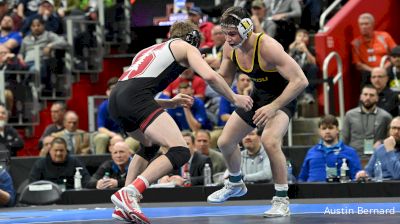 Unlock this video, live events, and more with a subscription!
Get Started
Already a subscriber? Log In
The Contenders
#19 Wyatt Sheets, OK State
#21 Michael Caliendo, ND State
#22 Andrew Sparks, Minnesota
It would be shocking to see anybody but a combination of two of the three wrestlers listed above in the finals of this weight as there is a stark drop off in resumes. However, Wyatt Sheets, Michael Caliendo, and Andrew Sparks are the next guys up. All three of these guys are on the same level, but Caliendo might have the upper hand as he's 2-0 this year against Sparks and Sparks beat Sheets.
Sleepers & Landmines
Cael Carlson, Minnesota
Andrew Sparks is back in the starting spot for the Gophers this season, but don't forget that when Sparks got hurt at the Scuffle last year, Carlson stepped up, took 3rd and then would go on to be a national qualifier. Two good options for the Gophers at 165 lbs.
Rader's Predictions
1) Carr 2) O'Toole 3) Griffith 4) Caliendo
---
174 Pounds
The Favorites
#4 Dustin Plott, Oklahoma State
#9 Peyton Mocco, Missouri
Virginia Tech will likely not send their starters so we probably won't see Mekhi Lewis test his might at another Scuffle. That will leave room for Plott and Mocco to advance their cause.
Plott has emerged as the Cowboys' most reliable starter outside of three-time NCAA runner-up Daton Fix. Plott finished sixth at the NCAA Championships last season and is currently undefeated with a dominant 10-5 win over #15 Bailee O'Reilly on this 2022-23 resume. He also has two years of eligibility left after the 2023 NCAAs, which is good news for Oklahoma State fans.
Mizzou veteran Mocco has qualified for three NCAA tournaments already, coming within one match of making the All-American podium in 2022. He recently battled the aforementioned Mekhi Lewis to a tight 3-2 loss, and is 7-2 on the season.
Watch Mocco pin rankings-Honorable-Mention Gaven Sax at a recent dual meet thanks to a well-executed hip heist: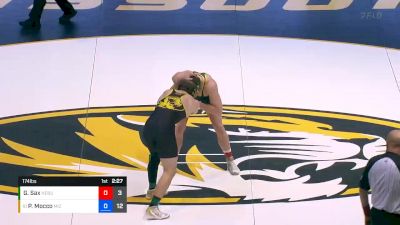 Unlock this video, live events, and more with a subscription!
Get Started
Already a subscriber? Log In
The Contenders
#15 Bailee O'Reilly, Minnesota
#17 Tyler Eischens, Stanford
#18 Rocky Jordan, Chattanooga
HM Domenic Solis, Maryland
HM Julien Broderson, Iowa State
If any of these contenders are going to fight their way to the top of the podium, my bet would be on Rocky Jordan, who will have the hometown crowd behind him. Every Scuffle the UTC Moccasin partisans come out in force and every year they let their presence be known to all the wrestlers in McKenzie Arena.
O'Reilly and Eischens, meanwhile, are ranked for a reason. Both are two-time national qualifiers, having both coincidentally qualified for the 2020 and 2022 tournaments while missing the 2021 championship.
Watch O'Reilly get the better of #16 Cade DeVos of SDSU in a hostile Jackrabbit gym: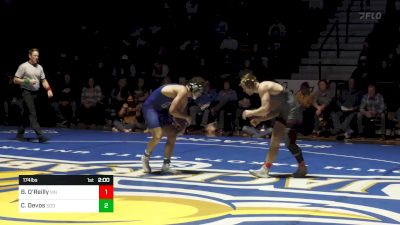 Unlock this video, live events, and more with a subscription!
Get Started
Already a subscriber? Log In
Broderson was on a tear for the Cyclones before running into the twin buzzsaws of Chris Foca and Carter Starocci at the Collegiate Duals last week. If he wrestles, and the ISU squad is yet to be finalized as of publication, he'll be a force.
Additionally, Solis is 5-0 on the season and trying to repeat as a national qualifier for the resurgent Terrapins.
Sleepers & Landmines
HM Will Miller, App State
Jha'Quan, Anderson, Gardner-Webb
Andrew Berreyesa, Northern Colorado
Will Miller just beat All-American Clay Lautt in the Mountaineers' inspiring dual meet victory over North Carolina. Anderson is a 2021 national qualifier on track to get back to the Big Dance. And Berreyesa is a savvy veteran and grad transfer from Cornell with a Greco background that makes him one of the most dangerous 174-pounders in the nation.
Spey's Spredictions
1) Plott; 2) Mocco; 3) Jordan; 4) Miller
---
184 Pounds
The Favorite
#4 Marcus Coleman, Iowa State
This is not to say that Coleman is the prohibitive favorite, only that after proving he is capable of beating #1 Aaron Brooks -- as Coleman did last week at the Journeymen Wrestling Collegiate Duals just last week -- he has demonstrated that he should be the favorite going into this year's Scuffle.
That is, if he wrestles. Iowa State has not released their Scuffle lineup yet and Coach Dresser has stated that he probably won't have the complete squad of Cyclone starters with him in Chattanooga.
The Contenders
#11 Isaiah Salazar, Minnesota
#12 Travis Wittlake, Oklahoma State
#23 Sean Harman, Missouri
#24 Jacob Nolan, Binghamton
HM Matthew Waddell, Chattanooga
A lack of Coleman in the mix will leave the door open, or at least wider open than it otherwise would be, for Salazar and Wittlake, who are both capable of challenging Coleman for a weight class title even if he does compete.
Wittlake is a former All-American from 2021 when he finished fourth. Last season ended in disappointment for Wittlake, as he lost his last five bouts of the season and failed to qualify for the NCAA tournament. In hindsight, he may have been in the wrong weight class, and bulking up from 165 to 184 may be just what the doctor ordered for a return trip to the NCAA podium.
Salazar, who defeated Wittlake earlier in December by the score of 4-0, has been solid for the Gophers since he broke into the lineup last season. He qualified for the 2022 NCAA tournament and won a match in Detroit. This season he is 7-1 with the aforementioned win over Wittlake and an impressive victory over Cal Poly's Adam Kemp, also a 2022 national qualifier.
Watch Salazar shut out SDSU's Bennett Berge in a bout from earlier this season: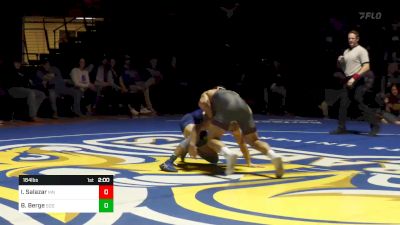 Unlock this video, live events, and more with a subscription!
Get Started
Already a subscriber? Log In
Harman and Nolan are two more ranked wrestlers we hope to see in what could be a very deep bracket in Chatanooga.
And we can't not include Waddell as a contender. The three-time national qualifier for the Mocs is hoping that 2023 will be his year to finally break through to the medal round of the NCAAs. Home mat advantage may help propel him to the top of the podium on January 2nd in the meantime.
Sleepers & Landmines
HM Logan Deacetis, Bucknell
Sam Fisher, Virginia Tech
Deacetis is having a very solid year for the Bison, starting his second varsity season with an 8-4 record having only dropped matches to nationally ranked opponents.
Fisher recently beat 2022 national qualifier #13 Gavin Kane and would be a nationally ranked contender himself if he weren't stuck behind teammates #6 Hunter Bolen at 184 and #22 Andy Smith at 197.
Spey's Spredictions
1) Salazar; 2) Harman; 3) Wittlake; 4) Fisher
---
197 Pounds
The Favorites
#1 Rocky Elam, Missouri
#2 Ethan Laird, Rider
#4 Younger Bastida, Iowa State
If someone would have told you at the beginning of the season that the #1 rankings at 197 would be decided at the Southern Scuffle potentially by a match between Rocky Elam and Ethan Laird you probably would have been like, 'wait what?' But here we are, staring down the barrel of that distinct possibility.
Ethan "Franchise" Laird achieved his lofty ranking by being undefeated on the season with wins over Kordell Norfleet and Max Dean, the latter victory you can watch in the video below.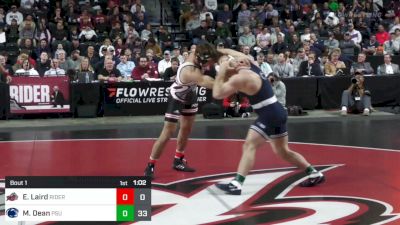 Unlock this video, live events, and more with a subscription!
Get Started
Already a subscriber? Log In
Rocky Elam is also undefeated on the season but has only wrestled three matches that count for NCAA qualification. He also has a fourth win over Iowa's three-time All-American Jacob Warner from the NWCA All-Star Classic. His ranking is also due to his past two finishes at the NCAA Championships. In 2021 Elam placed fifth, in 2022 he climbed one podium step higher to fourth.
Watch Elam defeat Warner in one of the best matches in a night full of awesome bouts: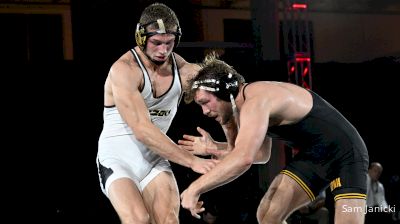 Unlock this video, live events, and more with a subscription!
Get Started
Already a subscriber? Log In
If Yonger Bastida enters the fray we'll have one the toughest brackets of the season, although 165, with potentially three NCAA champs in O'Toole, Grittih, and Carr, may still take the cake.
Though he ultimately dropped a match to Max Dean in the Collegiate Dual finals, Bastida also performed some heroics for the Cyclones, bumping up to heavyweight and sealing the victory for Iowa State against Cornell when he beat #15 Lewis Fernandes. Bastida also has a win over #7 Warner at 197.
The Contenders
#10 Jaxon Smith, Maryland
#21 Lou Deprez, Binghamton
#24 Owen Pentz, North Dakota State
Not a bad weight class if a top 10 wrestler who finished fifth at the U20 World Championships is considered a mere contender. But it wouldn't surprise us -- in fact we'd be delighted -- if Jaxon Smith proved us wrong and won the whole dang bracket.
DePrez is another 'predator' we wouldn't mind seeing turn his opponents into 'de prey' in Chattanooga. DePrez was an All-American in 2021 and finished in the bloodround in 2022 and 2019. By the way, 'DePrez' is pronounced like 'de prey', if you didn't pick up on that from the first sentence.
Pentz doesn't have as sterling a record as some of the others in the bracket, but he's taken out his fair share of All-Americans in his career, including Jake Woodley, Stephen Buchanan, and Eric Schultz.
Sleepers & Landmines
HM Luke Surber, Oklahoma State
HM Michial Foy, Minnesota
HM Nick Stemmet, Stanford
HM Trey Rogers, Hofstra
TJ Stewart, Virginia Tech
In such a deep weight class, its hard to find the distinction between contender and sleeper. Anyone sleeping on these honorably mentioned wrestlers is doing themselves a disservice.
Surber qualified for the NCAA tournament at 285 last season. Foy made the 2022 U23 Greco-Roman world team. Stemmet qualified for the 2021 tourney and just missed repeating last season. He also wrestled his twin brother at the 2021 CKLV. Rogers is another 2021 national qualifier, and TJ Stewart is redshirting for the Hokies but was #31 on the final Class of 2022 Big Board and is ready to make noise at the college level now.
Spey's Spredictions

1) Elam; 2) Laird; 3) DePrez; 4) Smith
---
285 Pounds
The Favorites
#8 Zach Elam, Missouri
#9 Sam Schuyler, Iowa State
It's very likely we don't see Sam Schuyler in Chattanooga, as the highly-ranked Cyclone did not participate in the Collegiate Duals in New Orleans last week and is reportedly tending to a bicep injury. That would leave Zach Elam as the clear favorite. The elder Elam on the Mizzou roster has been a stalwart for Coach Smith. He currently sports a 7-1 record and qualified for the 2022, 2021 and 2019 NCAA tournaments, having fortuitously donned a redshirt for the 2020 campaign.
Elam fell one win shy of a podium placement in 2019 and 2022 and finished in the round of 16 in 2021. Though he has another year of eligibility after this season, it's a good bet he gets the All-American albatross of his back next March.
Watch Elam win a Tiger Style Invite title in Staley High School, his former home gym outside of Kansas City, Missouri: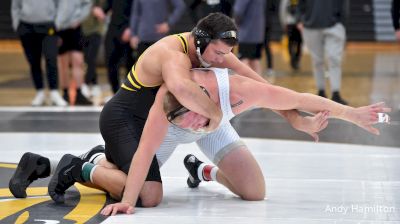 Unlock this video, live events, and more with a subscription!
Get Started
Already a subscriber? Log In
The Contenders
#17 Jaron Smith, Maryland
#18 Jonah Niesenbaum, Duke
HM Garrett Joles, Minnesota
HM Konner Doucet, Oklahoma State
HM Cory Day, Binghamton
HM Zachary Knighton-Ward, Hofstra
Smith and Nisenbaum lead the deep pack of contenders, though this year's crop of heavies has more parity than usual, and anyone could come out on top of this bracket.
Joles seems to have settled into the anchor spot in the Gopher lineup after starting the season at 197. Doucet is also finding his sea legs as a starter for the first time. Joles also defeated Doucet in tiebreakers in early December in a dual meet between the Gophers and Cowboys.
EIWA and New York state rivals Day and Knighton-Ward having surprisingly never wrestled before. This is Day's second season as the Bearcat starter, while Knighton-Ward has held down heavyweight for the Pride for the last three seasons, qualifying for the NCAA tournament every one of those years.
Sleepers & Landmines
David Szuba, Rider
Hayden Copass, Purdue
Copass and Szuba were two highly recruited heavies coming out of high school in 2021. They'll have to navigate a very tough field to find their way to a podium step on Monday, but if they were looking for an opportunity to make a name for themselves, the 2023 Scuffle is the place to do it.
Spey's Spredictions
1) Elam; 2) Smith; 3) Nisesenbaum; 4) Knighton-Ward