Women's Weekly
Women's Weekly: Nina Makem vs Yele Aycock IV?
Women's Weekly: Nina Makem vs Yele Aycock IV?
Nina Makem versus Yele Aycock is the best current college rivalry, but there is plenty more to get excited about as 2022 draws to a close.
Dec 27, 2022
by Kyle Klingman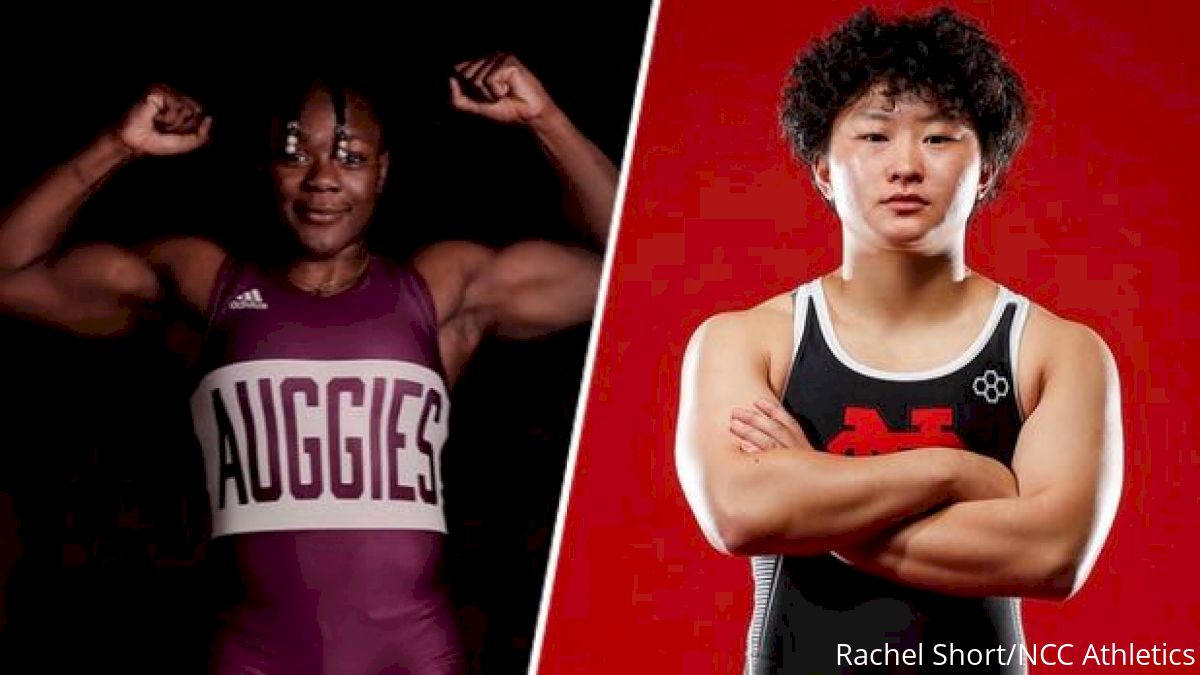 There wasn't much to write about when North Central's Yele Aycock defeated Augsburg's Nina Makem during the 136-pound finals of the Pointer Women's Open on November 15. It was a 2-1 snoozefest with Aycock winning on activity clock points.
The result, however, put Aycock on the map following a disappointing freshman campaign. The Gallup, New Mexico, native went 0-2 at the 2022 National Collegiate Women's Wrestling Championships at 130 pounds and was hardly a contender entering this season.
"Yele worked her tail off all summer," North Central coach Joe Norton said. "She's come a long way."
Makem has come a long way, too — literally. The Cameroon native became a U.S. citizen on November 29 and continues to be a force for Jake Short's solid Augsburg squad. She finished second to Adrian's Zoe Nowicki at the 2022 national championships as a freshman and is leading the loaded 136-pound field as a sophomore.
"Yele is a phenomenal athlete and those two have had three completely different matches," Short said. "Nina is the epitome of what you want in an athlete. Very kind and humble and extremely disciplined with her diet. She puts an emphasis on academics, and I believe she is the hardest-working athlete in the country. Nina has the drive and passion to make World teams."
The Auggie star exacted revenge over her Cardinal counterpart with a thrilling 8-6 win during a December 3 dual. There were no activity clock violations this time: it was the two best wrestlers at the weight putting it on the line.
Part three took place eight days later when they met in the finals of the brand new North Central Women's College Open. Makem was down 3-2 before hitting a blast double with 14 seconds remaining for a 4-3 victory.
"It's crazy how entertaining the last two matches were after how boring the first one was," Norton said. "We won't stand around with her this time, either. It's going to be high scoring one way or the other."
Aycock and Makem have already met three times in 2022 with a possible fourth on the horizon. Both are scheduled to compete at the prestigious Midlands Wrestling Championships in Hoffman Estates, Illinois, on December 29-30.
The path won't be easy, though. Presbyterian's freshman phenom Paige Wehrmeister will have something to say. The Chesterfield, Missouri, native is a legitimate title contender and should face Aycock in the semifinals if everything goes according to plan.
There's a possibility that Aycock vs Makem happens a fifth and sixth time. Both teams will attend the Multidivisional National Duals on January 6-7 and both, presumably, will be at the national championships in March.
Grab a bucket of popcorn and some Skittles. This is getting good.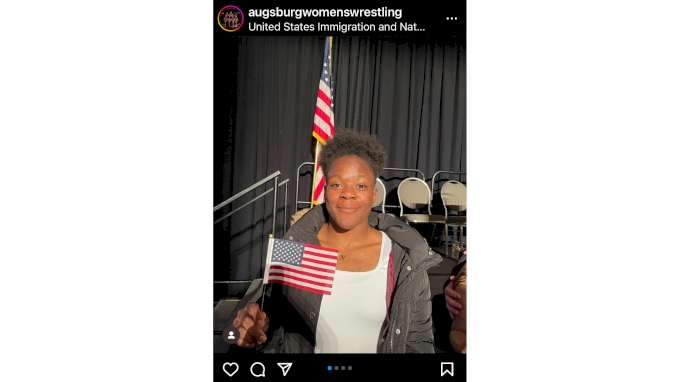 Nina Makem was granted her U.S. citizenship on November 29, 2022
Cam Guerin vs Lexi Janiak III?
Another budding rivalry is McKendree's Cameron Guerin vs Aurora's Alexis Janiak — but this one is a head-scratcher. The two have met twice this season but the results are hardly an indication of what will happen next.
Guerin — a junior two-time national champion — pinned Janiak, a true freshman, during the 130-pound semifinals of the Adrian College Women's Invite on November 13. A month later, Janiak notched an 11-1 technical superiority over Guerin in the semifinals of the North Central Open.
What will happen if the two meet at Midlands? Let's hope it's fireworks.
Payton Stroud vs Amani Jones IV?
The rivalries keep coming — this time at 123 pounds. McKendree's Payton Stroud snagged a pair of wins, 6-5 and 6-2, over North Central's Amani Jones on back-to-back days in November — but Jones got one back on December 11 with a 9-1 semifinal victory at the North Central Open. Stroud beat Jones in the finals of the 2021 U20 World Team Trials, so this rivalry has a history.
Is Boyd Back?
McKendree's Alara Boyd has consistently been one of the best college wrestlers in the country. She is a three-time national collegiate finalist (2020-22) and a 2021 champion. Her sparkling international resume includes four age-level World teams and a pair of medals.
The Muncie, Indiana, native dropped her opening match at the prestigious Missouri Valley Open and eventually forfeited the remainder of her matches in preparation for the All-Star Classic a few days later. She is part of a solid 143-pound field that includes Augsburg's Katie Lange and North Central's Kendall Bostelman.
A Midlands title could be valuable for seeding in March. And don't be surprised if you hear "Larry, Larry, Larry" chants when Boyd is wrestling. Her nickname is Larry, which comes from Alara (pronounced Uh-Lair-Uh NOT Uh-Lar-Uh).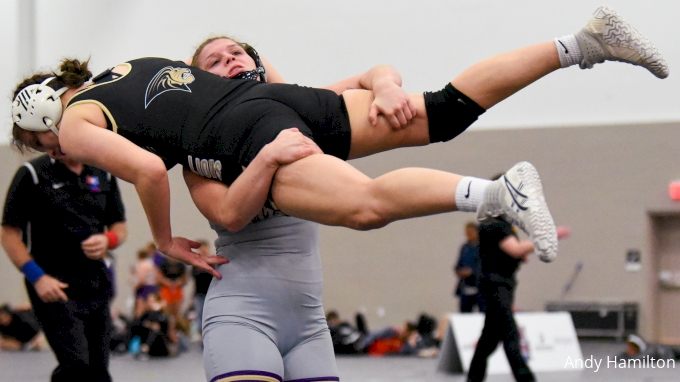 Alara Boyd, affectionately known as Larry by her throng fans, has an uplifting style of wrestling.
Hawkeyes At Soldier Salute
The inaugural Soldier Salute is on December 29-30 in Coralville, Iowa, and there will be 10 future Hawkeyes competing. For more information on the unattached Iowa wrestlers attending, click here.
Speaking of soldiers, four wrestlers from the Army World Class Athlete Program plan to participate. Tristan Kelly, Brenda Reyna, Aleeah Gould, and Estrella Dorado-Marin are entered and should add to the solid field.
Women's Spotlight: Solin Piearcy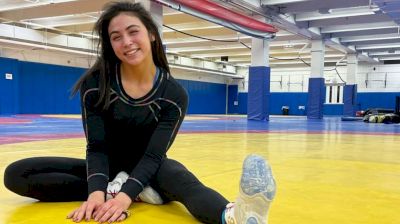 Solin Piearcy was a two-time NAIA Invitational champion who is pursuing success at the international level. She reflects on her time at Menlo, competing at the World Cup, her unique training environment, and her favorite rival.
Blast From The Past: 2010 Senior World team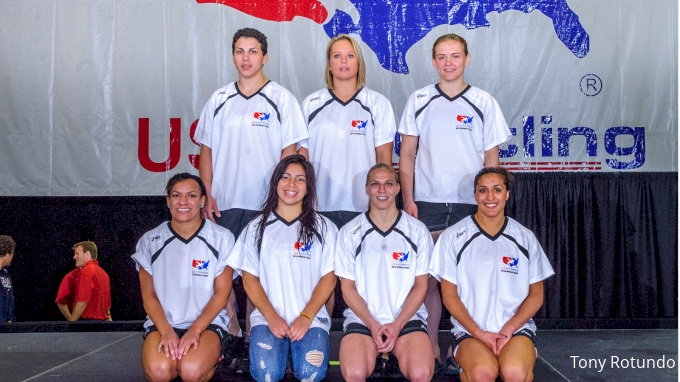 Front row: (from left) Kelsey Campbell, Jessica Medina, Alyssa Lampe, and Tatiana Padilla
Top row: (from left) Stephany Lee, Kristie Davis, and Elena Pirozhkova