2023 Southern Scuffle Presented by Compound Sportswear
2023 Southern Scuffle Upperweight Preview
2023 Southern Scuffle Upperweight Preview
Everything you need to know about the 174, 184, 197 & 285-pound divisions at the 2023 Southern Scuffle wrestling tournament.
Dec 27, 2022
by Andrew Spey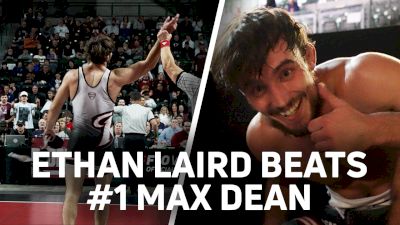 We're back in Chattanooga to ring in the new year with yet another star-studded Southern Scuffle.
This year's edition looks to be one of the gnarliest Scuffles yet. Below is everything you need to know about the 174, 184, 197 & 285-pound divisions as the annual wrestling extravaganza.
Lightweight Preview | Middleweight Preview
174 Pounds
Favorites
#4 Dustin Plott, Oklahoma State
#9 Peyton Mocco, Missouri
Virginia Tech will likely not send their starters so we probably won't see Mekhi Lewis test his might at another Scuffle. That will leave room for Plott and Mocco to advance their cause.
Plott has emerged as the Cowboys' most reliable starter outside of three-time NCAA runner-up Daton Fix. Plott finished sixth at the NCAA Championships last season and is currently undefeated with a dominant 10-5 win over #15 Bailee O'Reilly on this 2022-23 resume. He also has two years of eligibility left after the 2023 NCAAs, which is good news for Oklahoma State fans.
Mizzou veteran Mocco has qualified for three NCAA tournaments already, coming within one match of making the All-American podium in 2022. He recently battled the aforementioned Mekhi Lewis to a tight 3-2 loss, and is 7-2 on the season.
Watch Mocco pin rankings-Honorable-Mention Gaven Sax at a recent dual meet thanks to a well-executed hip heist: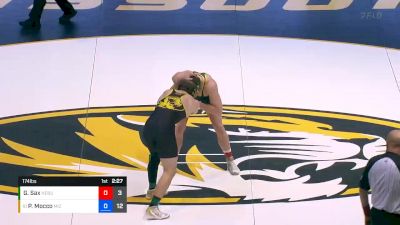 Unlock this video, live events, and more with a subscription!
Get Started
Already a subscriber? Log In
Contenders
#15 Bailee O'Reilly, Minnesota
#17 Tyler Eischens, Stanford
#18 Rocky Jordan, Chattanooga
HM Domenic Solis, Maryland
HM Julien Broderson, Iowa State
If any of these contenders are going to fight their way to the top of the podium, my bet would be on Rocky Jordan, who will have the hometown crowd behind him. Every Scuffle the UTC Moccasin partisans come out in force and every year they let their presence be known to all the wrestlers in McKenzie Arena.
O'Reilly and Eischens, meanwhile, are ranked for a reason. Both are two-time national qualifiers, having both coincidentally qualified for the 2020 and 2022 tournaments while missing the 2021 championship.
Watch O'Reilly get the better of #16 Cade DeVos of SDSU in a hostile Jackrabbit gym: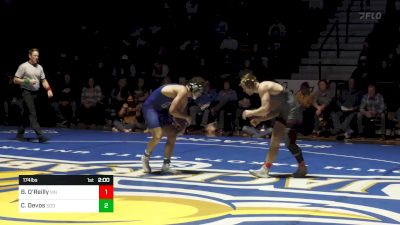 Unlock this video, live events, and more with a subscription!
Get Started
Already a subscriber? Log In
Broderson was on a tear for the Cyclones before running into the twin buzzsaws of Chris Foca and Carter Starocci at the Collegiate Duals last week. If he wrestles, and the ISU squad is yet to be finalized as of publication, he'll be a force.
Additionally, Solis is 5-0 on the season and trying to repeat as a national qualifier for the resurgent Terrapins.
Sleepers & Landmines
HM Will Miller, App State
Jha'Quan, Anderson, Gardner-Webb
Andrew Berreyesa, Northern Colorado
Will Miller just beat All-American Clay Lautt in the Mountaineers' inspiring dual meet victory over North Carolina. Anderson is a 2021 national qualifier on track to get back to the Big Dance. And Berreyesa is a savvy veteran and grad transfer from Cornell with a Greco background that makes him one of the most dangerous 174-pounders in the nation.
Spey's Spredictions
1) Plott; 2) Mocco; 3) Jordan; 4) Miller
---
184 Pounds
Favorite
#4 Marcus Coleman, Iowa State
This is not to say that Coleman is the prohibitive favorite, only that after proving he is capable of beating #1 Aaron Brooks -- as Coleman did last week at the Journeymen Wrestling Collegiate Duals just last week -- he has demonstrated that he should be the favorite going into this year's Scuffle.
That is, if he wrestles. Iowa State has not released their Scuffle lineup yet and Coach Dresser has stated that he probably won't have the complete squad of Cyclone starters with him in Chattanooga.
Contenders
#11 Isaiah Salazar, Minnesota
#12 Travis Wittlake, Oklahoma State
#23 Sean Harman, Missouri
#24 Jacob Nolan, Binghamton
HM Matthew Waddell, Chattanooga
A lack of Coleman in the mix will leave the door open, or at least wider open than it otherwise would be, for Salazar and Wittlake, who are both capable of challenging Coleman for a weight class title even if he does compete.
Wittlake is a former All-American from 2021 when he finished fourth. Last season ended in disappointment for Wittlake, as he lost his last five bouts of the season and failed to qualify for the NCAA tournament. In hindsight, he may have been in the wrong weight class, and bulking up from 165 to 184 may be just what the doctor ordered for a return trip to the NCAA podium.
Salazar, who defeated Wittlake earlier in December by the score of 4-0, has been solid for the Gophers since he broke into the lineup last season. He qualified for the 2022 NCAA tournament and won a match in Detroit. This season he is 7-1 with the aforementioned win over Wittlake and an impressive victory over Cal Poly's Adam Kemp, also a 2022 national qualifier.
Watch Salazar shut out SDSU's Bennett Berge in a bout from earlier this season: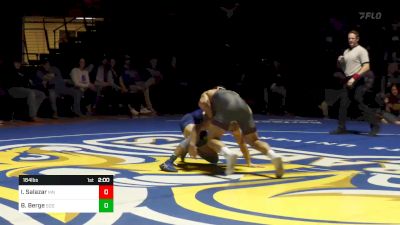 Unlock this video, live events, and more with a subscription!
Get Started
Already a subscriber? Log In
Harman and Nolan are two more ranked wrestlers we hope to see in what could be a very deep bracket in Chatanooga.
And we can't not include Waddell as a contender. The three-time national qualifier for the Mocs is hoping that 2023 will be his year to finally break through to the medal round of the NCAAs. Home mat advantage may help propel him to the top of the podium on January 2nd in the meantime.
Sleepers & Landmines
HM Logan Deacetis, Bucknell
Sam Fisher, Virginia Tech
Deacetis is having a very solid year for the Bison, starting his second varsity season with an 8-4 record having only dropped matches to nationally ranked opponents.
Fisher recently beat 2022 national qualifier #13 Gavin Kane and would be a nationally ranked contender himself if he weren't stuck behind teammates #6 Hunter Bolen at 184 and #22 Andy Smith at 197.
Spey's Spredictions
1) Salazar; 2) Harman; 3) Wittlake; 4) Fisher
---
197 Pounds
Favorites
#1 Rocky Elam, Missouri
#2 Ethan Laird, Rider
#4 Younger Bastida, Iowa State
If someone would have told you at the beginning of the season that the #1 rankings at 197 would be decided at the Southern Scuffle potentially by a match between Rocky Elam and Ethan Laird you probably would have been like, 'wait what?' But here we are, staring down the barrel of that distinct possibility.
Ethan "Franchise" Laird achieved his lofty ranking by being undefeated on the season with wins over Kordell Norfleet and Max Dean, the latter victory you can watch in the video below.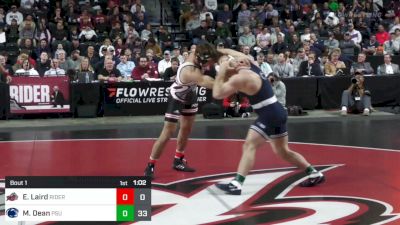 Unlock this video, live events, and more with a subscription!
Get Started
Already a subscriber? Log In
Rocky Elam is also undefeated on the season but has only wrestled three matches that count for NCAA qualification. He also has a fourth win over Iowa's three-time All-American Jacob Warner from the NWCA All-Star Classic. His ranking is also due to his past two finishes at the NCAA Championships. In 2021 Elam placed fifth, in 2022 he climbed one podium step higher to fourth.
Watch Elam defeat Warner in one of the best matches in a night full of awesome bouts: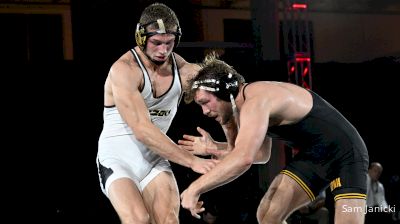 Unlock this video, live events, and more with a subscription!
Get Started
Already a subscriber? Log In
If Yonger Bastida enters the fray we'll have one the toughest brackets of the season, although 165, with potentially three NCAA champs in O'Toole, Grittih, and Carr, may still take the cake.
Though he ultimately dropped a match to Max Dean in the Collegiate Dual finals, Bastida also performed some heroics for the Cyclones, bumping up to heavyweight and sealing the victory for Iowa State against Cornell when he beat #15 Lewis Fernandes. Bastida also has a win over #7 Warner at 197.
Contenders
#10 Jaxon Smith, Maryland
#21 Lou Deprez, Binghamton
#24 Owen Pentz, North Dakota State
Not a bad weight class if a top 10 wrestler who finished fifth at the U20 World Championships is considered a mere contender. But it wouldn't surprise us -- in fact we'd be delighted -- if Jaxon Smith proved us wrong and won the whole dang bracket.
DePrez is another 'predator' we wouldn't mind seeing turn his opponents into 'de prey' in Chattanooga. DePrez was an All-American in 2021 and finished in the bloodround in 2022 and 2019. By the way, 'DePrez' is pronounced like 'de prey', if you didn't pick up on that from the first sentence.
Pentz doesn't have as sterling a record as some of the others in the bracket, but he's taken out his fair share of All-Americans in his career, including Jake Woodley, Stephen Buchanan, and Eric Schultz.
Sleepers & Landmines
HM Luke Surber, Oklahoma State
HM Michial Foy, Minnesota
HM Nick Stemmet, Stanford
HM Trey Rogers, Hofstra
TJ Stewart, Virginia Tech
In such a deep weight class, its hard to find the distinction between contender and sleeper. Anyone sleeping on these honorably mentioned wrestlers is doing themselves a disservice.
Surber qualified for the NCAA tournament at 285 last season. Foy made the 2022 U23 Greco-Roman world team. Stemmet qualified for the 2021 tourney and just missed repeating last season. He also wrestled his twin brother at the 2021 CKLV. Rogers is another 2021 national qualifier, and TJ Stewart is redshirting for the Hokies but was #31 on the final Class of 2022 Big Board and is ready to make noise at the college level now.
Spey's Spredictions

1) Elam; 2) Laird; 3) DePrez; 4) Smith
---
285 Pounds
Favorites
#8 Zach Elam, Missouri
#9 Sam Schuyler, Iowa State
It's very likely we don't see Sam Schuyler in Chattanooga, as the highly-ranked Cyclone did not participate in the Collegiate Duals in New Orleans last week and is reportedly tending to a bicep injury. That would leave Zach Elam as the clear favorite. The elder Elam on the Mizzou roster has been a stalwart for Coach Smith. He currently sports a 7-1 record and qualified for the 2022, 2021 and 2019 NCAA tournaments, having fortuitously donned a redshirt for the 2020 campaign.
Elam fell one win shy of a podium placement in 2019 and 2022 and finished in the round of 16 in 2021. Though he has another year of eligibility after this season, it's a good bet he gets the All-American albatross of his back next March.
Watch Elam win a Tiger Style Invite title in Staley High School, his former home gym outside of Kansas City, Missouri: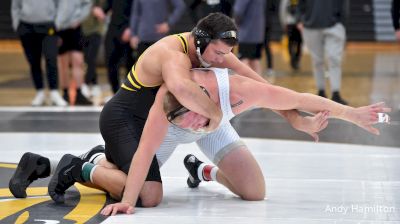 Unlock this video, live events, and more with a subscription!
Get Started
Already a subscriber? Log In
Contenders
#17 Jaron Smith, Maryland
#18 Jonah Niesenbaum, Duke
HM Garrett Joles, Minnesota
HM Konner Doucet, Oklahoma State
HM Cory Day, Binghamton
HM Zachary Knighton-Ward, Hofstra
Smith and Nisenbaum lead the deep pack of contenders, though this year's crop of heavies has more parity than usual, and anyone could come out on top of this bracket.
Joles seems to have settled into the anchor spot in the Gopher lineup after starting the season at 197. Doucet is also finding his sea legs as a starter for the first time. Joles also defeated Doucet in tiebreakers in early December in a dual meet between the Gophers and Cowboys.
EIWA and New York state rivals Day and Knighton-Ward having surprisingly never wrestled before. This is Day's second season as the Bearcat starter, while Knighton-Ward has held down heavyweight for the Pride for the last three seasons, qualifying for the NCAA tournament every one of those years.
Sleepers & Landmines
David Szuba, Rider
Hayden Copass, Purdue
Copass and Szuba were two highly recruited heavies coming out of high school in 2021. They'll have to navigate a very tough field to find their way to a podium step on Monday, but if they were looking for an opportunity to make a name for themselves, the 2023 Scuffle is the place to do it.
Spey's Spredictions
1) Elam; 2) Smith; 3) Nisesenbaum; 4) Knighton-Ward