Women's Weekly
Women's Weekly: The Rise Of Adaugo Nwachukwu
Women's Weekly: The Rise Of Adaugo Nwachukwu
The sky is the limit for Iowa Wesleyan's Adaugo Nwachukwu, while King and North Central are in a tight race for NCAA supremacy.
Dec 19, 2022
by Kyle Klingman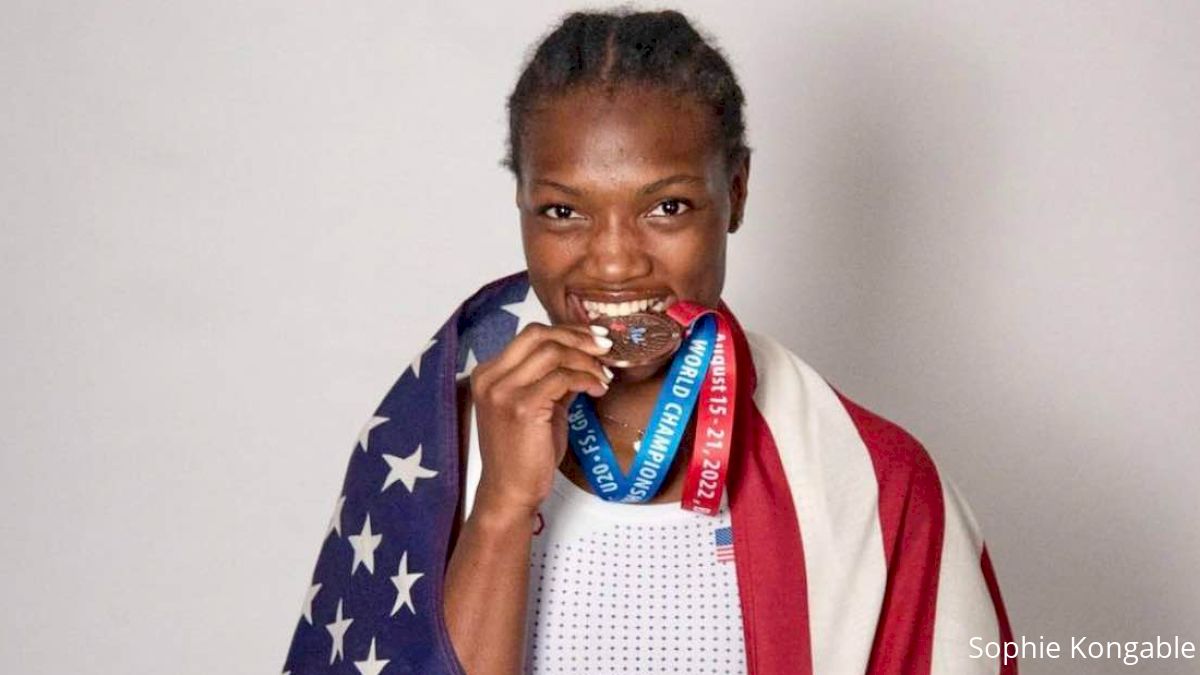 Adaugo Nwachukwu's wrestling journey seems nearly impossible. Nwachukwu left Nigeria for California in 2018 and found the sport as a sophomore. She expected rings and ropes but realized quickly that high school wrestling was far different than the theatrics seen on television.
Her rise is staggering. She won a state championship as a junior in 2020 for Silver Creek High School in San Jose following an undefeated season. The tournament was canceled in 2021 due to COVID but she found immediate success at Iowa Wesleyan by winning the 2022 NAIA Invitational Championships at 136 pounds.
Nwachukwu hasn't slowed down since. She made the U20 World team after a three-match shootout with age-level World medalist Skylar Hattendorf and won a bronze medal several weeks later.
Her sophomore campaign is off to a fast start. She has all techs with the exception of two matches: a 6-0 win over Alara Boyd at the All-Star Classic and a 13-4 win over Grand View's Andrea Schlabach at the Luther Hill Invitational on November 5.
It's the latter match that gnaws at her. She got thrown for four points and "only" won by nine. Grand View and Iowa Wesleyan were scheduled for a dual on December 7 but the meet was canceled.
The Tigers and their star 136-pounder made up for it by going 4-0 at the Eagles Duals in Kansas City.
"This weekend was another learning experience for me," Nwachukwu said. "I tried a few new things that worked for me. I think this season is going well so far. I'm looking forward to the Soldier Salute in two weeks."
On top of that, Nwachukwu was recently sworn into the Iowa National Guard. She was in the California Army Reserves but she had to fly back and forth between states, so this is an opportunity to stay in Iowa and train full-time for wrestling.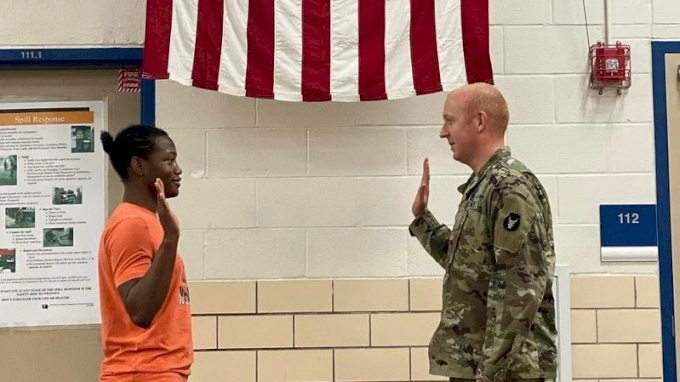 Adaugo Nwachukwu was sworn into the Iowa National Guard.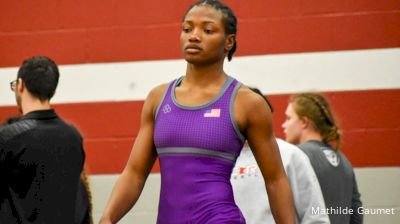 Learn more about Nwachukwu's fascinating journey.
King Crowned Wasps Women's Open Champions
King University is good. Really good. The Tornado won the Wasps Women's Open by 127 points over second-place Presbyterian. Granted, not every team fielded a full line-up, but King has consistently shown that it will be in contention for a national collegiate team championship in March.
"This past week we have put major emphasis and focus on chain wrestling and technique in some specific areas," King coach Jason Moorman said. "Going into this open, we challenged our team to execute all of those things, and they did that really well. It was a nice way to end the semester and go into Christmas break. We are looking forward to getting back and continuing to grow and develop as we approach National Duals."
Top 10 team scores
King — 244
Presbyterian — 117
Life — 61
Emory & Henry — 59
Mount Olive — 46
Emmanuel — 45.5
St. Andrews — 32.5
Ferrum — 21.5
Lincoln Memorial — 17.5
Apprentice — 11.5
Wasps Women's Champions
101: Avery Kibelbek (King)
109: Sage Mortimer of (King)
116: Double Forfeit (Samara Chavez and Danielle Garcia of King)
123: Vayle Baker of (King)
130: Montana DeLawder (King)
136: Paige Wehrmeister (Presbyterian)
143: Ana Luciano of (King)
155: Latifah McBryde (Life)
170: Cheyenne Bowman (King)
191: Gabrielle Hamilton (Life)
For full results click, here.
Cardinals Crush Conference
North Central and King are still the teams to beat as the halfway point of the season approaches. The Cardinals traveled to Rock Island for a dual against Augustana on December 15.
The result? North Central won 45-0 with five technical superiorities, two falls, and three forfeits. Joe Norton's team didn't surrender a point in any of the seven contested matches.
"This is the first year of the CCIW sponsoring women's wrestling," Norton said. "Our goal has been to dominate the conference, and doing so at Augustana was the next step. We'll head into the conference tournament without losing a single match in our conference duals and feeling confident that we can win an individual title at all 10 weight classes."
North Cehtral 45, Augustana 0
101: Amber Turner (North Central) over Unknown (Unattached) Forf.
109: Elizah Leonard (North Central) over Unknown (Unattached) Forf.
116: Amaya Yoshizumi (North Central) over Unknown (Unattached) Forf.
123: Amani Jones (North Central) over Hannah Suboni-Kaufman (Augustana) (TF 10-0)
130: Sara Sterner (North Central) over Sydney Tajkowski (Augustana) (TF 10-0)
136: Sydney Park (North Central) over Alicia Felkner (Augustana) (TF 10-0)
143: Yele Aycock (North Central) over Kara Rohlf (Augustana) (TF 10-0)
155: Kendall Bostelman (North Central) over Abbey Ellis (Augustana) (TF 10-0)
170: Tiera Jimerson (North Central) over Sawyer Graham (Augustana) (Fall 2:00)
191: Alondra Aguayo (North Central) over Angie Guy (Augustana) (Fall 2:20)
Mavericks Dominate Desert Duals
King and North Central are leading the NCAA pack right now, but don't sit on Colorado Mesa. The Mavericks went 6-0 at the Desert Duals with wins over Pacific (48-0), Grays Harbor (43-6), Tiffin (47-5), Simon Fraser (25-16), Ottawa (38-11), and Schreiner (39-9)
"I'm really happy with how we performed this weekend at Desert Duals," Colorado Mesa coach Travis Mercado said. "We wrestled tenaciously with great energy and had a lot of fun.
"Having the opportunity to wrestle other top teams in Tiffin and Simon Fraser was awesome. Walking away with six wins was an excellent way to cap off the first half of the season before National Duals."
For full results, click here.
Pioneers Win Eighth In A Row
Sacred Heart — one of four Division I women's wrestling programs — won a pair of duals on December 18. Paulina Biega's squad defeated Delaware Valley (45-2) and New Jersey City (28-16) and is now 10-2 on the season after winning its eighth dual consecutive dual.
"We finished off the semester on a good note and that makes me happy. These girls deserve that," Sacred Heart coach Paulina Biega said. "It was rough on us last week with finals and the flu going around so we did our best. It was enough on Saturday but I know we haven't performed as we could or should. There were a lot of good things but we also have things we need to work on."
Hawkeye's Recruiting Haul
Iowa coach Clarissa Chun continues to seek out the best talent in the country. The team made a statement at the prestigious Missouri Valley Open when seven Hawkeyes competed unattached. The results were impressive: five won titles and the other two placed second. The only losses were to other members of the team. Chun continues to build a strong team with additional wrestlers making commitments.
Current commitments with national rankings
Emily Frost — #7 at 127 pounds
Lilly Luft — #5 at 132
Danni Swihart — NR
Ava Rose — #28 at 112 pounds
Haley Ward — #5 at 164 pounds
Alivia White — #21 P4P, #2 at 180 pounds
Hear from every member of Iowa's current line-up, here.
Beat The Streets, Los Angeles
Five U.S. women's competed against Ukraine during the Beat the Streets LA International Wrestling Event on December 18. World champion Jacarra Winchester and national team member Skylar Grote picked up wins as the United States won 5-4 (men's and women's combined).
Women's freestyle results
55 kg — Jacarra Winchester (USA) tech. fall Lilija Malanchuk (Ukraine), 11-0
57 kg — Alina Hrushyna Akobiia (Ukraine) dec. Alex Hedrick (USA), 9-2
62 kg — Ilona Prokopevniuk (Ukraine) dec. Jennifer Page (USA), 5-2
72 kg — Skylar Grote (USA) dec. Alla Belinska (Ukraine), 3-0
76 kg — Anastasiia Osniach Shustova (Ukraine) pin Dymond Guilford (USA), 3:19
Women's Spotlight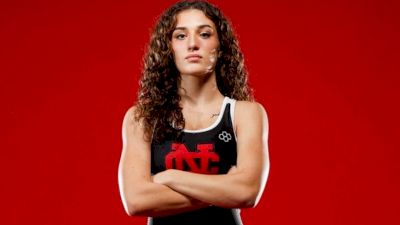 Amani Jones has found success on and off the ma because of her extensive support system at North Central College.
Blast From The Past
Here's a clip from when the United States Congress recognized Alli Ragan and the U.S. women's wrestling team