Women's Weekly
Women's Weekly: Lexi Janiak Put The Country On Notice
Women's Weekly: Lexi Janiak Put The Country On Notice
Aurora's Lexi Janiak made a statement over the weekend, while North Central and King are neck-and-neck as the top NCAA team in the country.
Dec 13, 2022
by Kyle Klingman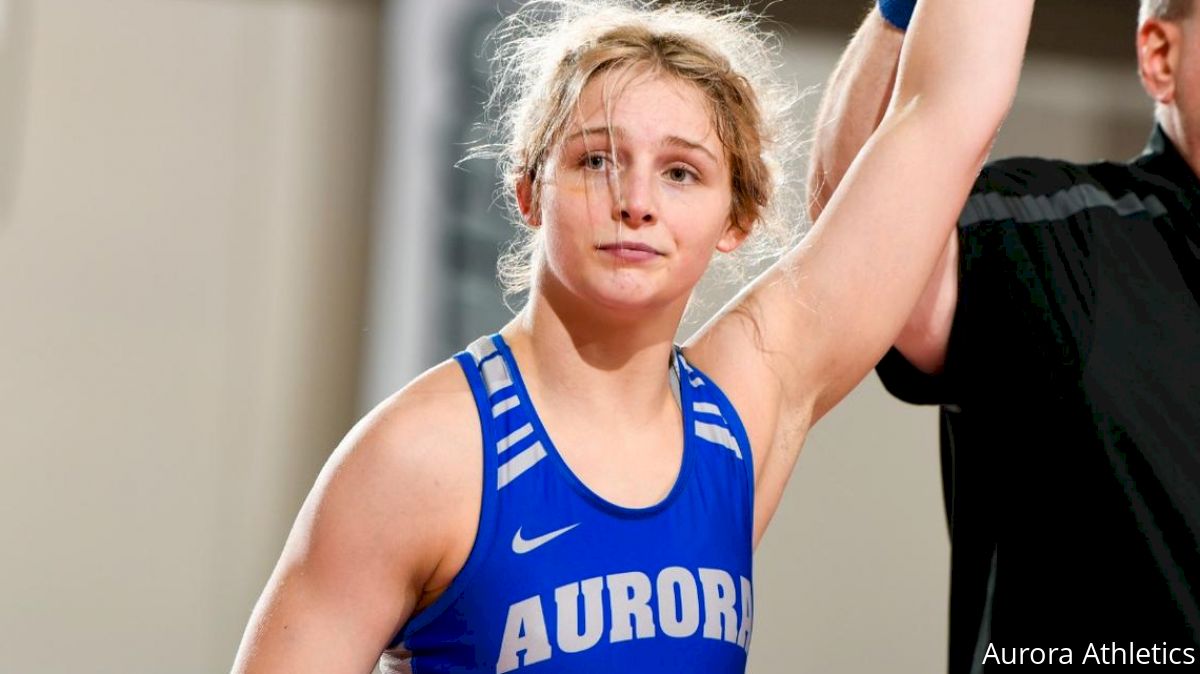 Aurora's Lexi Janiak's college career didn't get off to a good start. The freshman phenom from Plainfield, Illinois, opened her season by losing to North Central's Sara Sterner in her first dual. Oh, by the way, she got pinned.
Janiak's redemption tour has been fast and furious since that point, and now she's leading the loaded 130-pound weight class. She teched Sterner several days later and recently won the North Central Women's College Open by outscoring four opponents by a 42-1 count.
Her semifinal victory, however, is what catapulted her into the stratosphere. Janiak won by technical superiority, 11-1, over McKendree's two-time returning national collegiate champion Cam Guerin. The field also included Sterner, King's Montana DeLawder, Lindenwood's Cayden Condit, and McKendree's Jennifer Soto.
One month prior, Guerin pinned Janiak at the Adrian Open.
Guerin is far from out of the picture, though. She took a 7-4 loss to DeLawder at the 2022 National Duals before blitzing her way through the national championships with all techs or pins.
For now, though, the 130-pound weight class belongs to Janiak.
"If I were to describe this weekend in one word it would be growth," Janiak said. "I was able to test my skills against some of the best and got to see for myself the results of how hard I've been training. The smallest adjustments in technique and mindset have made huge strides for me.
"This is just a taste of what is to come, though. National champs are made further down the road. I'm lucky enough to have an environment with coaches, partners, and teammates that I trust to get me there."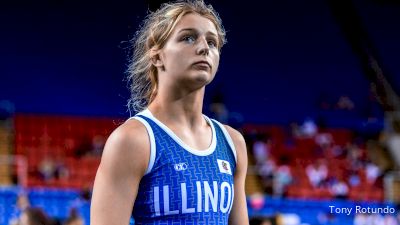 Learn more about Lexi Janiak's decision to attend Aurora University
Other North Central Takeaways
North Central is still the team to beat after taking the title in the inaugural year of the tournament, but King is a worthy contender for the 2023 crown. The host team won with 156.5 points to King's 146 but King had four individual champions to North Central's one, while third-place Augsburg had three champions.
The biggest finals match was at 109 pounds where King's Sage Mortimer won convincingly over North Central's Sydney Petzinger, 8-2, in what could be a preview of the national finals in March. Petzinger placed second at 109 pounds at the 2022 national tournament while Mortimer placed third at 116.
Also of note is King's Samara Chavez pinning North Central's Jaslynn Gallegos in the 116-pound final. The top two NCAA teams went head-to-head in three finals matches with King taking a 2-1 edge.
"This weekend was an awesome test for our team at home," North Central coach Joe Norton said. "Four of the top five ranked teams in the NCAA were here and we came out on top. Things might look a bit different in March as we were missing Yelena Makoyed and King had two open weights as well — but it's a good indication of where we're at for now.
"There are a few head-to-head matchups that we want to get back, but it was great to see those top-ranked matchups and find out where we are with things."
Best College Rivalry?
Augsburg's Nina Makem and North Central's Yele Aycock have the best individual rivalry going this season. Aycock upset Makem, 2-1, at the Pointer Open but Makem avenged that loss with an 8-6 win during a December 3 dual. The two met again in the 136-pound finals of the North Central Open with Makem winning, 4-3. Makem holds a 2-1 lead this season, but let's hope this isn't the last time these two face off.
North Central Open Top 10 Team Scores
North Central — 155.6
King — 146
Augsburg — 120
Indiana Tech — 96
McKendree — 83.5
Lindenwood — 73
Wisconsin-Stevens Point — 51
Aurora — 22
Quincy — 20.5
Northern Michigan — 20
North Central Open Individual champions
101: Jessica Corredor (King)
109: Sage Mortimer (King)
116: Samara Chavez (King)
123: Amani Jones (North Central)
130: Lexi Janiak (Aurora)
136: Nina Makem (Augsburg)
143: Ana Luciano (King)
155: Marlynne Deede (Augsburg)
170: Ashley Lekas (Augsburg)
191: Sydnee Kimber (McKendree)
For full North Central Open results, click here.
Southern Oregon Gets Statement Win
The 2023 NAIA Championships will be the first sanctioned women's collegiate tournament, so there's a lot on the line this season. There's every reason to believe that Southern Oregon will be in the mix for the historic title.
The Raiders outclassed Menlo, 35-6, and Linfield, 35-10, over the weekend. The Oaks won the inaugural NAIA Invitational title in 2019 and they have been a perennial power ever since.
"It was an outstanding performance by our women but I am not surprised," Southern Oregon coach Gabby Weyrich said. "I've been part of a lot of successful teams but this team is different. They don't just love the winning part of wrestling — they actually love wrestling, love the process, and love each other. That's why they performed so well.
"When you love what you do and work hard, the winning will happen on its own. With that being said, we know we need to stay humble and keep working. There is a ton of work to be done. This was just a great start."
Southern Oregon 36, Menlo 8 (Friday, December 9)
101 – Esthela Trevino, SOU, tech. fall Tianna Fernandez, 10-0 (2:55). (4-0)
109 – Natalie Reyna, SOU, tech. fall Barbara Greenberg, 11-0, 4:59. (8-0)
116 – Glory Konecny, SOU, dec. Ajayzee Zaballos, 6-4. (11-1)
123 – Carolina Moreno, SOU, p. Haley Narahara, 4:29. (16-1)
130 – Alana Vivas, MC, p. Kelsey Bicoy-Juario, 3:48. (16-6)
136 – Bella Amaro, SOU, dec. Louisa Schwab, 6-1. (19-7)
143 – Emily Se, SOU, p. Desiree Jones, 1:23. (24-7)
155 – Bailey Dennis, SOU, dec. Shannon Workinger, 4-2. (27-8)
170 – Joye Levendusky, SOU, tech. fall Jessica Mendieta, 10-0 (1:30). (31-8)
191 – Grace Kristoff, SOU, p. Nikita Dhaliwal, 4:03. (36-8)
Baron Duals
Life University took part in the Baron Duals, competing in five matches and coming out on top in each of them. The Eagles won 36-11 over host Brewton-Parker, 37-10, over Limestone, 49-0, over Montreat, 48-1, over Lincoln Memorial, and 32-15 over Missouri Baptist. Life has won 21 dual meets in a row.
"Starting off the season with two conference wins is always a good feeling — especially in a conference as strong as the Mid-South," Life coach Ashley Sword said. "Our line-up this weekend was relatively young in experience and we've been very pleased to see how they are taking to our way of Life. Hard-nosed with solid position, but staying true to their own unique styles. We almost have our full team back on the mat and are anticipating big moves once the lineup is complete."
Campbellsville University, the reigning two-time NAIA Invitational champions, competed at the Baron Duals, as well. The Tigers went 3-0 with wins over Missouri Baptist (26-18), Life's Blue team (34-6), and Brewton-Parker's Red team (35-5).
"It was a great weekend to develop," Miracle said. "There were a lot of positives to the weekend."
For full results, click here.
Sacred Heart Has A Perfect Weekend
Sacred Heart was the only Division I team that competed in duals over the weekend. The Pioneers defeated Tiffin (43-5) and Western New England (45-5). Paulina Biega's team went 11-2 in contested matches to move to 8-2 on the season.
"I think we wrestled well," Biega said. "I know that we could wrestle better in several of those matches but that's ok. We are not at our peak yet, nor should we be. We are focusing on getting better, growing, learning, and enjoying this wrestling journey for now.
"For many of our girls, it was the first time wrestling at Sacred Heart. Sadly, Tiffin and Western New England didn't have full line-ups and some of the girls didn't get to wrestle, but that's part of the game, which I understand — especially since we didn't have a full line-up last year. Nevertheless, our girls were supporting each other and being there for one another and that's very important."
Team USA Has Mixed World Cup Performance
The United States lost to China, 8-2, during its opening dual at the World Cup before storming back with an inspired performance to defeat the All-World team, 6-4. Mongolia defeated the American squad, 7-3, during the bronze medal match.
Four college stars competed in the World Cup, including Felicity Taylor (Iowa), Lexie Basham (Texas Wesleyan), Yelena Makoyed (North Central), and Dymond Guilford (Cumberlands).
"I really liked our fight," USA Wrestling National Women's coach
Terry Steiner
said. "We obviously want more wins but I can't take anything away from how they went out and approached this tournament. We asked for energy. I think we saw a lot of spirit."
China 8, United States 2
50 kg – Jiang Zhu (China) tech. Emily Shilson (USA), 10-0
53 kg – Li Deng (China) tech. fall Amy Fearnside (USA), 10-0
55 kg – Qianyu Pang (China) dec. Jenna Burkert (USA), 4-0
57 kg –Yongxin Feng (China) tech. fall Amanda Martinez (USA), 10-0
59 kg – Zhang Qi (China) tech. fall Michaela Beck (USA), 11-0
62 kg – Xiaojuan Luo (China) dec. Kayla Miracle (USA), 6-4
65 kg – Jia Long (China) dec. Mallory Velte (USA), 12-8
68 kg – Feng Zhou tech. fall Sienna Ramirez (USA), 10-0
72 kg – Amit Elor (USA) dec. Qiandegenchagan (China), 5-0
76 kg – Dymond Guilford (USA) dec. Juan Wang (China), 7-2
United States 6, All World 4
50 kg – Erin Golston (USA) dec. Anna Lukasiak (All World/Poland), 6-0
53 kg – Maria Prevolaraki (All World/Greece) dec. Felicity Taylor (USA), 4-1
55 kg – Jenna Burkert (USA) dec. Karla Godinez Gonzalez (All World/Canada), 4-0
57 kg – Alexandra Hedrick (USA)inj. fft. Zhala Aliyeva (All World/Azerbaijan), 0-0
59 kg – Anastasia Nichita (All World/Moldova) tech. fall Lexie Basham, 12-2
62 kg – Kayla Miracle (USA) dec. Aisuluu Tynybekova (All World/Kyrgyzstan), 9-3
65 kg – Mallory Velte (USA) pin Mimi Hristova (All World/Bulgaria), 5:31
68 kg – Irina Ringaci (All World/Moldova) dec. Solin Piearcy (USA), 4-2
72 kg – Zhamila Bakbergenova (All World/Kazakhstan) dec. Skylar Grote (USA), 6-0
76 kg –Yelena Makoyed (USA) pin Yasemin Adar Yigit (All World/Turkey), 3:34
World Cup Women's Freestyle Third Place Match: Mongolia 7, USA 3
50 kg – Otgonjargal Dolgorjav (Mongolia) pin Erin Golston (USA), 4:44
53 kg – Otgonjargal Ganbaatar (Mongolia) tech. fall Felicity Taylor (USA), 12-1
55 kg – Bolortuya Bat Ochir (Mongolia) dec. Jenna Burkert (USA), 7-6
57 kg – Alexandra Hedrick (USA) dec. Erdenesuvd Bat Erdene (Mongolia), 6-4
59 kg – Davaachimeg Erkhembayar (Mongolia) tech. fall Lexie Basham (USA), 12-2
62 kg – Tserenchimed Sukhee (Mongolia) tech. fall Kayla Miracle (USA), 16-5
65 kg – Orkhon Purevdorj (Mongolia) dec. Mallory Velte (USA), 9-6
68 kg – Solin Piearcy (USA) dec. Purevsuren Ulziisaikhan (Mongolia), 2-0
72 kg – Davaanasan Enk Amar (Mongolia) dec. Skylar Grote (USA), 7-1
76 kg – Dymond Guilford (USA) tech. fall Burmaa Ochirbat (Mongolia), 10-0
Watch Yelena Makoyed Take Out A Two-time World Champion
Women's Spotlight: Katie Dutchak
Katie Dutchak of Saskatoon, Saskatchewan began her athletic career in rodeo before wrestling came calling. She decided to double down on the sport and make a run at the 2024 Paris. Her goals are ambitious, and she's driven to find a spot at the top of the podium.
Coach's Spotlight: Jeff McGinness
Jeff McGinness was a four-time undefeated state champion for Iowa City, City High, and a two-time NCAA champion for Iowa before taking over as the head women's coach at Simpson College in Indianola, Iowa. McGinness discusses the excitement of the inaugural girls' wrestling season in Iowa, recruiting philosophy, and battling old teammates.