2022 UWW World Cup
20 World Cup Fast Facts
20 World Cup Fast Facts
Before the World Cup kicks off Saturday in Iowa, get familiar with some of the historical facts and figures about the athletes and teams in the field.
Dec 10, 2022
by Andy Hamilton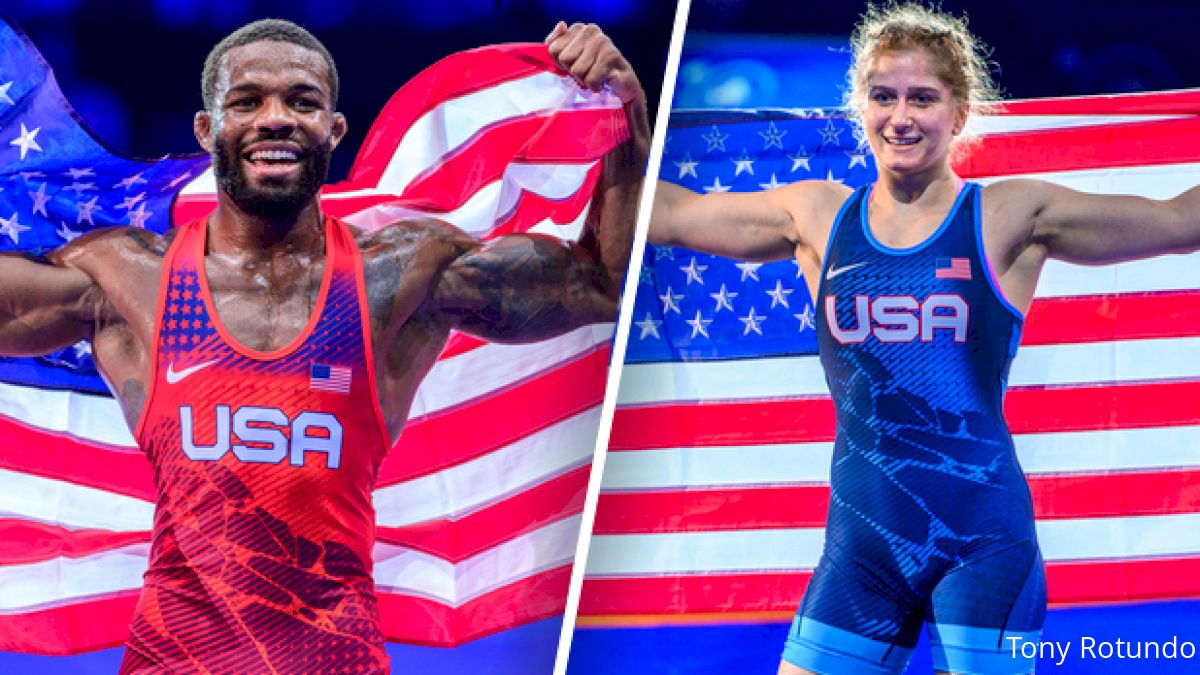 1. The USA men's freestyle team is in pursuit of its 15th World Cup title. In 2018 — the last time the tournament was held on American soil — the United States won its first World Cup title in 15 years.
2. Jordan Burroughs is looking to add to his incredible Senior-level resume this weekend. The seven-time World and Olympic champ has registered 66 wins against 30 wrestlers who have combined to win 68 World and Olympic medals, including 13 golds.
3. The United States is aiming for its second women's freestyle World Cup title and first since 2003 — the third year of the women's event.
4. At 18, Amit Elor is the youngest athlete in this weekend's tournament. She's looking to tie a bow on her remarkable 2022 season, which includes World titles at the Senior, U23 and U20 levels.
5. Iran finished first or second in every men's freestyle World Cup it has attended since 2006. The Iranians won titles in 2006 and six straight from 2012-17, finished second in 2007, '09. '10, '11 and '19 and were absent from the tournament in 2008 and '18.
6. Iran's six consecutive titles from 2012 through 2017 was the longest string of titles for one country since Russia reeled off seven in a row from 1983 to 1989.
7. Japan's third-place finish at the 2018 World Cup in Iowa City marked the best showing at the event for the Japanese men since 1985.
8. Mongolia has posted three top-three men's freestyle finishes at the World Cup, claiming the runner-up spot in 1975 and 1987 and a third-place finish in 1981.
9. Although Georgia placed third at the World Championships four times since 2013, the Georgians haven't had the same type of success at the World Cup. They posted their only top-three finish in 2016.
10. Though Russia is absent from the World Cup, the All-World Team has a strong Russian presence. Six of the 10 team members are Russian-born wrestlers who transferred to compete elsewhere internationally.
11. The average age for the All-World Team is 27.4. Ernazar Akmataliev, Osman Nurmagomedov and Batyrbek Tsakulov are the youngest at 24 and Oleksandr Khotsianivskyi is the oldest at 32.
12. The 10 wrestlers on the All-World Team have combined for 15 World-level medals, led by Tajmuraz Salkazanov, who has a pair of silvers and a bronze.
13. Japan has won 11 of the 18 women's freestyle World Cup titles, including the last five.
14. Since 2007, China is tied with Japan for the most women's freestyle World Cup titles with six. The Chinese women have also finished second twice and third three times during that time frame.
15. The All-World Team consists of women from nine countries, features seven wrestlers who medaled at this year's World Championships and three others who wrestled in medal matches in Belgrade. Four members of the team are past or reigning World champions.
16. The All-World Team features two of wrestlers most responsible for Moldova's recent women's freestyle surge — 21-year-old Irina Ringaci and 23-year-old Anastasia Nichita. Ringaci became the country's first women's freestyle Senior World champion in 2021 and Nichita claimed a World title in September. Nichita has reached the World finals at the Cadet, Junior, U23 and Senior levels and she's won Junior and Senior titles.
17. In 2019, All-World Team member Aisuluu Tynybekova became Kyrgyzstan's first women's freestyle World champion. She won a second title in 2021 and claimed an Olympic silver in Tokyo to go with nine Asian medals, including four golds.
18. Greece has won five women's freestyle World medals in the country's history. Three of those belong to All-World Team Maria Prevolaraki, who claimed bronzes in 2012, 2017 and 2022. She's also made three Olympic teams and she won a 2014 World title in beach wrestling.
19. Mongolia's best run of women's freestyle World Cup success came in 2015, 2017 and 2018 when the Mongolians finished third in three consecutive tournaments.
20. Yuliia Tkach Ostapchuk is the most decorated wrestler on the Ukrainian roster. She made her first of three Olympic appearances in 2008 as an 18-year-old. Since then, she's collected seven European medals — including three golds — and four World medals, highlighted by a 2014 World title.