2022 Walsh Ironman
#1 Angelo Ferrari Has Narrowed His College Decision To 5 Schools
#1 Angelo Ferrari Has Narrowed His College Decision To 5 Schools
Angelo Ferrari, the top-ranked recruit in the class of 2024, has narrowed his college decision to 5 programs.
Dec 5, 2022
by David Bray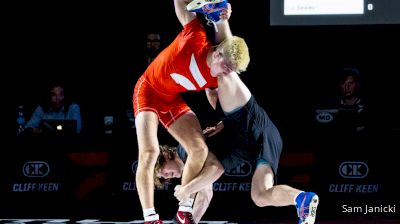 Unlock this video, live events, and more with a subscription!
Get Started
Already a subscriber? Log In
After notching wins over Braeden Scoles and Joe Sealey at Who's Number One, Angelo Ferrari took over the top spot on the 2024 Big Board. Now, he's narrowed his commitment list to five programs.
In July, Ferrari explained that he was taking a very open approach to his recruitment and that he would consider every option on the table. That position has remained consistent as Rutgers is the only remaining program from his original list of six.
As of December 4, Ferrari has identified Iowa, Iowa State, Rutgers, Virginia Tech, and Wisconsin as the five programs he's considering. Where does he fit weight class-wise? This summer, Ferrari believed he could eventually compete at 165 lbs but that he also might grow into a bigger weight class. He is registered to compete at 165 next weekend at Ironman in pursuit of his second straight title. He took home gold at 157 lbs a year ago.
The Melissa, Texas junior was able to narrow his list to five schools based on, "how comfortable [he] felt around the coaches" and the energy with which they coached. "All the coaches in my top five came up to Melissa for practice and helped me." Those in-person interactions were crucial for Angelo.
Even though Ferrarri has his final five, he isn't planning to rush his commitment. In fact, he hasn't been on an official visit to any of these programs. He expects to take those between January and March of 2023 so that he can make a decision this summer.
On the mat, Ferrari is known for his defensive prowess, and rightly so. He's almost impossible to score on, but that's only one element of his wrestling. In addition to his stingy defense, he has dynamic neutral offense, gritty top work, and no apparent deficiencies on bottom.
According to Ferrari, "A lot of coaches called after Who's Number One." Anyone who watched the event won't be surprised by this fact. In his WNO final, Ferrari scored four takedowns on U17 World champ Joe Sealey and earned over two and a half minutes of riding time. One takedown was in defense of a Sealey attack, one came from a Ferrari counter-attack, and two came from Ferrari's own offense.
Angelo Ferrari discusses his goals after Who's Number One