2022 Cliff Keen Las Vegas Invitational
CKLV Quarterfinal Results And Semifinal Matchups
CKLV Quarterfinal Results And Semifinal Matchups
See who will be wrestling in Saturday's semifinals at the Cliff Keen Las Vegas Invitational.
Dec 3, 2022
by JD Rader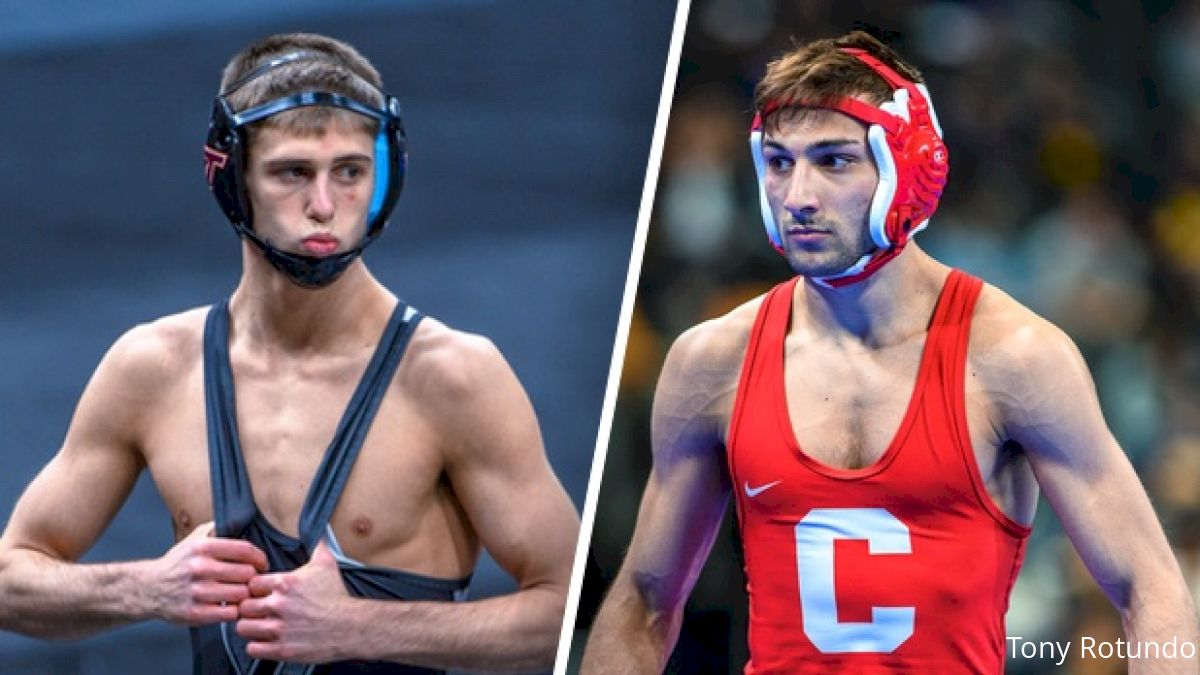 What a crazy round in Las Vegas! You can see the full list of upsets from day one upsets HERE. Action gets back underway tomorrow at 1 pm Eastern with the semifinals and consi semis.
Live Now
·
Dec 2-3, 2022, 5:00 PM UTC
Full brackets and match archives can be found on
FloArena
.
Semifinals Matchups
125: Tanner Jordan vs Richard Figueroa
125: Brandon Kaylor vs Matt Ramos
133: Vito Arujau vs Sam Latona
133: Dylan Ragusin vs Michael McGee
141: Brock Hardy vs Ryan Jack
141: Cael Happel vs Clay Carlson
149: Sammy Sasso vs Yahya Thomas
149: Jonathan Millner vs Kyle Parco
157: Will Lewan vs Kendall Coleman
157: Ed Scott vs Peyton Robb
165: Tanner Cook vs Austin Yant
165: Joshua Ogunsanya vs Julian Ramirez
174: Mekhi Lewis vs Chris Foca
174: Demetrius Romero vs Mikey Labriola
184: Parker Keckeisen vs Lenny Pinto
184: Kaleb Romero vs Trent Hidlay
197: Andy Smith vs Tanner Harvey
197: Silas Allred vs Isaac Trumble
285: AJ Nevills vs Lucas Davison
285: Wyatt Hendrickson vs Mason Parris
Quarterfinal Results
125: Tanner Jordan Brookings, SD (South Dakota State) DEC Caleb Smith High Point, NC (Appalachian State), 8-6 SV
125: Richard Figueroa (Arizona State) DEC Brett Ungar ithaca, NY (Cornell), 6-2 TB2
125: Brandon Kaylor Puyallup, WA (Oregon State) DEC Eddie Ventresca Blacksburg, VA (Virginia Tech), 6-4 SV
125: Matt Ramos West Lafayette, IN (Purdue) DEC Jake Ferri Kent, OH (Kent State), 6-2
133: Sam Latona Alabaster, AL (Virginia Tech) DEC Christopher Cannon evanston, IL (Northwestern), 7-2
133: Michael Mcgee (Arizona State) MD Kai Orine Raleigh, NC (NC State), 18-4
133: Vitali Arujau Syosset, NY (Cornell) MD Cody Phippen Basehor, KS (Air Force), 16-4
133: Dylan Ragusin Elk Grove Village, IL (Michigan) DEC Chance Rich Valencia, CA (Cal State Bakersfield), 6-1
141: Cael Happel Lisbon, IA (Northern Iowa) DEC Tom Crook Blacksburg, VA (Virginia Tech), 7-1
141: Clay Carlson Willmar, MN (South Dakota State) DEC Vince Cornella Ithaca, NY (Cornell), 3-1
141: Brock Hardy Brigham City, UT (Nebraska) F Cole Mattin Delta, OH (Michigan), 0:39
141: Ryan Jack Raleigh, NC (NC State) DEC Cleveland Belton Lakewood, CA (Oregon State), 6-1
149: Kyle Parco (Arizona State) DEC Chance Lamer Corvallis, OR (Michigan), 4-1
149: Jonathan Millner Greensboro, NC (Appalachian State) DEC Jackson Arrington Raleigh, NC (NC State), 6-0
149: Sammy Sasso Nazareth, PA (Ohio State) F Alec Hagan Eureka, MO (Ohio), 2:51
149: Yahya Thomas Evanston, IL (Northwestern) DEC Colin Realbuto Amawalk, NY (Northern Iowa), 5-2
157: Kendall Coleman West Lafayette, IN (Purdue) DEC Trevor Chumbley Evanston, IL (Northwestern), 6-5
157: Peyton Robb Lincoln, NE (Nebraska) TF Peyten Kellar Athens, OH (Ohio), 15-0 6:21
157: Will Lewan Chicago, IL (Michigan) DEC Tommy Askey Boone, NC (Appalachian State), 8-2
157: Ed Scott Raleigh, NC (NC State) DEC Cael Swensen Brookings, SD (South Dakota State), 4-0
165: Tanner Cook Columbus, MT (South Dakota State) F Carson Kharchla Powell, OH (Ohio State), 0:37
165: Austin Yant Waverly, IA (Northern Iowa) MD Tony Negron (Arizona State), 11-2
165: Josh Ogunsanya New York, NY (Columbia) DEC Matthew Olguin Clovis, CA (Oregon State), 5-2
165: Julian Ramirez Ithaca, NY (Cornell) DEC William Formato Lawrenceville, GA (Appalachian State), 6-2
174: Mekhi Lewis Blacksburg, VA (Virginia Tech) F Cade Devos Altoona, IA (South Dakota State), 1:51
174: Christopher Foca HACKENSACK, NJ (Cornell) DEC Ethan Smith Aberdeen, OH (Ohio State), 8-4
174: Demetrius Romero Orem, UT (Utah Valley) F Philip Conigliaro Dedham, MA (Harvard), 5:44
174: Mikey Labriola Easton, PA (Nebraska) DEC Sal Perrine northfield, OH (Ohio), 9-2
184: Lenny Pinto Stroudsburg, PA (Nebraska) DEC Trey Munoz Corvallis, OR (Oregon State), 5-4
184: Kaleb Romero Mechanicsburg, OH (Ohio State) DEC Hunter Bolen Blacksburg, VA (Virginia Tech), 3-2
184: Parker Keckeisen cedar falls, IA (Northern Iowa) DEC Anthony Montalvo. (Arizona State), 5-3
184: Trent Hidlay Lewistown, PA (NC State) DEC Matthew Finesilver Greenwood Village, CO (Michigan), 7-3
197: Andy Smith Christiansburg, VA (Virginia Tech) DEC Tanner Sloan alburnett, IA (South Dakota State), 5-2
197: Tanner Harvey Corvallis, OR (Oregon State) DEC Kordell Norfleet. (Arizona State), 5-2
197: Silas Allred Anderson, IN (Nebraska) DEC Gavin Hoffman MONTOURSVILLE, PA (Ohio State), 5-2
197: Isaac Trumble Raleigh, NC (NC State) F Jacob Koser Dillsburg, PA (Navy), 5:49
285: Lucas Davison Evanston, IL (Northwestern) DEC Tyrell Gordon Waterloo, IA (Northern Iowa), 6-1
285: Mason Parris LAWRENCEBURG, IN (Michigan) DEC Owen Trephan Summerville, SC (NC State), 8-1
285: Wyatt Hendrickson Newton, KS (Air Force) MD Yaraslau Slavikouski Rečyca, Gomel Region (Harvard), 10-2
285: Aj Nevills Brookings, SD (South Dakota State) DEC Cohlton Schultz (Arizona State), 5-2