2022 NCAA Watch Party: Cy-Hawk & Penn State vs Lehigh
Iowa State vs Iowa Is A Rivalry Built On History
Iowa State vs Iowa Is A Rivalry Built On History
You don't want to miss the Iowa State-Iowa dual on Sunday, December 4. Get a full breakdown of the series and what to expect this weekend.
Dec 2, 2022
by Kyle Klingman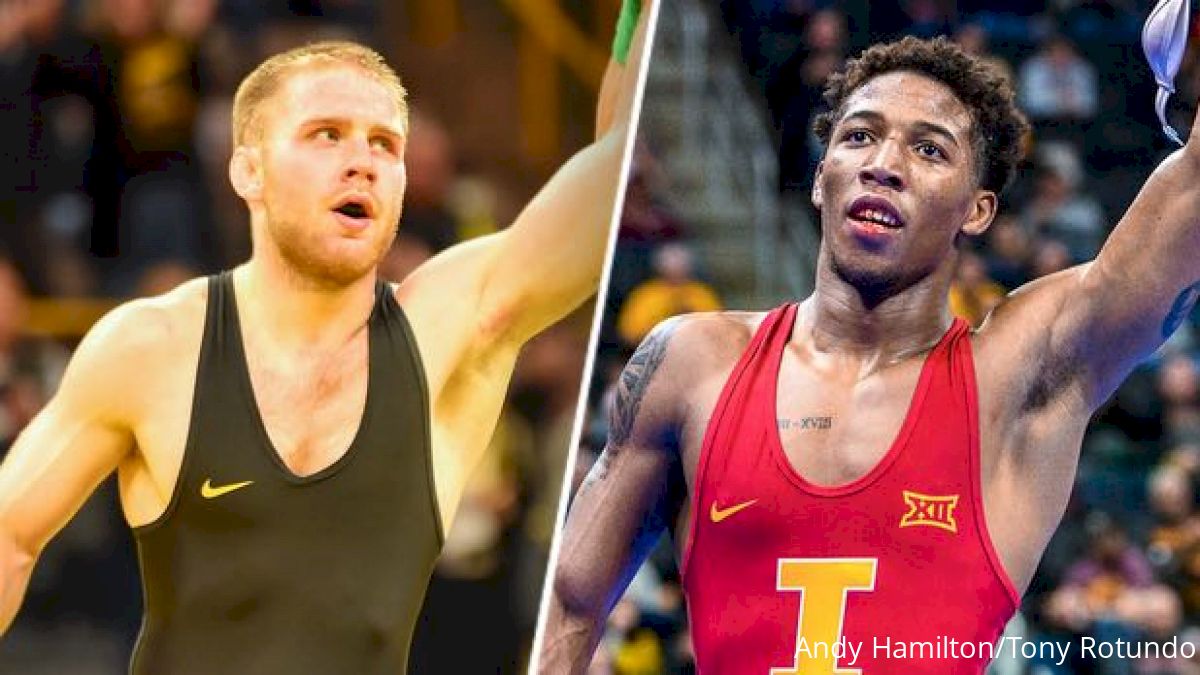 Match Details
Who? Iowa State vs Iowa
When? Sunday, December 4 at 1:30 p.m. Central
What? The Cy-Hawk Series
Where? Carver-Hawkeye Arena in Iowa City
How to watch it? Big Ten Network
How to experience it? FloWrestling Watch Party
What You Should Know
The first Iowa State vs Iowa dual took place in 1912, but this rivalry begins and ends with Dan Gable. Gable won two NCAA titles for Iowa State and completed his college career with a 119-1 record before winning the 1972 Munich Olympics.
The former Cyclone star sent shockwaves through the wrestling world when he was lured to Iowa City by Gary Kurdelmeier. Gable became Kurdelmeier's assistant for four seasons (1973-76) before a 21-year coaching career (1977-97) that is still the gold standard. His teams won 15 NCAA titles, 21 consecutive B10 titles and compiled a 355-21-5 dual meet record.
Iowa State won a pair of titles during the Gable era (1977 and 1987) but they haven't had any since.
Some Cyclone fans haven't forgiven Gable for leaving, which only adds to the mystique of this rivalry.
Two Gable disciples — Kevin Dresser and Tom Brands — will be on opposite sides of the mat when Iowa State faces Iowa in Carver-Hawkeye Arena on Sunday, December 4 at 1:30 p.m. Central.
Brands — an NCAA champion from 1990-92 — coaches the Hawkeyes.
Dresser — an NCAA champion in 1986 — coaches the Cyclones.
In fact, each staff is comprised of former Iowa wrestlers.
Iowa holds a 67-16-2 lead in the series, while Brands has a 42-1 edge as an athlete, assistant, and head coach. His lone dual setback was on December 7, 2003, when he was an assistant to Jim Zalesky.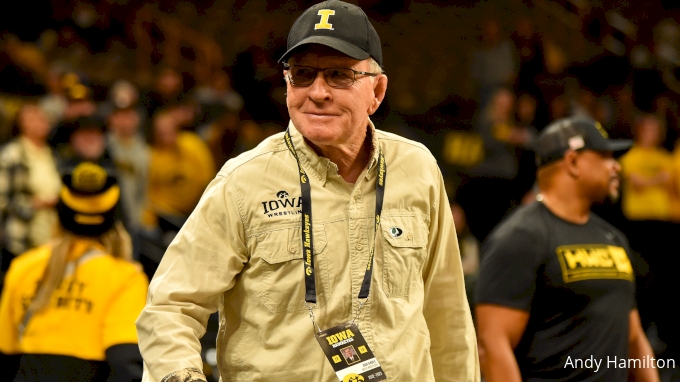 The Dan Gable Trophy is given to the winner of the Iowa State-Iowa dual. Gable competed for Iowa State and coached at Iowa.
NCAA Title History
Iowa (24): 1975, 1976, 1978, 1979, 1980, 1981, 1982, 1983, 1984, 1985, 1986, 1991, 1992, 1993, 1995, 1996, 1997, 1998, 1999, 2000, 2008, 2009, 2010, 2021
Iowa State (7): 1933, 1965, 1969, 1970, 1972, 1973, 1977, 1987
Iowa State And Iowa This Season
Both teams boast a 5-0 record but it was Iowa State's 26-6 win over Wisconsin that put the country on notice. The Cyclones handled the Badgers and won all the key matches during the dual.
Iowa hasn't wrestled its best line-up yet and many are wondering if two of the team's biggest superstars — Spencer Lee and Real Woods — will compete on Sunday. The Hawkeyes defeated Penn last weekend by winning the swing matches.
#2 Iowa: 5-0
W California Baptist, 42-3
W Army, 28-13
W Sacred Heart, 35-6
W Buffalo, 35-7
W Penn, 26-11
#8 Iowa State: 5-0
W Little Rock, 33-7
W Campbell, 34-3
W Wisconsin, 26-6
California Baptist, 39-9
Grand View, 40-0
Probable Starting Line-ups
125: #12 Kysen Terukina (Iowa St.) vs Aidan Harris (Iowa)
133: #15 Zach Redding or Ramazan Attasauov (Iowa St.) vs Cullan Schriever (Iowa)
141: #8 Casey Swiderski (Iowa St.) vs #3 Real Woods or Drew Bennett (Iowa)
149: #9 Paniro Johnson (Iowa St.) vs #6 Max Murin (Iowa)
157: Jason Kraisser (Iowa St.) vs #21 Cobe Siebrecht or Caleb Rathjen (Iowa)
165: #3 David Carr (Iowa St.) vs #15 Patrick Kennedy (Iowa)
174: Julien Broderson (Iowa St.) vs #20 Nelson Brands (Iowa)
184: #5 Marcus Coleman (Iowa St.) vs #9 Abe Assad (Iowa)
197: #6 Yonger Bastida (Iowa St.) vs #3 Jacob Warner (Iowa)
285: 10 Sam Schuyler (Iowa St.) vs #4 Anthony Cassioppi (Iowa)
Three Key Matches
149: Paniro Johnson (Iowa State) vs Max Murin (Iowa)
Johnson dominated Wisconsin's Austin Gomez, 9-3, during a dual on November 5. That's an important result since Gomez has gone on the defeat Cornell's Yianni Diakomihalis and Ohio State's Sammy Sasso in subsequent matches.
Murin is a tough wrestler who can pull out gritty wins if he needs to. Iowa will need that type of mentality to keep pace during the dual. Iowa State could win the lightest two weights, so a win by Murin might be crucial. If not, Johnson has a unique opportunity to pull off a major victory in front of 15,000 partisan Hawkeye fans.
157: Jason Kraisser (Iowa State) vs Cobe Siebrecht or Caleb Rathjen (Iowa)
Tight duals are often decided in the trenches by someone you'd least expect. Iowa is favored, but bonus points are a real possibility — especially after what we witnessed from Siebrecht last week. The Hawkeye junior picked up a second-period fall after nearly getting pinned during an on-the-mat exchange. Bonus points could come in handy for Iowa, and mitigating the damage is key for Iowa State in the match.
197: Yonger Bastida (Iowa State) vs Jacob Warner (Iowa)
Bastida upset Warner, 4-3, during last year's dual — so this swing match holds added importance. Warner should be favored again based on rankings and last season's runner-up finish at nationals, but this match could decide the dual if it comes down to heavyweight.
10 Memorable Duals
January 9, 1981: Iowa State 25, Iowa 14 at Iowa State
Iowa State's Jim Gibbons had retribution on his mind after a controversial loss to Randy Lewis at Midlands a few days prior. Gibbons was doing everything right during his 134-pound dual match against the returning two-time NCAA champion and 1980 Olympian. The Cyclone star was in on a shot when Lewis posted his arm and dislocated his elbow. Gibbons won by injury default, which gave the Cyclones six valuable points. Iowa's heavyweight Lou Banach needed to secure a pin at heavyweight for his team to win, but got out of position on a cradle and gave up a fall to unranked Dave Osenbaugh. Iowa State wrestlers and fans mobbed the mat in a scene unlike any other in college wrestling history.
February 23, 1986: Iowa State 19, Iowa 16 at Iowa State
This might be the greatest dual in the series — and possibly the greatest college dual ever. Rookie coach Jim Gibbons made all the right moves over Dan Gable's powerful Iowa team that had won the previous eight NCAA Championships. The two line-ups eventually combined for 16 individual NCAA titles and 29 appearances in the NCAA tournament finals. Current Iowa State coach Kevin Dresser won his match over Joe Gibbons but it wasn't enough to derail the Cyclones. John Heropoulos won at heavyweight and Jim Gibbons was paraded around the mat by his wrestlers. The Hawkeyes recovered by sending six wrestlers to the NCAA tournament finals a month later with five winning titles.
Watch Iowa State defeat Iowa, 19-16, in one of the greatest duals ever wrestled
January 16, 1988: Iowa 22, Iowa State 15 at Iowa
Iowa State was poised to hand Iowa its first loss in Carver-Hawkeye Arena when returning NCAA champion Eric Voelker ran to the mat for his 190-pound match against unranked sophomore Brooks Simpson. A win for Voelker meant a win for Iowa State — then the unexpected happened. Simpson rolled through a position and eventually secured a fall in front of a partisan Iowa crowd. Many say it was the loudest moment in Carver-Hawkeye Arena. Mark Sindlinger won by fall at heavyweight to keep Dan Gable's undefeated CHA record intact.
December 7, 2003: Iowa State 21, Iowa 13 at Iowa State
Iowa State snapped Iowa's 30-match winning streak against the Cyclones when Nick Passalano secured a 36-second fall over Cole Pape at 165 pounds. Kurt Backes (184) and Trent Paulson (149) also picked up key wins. It was the first dual victory over Iowa for Bobby Douglas as Iowa State's coach.
December 3, 2006: Iowa 24, Iowa State 6 at Iowa
Did Dan Gable give the Iowa State bench the bird or the arm? That was just one of the controversies that led to one of the most lopsided and chaotic duals in the series. Tom Brands had just taken over as Iowa's head coach and hired Gable as an assistant. Iowa State just hired Cael Sanderson and Sanderson brought former Iowa assistant Tim Hartung onto his staff. Tensions spilled over when Iowa's Mark Perry took an "injury timeout" during the first match and all four coaches ran to the center of the mat to argue. It was a memorable exchange that lives on in college wrestling lore.
December 6, 2008: Iowa 20, Iowa State 15 at Iowa
Iowa set a then-attendance record of 15,955 when the second-ranked Cyclones faced the top-ranked Hawkeyes at Carver-Hawkeye Arena in what would become Cael Sanderson's final Cy-Hawk dual. Iowa won six of 10 matches but Iowa State's Nick Fanthorpe, Cyler Sanderson, and Jake Varner earned major decisions. Hawkeye Alex Tsirstis hit a masterful misdirection double-leg against Nick Gallick to snag a 4-2 win and current Iowa assistant Ryan Morningstar won 2-0 over Iowa State's Jon Reader.
December 6, 2009: Iowa 18, Iowa State 16 at Iowa State
Cael Sanderson just left for Penn State and Kevin Jackson had a team capable of taking down the Hawkeyes. As fate would have it, current Iowa State assistant Brent Metcalf's fall at 149-pounds made the ultimate difference for the Hawkeyes. Future Olympic gold medalist Jake Varner picked up a major decision at 197 pounds, but it wasn't enough to secure a win for his team. Matt McDonough's 13-7 win over Andrew Long at 125 pounds was one of the most entertaining matches of the series.
January 19, 2010: Iowa 19, Iowa State 12 at National Duals
Iowa State and Iowa faced off in the National Duals finals at the UNI-Dome several weeks after their slugfest in Ames. The Hawkeyes used five reserves highlighted by Aaron Jannsen's 3-1 sudden victory win over Andrew Sorenson at 165 pounds. McDonough and Long went at it again with the Hawkeye pulling off a thrilling 9-8 win in the opening bout.
December 1, 2018: Iowa 19, Iowa State 18 at Iowa
It's hard to believe that this was the first — and only — one-point dual victory in the series' history. Every match was hotly contested and every match felt like it could swing the momentum in favor of the other team. Spencer Lee won by major decision in the second-to-last match to give the Hawkeyes a four-point lead. Iowa State's Austin Gomez and Iowa's Austin DeSanto were in a knock-down-drag-out match that saw the former Cyclone star put DeSanto to his back as the partisan Iowa fans held their collective breath. DeSanto eventually recovered and kept the match to a 14-9 decision.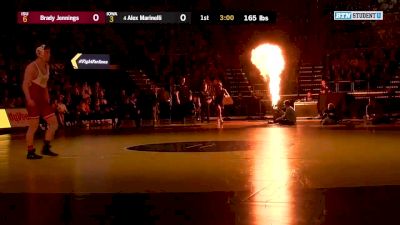 Unlock this video, live events, and more with a subscription!
Get Started
Already a subscriber? Log In
Alex Marinelli secured a fall over Brady Jennings at 165 pounds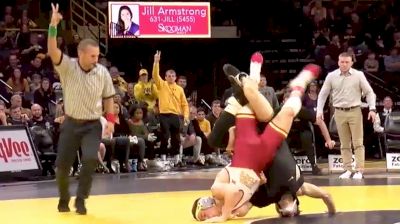 Unlock this video, live events, and more with a subscription!
Get Started
Already a subscriber? Log In
Austin Gomez had Austin DeSanto on his back but settled for a 14-9 decision, which gave Iowa the 19-18 win
December 5, 2021: Iowa 22, Iowa State 11
It's not often that you'll see a dual end on a stalling disqualification — but that's what happened last year in Ames. Cyclone fans hoped Sam Schuyler could pull off a massive upset when he shook hands with Tony Cassioppi. The Hawkeye heavyweight overwhelmed his outmatched foe, which gave Iowa its 67th win in the series. Each team was deducted one team point during the dual.