Dustin Myers S&G Greco Rows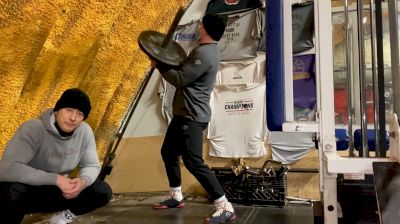 Unlock this video, live events, and more with a subscription!
Get Started
Already a subscriber? Log In
These are an old school exercise that one of my HS wrestling coaches brought back from Colorado Springs. During his time on the All-Army Greco team, they would use this lift as both a strength movement for low reps and also with lightweight for muscle endurance as a timed 60-second station.
I recommend starting out light with low reps until you get really comfortable with the movement. The step over and twist creates a lot of room for error so make sure you got it down before attempting heavy weight or grinding out a long set. As you can tell, Kollin even had a little trouble with a single plate - these are no joke!
Think of this movement as a T-Bar row into a twist press. Row the weight up to your chest and hold it there. Step over the bar and rotate, pressing the weight up and away from you*. As you lower the bar, hold it tight to your chest as you step over, then return the weight to the ground. The key is keeping your back straight and flat, and let your feet pivot slightly as you twist and press.
Beginners:
Bare Bar or 10-25lbs for sets of 3 per side
Strength:
25-70lbs for sets of 2-3 per side
Conditioning:
Bare Bar or light weight for max reps in 60 seconds.
*normally you would try to twist and press explosively, however, due to the shape of our building Kollin could not fully extend his arms at the top without smashing into the curved wall.
Coach Myers is the strength coach for the Ohio Regional Training Center at The Ohio State University. With the Ohio RTC since 2012, he served as Ohio State Wrestling's primary strength coach from 2014-18, helping the Buckeyes win three Big Ten titles, their first-ever team NCAA championship, and two runner-up finishes.
A certified strength and conditioning specialist (CSCS), Coach Myers owns the Old School Gym in Pataskala, OH, and is a founding partner of top supplement company Max Effort Muscle. Follow him on Instagram and Facebook, learn more about his strength and conditioning programs for wrestlers of all ages here, and check out Coach Myers' new website here.