Coach Myers Wrestling S&C: Leg Madness For Youth Wrestlers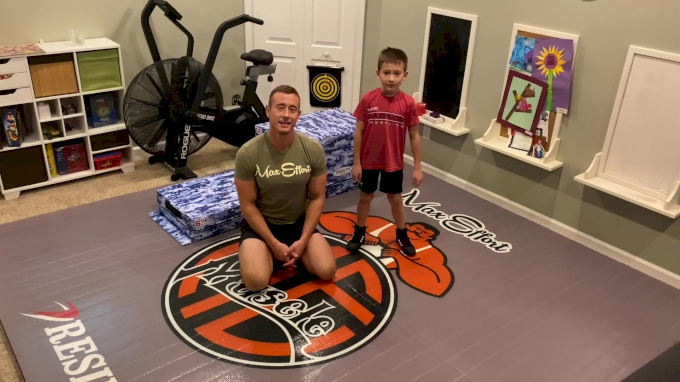 Unlock this video, live events, and more with a subscription!
Get Started
Already a subscriber? Log In
My son Jack is back to teach all of you youth wrestlers and parents out there a simple yet effective lower-body workout that athletes of any age can do at home with no equipment.
Setup: 5 exercises, 10 reps each, 2 times through the circuit.
Squat - 10
Stand with your feet at shoulder-width distance. Initiate the movement by sitting back and squatting down to parallel. Exhale as you stand back up to starting position.
Split Squat - 10 per leg
Face away from a bench, then step or couch. Place one leg behind you with your foot on the bench (laces down). Keep your chest up as you perform a single-leg squat. Keep your knee behind the front of your foot.
Hamstring Bridge - 10 per leg
Lay on your back in front of a bench. Bend one leg at roughly 90 degrees and place the heal on the bench and the other leg straight up in the air. Press through your heel as you raise your hips, pausing at the top as a straight line forms from your knee through your hip to your shoulder. Pause at the top.
Back Lunges - 10 per leg
Stand with your feet shoulder-width apart and square, then step back into a lunge. Step up and then repeat on the opposite side.
Glute Bridge
Lay on your back or across the bench with your legs bent and feet flat on the floor. Press through your heels as you bridge your hips up, squeezing the glutes at the top.
How to make it tougher: some athletes who have already built a good base may be able to use dumbbells on the split squats and lunges. A medicine ball or plate could also be held at chest height during the squats and on the hips during the bridge positions.
If using weight, I recommend cutting the reps to 5 and completing 4 rounds rather than 2 rounds of 10. Adding a 3-second isometric hold (pause rep) at the transition point of each movement is also a great way to increase difficulty but without adding external load.
---
Coach Myers is the strength coach for the Ohio Regional Training Center at The Ohio State University. With the Ohio RTC since 2012, he served as Ohio State Wrestling's primary strength coach from 2014-18, helping the Buckeyes win three Big Ten titles, their first-ever team NCAA championship, and two runner-up finishes.
A certified strength and conditioning specialist (CSCS), Coach Myers owns the Old School Gym in Pataskala, OH, and is a founding partner of top supplement company Max Effort Muscle. Follow him on Instagram and Facebook, and learn more about his strength and conditioning programs for wrestlers of all ages here.