Event Card Breakdown | Who's #1 The Show (Ep. 84)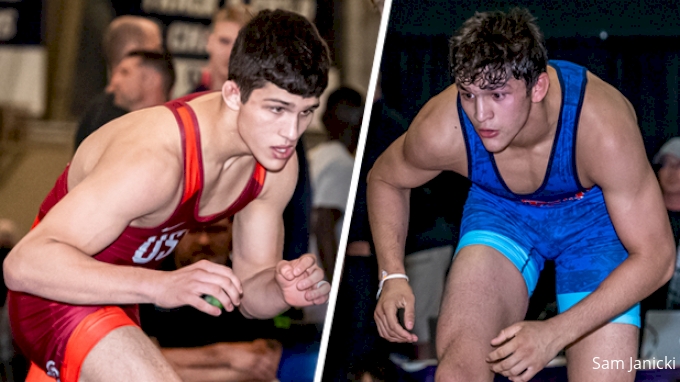 Unlock this video, live events, and more with a subscription!
Get Started
Already a subscriber? Log In
Mike Mal and Spey discuss the matchups slated for 2020's Who's #1, which very well may be the best card in event history.
Watch Who's Number 1 LIVE on FloWrestling
It's going to be intensity in ten cities. Just look at the match order!
138: #1 Shayne Van Ness vs #4 Jordan Williams
138: #2 Joel Vandervere vs #3 Jesse Mendez
126: #1 Jordan Titus vs #2 Dean Peterson
152: #1 Jagger Condomitti vs #2 Victor Voinovich
285: #1 Kyonte Hamilton vs #2 Chase Horne
220: #1 Nick Feldman vs #2 Kyle Haas
145: #1 Wyatt Henson vs #2 Cody Chittum
195: #1 Seth Shumate vs #2 Tate Picklo
73 kg: #1 Kennedy Blades vs #1 Amit Elor
132: #1 Nic Bouzakis vs #2 Ryan Crookham
160: #1 Paddy Gallagher vs #2 Travis Mastrogiovanni
120: #1 Richie Figueroa vs #2 Drake Ayala
170: #1 Alex Facundo vs #2 Cael Valencia
138: Van Ness/Williams vs Vandervere/Mendez
---
Class of 2021 Big Board
#1 Richie Figueroa
#2 Shayne Van Ness
#3 Alex Facundo
#4 Kyonte Hamilton
#5 Cael Valencia
#6 Drake Ayala
#7 Paddy Gallagher
#9 Travis Mastrogiovanni
#10 Kyle Haas
#11 Joel Vandervere
#14 Jagger Condomitti
#15 Victor Voinovich
#18 Wyatt Henson
#19 Dean Peterson
#20 Jordan Titus
#23 Tate Picklo
---
Class of 2022 Big Board
#1 Nick Bouzakis
#2 Ryan Crookham
#3 Jesse Mendez
#4 Seth Shumate
#5 Jordan Williams
#11 Nick Feldman
#36 Chase Horne
---
Class of 2023 Big Board
#3 Cody Chittum