Steve Mocco's Scuffle That Led To Suspension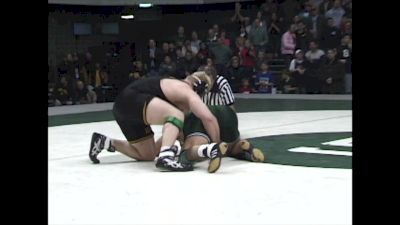 In the second to last dual meet of Steve Mocco's junior year, Iowa was wrestling Michigan State and the outcome of the dual had come down to the heavyweights. Iowa trailed by Michigan State by five team points and needed a pin from Mocco to win, otherwise the Hawkeyes would lose on criteria.

In the deciding match of the dual Michigan State sent out John Wechter, and right at the end of the match Mocco put him on his back but no pin was ever called. Iowa head coach Jim Zalesky ran out onto the mat and shouted at the official. At the same time Mocco and Wechter exchanged words and then Steve Mocco, as he said, "kicked him in the ass as hard as I could."

Michigan State won the dual meet and Mocco and Zalesky were both suspended for the final dual meet of the season.