Mocco Recalls Iowa Suspension, Avoiding DQ At 2003 NCAAs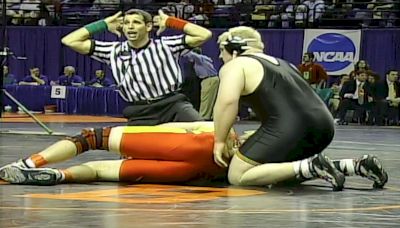 Steve Mocco was no stranger to controversy during his college career. Mocco walks us through the end of his regular season as a sophomore at Iowa and the beginning of his championship run in the 2003 NCAA Tournament.
In early February 2003, the Hawkeyes were wrestling at Michigan State in the dual meet that came down to the heavyweights, and Mocco needed to pick up a fall in order for Iowa to win.
Near the end of the match, Mocco put his opponent on his back but the pin was never called. As he describes it, "There was some home cooking going on."
Iowa head coach Jim Zalesky felt the same way and let it be known. Zalesky ran onto the mat and started slapping it in the closing seconds.
The pin was never called, and Mocco and his opponent exchanged words. Mocco said he then, "kicked him right in his ass as hard as I could."
Chaos ensued after the match, and Mocco was whisked away into the locker room.
That stunt earned Mocco and Zalesky each a one-match suspension, and both missed the final dual meet of the season against Minnesota.
At this point Mocco, undefeated and ranked No. 1 in the country, was under a lot of scrutiny from NCAA officials for being overly physical and manipulating joints in an illegal manner.
In his first round match at the NCAA championships, Mocco put his Iowa State opponent's arm on his back and turned him over. The referree stopped the move, called it illegal, and awarded one point to the Cyclones wrestler.
Fearing the worst, Mocco was worried his opponent was not going to continue, which meant Mocco would have lost by disqualification and forced into the wrestle backs.
In comes Iowa State head coach Bobby Douglas from across the arena. Douglas ran across the mats and was not about to let his wrestler win that way. He made his athlete go back out for another whistle start before defaulting out of the match, allowing Mocco to win and advance in the championship bracket.
Mocco went on to cap the season off as an undefeated NCAA champion.