Session 1 Recap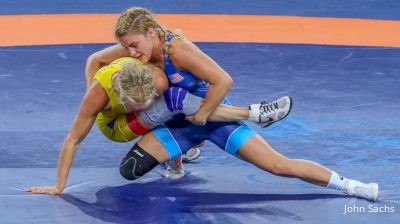 Finally! After five days of wrestling, Team USA gets their first guaranteed medal of these Olympic Games. Helen Maroulis dominates her way through the bottom half of 53kg, but she will have three-time Olympic gold medalst Saori Yoshida of Japan in the finals.

Maroulis teched her way to the quarters, beating two top ten opponents by scores of 12-1 and 10-0, against opponents from Ukraine and China respectively.

Her most difficult match was in those quarters against a two-time bronze medalist from North Korea. Trailing 4-1 in the final minute, Maroulis got consecutive takedowns on the edge to take the lead. Then, as Jong Myong-suk pushed her into the zone, Maroulis did some incredible line dancing to get a counter takedown to finish off the match.

In the semifinals, Maroulis had a rematch of the Golden Grand Prix finals against Sofia Mattsson (SWE). She came right out with an inside trip to go up 2-0 on Mattsson. Maroulis showed off both offense and defense in this match, scoring multiple times on counters and fighting off a leg attack with a hard whizzer at the end of the first.

The finisher was a counter off Mattsson's leg attack, putting the Swede on her back and pinning in a scramble to become the first American woman to make an Olympic gold medal match since Sara McMann in Athens.

Neither of the two other Americans wrestling today made it to the finals, but Elena Pirozhkova will be in the bronze medal match. She lost in the semis to Maria Mamashuk (BLR) by a 3-1 margin, though there was a chest wrap that could have been challenged.

Mamashuk was awarded two for a takedown even though Pirozhkova changed Mamashuk's direction when she thew her over the top. In the second period, trailing 2-1, Pirozhkova tried a go behind that failed. It was the same go behind she used to score two takedown against Mamashuk at Golden Grand Prix, but this time her hand came off the leg and Pirozhkova was pushed out.

Earlier in the day, Pirozhkova went crotch lock four times against Taybe Yusein to win 10-7 and make the quarterfinals. To make the semis, Pirozhkova knocked off defending world champ Battsetseg (MGL) with a counter in the second period.

Disappointingly, two-time defending world champ Adeline Gray will not place. After a pin in her first match, Gray lost in the dying seconds of her quarterfinal match.

Leading 1-1 on criteria against Vasilisa Marzaliuk (BLR), Gray ended up in a chest wrap position and was tipped over for two. Though the American coaches challenged it, the jury of appeal did not overturn and Gray ultimately lost 4-1. When Marzaliuk lost 3-0 in the semis to Erica Wiebe of Canada, Gray was eliminated from repechage.