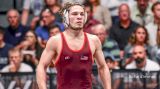 2019 Last Chance Senior World Team Trials Qualifier
May 5
East Stroudsburg, PA
The final qualifiers for the World Team Trials (May 17-18) have been determined.
Mark Hall was a nice surprise as a late entry and beat Chad Walsh to qualify for Raleigh.
65kg might have been the deepest weight in the tourney. Bryce Meredith edged Ben Whitford, who moved up from 61kg where he was at the Open, 7-6, in the quarters. Then Dean Heil scored a quick tech of Meredith in the semi's. Heil controlled the final with Joey McKenna, who was in Final X last year.
World Team Trials Qualifiers
57 Zach Sanders (Minnesota Storm)
61 Shelton Mack (TMWC)
65 Dean Heil (TMWC/ OKRTC)
70 Mario Mason (Lehigh Valley Wrestling Club)
79 Mark Hall (Nittany Lion WC)
Finals Results
Semifinal Results
Quarterfinal Results