• A two-time NCAA champion and four-time All-American, Dean graduates as one of the top wrestlers in collegiate history.• A three-time national finalist at 184 pounds, Dean posted a career record of 152-7 with 101 bonus wins, both school records, and never finished lower than third at nationals.• He is one of just 11 wrestlers in more than 100 years to win four Eastern wrestling titles and was a two-time Ivy League Wrestler of the Year.• The four-time, first-team All-Ivy League pick was the 2014 Ivy League and EIWA Rookie of the Year and was a two-time Coaches Trophy Award winner as the most outstanding wrestler at the EIWA meet.• Dean became the third four-time Southern Scuffle champion and the sixth three-time Las Vegas Invite champ.• He was part of teams that won four EIWA and Ivy League titles and posted a cumulative 52-10 dual meet record in his four seasons, posting four top eight NCAA team finishes.• Dean's signature win came against Penn State's two-time defending national champion Ed Ruth at the Southern Scuffle as a freshman, snapping Ruth's 84-match win streak dating back to 2011.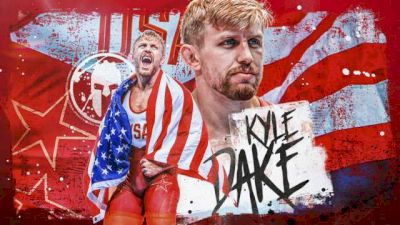 Unlock this video, live events, and more with a subscription!
Get Started
Already a subscriber? Log In
Spartan Combat 1 - All Killer No Filler
Jan 9, 2021
All fifteen matches from the first Spartan Combat Wrestling event featuring Yianni Diakomihalis vs Anthony Ashnault and Kyle Dake vs David McFadden.
Replay match order:
Vito Arujau vs Michael Colaiocco
Gabe Dean vs Mike Macchiavello
Yianni Diakomihalis vs Anthony Ashnault
Kyle Dake vs Dave McFadden
Ben Darmstadt vs Khalil Shakur
Ryan Miller vs Benny Gomez
Dom LaJoie vs Dominic Chavez
Daniel Koll vs Khalid Blankly
Anthony Artalona vs Josh Saunders
Neil Antrassian vs Chris Foca
Maximus Hale vs Jon Loew
Ben Goldin vs Lewis Fernandes
Colton Yapoujian vs Jackson Dean
Julian Ramirez vs Sam Erwin
Hunter Richard vs Matt Jenkins
Jacob Cardenas vs Khalil Belk
Evan Henderson vs Hai Siu
Scottie Boykin vs Brandon Williams
Max Dean vs Khalil Shakur