National & State High School Rankings
25 Nebraska High School Names You Need To Know
25 Nebraska High School Names You Need To Know
Led by U17 World champion Joel Adams and Fargo champ Kael Lauridsen, Nebraska prep wrestling is on the upswing. Here are 25 of the state's top stars.
Nov 29, 2022
by Dylan Guenther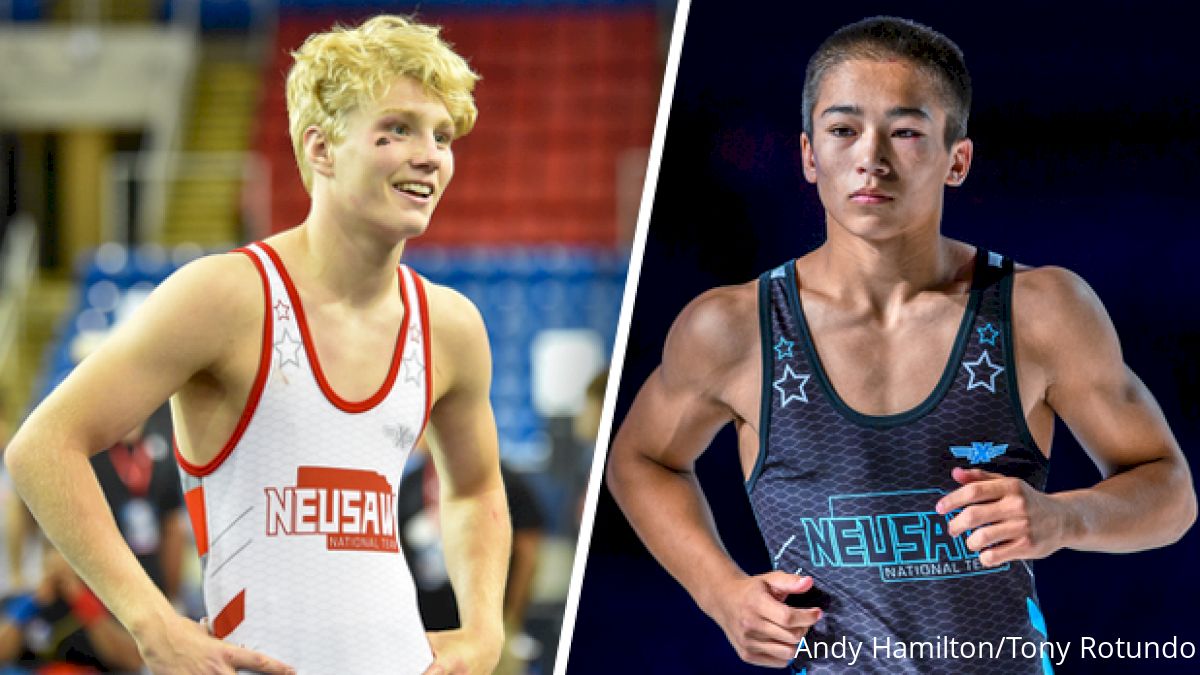 Unlock this article, live events, and more with a subscription!
Get Started
Already a subscriber? Log In
The quality of high school wrestling in Nebraska is only getting better, so we've compiled a list of 25 wrestlers you need to know about in the state. This list includes a World champion who's a future Michigan Wolverine as well as a possible four-time state champ and future Husker.
Many of these guys have been competing against some of the best in the country this summer, wrestling in tournaments like Super 32, Fargo Nationals and Preseason Nationals.
Joel Adams (Millard South) — Senior, 145/152 pounds
One of the most talented and credentialed wrestlers to ever come out of Nebraska, Joel Adams recently committed to wrestle at Michigan. Adams won a gold medal at the U17 World Championships in Greco-Roman this summer, outscoring his opponents 36-0. Adams also announced that he's going to take a gap year to train specifically in Greco as he wants to make an Olympic run in 2024.
Adams is a two-time Nebraska state champion for Millard South. In 2021, he was a Fargo double-champion at the 16U level. Then in 2022, in addition to his World championship, Adams won a Greco title at the U17 World Team Trials while finishing second in freestyle. He also defended his Fargo title in Greco, earning his third career stop sign.
Adams is currently ranked #9 in the country at 145 pounds after a few preseason setbacks as he's transitioning back into folkstyle competition. Also, don't be surprised if he moves up to 152 pounds for his senior season.
Miles Anderson (Millard South) — Junior, 126 pounds
Probably the top prospect in Nebraska for the class of 2024, Miles Anderson won his first state title last year as a sophomore at 113 pounds. He went 45-5 on his way to capturing both district and state titles.
This offseason, Anderson competed at Preseason Nationals and had a solid showing in the Junior-Senior division. The 1-seed coming in, Anderson pinned his first opponent before a pair of comfortable decision wins. In the quarters, Anderson again pinned his opponent before winning another comfortable decision in the semis, this time 8-3.
In the final, Anderson fell to Ryan Lovato out of California via 13-4 major decision.
Anderson has shown he's really good, but can the junior make that next jump and enter the conversation with guys like Adams and Lauridsen? Expect him to wrestle this year at 126 pounds and challenge for another state title.
Adrian Bice (Columbus High) — Senior, 132 pounds
As a junior a season ago, Adrian Bice finally broke through for his first state title. Bice finished his season 41-4 while winning his state title at 126 pounds. A three-time state placer, Bice will likely move up to 132 for his final season.
Over the summer, Bice won the Huskerland State freestyle title as well as the NEUSA state title in Greco.
Moving up in weight, Bice finds himself in a weight that doesn't return either finalist from last year. It's wide open, so Bice could be considered the favorite to win his second state title.
Noah Blair (Millard West) — Junior, 182 pounds
Wrestling at 182 pounds last season, Noah Blair avenged his loss in the district final to Millard South's Caeden Olin by beating him in the state final 2-1. Blair finished the year with a 38-3 record.
During the offseason, Blair competed unseeded at 182 pounds at Super 32. In a stacked field, Blair won his first-round match via 9-1 major before falling to ninth-seeded Tucker Hogan of Pennsylvania. Blair then won three straight decisions on the back side before losing to another seeded opponent in #10 seed Justin Griffith of New Jersey, ending his tournament with a 4-2 record.
Adonis Bonar II (Creighton Prep) — Sophomore, 170 pounds
Last season, Adonis Bonar II didn't have a great season, but he had a good state tournament, finishing sixth at 170 pounds as a freshman. He finished his season 27-26.
This offseason, he's been busy wrestling a lot of freestyle and Greco tournaments, most notably taking gold in both disciplines at the NEUSA FS/GR State Championships as well as at FRECO King of the Mat.
In the Fr/So division at Preseason Nationals, Bonar went 3-0 and won the title at 170 pounds.
After competing at 182 and 170 this offseason, it seems that Bonar worked his way back down to 170 by Preseason Nationals and will likely stay there for his sophomore season.
Cadyn Coyle (Bennington) — Junior, 113 pounds
Coyle has established himself on the Greco-Roman scene already, as he earned All-American status at Fargo as a cadet in 2021 before finishing third in the junior division this summer.
On the folkstyle scene, Coyle made it to the Class B state final last season, falling to Gering's Ashton Dane in the state final. Coyle finished his year with a 47-10 record and is expected to move up to 113 pounds this upcoming season.
Ashton Dane (Gordon-Rushville) — Senior, 106/113 pounds
As already mentioned, Dane beat Coyle in the state final as a junior, finishing the year with a 41-3 record wrestling for Gering High School.
This year, Dane has since transferred to Class C Gordon-Rushville where he enters the field at 106 for his senior year. Don't be surprised to see him go 113 though. He'll be a heavy favorite wherever he lands in Class C.
Tyler Durden (Papillon-LaVista) — Senior, 113/120 pounds
Last season, Durden blew through the field as he won the Class A state title at 106 pounds while finishing the season with a 50-4 record.
The senior looks to move up to 113 or 120 as a senior. In either class, he'll likely be one of the favorites to win state.
Robbie Fisher (Crofton/Bloomfield) — Junior, 126 pounds
Last season as a sophomore, Fisher finished his season as a state champion at 106 pounds with a 49-1 record. This season, Fisher is moving up in weight, possibly as high as 126 pounds. No matter which weight he moves to, he'll be an instant contender for another state title.
Kael Lauridsen (Bennington) — Senior, 120 pounds
Another national and international standout for Nebraska is Bennington's Kael Lauridsen. The Nebraska signee is a three-time state champion and takes a 135-3 career record into his senior season. But his accolades go way beyond just Nebraska high school wrestling. He has twice represented Team USA at the Pan-American Championships, having won gold in both freestyle and Greco in 2021 as well as gold in freestyle and silver in Greco in 2022.
Lauridsen is also a two-time Fargo champion in Greco (2021 and 2022) and two-time All-American in freestyle (fourth in 2021 and fifth in 2022).
This offseason, Lauridsen went a combined 17-0 at Junior National Duals between freestyle and Greco, outsourcing his opponents 156-4. Currently ranked #13 in the country at 120 pounds, Lauridsen looks to lead a stacked Bennington team to back-to-back team titles at state.
Kyler Lauridsen (Bennington) — Sophomore, 132/138 pounds
Last season, as a freshman, Kyler Lauridsen went 47-2 on the year and won a state championship at 126 pounds. With his older brother, Kael, moving up to 120 this season, that sets off a chain reaction of guys in the Bennington lineup likely moving up in weight. The younger Lauridsen will likely wrestle this season at 132, but don't rule out 138. It just depends on how much he's grown.
Bennington has a stacked lineup with multiple state champions in the lineup, and Kyler Lauridsen looks to be a possible four-timer after winning his first time around.
Jesse Lewis (Norfolk) — Junior, 113 pounds
Wrestling at 113 pounds as a sophomore, Lewis was a district champ before finishing third at state with a 36-4 record on the year. The year before, as a freshman, Lewis won a state title at 106 pounds.
It seems as if Lewis will stay at 113 pounds for his junior year when he makes a run for his second state title.
Hudson Loges (Blair) — Sophomore, 106 pounds
Last season as a freshman, Blair's Hudson Loges went 54-6 at 106 pounds while finishing third at the state tournament in Class B.
This summer, Loges wrestled at Super 32 and went 4-2 at 106 pounds but fell short of placing.
Expect Loges to stay at 106 this season, but he should be much improved and will absolutely be the favorite in Class B this year.
Grant Moraski (Bellevue West) — Senior, 170 pounds
A season ago, Grant Moraski went 41-6 and made it to the state final at 160 pounds, falling to Papillion-LaVista's Nick Hamilton who's currently a 165-pound freshman for Virginia.
In October, Moraski wrestled at Preseason Nationals in the Senior/Junior division where he went 6-2 and finished fourth at 170 pounds. With five wins by bonus, Moraski's losses were both decisions against seeded wrestlers. This season, he'll likely move up to 170 pounds for the high school season, a wide-open weight class in Class A this year.
Michael Myers (Omaha Westside) — Senior, 160 pounds
This past season, Michael Myers of Omaha Westside finished second at the state tournament at 152 pounds. He went 44-10 on the year and continued that this offseason at Preseason Nationals where he went 4-1 and didn't place at 160 pounds, but it was no fault of his. Myers won his first three matches by fall. Then in the quarters, Myers was forced to injury default out, ending his tournament.
A senior this year, Myers will likely move up to 160 after wrestling there this offseason.
Caeden Olin (Millard South) — Junior, 182/195 pounds
As mentioned earlier, Millard South's Caeden Olin fell to Millard West's Blair 2-1 in the Class A state title match at 182 pounds. Entering his junior year, Olin was the District A1 champion and finished his year with a 42-7 record.
Olin seems to be just the next in line as Millard South continues to churn out outstanding wrestlers year after year. The only question is whether he stays at 182 pounds or moves up to 195 and challenges Omaha North's Stewart.
Zaiyahn Ornelas (Wilber-Clatonia) — Freshman 106 pounds
Just an incoming freshman, Zaiyahn Ornelas looks to be a stud for Wilber-Clatonia. This summer, Ornelas won the 14U USA Wrestling Kids Nationals in freestyle at 97 pounds. He went 4-0 with two tech falls and a pin.
In October at the Preseason Recruiting Showcase, Ornelas went 3-0 to finish in first place at 106 pounds. In three decision wins, Ornelas outscored his opponents 17-3.
Ornelas has been active and successful on the freestyle and Greco-Roman circuit and looks to be a threat as a freshman at 106 pounds in Class C.
Connor Ritonya (Bennington) — Senior, 126 pounds
Another state champion for Bennington, Connor Ritonya won his first state title as a junior with a 57-3 season record at 120 pounds. Ritonya looks to move up to 126 for his senior year.
This fall at Preseason Nationals, Ritonya went 3-2 in the Junior/Senior division, making it to the quarterfinals. Look for Ritonya to contribute to the brilliant lineup Bennington will have at its lower weights.
Alexander Schademann (Fillmore Central) — Senior, 138 pounds
Last season, Alexander Schademann collected an astonishing 60 wins as he went 60-2 while winning a state title at 132 pounds.
This fall at Preseason Nationals, Schademann went 2-2 at 138 pounds in the Junior/Senior division. A senior this season, Schademann will likely move up to 138 pounds where both of last season's state finalists have graduated. At a wide-open weight, Schademann will likely be the favorite.
Tyler Stewart (Omaha North) — Senior, 195 pounds
A dominant force the past two years, Tyler Stewart comes into his senior year with two state titles in two different weight classes. He went 14-1 as a sophomore at 220 pounds and won his first state title before winning again as a junior, but down at 195 pounds where he finished with a 46-1 record.
He goes into the season as the man to beat in Class A. He'll have a chance to join an exclusive club of three-time state champs.
Tyson Terry (Omaha North) — Sophomore, 285 pounds
Omaha North's Tyson Terry burst onto the high school scene last year by going 43-0 at heavyweight while becoming the first Class A freshman to ever win a state title at heavyweight. In fact, he's the first freshman to win a heavyweight title in any class in Nebraska since 1971. Now, it's known that Terry has a love for football and will be pursuing that sport after high school, so it's highly unlikely you will ever see him compete past high school. So let's just be happy we get to see him compete in high school for three more seasons. He absolutely is chasing history after a perfect freshman season. And if he continues to improve and get stronger, it's hard to see him losing any time soon.
Landon Weidner (Hastings) — Senior, 152/160 pounds
Out of Hastings, Landon Weidner has only gotten better and better over the years. The senior finished third at state as a freshman at 126 pounds. Then he finished as runner-up at 145 pounds the next year. Weidner then got over the hump and secured his first state title as a junior with a perfect 48-0 record this past season.
This offseason, Weidner competed in the National Recruiting Showcase. He went 3-1 and finished second, falling in the final 8-4. This season, expect Weidner to move up from 152 pounds to 160 after competing at that weight this fall.
Isaac White (Cozad) — Senior, 182 pounds
Heading into his final year, Isaac White is coming off an undefeated state championship season in 2021-22. He went 41-0 a year ago at 170 pounds.
This fall at Preseason Nationals in the Junior/Senior division, White went 2-2. This season, White will likely move up to 182 pounds, setting up a possible matchup with defending state champion Noah Blair of Millard West.
Connor Whiteley (Scottsbluff) — Senior, 145 pounds
Wrestling at 132 pounds a year ago, Connor Whiteley went 45-3 overall while making it to the Class B state final. Unfortunately, Whiteley was injured in the match and was forced to default.
This year, Whiteley has moved up two weight classes and is set to compete at 145 pounds as a senior. Whiteley has committed to wrestle at Augustana next season.
Cade Ziola (Omaha Skutt) — Sophomore, 160/170 pounds
As a freshman last season, Cade Ziola burst onto the scene, making it all the way to the state final match at 152 pounds where he faced Weidner. Weidner came out on top 4-2 in that match, but the freshman showed he'll be a force for years to come as he finished his season with a 38-4 record.
This offseason, Ziola competed at the tough Super 32 tournament at 160 pounds. Seeded at #16, Ziola went 4-2 against some of the best competition in the country. He then wrestled at Preseason Nationals at 170 pounds and earned the #3 seed. He won his first two matches via tech fall and pinfall before getting upset in the quarterfinal round. With a healthy 16-6 lead, Ziola got caught on his back in a scramble and was pinned. He bounced back though, winning his next four matches with bonus points on his way to a third-place finish. Whether he decides to go at 160 or 170 this year, Ziola will be a legitimate title threat.