2022-23 NAIA Wrestling
NAIA Insider: After Spurring NAIA Surge, Menlo Applies To Go To D2
NAIA Insider: After Spurring NAIA Surge, Menlo Applies To Go To D2
Menlo's playbook led to massive growth in NAIA wrestling and now the Oaks are looking to move on to D2.
Nov 24, 2022
by Justin Portillo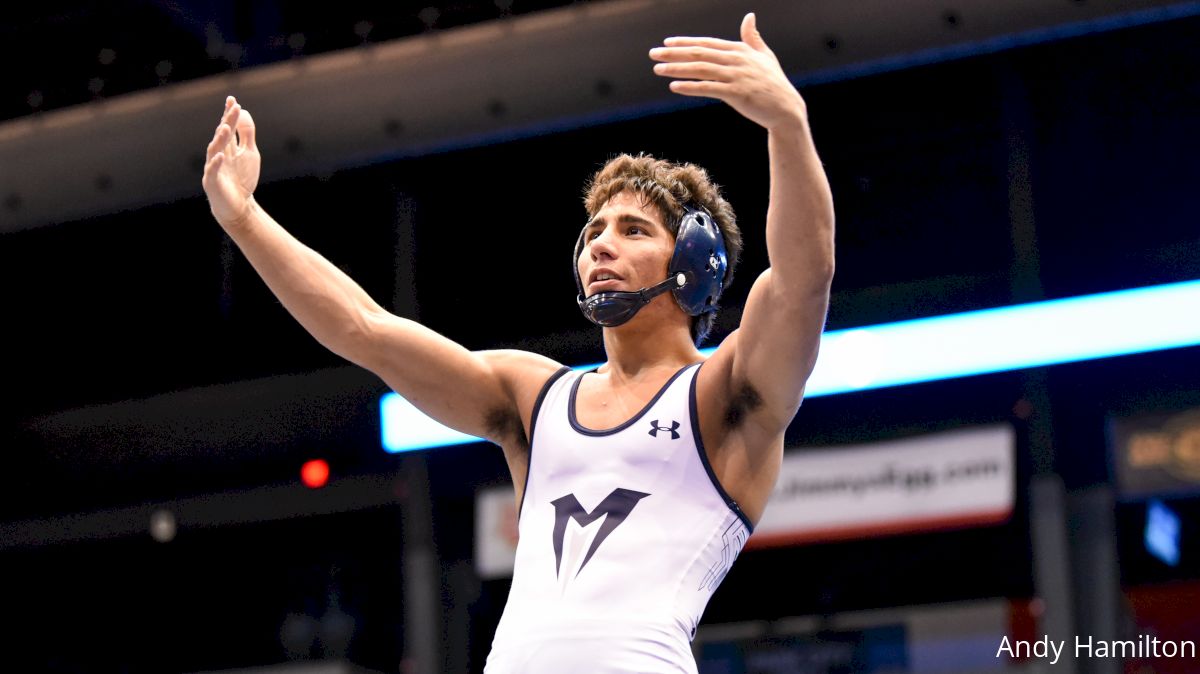 Keith Spataro's first game-changing move for Menlo College came almost 23 years ago when he pitched an offer that was too good for school officials to refuse.
At the time, wrestling didn't exist at the small private school south of San Francisco. But Spataro hatched a plan that he took to the athletic director. A day later, he met with the school vice president and board of trustees and the day after that Menlo offered him the job as the school's first wrestling coach.
"Part of the pitch was that I wasn't going to get paid to do the job," Spataro said three years ago as he recounted the Menlo wrestling history in an interview with Trackwrestling. "I was like, 'Listen, don't pay me, don't fund it. I'll prove to you that we'll do it, and when I do it, I need to be paid and I need to be funded."
Spataro brought in 47 wrestlers to fill the men's and women's rosters during the program's first year. He also raised all the funds for Menlo's operating budget and mats.
"We worked our tails off in that first year," he said. "It was awesome."
Little did he know then that he was writing the playbook that would lead to NAIA wrestling's explosive growth over the course of the next two decades. The division, which was struggling to stay above the 20-team mark then, is up to 75 men's programs now and has 42 women's programs.
"I don't know exactly what the number is, but I know I've influenced quite a few (schools to start wrestling)," Spataro said. "We gave them the playbook. We shared it. The experience I had, personally, in starting a program was awesome, and I wanted to share that with other people. I took our presentation and put it together for other schools across the country and sent it to them with their logos on it, their cost of attendance, so I know that we've had an influence, especially up and down the western United States.
"I promise you there's not an A.D. that hasn't heard my, 'You should add wrestling' speech. Whether I gave them my direct power point presentation and said, 'You should use this' or I've beat them up in a meeting and said, 'Listen, you need to add wrestling, it's a perfect opportunity for your school.'"
Menlo has been one of the top NAIA programs throughout the past two decades. The Oaks finished second at the NAIA Championships in 2004 and claimed the runner-up spot again in 2020 when Blaysen Terukina and Anthony Orozco won individual national titles.
Now Spataro is taking Menlo to another historic athletic step. As Menlo's vice president for athletics, he's leading the school's application to NCAA Division II membership. In a story on the school's athletic website, he said the move toward transitioning to D2 was driven by the need "to strategically align ourselves to more regional competition to decrease travel and missed class time, while also providing the best competitive environment for our entire community."
For wrestling, it means the Oaks will continue to compete in NAIA at least for the next two seasons, according to coach Joey Martinez.
Menlo opened its dual season on Nov. 12 with a 22-18 victory against Colorado Mesa, the ninth-ranked team in Division II. The Oaks won decisions at 184, 197 and heavyweight to rally for the victory, a promising upperweight performance for a program that typically excels at the lightweights.
Martinez was particularly impressed with freshman 184-pounder Isaiah Morales and senior 197-pounder Afton Silvis. Martinez praised Morales for bringing high energy and Silvis for getting into a groove lately.
The same could be said for the Oaks. Menlo didn't compete in 2021 due to COVID and finished 15th in March at the NAIA Championships.
Grand View Streak Ends
Grand View's historic winning streak came to an end Sunday after 10 years and 116 duals.
Iowa State defeated the Vikings 40-0, handing them their first loss Nov. 7, 2013, when the Cyclones beat Grand View 22-18.
"In all reality, they don't have a lot to gain from it," Grand View coach Nick Mitchell said of the Cyclones.
Iowa State won five decisions in the first seven matches.
"Losing sucks — I'm not a fan," Mitchell said. "But it's really what you do with it that matters. We got a lot of feedback from that dual and I feel like we're making gains already because of it."
The Vikings dropped three decisions by three points or fewer, including an overtime battle at 149, where ninth-ranked Iowa State freshman beat Blake Gonzalez 3-1.
"Matches like those are great reminders of how small the margins are," Mitchell said. "You have to do everything right just to get one inch better, but one inch better is all the difference it takes sometimes."
Shea Ruffridge looked strong at 141 until Iowa State's #8 Casey Swiderski ramped it up a notch in the third period on his way to a 14-8 win. At 157, Gio Bonilla led 2-1 midway through the third period when he got reversed and pinned by Jason Kraisser.
For Grand View, the dual wasn't about protecting a streak or even winning. To Mitchell, it was about putting his guys in tough situations.
"I'm looking forward to the month of December to see who on this team starts to separate themselves," Mitchell said.
Grand View is scheduled to wrestle at the Doane Open (Dec. 3) and has Dec. 10 duals against St. Ambrose and Baker before the Vikings wrestle at the Reno Tournament of Champions, which is slated to include Division I teams like Wyoming, Stanford and Arizona State.
You can watch that right here live on Flowrestling on Dec. 18.
Quick Hits
— In a classic in-state rivalry for Oregon supremacy, unranked Southern Oregon upset Eastern Oregon 21-18. Two unranked wrestlers shined for Southern Oregon. Simon Graeber scored a 17-10 win against Luciano Fasulo at 125 and Alex Hernandez defeated ninth-ranked Keegan Mulhill at 174. The Raiders also picked up a pin at 133 from second-ranked Evan Potter and seventh-ranked Aaron Gandara scored a 14-0 major decision at 149 against eighth-ranked 141-pounder Jaxon Morlan.
— William Penn ended a string of 12 consecutive losses to Missouri Valley last week as the Statesmen won six matches in a 30-16 dual victory. Unranked freshmen Jeffrey Myers and Sabri Sino posted big wins for William Penn. Myers scored a fall at 125 and, at 133, Sino defeated Brayden Bradley, who's ranked 12th at 125. After picking up pins from Stephen Skewes (157) and Matheson Meade (165), Branson Bottorff punctuated the dual win for the Statesmen with a late comeback, scoring a stall point, a takedown and riding time point to beat Athonie Banuelos 6-5 at 197.
— At the Patriot Open, fourth-ranked Parker Dobrocky debuted for Southeastern, winning the 141-pound title. He beat Logan Wagner, #5 Bryce Nickel and Chasen Brown during his path through the bracket. At 184, #3 Sam Osho won a pair of high-scoring shoutouts, defeating #9 Asher Eichert 12-9 in the semis and Kyle Homet 8-7 in the finals. Homet was coming off a win over All-American Nico Perovic in the semis. William Speight could break out this year for Lourdes. After losing his first match to Osho, he came all the way back for third.
— At the Grand View Open, second-ranked heavyweight Greg Hagan controlled a deep weight with wins over #5 K.C. Buday and #9 Gabe Jacobs. Buday had two overtime thrillers on his way to the finals, beating #7 Austin Harris 6-4 and #3 Tommy Mommy 3-1. Sixth-ranked Joshua Isaac rebounded after a loss to Jacobs and beat Mommer 13-4 before placing fourth. Grand View's second-ranked Gio Bonilla beat top-ranked and returning NAIA champion Israel Casarez 7-0 in the finals at 157.