2022-23 Ohio State Wrestling
Buckeye Insider: Hoffman Committed To Upping Offensive Output
Buckeye Insider: Hoffman Committed To Upping Offensive Output
After a strong finish in March and a summer of training with Kollin Moore, Ohio State 197-pounder Gavin Hoffman is focused on racking up more points.
Nov 23, 2022
by Travis Johnson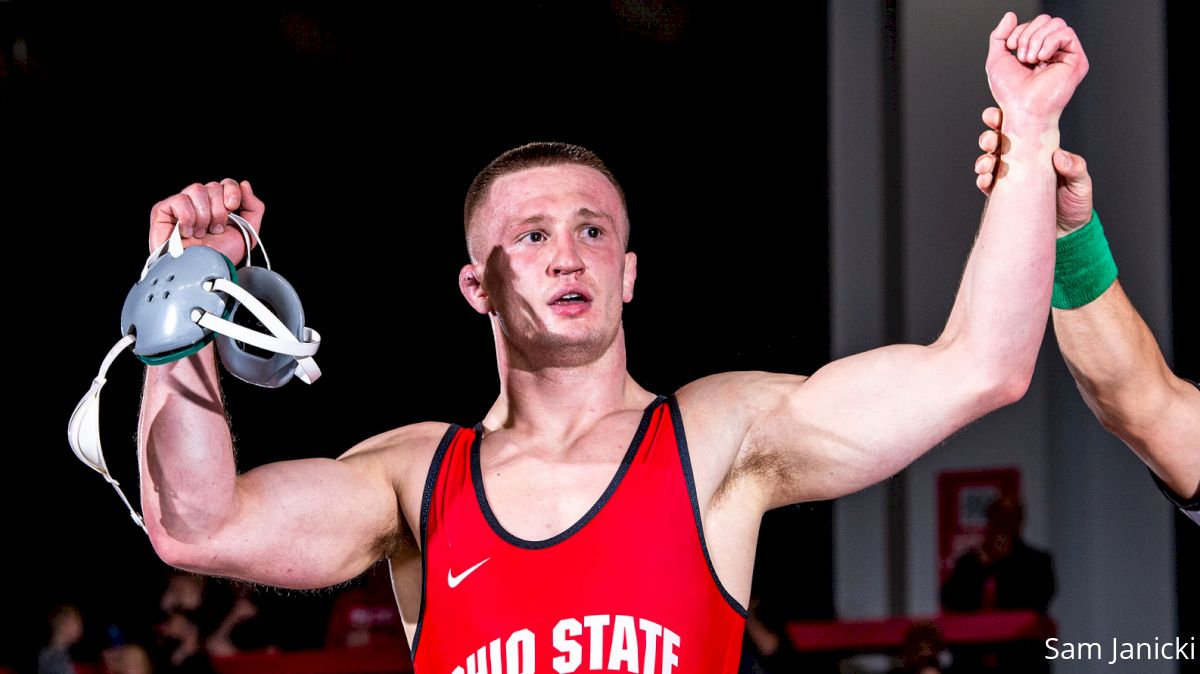 Unlock this article, live events, and more with a subscription!
Get Started
Already a subscriber? Log In
Something stuck with Gavin Hoffman following last season's NCAA wrestling tournament, something he carried with him all through the summer training cycle.
Something he's determined not to let happen again.
The Ohio State junior didn't score enough points when the opportunities were there.
"I'm much more confident this year, pulling the trigger," Hoffman said. "I think this summer was huge helping me gain confidence in that department. Nationals, I look back at those matches and I believe I left a lot of wrestling on the table."
The 197-pounder's personal mission is a microcosm for what the Buckeyes want to do as a team this season.
Score early, often, and most importantly — late.
That's been Hoffman's goal since he wound up sixth at last season's NCAA Championships, a finish that might've been higher had he turned his offense loose. Hoffman won his first three matches last March — two in sudden victory — before dropping three straight to end his sophomore season.
Hoffman didn't score more than six points in any of those NCAA tournament matches.
So far this year, he's 6-1 and is averaging just under 13 points per bout. He helped the Buckeyes stay perfect last weekend with a technical fall over Columbia's Javen Jovero and an 8-2 win over UNC's Max Shaw.
It's helped that Hoffman has found his ideal training partner. The Montoursville, Pa. native spent a lot of the summer working with former Buckeye star Kollin Moore with leg defense and finishing as primary focuses.
"That's the best training partner I've ever had in my life and probably ever will," Hoffman said. "He shows me that wrestling can be taken to another level. I see the level that he's at. When I wrestle him I feel that level and It makes me want to get there really bad."
His current teammates have inspired him, too.
As Hoffman warmed up last Friday, prepping for his match with Jovero, he got a boost from 184-pounder Kaleb Romero, who put on a clinic with a 22-6 win over Jack Wehmeyer.
"It makes the environment a lot more fun, when I'm warming up on deck and see Kaleb Romero blast double the kid in 30 seconds, get six points, it makes me smile," Hoffman said. "It makes me want to go out there and try to put up more points than him. It makes it competitive and it makes it really fun."
Contagious Energy
That friendly, intra-squad competitiveness has had coach Tom Ryan giddy since voluntary workouts started way back in the summer.
When Ryan looks at his current roster, he's as optimistic as he's been since the Buckeyes last won it all in 2015.
"I haven't felt like our team could win it in a few years," Ryan said. "And that's not being negative about my team. It's just the reality. Look at the competition. We'd have to have the perfect weekend. And I do now."
So far so good for a group comprised of dependable veterans capable of scoring big and promising youngsters with long, successful pedigrees.
Freshman Jesse Mendez has been explosive at 133 pounds, where he's 6-1 so far with four bonus-point wins, while the backend of the lineup — Romero, Hoffman and heavyweight Tate Orndorff are a combined 16-1 with eight bonus-point wins as the Buckeyes have gone 3-0 in the first month.
"That's what we're looking for," Ryan said. "The standard is, what is going to score us the most points at the national tournament?"
Bounce Backs
Ohio State will next be in action at the Cliff Keen Invitational starting on Dec. 2. A handful of Buckeyes will be looking to work out some bugs.
Namely, senior Ethan Smith, who followed up a tough, 3-2 loss to Virginia Tech star Mekhi Lewis with an 8-6 loss to Columbia's Lenox Wolak. Smith bounced back with a 2-0 win over UNC's Clay Lautt two days later, however.
"Ethan, we haven't seen that from him in a long time," Ryan said. "He got the first two takedowns, looked great. And then he said he just fell apart in the match. Physically, his body shut down on him. He's a veteran leader here and he'll self-assess and see what went wrong."