EIWA
Big Red Insider: Cornell Back To Work After Loss To Badgers
Big Red Insider: Cornell Back To Work After Loss To Badgers
After opening the dual season with a 19-13 setback against Wisconsin, Cornell coach Mike Grey has a message for his team: "Stay the course."
Nov 23, 2022
by Gabriella Hornack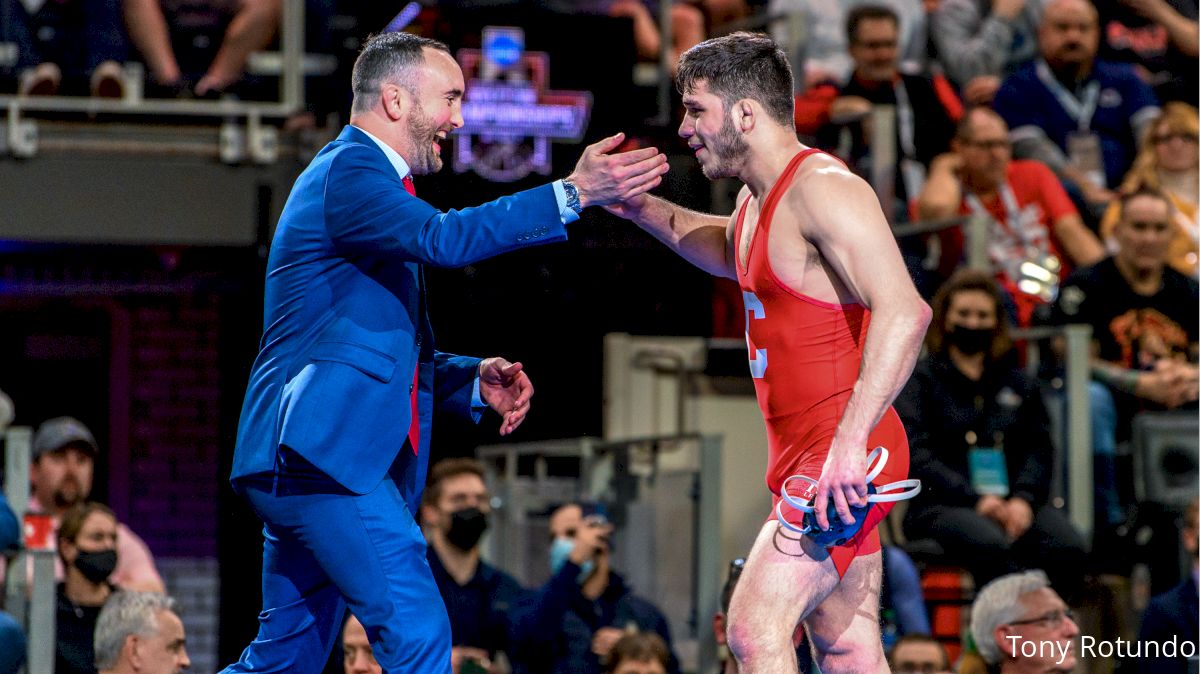 Unlock this article, live events, and more with a subscription!
Get Started
Already a subscriber? Log In
The day after his first college defeat in almost five years, Yianni Diakomihalis posted a photo with a four-word caption on Instagram: "Plenty to work on."
Cornell's three-time NCAA champion has built a reputation for delivering under pressure and rising to the occasion against top-notch opponents. Fresh off a trip to the World finals in September, Diakomihalis entered Saturday's dual against Wisconsin with 75 consecutive college victories — two short of Kyle Dake's school record — and hadn't lost since Dec. 30, 2017, when a late lead got away in a 9-6 defeat against Jaydin Eierman.
Diakomihalis brushed off that defeat, made adjustments and defeated Eierman later that season in an overtime battle in the NCAA semifinals. He'll look for a similar result if he gets another shot at Wisconsin's Austin Gomez in March.
Nine months after dropping a 12-6 decision to Diakomihalis a dual meet between the Big Red and Badgers, Gomez evened the score Saturday with a 9-3 victory against the top-ranked Cornell senior in perhaps the most-anticipated bout of the dual.
Gomez bodylocked Diakomihalis to his back for four points in the second period and then added two reattack takedowns to drop Yianni's career record to 93-2.
"Gomez was the better man that day, but I look forward to the rematch," Cornell coach Mike Grey said. "Yianni will be ready. Nobody makes adjustments like Yianni."
'Stay The Course'
The Gomez win was one of six for the Badgers in their 19-13 dual victory against the Big Red. Cornell picked up wins from Chris Foca and Jonathan Loew at 174 and 184, respectively, to pull even. But Wisconsin swept swing matches at the end, getting a 2-0 victory from Braxton Amos against Jacob Cardenas at 197 and a 5-2 win from Trent Hillger against Lewis Fernandes at heavyweight.
In addition to the Gomez win at 149, the Badgers also picked up key victories from Garrett Model (a 6-2 winner against Cole Handlovic at 157) and Dean Hamiti, who notched a 15-4 major decision against Julian Ramirez at 165.
"The biggest thing I always tell my guys is to stay the course," Grey said. "You don't want to get too high or too low. If you had a great match, awesome. If you didn't, then we're going to make the changes."
Cornell picked up its other two match wins at 133 and 141. All-American Vito Arujau looked sharp in a 17-6 major decision against All-American Taylor LaMont at 133 and Vince Cornella won his dual debut for the Big Red, scoring a 4-1 victory against Joe Zargo at 141.
The Cornell staff now has the opportunity to reflect on the season-opening loss and make the necessary adjustments. And the Big Red believe adversity and growth go hand-in-hand.
"We have a history of peaking at the right time and we're on track to do that, just like every other year," Grey said. "We're going to be where we need to be when we have to be there."
Ungar's Upset Bid
Cornell nearly kicked off Saturday's dual with an upset at 125. Freshman Brett Ungar led sixth-ranked Eric Barnett 5-3 in the third period before the Wisconsin All-American used a takedown and ride out to rally back for a 6-5 victory.
Ungar grabbed the lead in the second period when he tilted Barnett for a four-point near-fall.
The loss to Barnett came on the heels of Ungar's 3-2 performance at the Jonathan Kaloust Bearcat Open, where he defeated teammate Dom LaJoie but suffered defeats against Northern Colorado's Stevo Poulin and top-ranked high school 126-pounder Jax Forrest.
The Big Red have big hopes for Ungar, who finished his high school career ranked #1 nationally at 120 pounds and #21 on the Class of 2021 Big Board.
Ungar won state high school titles in New Jersey and Pennsylvania as a prep. As a senior, he posted consecutive wins against top-10 opponents, beating Gary Steen and Mason Gibson on his way to a PIAA 120-pound title.
"We have a talented freshman at 125," Grey said of Ungar. "He's only going to get better as the weeks go on. So I'm excited to see his confidence grow to where it needs to be by March."