2022-23 Oklahoma State Wrestling
Cowboy Insider: What's Oklahoma State's Plan With Middleweight Logjam?
Cowboy Insider: What's Oklahoma State's Plan With Middleweight Logjam?
Oklahoma State has options with the middle of its order, but how will coach John Smith put the pieces together at 149, 157 and 165?
Nov 23, 2022
by Adam Engel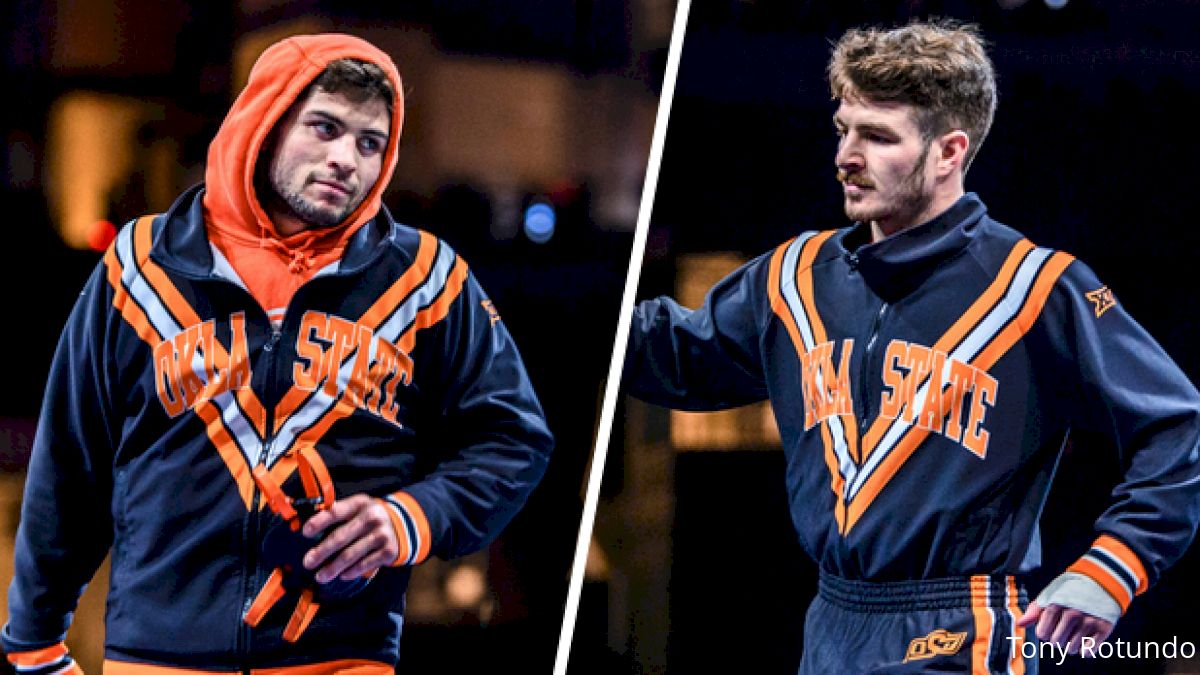 Unlock this article, live events, and more with a subscription!
Get Started
Already a subscriber? Log In
Several Spikeball nets scatter across the orange mats before Oklahoma State's practices.
Coaches and wrestlers break a sweat before drills with the reaction-based game that became popular in wrestling rooms.
The guys are competitive with it, too. Holding grudges on each other in the battle for Spikeball supremacy. It's also a way for the squad to bond.
The #7 Cowboys are 3-0 and have outscored opponents 89-15. Total domination. It's the loose mood that keeps everyone relaxed.
"Since I've been here, it's probably one of the closest-knit teams that I've been a part of," 165-pounder Wyatt Sheets said. "Everybody kinda jacks around with each other and that takes a lot of pressure off."
Here are some other notes on OSU's 3-0 start:
Sheets Settled At 165?
John Smith likes to play around with his lineup.
He's done so for decades and he plans to do again with eventually moving Wyatt Sheets, OSU's 165-pounder, to 157.
"He's stayed big and strong," Smith said. "Healthy. Although you're wrestling bigger guys, I just feel like it's the best thing for us right now. In the future, you're gonna see several guys competing. I think at a few different weights."
Sheets, a seventh-year senior, spent his previous six years at 157. Things got tricky when Travis Wittlake, OSU's most recent 165-pounder, moved to 184. When Kaden Gfeller returned for his COVID year, he moved to 157.
Victor Voinovich, a redshirt freshman, occupies the 149 spot, the weight Gfeller once held.
Here's the question: If Sheets moves down, how does that impact Gfeller and Voinovich? It's a complicated answer and one that probably won't be solved until the move happens. Or if it happens. Smith insists it will. At some point.
Each guy is holding their own at the weight. It doesn't seem like there are any issues. But the Cowboys are just three duals in.
"I like 165, but coach says I'm going down, so it's not up to me," Sheets said. "I'm fine with either. I'm just gonna do what I'm told."
Although the Cowboys are off until Dec. 4, ranked matchups at the middleweights await against Minnesota.
Voinovich will battle #21 Michael Blockhus. He's a fifth-year for the Golden Gophers. If Gfeller stays at 157, he would likely meet #5 Brayton Lee, a two-time All-American. Sheets would wrestle Andrew Sparks.
Here's a breakdown of OSU's starting middleweights.
149:
Victor Voinovich (3-0)
6-0 decision over Chase Zollmann (Wyoming)
5-3 decision over Kolby DePron (Bucknell)
15-13 sudden victory over Manzona Bryant (Lehigh)
157:
#11 Kaden Gfeller (1-1)
6-3 decision over Logan Ours (Wyoming)
7-6 decision loss to #8 Josh Humphreys (Lehigh)
165:
#17 Wyatt Sheets (3-0)
6-2 decision over Cole Moody (Wyoming)
6-0 decision over Chase Barlow (Bucknell)
5-0 decision over Brian Meyer (Lehigh)
Young Looking For Traction
Look at the season results among Oklahoma State starters and you'll find an anomaly. You'll find the same thing if you look at the Wyoming-OSU box score.
Carter Young's 4-3 loss to Wyoming's Job Greenwood at 141. That makes Young the only OSU starter with a losing record so far (1-2).
"You just keep doing what you're doing," Smith said. "He's working hard. He's coming to practice. He's focusing on the right things. He just needs to continue to focus on changing his environment a little bit and work toward the process of winning close match matches if you have to. Finding ways to stretch scores out."
Young escaped three times from the bottom against Greenwood — a position he struggled with last season.
Greenwood won the U23 Greco-Roman World Team Trials this summer.
"Carter was a lot better this week than his loss last week," Smith said. "I can live with it. I thought he was aggressive. I thought he was trying to find way to put points up, but it just wasn't enough."
Gfeller's Return
Kaden Gfeller's life looks a lot different from a year ago.
He's a dad to his seven-month-old daughter, Charlotte. He's engaged. He started a full-time job as a medical sales representative. Then he quit it to return to OSU for his COVID year. An extra roster opportunity became available in late September and Gfeller took it.
He put his professional career on hold. His bosses — former college wrestlers Greg Oplotnik and Brandon Rouse — understood. Oplotnik won a national championship with Central Oklahoma. Rouse wrestled at Oklahoma.
Gfeller will return after the season.
"I figured I could work for the rest of my life, but I could only wrestle for one more year," he said.
He thought he finished his career last season after an NCAA Championships appearance at 149. He didn't plan on returning until it became a possibility. So, he was heavy. Wrestler diets didn't apply to him anymore. Only the dad bod diet.
"He was a tank," Smith said.
Gfeller entertained the hypotheticals and returned because of the possible accomplishments.
"I just looked as it an opportunity to achieve what I haven't been able to," he said. "I think that I'm capable… Definitely being a national champion was the goal."