2022-23 Arizona State Wrestling
Sun Devil Insider: Get To Know ASU's 'Big Beast' Cohlton Schultz
Sun Devil Insider: Get To Know ASU's 'Big Beast' Cohlton Schultz
Top-ranked Cohlton Schultz has aspirations outside the wrestling circle and beyond the 2024 Olympics. Learn more about the Arizona State heavyweight.
Nov 22, 2022
by Jim Carlson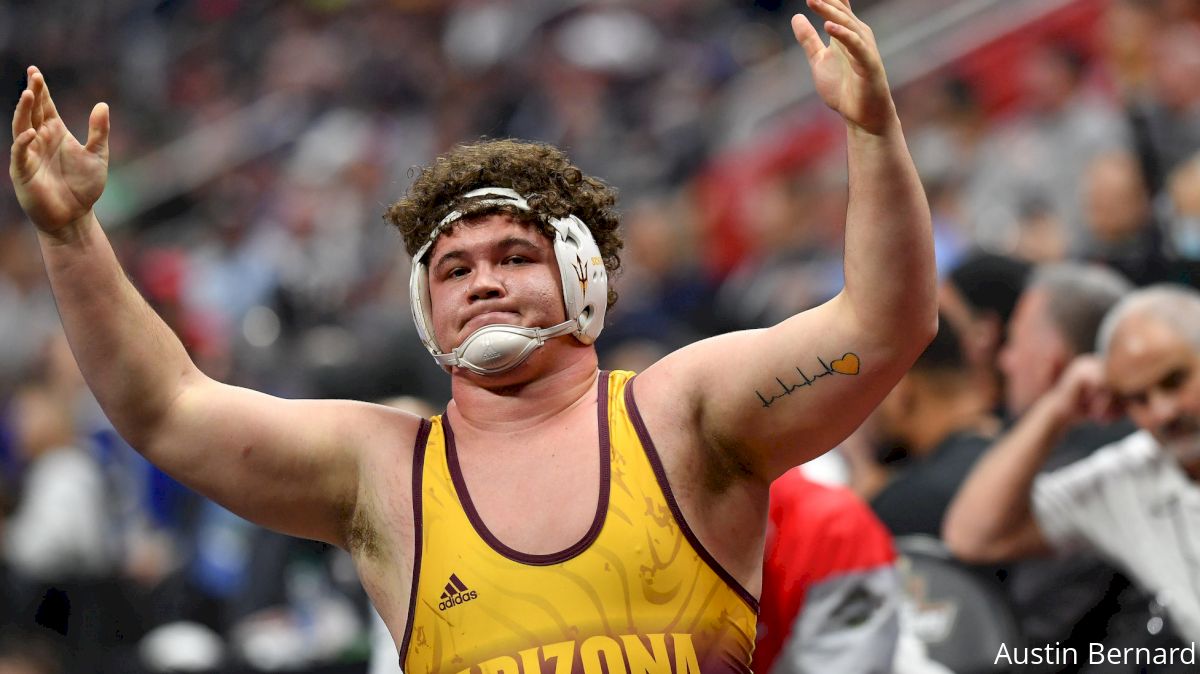 Unlock this article, live events, and more with a subscription!
Get Started
Already a subscriber? Log In
Zeke Jones is building something special at Arizona State and a big part of that process is heavyweight Cohlton Schultz — with an emphasis on the word big.
The most agile 281-pound block of granite you'll ever see, Schultz anchors a Sun Devils lineup that has earned a #3 tournament ranking behind only perennial powerhouses Penn State and Iowa. ASU will likely move up in the dual rankings as well a big-time, 19-17 victory on Nov. 17 over then-#3 Missouri in which Schultz, the country's top-ranked big man, clinched the match with a 12-4 major decision over #7 Zach Elam.
Cite the fact that the Sun Devils' — and Schultz's — wins were in front of a charged-up crowd of nearly 3,000 in the school's new hockey arena and it made for an extraordinary evening for the redshirt sophomore from Parker, Colorado.
"Gosh, it was a blast. That was definitely up there as one of my favorite wrestling environments I've been able to be a part of," Schultz said. "There's not too many better ways to open up a new home venue than against a highly-ranked team. It was a great team effort up and down the roster.
"We lost some rough ones, but they kept fighting and we're able to keep the bonus points in check well enough that when it came down to heavyweight, I was able to close out with just a good, solid win and a win for the team."
Folkstyle is just one style for Schultz. He is an accomplished Greco-Roman wrestler and is a member of the 2022-23 USA World Senior Greco-Roman team. He was the Final X champion in 2022 as well as 2020 Olympic Trials runner-up; he also owns a couple of gold medals as 2019 and 2020 Senior Nationals champion.
Schultz said the upper-body throws that are the major facet of the Greco-Roman style always attracted him.
"Ever since I was little, throwing has always been something that I found more interesting and more exciting for me as a wrestler," Schultz said. "And I was blessed with the opportunity. I started training at the Olympic Training Center right before my freshman year of high school with the senior World Team for Greco. And that just kind of started snowballing into what so far is a pretty darn fun Greco career."
An accomplished pinner in the college ranks with 16 career falls over two seasons, Schultz knows he can import his international style into his folkstyle repertoire.
"In college wrestling now if you throw somebody from their feet and hold them on their back a little bit, that's a 6-pointer; that can really change the tide of any wrestling match," he said. "So that's pretty huge. But then, anytime you can end a match early is pretty great, too. I've always found it easier to put someone on their back and pin him if it's a throw because they can't find a way to stop it."
Only two wrestlers in 43 career matches have stopped Schultz thus far: Gable Steveson of Minnesota in the 2022 NCAA finals and Iowa's Tony Cassioppi (twice) in the 2021 NCAAs. Steveson's off to the WWE but Cassioppi, Penn State's Greg Kerkvliet and Michigan's Mason Parris are back in the 285-pound mix this season. Still, Schultz carries the #1 rating in the early season.
"You know, I wouldn't say it's a bad thing; it's definitely exciting to be able to get to #1 in the rankings at just about every level," he said. "But at the end of the day, rankings don't mean a whole lot. One thing that really matters is who ends up at the top of the podium when it comes time for that national tournament.
"It's definitely exciting but it comes with a lot of responsibility and it puts a big target on my back for sure. I can't look past anybody; I've got to make sure I wrestle every match with the same level of performance and intensity."
The Future
Schultz has Olympic aspirations for 2024 in Paris but has two seasons of eligibility remaining after this one.
"I've talked it over with my coaches and the way we're gonna do it is just year by year," Schultz said. "I love the team we've got here so it would be hard to say no if I had eligibility left on the table."
An Outdoors Type Of Guy
Schultz's major is sustainable ecosystems which, he said, someday would put him with the U.S. Forest Service or National Park System or the Fish and Wildlife Commission.
"I imagine that would take me back to Colorado, but I'm pretty open as far as that goes," he said.
Fun In The Room
This team "has a blast" being together, Schultz said.
"We all love what we're doing. When it's time to work hard, everyone's locked in and working hard, but when it's time to have fun, we're pretty good at that, too," Schultz said. "We have a lot of practices where play a lot of sports games, just do a little light wrestling, get the work in we need without breaking down our bodies and breaking down our minds. Yeah, it just feels like camaraderie among everybody; everyone's able to have a have a blast and love wrestling."
Big Beast
That's what ASU's Jones thinks about Schultz, whom he calls "our big beast." Jones said Schultz has the potential to leave the legacy as ASU's best-ever heavyweight.
"Cohlton came here because he believed he could be the best heavyweight in the world here and he wanted to do it with good people and in an environment that was good and had all the resources," Jones said.