2022-23 Missouri Wrestling
Tiger Insider: Bigger, More Confident Elam A Force To Be Reckoned With
Tiger Insider: Bigger, More Confident Elam A Force To Be Reckoned With
Zach Elam has grown in size in confidence, a pair of factors that have led the Missouri heavyweight to an early-season pin barrage.
Nov 21, 2022
by Ben Ramirez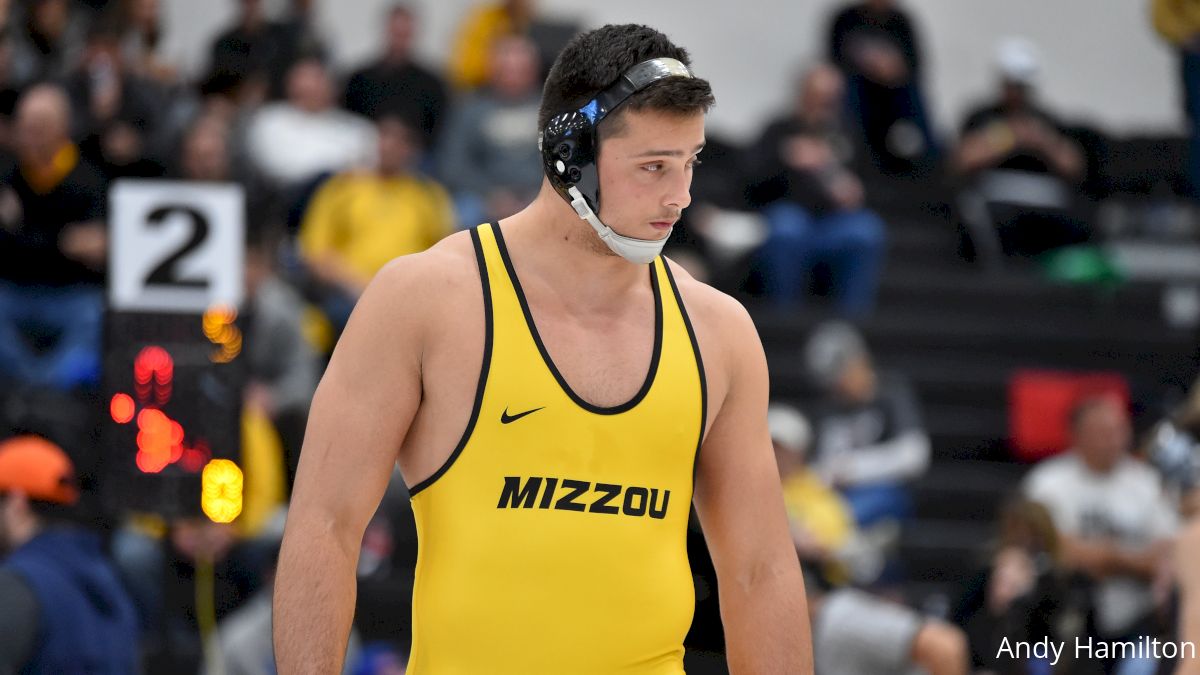 Unlock this article, live events, and more with a subscription!
Get Started
Already a subscriber? Log In
Off the mat, one of Missouri redshirt junior Zach Elam's favorite activities is hunting. Over his last eight matches dating back to the NCAA Championships last March, that line between hobby and sport might be getting blurry.
Of his last six wins, five of them have come by fall. The lone outlier was an 11-2 major decision to win the Tiger Style Invite at his alma mater, Staley High School in Kansas City, Missouri.
His second pin at the NCAA tournament last season, a 32-second win against All-American Matt Stencel, was the fastest of the tournament.
Elam is no stranger to one-period matches. Over his first four seasons in black and gold, the heavyweight has 20 first-period falls, including three this season.
In Mizzou's season opener against Lindenwood earlier this month, Elam shattered a four-decades-old program record for fastest pin with a 9-second fall. The record was previously held by Rick Romeo at 13 seconds.
According to his coach Brian Smith, there was no revelation in the offseason. No code was cracked. It comes as a culmination of wrestling confidently and putting on more weight. A lot more weight.
"My freshman year, I went into the NCAA tournament weighing about 215 [pounds]," Elam said. "I'll probably step on the scale this March at about 250 [pounds]."
Smith credited a lot of Elam's development to his sparring partner, assistant coach Dom Bradley. Elam and Bradley have known each other for more than 10 years, beginning when Bradley wrestled at Mizzou from 2007-13.
At the time, Elam and his younger brother Rocky, who wrestles at 197 pounds for the Tigers, were still in elementary school. Since then, both brothers have shot up, now standing over 6-foot tall and looking like they could play tight end for the football team.
The elder Elam was also an integral part in Bradley returning to his alma mater as a coach.
"He called me and said I need you to come back [to Mizzou] and be my coach and training partner," Bradley said.
Through their respective times in the Mizzou wrestling room, the pair have built a symbiotic relationship.
With a trophy case full of freestyle accolades including two U.S. Open championships and two Pan-American championships, Bradley brings a wealth of expertise to the room at large and directly to Elam as a sparring partner.
On the other side, Elam is a three-time NCAA qualifier and a Junior World silver medalist.
"We have a really good partnership where it's really beneficial for both of us in how we workout, drill and wrestle live with each other," Elam said. "Every time we do it's a battle. It's really fun because we both go in wanting to beat each other up."
Elam will look to make it onto the podium in Tulsa next March for the first time in his career after having lost twice in the blood round at the NCAA Championships. In 2019, the then-freshman fell in a tight 1-0 match against Wisconsin's Trent Hillger.
Last season, Elam was tasked with wrestling eventual NCAA champion Gable Steveson in the Round of 16. He then fought his way through the backside into the blood round before falling short against Tony Cassioppi to end his season.
Now in his fifth season in Columbia, Elam is confident that his experience at the national tournament will help him make that leap onto the podium in his final two seasons. His head coach agrees.
"It's his belief system and what he believes he can go out there and do," Smith said. "It's almost like he's having more fun out there. He just has a lot of confidence."
That belief is a core component of Smith's Tiger Style philosophy that all of his wrestlers are indoctrinated into before they even step foot on campus their freshman seasons.
Smith says that for the more seasoned members of the squad, the conviction and belief in themselves and what his coaching staff is preaching only grows. While earlier in his career he may have been wary of cutting his opponent, Smith says that now Elam is secure in the knowledge he can go out there and defend his leads.
To that end, despite his quick finishes this season, Elam says he isn't going into matches wanting to end the match in the first period specifically. Whether it's right off the jump or a buzzer-beater, all that matters to him is the end result.
"I just want to get on the mat, handle business, and get off the mat," Elam said.