2022 NWCA All-Star Classic
Nittany Lions Geared Up For All-Star Classic Tests
Nittany Lions Geared Up For All-Star Classic Tests
Penn State stars Carter Starocci, Aaron Brooks and Greg Kerkvliet toe the line Tuesday against high-level competitors at the NWCA All-Star Classic.
Nov 19, 2022
by Travis Johnson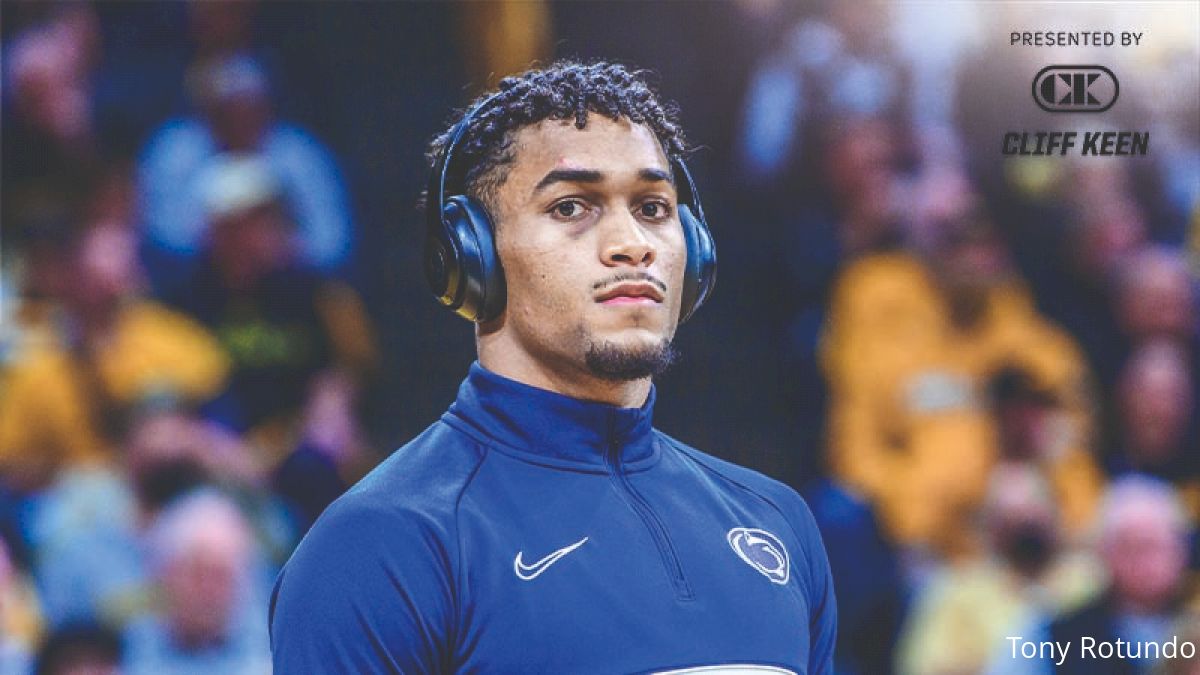 STATE COLLEGE, Pa. — Carter Starocci's collegiate season is barely up and running, but Penn State's star 174-pounder has been in "Alpha Mode" for months already.
It's a natural, comfortable state for the Nittany Lion junior, even if his heightened level of intensity can unintentionally intimidate. Starocci freely admits, sideways glances that come his way this time of year are usually met with a death stare.
Behind his cold gazes are cold thoughts.
"I have an intense personality," Starocci told Flowrestling. "I love violence. I like hurting people. I like being the alpha. That's kind of my thing."
It's not easy for the two-time NCAA champ to flip the switch off.
"I kind of like having that switch on," Starocci said. "I don't want to turn it off. If you like it or don't like it, I'm not going to turn it off just because this is my life. This is my only option, so I take it seriously."
That includes exhibition matches, too. Starocci, along with teammates Aaron Brooks and Greg Kerkvliet, will join college wrestling's best Tuesday night at the NWCA All-Star Classic, which will be streamed live on Flowrestling.
All three marquee bouts could provide a taste of what's to come later in the season as all three Nittany Lions face opponents who also fully intend to be in the national championship picture.
Brooks will battle Northern Iowa's Parker Keckeisen at 184 while Kerkvliet will face Iowa's Anthony Cassioppi at 285. Starocci's bout with Virginia Tech's Mekhi Lewis — a rematch of last season's 174-pound NCAA championship match — may be the most anticipated pairing of the night.
"I love seeing Carter wrestle," Penn State junior Beau Bartlett said. "His matches are almost like fights."
Starocci and Lewis have used their brawling styles to capture titles before. While Starocci will try to win his third straight later this season, Lewis is looking to return to the top of a podium for the first time since winning it all at 165 pounds in 2019.
Although no gold medal will be awarded in Austin, Texas, the matches should still have big implications for the rest of the season.
More than just bragging rights.
"I think if you're a competitor, every match is the same, whether it counts or not," Penn State coach Cael Sanderson said. "It always counts. As you've seen in the past, the coaches use these matches for seeding at the national tournament."
Starocci and Lewis entered last season's NCAA tournament on opposite ends of the bracket as the #1 and 2 seeds, respectively. They met in the finals, wrestling a grueling match that Starocci won on riding time in a tiebreaker.
He realizes Lewis will bring his formidable defense into the match, something Starocci's been working on cracking.
"I know where I'm at and I'm going to be coming out firing," Starocci said. "I don't think this match will go the distance. I don't think it will be close. I think it will be a complete 180. He's a tough competitor. He's obviously a (Junior) World champ. He's an NCAA champ. Good is still levels below where I'm at, so I'm looking forward to that match."
Kerkvliet will try to do what he hasn't been able to do yet in three tries — beat Cassioppi.
They've met twice at the Big Ten Championships and once in a dual. While Cassioppi is 3-0 in the head-to-head matchups, Kerkvliet has closed the gap significantly at least on paper.
After the Iowa heavyweight beat him 9-0 in the 2021 Big Ten Championships and 7-2 in last season's dual meet, Kerkvliet pushed Cassioppi into sudden-victory in last year's Big Ten tournament where he lost 6-4.
"He's a good opponent," Kerkvliet said. "I've got respect for all my opponents. He brings a lot to the table, but I also bring a lot to the table and we'll see how that goes on Tuesday."
Of all the wrestlers on the card, Brooks and Keckeisen might have the most mutual respect for one another. They've met eight times at different levels and in different disciplines with Brooks winning all eight.
Brooks has won both collegiate meetings, 6-4 and 3-2.
"What I'm expecting in the match with Parker, a lot of shots. A lot of hand fighting," Brooks said. "High pace. We both like to wrestle hard. I'm just expecting a war."