2022-23 Michigan Wrestling
Wolverine Insider: Mattin Focused On Big Goals With Fresh Mindset
Wolverine Insider: Mattin Focused On Big Goals With Fresh Mindset
Cole Mattin adjusted his approach to wrestling during the offseason and the new mindset has helped him start fast as a junior.
Nov 16, 2022
by Mark Spezia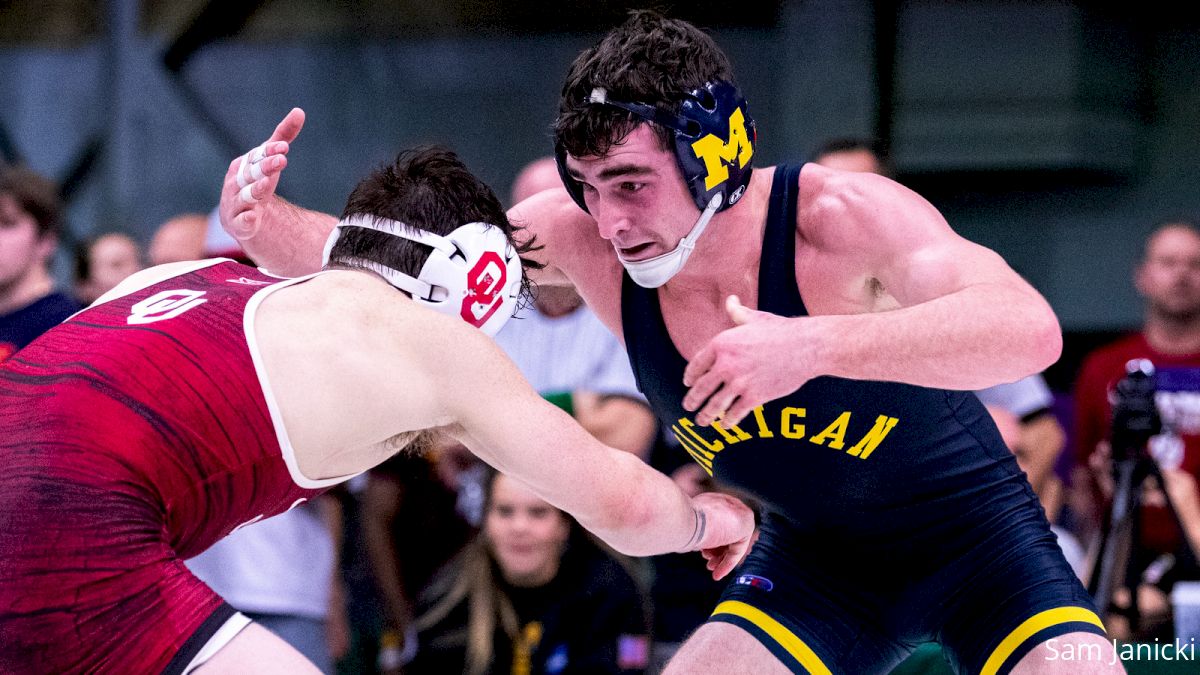 Unlock this article, live events, and more with a subscription!
Get Started
Already a subscriber? Log In
Cole Mattin is spending this season asking, why not? instead of wondering, what if?
That approach is serving him well thus far.
A junior in his fourth year with the Wolverines, Mattin has bolted to a 5-0 start, sits at #13 in the latest 141-pound rankings and appears in a position to be in the lineup for all of Michigan's duals during the course of a season for the first time.
"I focused on my mental state coming into the season because, in general, wrestlers at this level put a lot of pressure on themselves which can turn into a negative thing," Mattin said. "I wanted to quit thinking about what if this happens or what if that happens before a match and instead just have fun with it and concentrate on putting on a show. That's when I wrestle my best."
The program's depth of talent and an ankle injury, which cut short his 2021-22 season, limited Mattin to appearances in only four of 19 duals the previous two seasons. But a lineup spot was there for the taking at 141 with the departure of three-time All-American, Tokyo Olympian and 2022 World bronze medalist Stevan Micic.
"Every year, my goal is to get into the lineup as much as possible, knowing there are a lot of guys battling to do the same thing," Mattin said. "I felt great about my chances of being in the lineup regularly this season, but the key is to continue working hard to improve and just focusing on the next task."
While that's what Mattin limits his focus to, his goals know no limits.
Mattin has yet to qualify for the NCAA Championships and went 2-2 in his only Big Ten Tournament appearance back in 2020, but intends to change all of that.
"Why not a Big Ten title when we host the tournament this season?," he asks. "Why not an NCAA championship or at least an All-American finish? The sky's the limit as far as I'm concerned, but, again, it's important to just concentrate on what is in front of you and be working toward big goals, step by step, every day."
Mattin struggled to take any steps for a time during the offseason after suffering a season-ending high ankle sprain, which forced him to withdraw from a match against Penn State's Beau Bartlett during the Wolverines' dual loss to the Nittany Lions last January.
"I had a walking boot and then lot of physical therapy and recovery but was able to come into the season strong," said Mattin, who was 2-2 in duals and 10-6 overall last season. "I used the time to work on things like improving on finishing my shots and developing a better baseline defense against other guys' moves."
Mattin demonstrated how fully recovered from the injury he is at the season-opening Michigan State Open, going 3-0, including a win over a pair of two-time NCAA qualifiers — ninth-ranked Dylan D'Emilio of Ohio State and Oklahoma's Mosha Schwartz.
As a result, Mattin went from unranked prior to the tournament to the #13 position where he stayed this week after beating NCAA qualifier Shannon Hanna (Campbell) and Lachlan McNeil (North Carolina), honorable mention in the latest rankings, in the Wolverines' dual wins last weekend.
In previous seasons, Mattin has beaten NCAA qualifier Frankie Tal-Shahar (Northwestern), who is ranked #7 at 141, and three-time qualifier Parker Filius (Purdue), #22 at 141. He also owns win over three-time qualifier Dresden Simon (Central Michigan), #16 in last season's final 141-pound rankings, and two-time qualifier Brian Courtney (Virginia), #12 in last season's final 133-pound rankings.
"I've always believed in myself and my abilities and love just going into the battle against guys, fighting for position," he said. "I'm always wrestling to win, of course, but it's all about the effort for me and making myself better."
Being part of a large wrestling family has also played a role in making Mattin better.
Mike Mattin, his father, became Delta (Ohio) High School's first state champion in 1989 before wrestling at the University of Toledo.
Cole's older brother, Drew, captured three state titles for Delta before becoming the first Mattin join the Wolverines in 2017. He was a three-time NCAA qualifier, reaching the round of 16 twice before finishing his career last season.
Cole, also a state champion, joined Drew in Ann Arbor in the fall of 2019 and the pair became training partners again. Meanwhile, younger brother, Zack, captured his own state title. He joined Wolverines last year and all three siblings spent a season on the Michigan roster.
There is also youngest brother Adam, who finished second in the Ohio state tournament as a high school freshman last season.
"All of us being close in age and all of us being competitive meant there were a lot of living room competitions growing up," Cole said. "We all wanted to outdo each other, not only in wrestling but other things. The rivalries we had brought out the best in all of us."
Cole stepped into the starting lineup as a true freshman during the 2019-20 season when Drew, Michigan's starter at 141, opted to make that his redshirt year. Cole wrestled all but one of the Wolverines' duals, going 6-6, and finishing 16-13 overall.
Drew returned to the lineup the following season during which Cole went 3-2 in limited action.
Zack Mattin was 5-1 in open competitions last season while redshirting. He debuted in the starting lineup last weekend at 165 pounds, dropping both of his matches by a combined six points.
"There are plenty of guys on this team I consider my brothers, but to have my own brothers as college teammates has been pretty special," Cole said. "When I first got here, of course, Drew was the older one and I was the one looking up to him, looking to him for guidance. Now I'm the older one, mentoring Zack as much as I can. It's been cool watching him grow into a 6-foot, 165-pound athlete. It does not seem that long ago he wrestling at 106 pounds."
Lamer, McHenry Notch First Dual Wins
Chance Lamer, the Wolverines' new starter at 149 pounds, won his dual debut during Michigan's win over Campbell, knocking off Callum Sitek, a Missouri state champion, 11-6. He followed that performance with a 6-3 decision over two-time Florida state champion Danny Nini during Sunday's victory North Carolina.
Lamer, a four-time Oregon state champion who is #24 in the latest rankings, is replacing three-time NCAA qualifier Kanen Storr. He went 17-2 in open competition while red-shiring during his first season with the Wolverines, including a win over two-time NCAA qualifier Marcus Robinson (Cleveland State).
Also during the Campbell win, McHenry, a junior 125-pounder, got another chance to record his first dual victory after going 0-2 in his only previous opportunities back in January of 2020.
This time, McHenry took full advantage with a thrilling, 4-3, win over Anthony Molton, an Illinois state champion and 2019 Fargo titlist who was honorable mention in the rankings coming into the match.
Down 3-1 more than halfway through the third period, McHenry closed the gap with an escape. Then, on a restart with just six seconds remaining, he shot in on a low single and finished off a takedown with a mere three seconds to go.
McHenry began the season with a 1-2 showing at the Michigan State Open, but essentially earned the start against Campbell with a 5-4 decision over teammate Jack Medley, a 2020 NCAA qualifier with a 51-30 career record coming into the season. Medley was #20 in the preseason rankings.
McHenry came to Ann Arbor in the fall of 2019 with a loaded resume that includes two Cadet World titles, three Maryland state championships and three Beast of the East crowns but was limited to seven matches during his first three seasons.
McHenry went 5-0 at the Findlay Open last season, including a win over two-time NCAA Division 2 national champion Cole Laya (West Liberty).
Ballpark Bout
Some details regarding the Wolverines' participation in the second annual Bout at the Ballpark were released Monday.
Michigan will face Oklahoma State Feb. 3 at Globe Life Field in Arlington, Texas, home of the Texas Rangers. Wolverines and Cowboys have not tangled in a dual since 2004 and will square off on a mat placed on home plate. Floor seating will also be added.
"We are excited and honored to be a part of the Bout at the Ballpark this year," said Michigan coach Sean Bormet in a release. "It is a first-class event and just a tremendous opportunity for our program, student-athletes and fans to wrestle in such a unique and impressive setting such as Globe Life Field. It's been some time since we have gone head to head with Oklahoma State, and we are looking forward to testing ourselves against a tough Cowboy squad."
Iowa took a 23-9 decision from Oklahoma State in the first Bout at the Ballpark last season.
"We are excited for our program and our fans to experience Bout at the Ballpark for the second year in a row," Oklahoma State coach John Smith stated in a release posted on the university's athletic website. "Globe Life Field proved to be a first-class venue for wrestling, and we are hoping to grow the atmosphere even more this year for our dual with a very competitive Michigan team."
Ticket information about tickets will be released at a later date.
Prestigious Honor
On Saturday, Mike Amine became the fifth Michigan wrestling alumni to receive the Ufer Award, presented annually since 1981 to a Letterwinners M Club member in recognition of their outstanding service to the University of Michigan and the Letterwinners M Club.
Amine was presented the award, named after legendary Michigan football broadcaster Bob Ufer, during the organization's fall tailgate inside the Hall of Honor at Crisler Center prior to the Wolverines' win over Nebraska.
"One of the best days of my life," Amine tweeted. "Thank you for one of the best Michigan honors."
Amine wrestled for the Wolverines from 1986-89, finishing as NCAA runner-up in 1988. He was also a three-time NCAA qualifier and won 104 career matches.
Amine's brother Sam, sons Myles and Malik and nephews Cam and Jordan have all wrestled for the Wolverines. Together, the Amines have combined for eight All-American finishes, two Big Ten titles and 14 NCAA Tournament appearances and counting. Cam, a two-time All-American, has three seasons of eligibility remaining.
Mike Amine began an accomplished career in the financial services industry following college and currently manages Wealth Strategies Group, based in Troy, Michigan. He also served on the Letterwinners M Club board 2000-10 and was president in 2010. Amine is a current member of the board of the Detroit chapter of the Wrestlers In Business Network.
Amine joins Cliff Keen (1985), Chip Warrick (2007), Mark Churella (2012) and Jim Keen (2014) as Michigan wrestlers who have earned the Ufer Award.