2022-23 Iowa State Wrestling
Cyclone Insider: Rookies Johnson, Swiderski Making Impact For ISU
Cyclone Insider: Rookies Johnson, Swiderski Making Impact For ISU
Freshmen Paniro Johnson and Casey Swiderski have given Iowa State a jolt with their performance during the first two weeks of the season.
Nov 15, 2022
by Roger Moore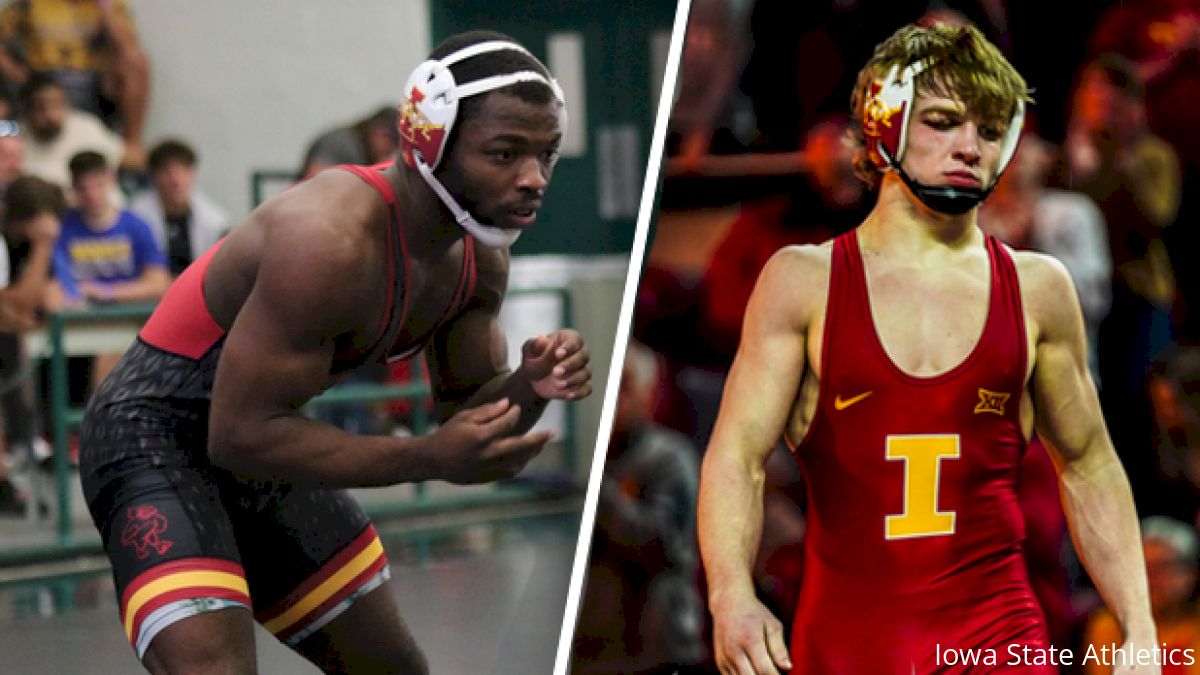 Unlock this article, live events, and more with a subscription!
Get Started
Already a subscriber? Log In
To many recruits, maturity is perhaps the toughest opponent. Some figure things out quicker than others. More than a few never get it and go into the "whatever-happened-to-that-guy file?" If the first two weekends of Iowa State's 2022-23 campaign are any indication, a couple of rookie Cyclones fall into the figuring things out category.
Paniro Johnson (3-0) announced his arrival in Florida with a solid win over Wisconsin All-American Austin Gomez, who started his collegiate career in Ames in 2017 before transferring to Madison. Johnson, an Erie, Pa., product was among the top 50 prospects in 2021, but took a grayshirt a year ago and entered this season under the 149-pound radar. Meanwhile, Casey Swiderski, a four-time Michigan state champ, showed his skills on Saturday with a 28-point outburst in ISU's easy win over California Baptist. Both appear to bring a level of confidence – and maturity – to coach Kevin Dresser's squad.
"We talked about not winning in the arena, but in the lifestyle arena," said Dresser, whose squad moved to 4-0 after beating California Baptist 39-9. "(Our first home dual) was more about how they felt than how they wrestled. That one-hour weigh-in is different. Some of our guys have to grow up and learn there, can't be 80 percent. It's no fun getting pinned in front of a whole lot of people; you have to go back to the drawing board and do things the way you are supposed to do things."
Dresser had some of these conversations with Johnson a year ago. Confidence was never an issue; it was about hitting that 100-percent mark in everything. Living a Division-I, elite-level lifestyle does not include 60 or 80 percent in the practice room.
"I wanted to send a statement out there (against California Baptist)," said Dresser of his 149-pounder. "I picked 149 (against CBU) and put Paniro out there first because I wanted to show everybody that all the good things he has been doing in training; he has been doing all the little things."
A week after beating Gomez, Johnson did not have a letdown, earning a major decision against CBU.
"I wasn't surprised. I always felt it was coming," Johnson said of the win over Gomez. "But beating (Gomez) was not on my goal sheet; it's to be the best in the country at the end of the year and to be the best in the country you have to beat guys like that. I feel like my best is better than everybody else's. Always had the confidence. I never stepped on the mat thinking I was going to lose."
One of the many things Johnson picked up in the last year, aided by Dresser, was "winning in the practice room, competing in those runs, winning your diet, your weight."
Another Quick Learner
Iowa State assistant coach Brent Metcalf influenced plenty not just in Michigan, but nationwide. The former Iowa Hawkeye won a pair of national titles and was among the first wrestlers Swiderski kept an eye on. Like Metcalf, Swiderski won four state titles.
Swiderski is among a small list of athletes ready to jump into a DI lineup immediately and earn victories. Talent is, of course, key. But confidence and commitment play major roles as well.
"Six months ago I was nowhere near where I am now," the 141-pound true freshman said of starting right out of the gate. "My training, conditioning, the way I approach a match is a lot different. A lot of the more elite high school guys are ready to go. I planned on being ready to go anyway. You really have to carry it in the practice room, on the mat. I've always said the practice room is a mirror. If you are down in the dumps and getting scored on then you are probably going to be OK with getting taken down in your matches."
Bonus Now, Bonus In March
Most would agree that a traditional wrestling power should pick up bonus points against a first-year Division I program. And the Cyclones did their win over California Baptist, getting pins from Jason Kraisser (157), David Carr (165) and Sam Schuyler (285), technical falls from Swiderski and Yonger Bastida (197), and major decisions from Johnson and Julien Broderson (174). In four duals this season, ISU has won 33 of 40 individual bouts with 19 bonus-point wins (10 majors, six pins and three technical falls)
Coming Up
The rest of November is light for the Cyclones. On Nov. 20, ISU and NAIA power Grand View meet in Humboldt, Iowa — Dresser's hometown — and the following weekend is the annual Cyclone Open in Ames. One of the best early-season dual meets could be Dec. 4 in Iowa City when ISU visits what should be a festive Carver-Hawkeye Arena. The schedule for Carr has an extra date — the Nov. 22 NWCA All-Star Classic. The "older" faction of mat fans might remember Nate Carr and Oklahoma State's Kenny Monday squaring off in the early 1980s. In 2022 it will be the younger Carr, a national champion two seasons ago, facing Princeton's Quincy Monday, a 2022 NCAA finalist at 157 pounds. David Carr will be joined at the All-Star Classic by teammate Kysen Teurkina, who will take on Minnesota's Patrick McKee at 125.