2022-23 Cornell Wrestling
Big Red Insider: Cornell Aiming For Upward Movement, History In '22-'23
Big Red Insider: Cornell Aiming For Upward Movement, History In '22-'23
Led by three-time NCAA champ Yianni Diakomihalis and All-Americans Vito Arujau and Jonathan Loew, Cornell is looking continue climbing the national ladder.
Nov 10, 2022
by Gabriella Hornack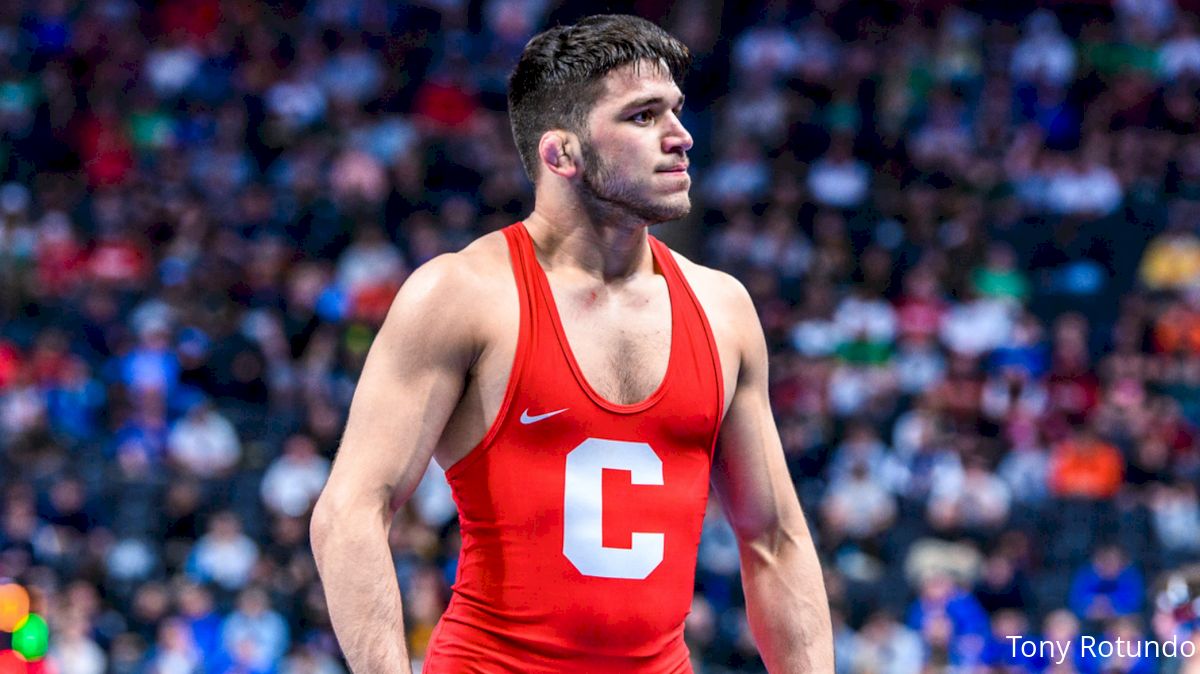 Unlock this article, live events, and more with a subscription!
Get Started
Already a subscriber? Log In
Cornell had a lot to celebrate during Mike Grey's first season in charge.
The Big Red won a dozen duals, reclaimed the EIWA title and punctuated a seventh-place finish at the NCAA Championships with a third individual national title from Yianni Diakomihalis.
Eight of Cornell's nine NCAA qualifiers are back this season, including Diakomihalis, All-Americans Vito Arujau and Jonathan Loew.
"Our mantra of sorts is progression," Grey said. "We did a good job last year being only a few points away from taking fifth. For us, it's now about taking that next step and we have the pieces as a coaching staff to make sure everyone is where they need to be by the next NCAA tournament."
Though the Big Red have their eyes set on the end goal, each outing serves as an opportunity to build toward March. Cornell opens the season Sunday at Binghamton's Jonathan Kaloust Bearcat Open. The 12th annual tournament named in honor of the late former Binghamton wrestler and Navy SEAL will feature top talent from Bucknell, Buffalo, Columbia, Franklin & Marshall, Navy, Northern Colorado, Penn State and West Virginia.
The Cornell coaches are eager to see the opening action at 125 pounds, where returning NCAA qualifier Dom LaJoie — who's down a weight after reaching the national tournament at 133 — is vying with sophomore Greg Diakomihalis and freshmen Joe Sciarrone and Brett Ungar for the starting spot.
Sunday is a stage-setter for Cornell's Nov. 19 home opener against Wisconsin, which could be headlined by marquee bouts at 133 (Arujau vs. All-American Taylor LaMont), 149 (Yianni Diakomihalis vs. Big Ten champ Austin Gomez) and 165 (a rematch of March's NCAA second-round shootout between Julian Ramirez and Badger Dean Hamiti, who won a 15-11 decision in Detroit).
"They always wrestle really well in the Friedman Wrestling Center," Grey said. "Our guys feel a sense of pride in protecting our home mats in a gym that they train and spend time in every day."
With a nearly sold-out house of fans decked in red, Cornell is hoping the Wisconsin dual sets the tone for the season.
"There's always a certain energy when we wrestle quality teams and I expect nothing different," Grey said. "Our fans will be loud. We'll get after the Wisconsin guys. It'll make for an electric environment."
For Ramirez, it's another opportunity to take on a highly-credentialed opponent in a key home match. Last year, he upset Stanford's defending national champion Shane Griffith early in the season. Ramirez went on to post a 22-10 record during a freshman campaign that ended in the NCAA blood round, where he dropped a 4-3 decision to Ohio State's Carson Kharchla on a last-second takedown.
"He was just seconds away from All-American status," Grey said. "So I'm eager to see him continue to progress from where he left off last year. He's a high-level, national champion-caliber guy."
Meanwhile, one of his teammates is in pursuit of history.
Yianni Diakomihalis boasts a 94-1 career mark and a 75-match win streak. In September, he claimed a silver medal at the World Championships in Serbia. He's looking to win his fourth NCAA title in March, which would put him in a class that currently has four other members — Pat Smith, Cael Sanderson, Kyle Dake and Logan Stieber.
"Looking past the regular season and NCAA tournament, his goal has always been to be a World champion," Grey said. "He's going to continue to reinvent himself over and over like he always has. And he understands what it means to make history, but at the end of the day it's always going to be about competing against himself to be the best."
Diakomihalis hopes to follow in Dake's footsteps. If he does, Cornell will become the first D1 program to have two four-time NCAA champions.