NCAA
Over 50 Upsets In a Tumultuous NCAA Week 1
Over 50 Upsets In a Tumultuous NCAA Week 1
All of the upsets from the first week of Division 1 collegiate wrestling.
Nov 8, 2022
by Andrew Spey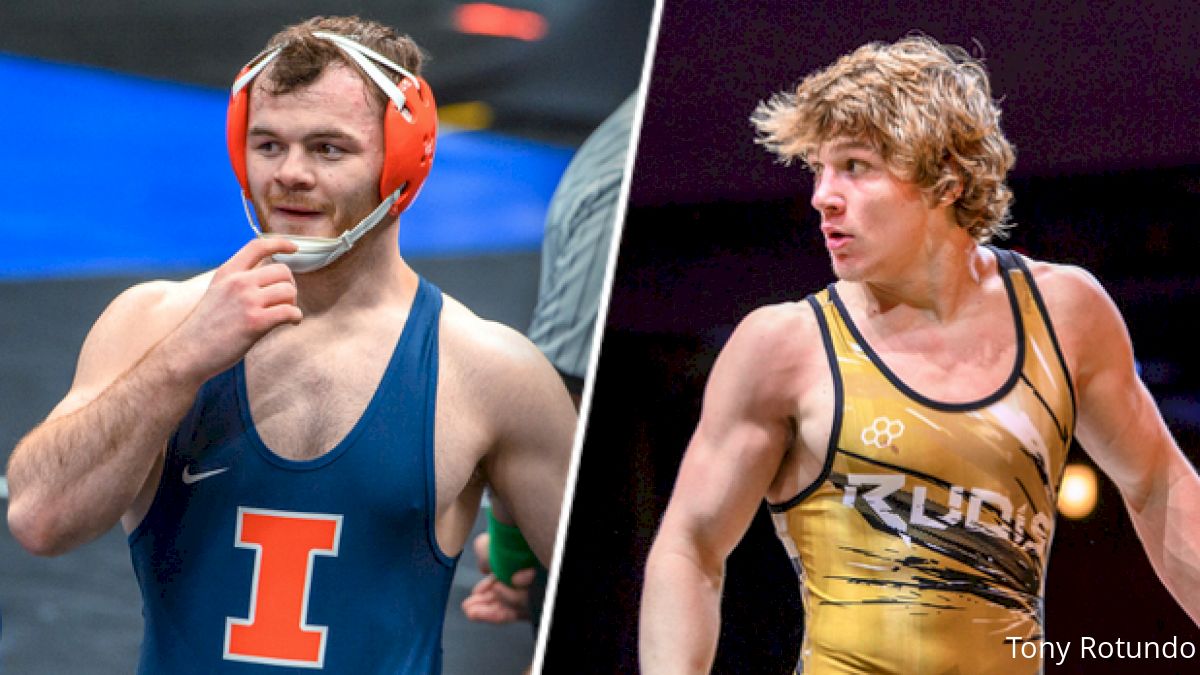 The start of every college season caused a shakeup in the rankings, as the start of every season invariably does.
Many of these so-called upsets will not be considered as such in hindsight. Underclassmen who have yet to establish a D1 body of work start the season ranked low or not at all. Experienced wrestlers jump levels and by the end of the year will have established themselves as being in tiers above those wrestlers to whom they are, for now, considered underdogs.
The only thing consistent about rankings is change. With that said, here are some of the most surprising upsets from week 1 regardless of what the rankings may say later this season.
125: #18 Kysen Terukina, Iowa State over #7 Eric Barnett, Wisconsin
One of several upsets (at least on paper) from the Wisconsin vs Iowa State dual at the Battle in the River City in Jacksonville, Flordia. Terukina, a Cyclone by way of King Kamehameha high school in Hawaii, went 0-2 at Nationals last season while Barnett finished on the podium at seventh place, the second All-American honor of his young career.
125: Ethan Berginc, Army over #7 Brandon Kaylor, Oregon State
Kaylor was another 2022 125-pound All-American who suffered a defeat last week, losing to Army's freshman Ethan Berginc at the Black Knight Scramble in West Point.
133: Jesse Mendez, Ohio State over #5 Lucas Byrd, Illinois
Speaking of All-Americans, Byrd, a fifth-placer in both 2021 and 2022, fell to freshman phenom Jesse Mendez in the finals of a stacked Michigan State Open bracket. Mendez also defeated #19 Haiden Drury of Utah Valley on his way to the MSU Open finals.
Watch Mendez's semifinal win over Drury: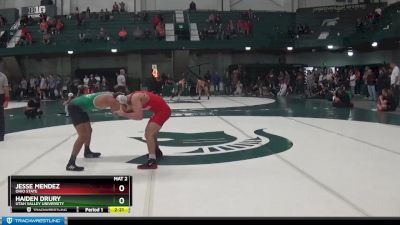 Unlock this video, live events, and more with a subscription!
Get Started
Already a subscriber? Log In
133: Patt Phillips, Franklin & Marshall over #10 Sam Latona, Virginia Tech
We would be remiss if we didn't highlight a result from F&M, a small school in Pennsylvania with just over 2,200 undergraduates. Pat Phillips defeated another All-American in Sam Latona, who finished sixth in 2021.
Watch that match here: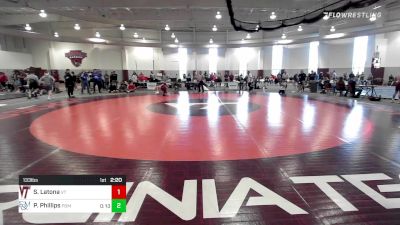 Unlock this video, live events, and more with a subscription!
Get Started
Already a subscriber? Log In
141: Casey Swiderski, Iowa State over #11 Joey Zargo, Wisconsin
As a true freshman without any folkstyle results over collegiate wrestlers, Casey Swiderski arrived in Jacksonville without a national rank before his name. That will change by tomorrow, thanks to a win over Joey Zargo, the only question is just how high up in the rankings will Swiderski land.
141: Tom Crook, Virginia Tech over #14 Matt Kazimir, Columbia
Crook may not have had the fanfare of some of the bigger recruits to make their way through Blacksburg, but the true frosh from Tampa, Florida is making a name for himself now, winning the Southeast Open and defeating #14 Matt Kazimir as well as two honorable mentions in Dylan Cedeno of Virginia and Lachlan McNeil of North Carolina along the way.
Watch Crook over Kazimir from the quarterfinals: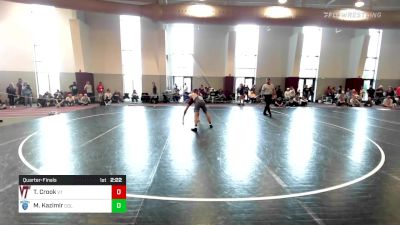 Unlock this video, live events, and more with a subscription!
Get Started
Already a subscriber? Log In
149: Paniro Johnson, Iowa State over #3 Austin Gomez, Wisconsin
The hits kept coming from Jacksonville, as another true freshman notched a big time win over a 2022 All-American. Johnson bolstered his bona fides with a 9-4 victory over Gomez, who placed fourth last season at NCAAs.
184: Sam Fisher, Virginia Tech over #10 Gavin Kane, North Carolina
Kane has multiple wins over the Hokies' presumptive starter and All-American Hunter Bolen, so perhaps Fisher was getting revenge for his teammate when he knocked off a top ten ACC rival at the Southeast Open.
197: #16 Zac Braunagel, Illinois over #8 Gavin Hoffman, Ohio State
Braunagel put an exclamation point on his championship run at the MSU Open when he pinned 2022 All-American Gavin Hoffman in the second period of the 197-pound finals match. Braunagel finished one win shy of the podium at the NCAA Championships last March while Hoffman came in sixth.
Watch Braunagel win a title in East Lansing: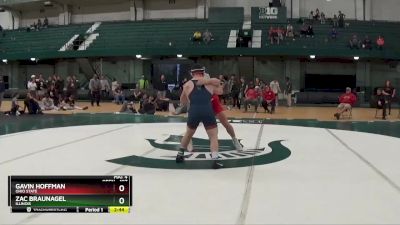 Unlock this video, live events, and more with a subscription!
Get Started
Already a subscriber? Log In
Below is a comprehensive but perhaps not complete list of every upset we noticed in a tumultuous week 1 of the NCAA season. Please email me at andrew.spey@flosports.tv if there is anything I missed!
125 lbs - Brady Koontz, Ohio State defeats #20 Jack Medley, Michigan
125 lbs - Ethan Berginc, Army West Point defeats #7 Brandon Kaylor, Oregon State
125 lbs - Jeremiah Reno, Little Rock defeats HM Logan Ashton, Chattanooga
125 lbs - #18 Kysen Terukina, Iowa State defeats #6 Eric Barnett, Wisconsin
125 lbs - #12 Malik Heinselman, Ohio State defeats #11 Joey Prata, Oklahoma
125 lbs - Tristan Daugherty, Buffalo defeats HM Logan Ashton, Chattanooga
133 lbs - Jesse Mendez, Ohio State defeats #19 Haiden Drury, Utah Valley
133 lbs - Jesse Mendez, Ohio State defeats #5 Lucas Byrd, Illinois
133 lbs - Pat Phillips, Franklin & Marshall defeats #10 Sam Latona, Virginia Tech
133 lbs - Sean Carter, Appalachian State defeats #13 Kai Orine, NC State
133 lbs - Zach Redding, Iowa State defeats #12 Taylor Lamont, Wisconsin
141 lbs - Casey Swiderski, Iowa State defeats #11 Joseph Zargo, Wisconsin
141 lbs - Christian Colman, Duke defeats #24 Josh Mason, Bloomsburg
141 lbs - Cleveland Belton, Oregon State defeats #17 Malyke Hines, Lehigh
141 lbs - Kal Miller, Maryland defeats #24 Josh Mason, Bloomsburg
141 lbs - Michael Rapuano, George Mason defeats #21 McKenzie Bell, Rider
141 lbs - Tom Crook, Virginia Tech defeats #14 Matt Kazimir, Columbia
141 lbs - Tom Crook, Virginia Tech defeats HM Dylan Cedeno, Virginia
141 lbs - Tom Crook, Virginia Tech defeats HM Lachlan McNeil, North Carolina
149 lbs - Caleb Henson, Virginia Tech defeats HM Danny Fongaro, Columbia
149 lbs - Denton Spencer, Virginia defeats HM Danny Fongaro, Columbia
149 lbs - Lavinsky Collins, Clarion defeats HM Brock McMillen, Pittsburgh
149 lbs - Paniro Johnson, Iowa State defeats #3 Austin Gomez, Wisconsin
149 lbs - Sam Hillegas, West Virginia defeats #19 Jarod Verkleeren, Virginia
149 lbs - Umihiko Saito, Brown defeats HM Brock McMillen, Pittsburgh
157 lbs - Max Mayfield, Northwestern defeats #21 Corbyn Munson, Central Michigan
157 lbs - HM Paddy Gallagher, Ohio State defeats #21 Corbyn Munson, Central Michigan
157 lbs - HM Trevor Chumbley, Northwestern defeats #23 Jacob Butler, Oklahoma
157 lbs - Troy Nation, Campbell defeats #24 Isaac Judge, Iowa State
165 lbs - Chandler Amaker, Central Michigan defeats HM David Ferrante, Northwestern
165 lbs - Dalton Harkins, Army West Point defeats #24 Matthew Olguin, Oregon State
165 lbs - Gaven Bell, Maryland defeats HM Rodrick Mosley, Gardner-Webb
165 lbs - Jared Keslar, Pittsburgh defeats HM Rodrick Mosley, Gardner-Webb
165 lbs - #24 Matthew Olguin, Oregon State defeats #19 Brian Meyer, Lehigh
174 lbs - Brett Mordecai, Appalachian State defeats HM Kyle Mosher, Columbia
174 lbs - MJ Gaitan, Iowa State defeats #22 Triston Wills, Little Rock
184 lbs - Ben Vanadia, Purdue defeats HM David Key, Navy
184 lbs - Greyden Penner, Oklahoma defeats HM DeAndre Nassar, Cleveland State
184 lbs - Sam Fisher, Virginia Tech defeats #10 Gavin Kane, North Carolina
197 lbs - Austin Cooley, West Virginia defeats HM Max Shaw, North Carolina
197 lbs - John Crawford, Franklin & Marshall defeats #20 Michael Battista, Virginia
197 lbs - Mac Stout, Pittsburgh defeats HM Jacob Koser, Navy
197 lbs - Silas Alred, Nebraska defeats #17 Owen Pentz, North Dakota State
197 lbs - Stephen Little, Little Rock defeats HM Levi Hopkins, Campbell
197 lbs - Tyler Mousaw, VMI defeats #20 Michael Battista, Virginia
197 lbs - #16 Zac Braunagel, Illinois defeats #8 Gavin Hoffman, Ohio State
285 lbs - Chase Trussell, Utah Valley defeats #23 Matt Wroblewski, Illinois
285 lbs - Colton McKiernan, SIU Edwardsville defeats HM Jacob Bullock, Indiana
285 lbs - Daniel Bucknavich, Cleveland State defeats #23 Matt Wroblewski, Illinois
285 lbs - HM Hunter Catka, Virginia Tech defeats #16 Michael Wolfgram, West Virginia
285 lbs - #13 Sam Schuyler, Iowa State defeats #11 Trent Hillger, Wisconsin