Big Ten
World Champ Joel Adams Picks Michigan
World Champ Joel Adams Picks Michigan
Joel Adams narrowed his college choices to seven before ultimately deciding on Michigan.
Nov 4, 2022
by Kyle Klingman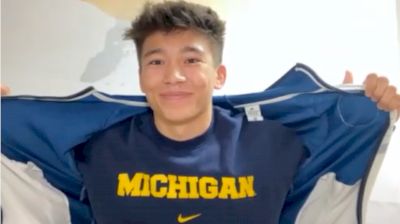 Georgi Ivanov knew he had something special when Joel Adams started training at his club after Adams's freshman year of high school. Adams, a senior at Millard South in Nebraska, crossed the border to train with Ivanov at The Best Wrestler in McClelland, Iowa.
The results speak for themselves. Adams outscored four opponents by a 36-0 count to win a U17 Greco World title this year. That's on top of double 16U Fargo titles last year, a finals appearance at Super 32 in 2021, and a pair of Nebraska state championships (2021 and 2022).
Ivanov, a 2016 freestyle Olympian for Bulgaria and a two-time All-American for Nebraska-Omaha, knew he had something special when Adams stepped foot on the mat.
"When you mix talent with purpose, the desire to win, work ethic, strong mindset, and you're coachable — you get Joel Adams," Ivanov said. "In a unique way, he has raised the level at our club and our younger champs look up to him. The Best Wrestler will always be home to World champ Joel Adams."
Adams, ranked ninth nationally at 145 pounds, narrowed his college choices to seven before deciding on Michigan. Cornell, Missouri, Nebraska, North Carolina, Ohio State, and Oregon State were in the mix but Ann Arbor felt like the perfect place for the Greco prodigy.
"(Michigan) has the most in-depth plan for me," Adams said. "The entire staff is super outgoing and super relatable. I feel like it's the best fit for me. I feel like I can be the best wrestler I can be there."
The future Wolverine also praised his club coaches, Georgi and Ivan Ivanov, for getting him to this point. He called Ivan his ultimate role model and the reason behind his current successes. Adams will take a gap year and continue training at The Best Wrestler as he attempts to make the 2024 Olympics.
"Joel is a student of the sport," Georgi said. "Normal kids, if you show them a move, they work on it and they try to remember it. With Joel, when you show him a move, he tries to make it his. He tries to create new ways of doing it or he tries to build onto it or he tries to make it a combination with the moves he already knows. He wants to discover his own moves. He's very proactive in how he thinks about the sport. That's what makes him special."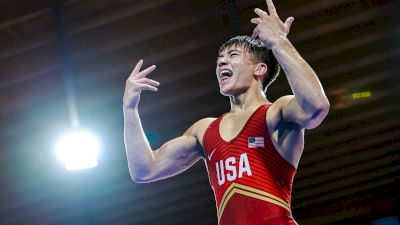 Joel Adams was unstoppable at this year's U17 Greco-Roman World Championships in Rome