2022 Michigan State Open
What 2 Watch 4: Opening Weekend
What 2 Watch 4: Opening Weekend
Take a look at the five biggest storylines of week one in college wrestling.
Nov 2, 2022
by JD Rader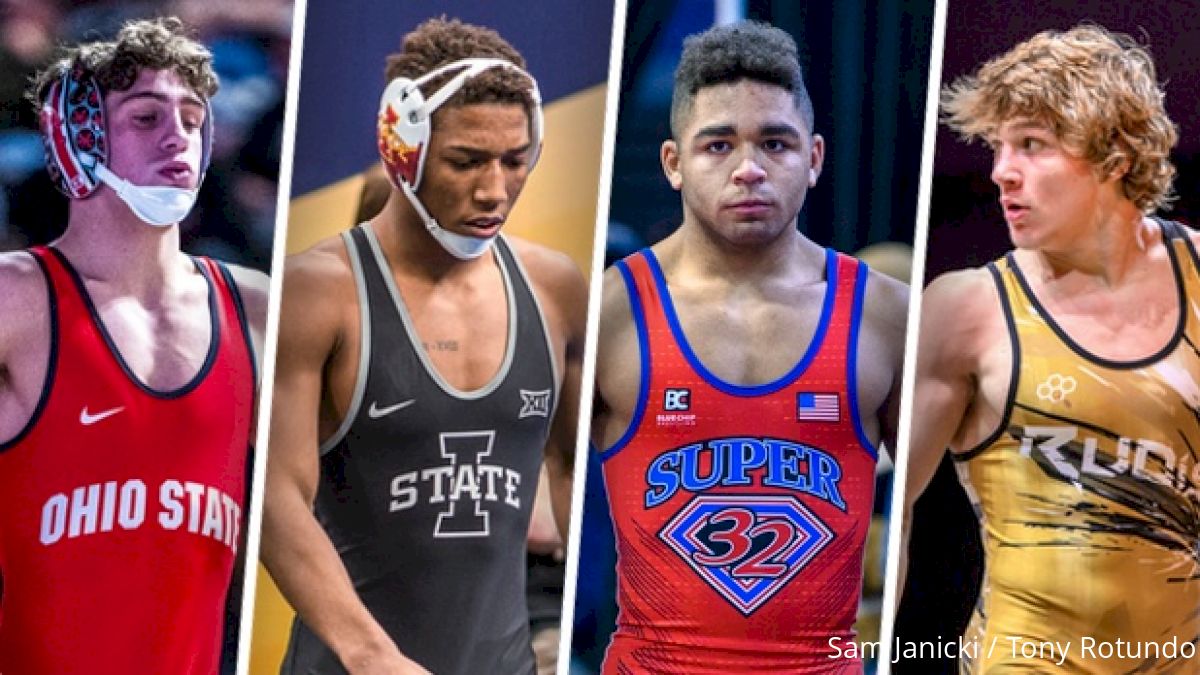 Wrestling season is here! We've already had two D1 duals and there are a bunch more on tap + some great tournaments this weekend. Opening weekend is an exciting time to see who made jumps in the off-season and who is still isn't in postseason shape yet. Below are all the events going down this weekend plus the five things we'll be zeroing in on.
Events
Friday, November 4
Northern Colorado vs. Fort Hays State 5:00 PM
Appalachian State at NC State, 7:00 PM
North Dakota State at Nebraska, 7:00 PM
Indiana at SIU Edwardsville, 7:00 PM (6:00 PM)
Southern Virginia at VMI, 7:00 PM
Saturday, November 5
Bellarmine at Patriot Open, 9:00 AM
Southeast Open, 9:00 AM (Appalachian State, Columbia, Davidson, Franklin & Marshall, North Carolina, The Citadel, Virginia, Virginia Tech, VMI, West Virginia)
Michigan State Open, 9:30 AM (Central Michigan, Cleveland State, Illinois, Michigan, Michigan State, Northern Illinois, Northwestern, Ohio, Ohio State, Oklahoma, Utah Valley)
Kaufman/Brand/Bayly Open, 10:00 AM (Indiana, Lindenwood, SIU Edwardsville)
Campbell vs. Little Rock, 10:00 AM
Chattanooga vs. Wisconsin, 10:00 AM
American vs. Duke, 10:00 AM
Bloomsburg at Maryland, 10:00 AM
Buffalo vs. Wisconsin, 12:00 PM
Iowa State vs. Little Rock, 12:00 PM
Oregon State at Lehigh, 12:00 PM
American vs. Bloomsburg, 12:00 PM
Duke at Maryland, 12:00 PM
Buffalo vs. Chattanooga, 2:00 PM
Campbell vs. Iowa State, 2:00 PM
American at Maryland, 2:00 PM
Bloomsburg vs. Duke at Maryland, 2:00 PM
Cal Poly at California Baptist, 4:00 PM
Buffalo vs. Campbell, 4:00 PM
Chattanooga vs. Little Rock, 4:00 PM
Vanguard at California Baptist, 6:00 PM
Iowa State vs. Wisconsin, 6:30 PM
Western Colorado at Air Force, 8:00 PM
Sunday, November 6
Clarion Open, 9:00 AM (Brown, Clarion, Edinboro, Gardner-Webb, Kent State, Navy, Pittsburgh, Purdue)
Princeton Open, 9:00 AM (George Mason, Hofstra, Lock Haven, Presbyterian, Princeton, Rider)
Black Knight Scramble, 10:00 AM (Army West Point, Long Island, Oregon State, Queens)
Menlo Open, 12:00 PM (CSU Bakersfield, Stanford)
Sacred Heart at Lehigh, 2:00 PM
Lindenwood at Missouri, 2:00 PM
---
David Carr vs DJ Hamiti
This is the match of the weekend. #4 David Carr vs #6 DJ Hamiti. My friend Jon Kozak previewed the entire Iowa State vs Wisconsin dual, which you can read HERE. He did a tremendous job, so the following is taken straight from his preview:
David Carr vs Dean Hamiti should be an incredible match and feels like a bout we could see in the quarters or semis at the 2023 NCAA tournament. Carr is moving up to 165-pounds after winning NCAAs in 2021 and finishing 3rd last year - both at 157 pounds. Hamiti had a breakout true freshman year finishing in 6th place at NCAAs with a 28-4 record and 20 bonus point wins - 8 pins, 6 techs, and 8 majors.
Who has the edge in this bout? Carr has more ways to score on his feet and might be the better overall wrestler. However, Hamiti is a prolific scrambler and is able to secure near-fall points at a much higher rate than Carr. Their clash of styles makes this a very challenging match to predict but one thing's for sure - we should expect an exciting match from start to finish.
Highlights of David Carr's win in the 3rd place bout at the NCAA tournament over Peyton Robb: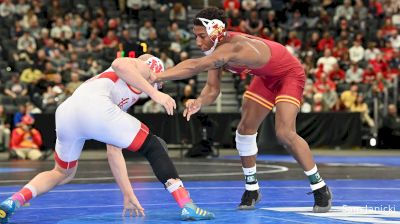 Unlock this video, live events, and more with a subscription!
Get Started
Already a subscriber? Log In
Highlights of Hamiti's wild win over Peyton Hall at last year's NCAA Tournament: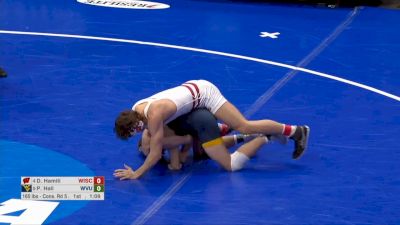 Unlock this video, live events, and more with a subscription!
Get Started
Already a subscriber? Log In
How Good Is Casey Swiderski?
The other match I have circled from this dual (which is excellent from top to bottom) is Casey Swiderski vs Joey Zargo. Swiderski was the #2 overall recruit coming out of high school last year and there is A LOT of hype around him. I know the Iowa State coaching staff is high on him. He's going to get tested right out of the bat against Zargo. In his first year as a member of the Badgers last season, Zargo was a national qualifier with wins over Dylan Duncan, Cael Happel, and Parker Filius during the regular season. No slouch.
The hype around Swiderski has come into question with his narrow 6-5 victory over Jacob Frost at Iowa State wrestle-offs last week, so it will be interesting to see exactly what we can expect from him this year.
Listen to Casey Swiderski talk about his expectations for this season:
High School Guys At College Opens
While I don't expect to see most of the top-ranked college guys at the handful of college opens this weekend, we will get to see some of the country's best high schoolers. Jax Forrest, Mason Gibson, Meyer Shapiro, and Ryder Rogotzke will be wrestling at the Clarion Open, and Marc-Anthony McGowan and Cooper Hilton will be wrestling at the Southeast Open.
Outside of Jax Forrest, all of these wrestlers are in the top 12 on either the 2023, 2024, or 2025 Big Board. Just a freshman (class of 2026), Jax Forrest is a crazy person in the best way possible. Only the likes of Chance Marsteller and Cody Chittum enter college opens when they are this young. Forrest won a loaded 55 kg U17 WTT bracket and then backed it up by winning the gold medal at Worlds. With a lot of the top-ranked college guys expected to sit out these opens, it will be very interesting to see how these high school guys can do.
Who's On Upset Watch?
While I don't expect a lot of the top-ranked guys to be in action at open tournaments this weekend, that doesn't mean there still won't be some guys outside of the top five or 10 competing. Especially these first open tournaments of the year is when we see a lot of upsets. This happens for a handful of reasons: guys making jumps in the off-season, guys peaking for March not November, guys with a tough first weight cut, guys overlooking competition, guys being forced to compete in an open tournament when they don't want to, etc.
For whatever reason, there will be more than a couple of ranked wrestlers that lose this weekend. Last year we saw Cael Valencia take out Hayden Hastings
Fun Finals At Michigan State & Southeast Opens On Saturday
While the Clarion Open will have the bulk of the top high schoolers, the Michigan State and Southeast Opens are going to have a lot of talented college kids. I've highlighted some of the biggest potential finals below.
Michigan State Open
133: #5 Lucas Byrd vs Jesse Mendez
149: #4 Sammy Sasso vs #15 Johnny Lovett
184: #4 Kaleb Romero vs #14 Keegan Moore / #18 Layne Malczewski
197: #8 Gavin Hoffman vs #12 Cam Caffey
Southeast Open
165: #8 Peyton Hall vs #13 Joshua Ogunsanya
174: #2 Mekhi Lewis vs #5 Clay Lautt