2022-23 Iowa State Wrestling
Cyclone Insider: Carr Taking Different Approach Into '22-'23 Season
Cyclone Insider: Carr Taking Different Approach Into '22-'23 Season
Iowa State is trying to scale the NCAA ladder with national champion David Carr leading a mix of proven veterans and top newcomers.
Oct 31, 2022
by Roger Moore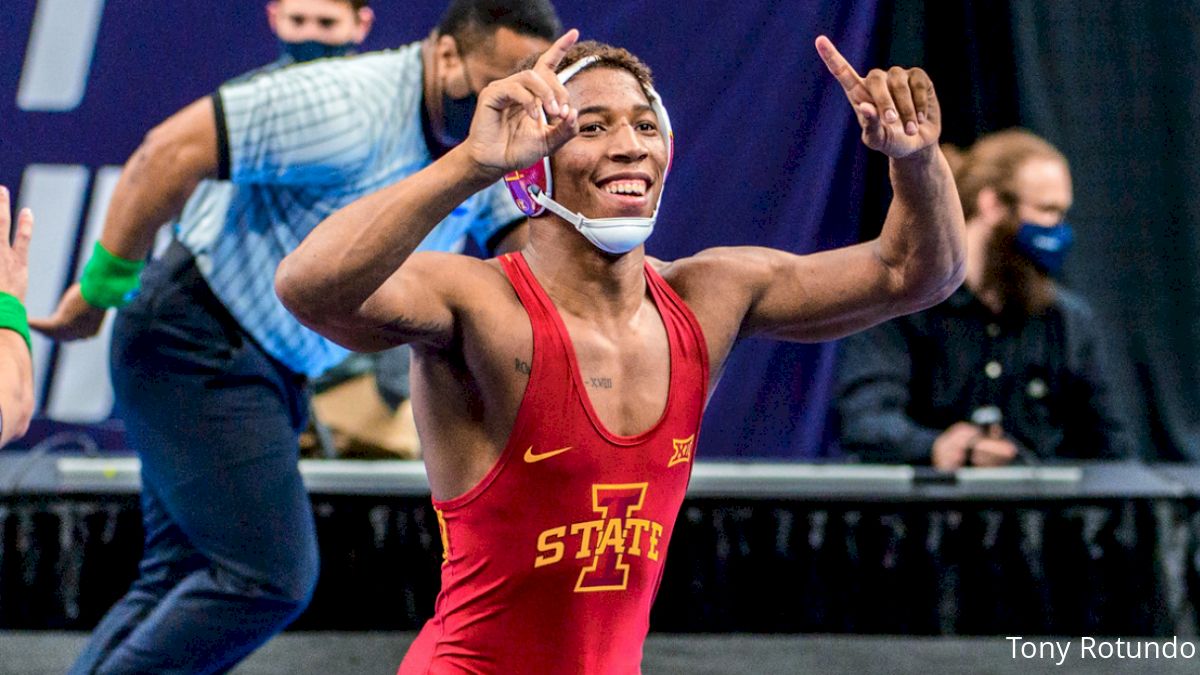 Unlock this article, live events, and more with a subscription!
Get Started
Already a subscriber? Log In
If a movie was made about this year's version of Iowa State wrestling, David Carr would certainly play the leading role. The supporting characters — those transfers from Buffalo and Campbell, the upperclassmen trying to take that next step, mixed with a highly-touted recruiting class — make for a fun first few months in Ames.
Coach Kevin Dresser's program, coming off a 17th-place finish at the 2022 NCAA Championships, has plenty with which to work. An early test against Wisconsin in Jacksonville, Fla. (Nov. 5) might provide some early answers. One thing is clear: Carr will be the 165-pounder.
"Challenge and opportunity — that's what he strives for," said Dresser of his 2021 NCAA champion. "That's what he's about. 157 (pounds) was obviously doable, wasn't the difference between winning and losing, just more work. When you have that kind of skill you have the luxury of picking whatever weight you want. I know it's a good weight, a deep weight, and that makes it even more exciting. That's something you can tell your grandkids, that you picked the hard weight and you won the hard weight."
After an initial win in Spain at the U23 World Championship in October, Carr dropped a narrow criteria decision in the semifinals. It concluded a positive summer for the Canton, Ohio, product.
"This summer was the best training cycle I've had," he said. "I got to go to Colorado Springs a few times and train at the Olympic Training Center. It just tells me I'm right there with the best guys in the world."
Is it possible that the hunted is now a hunter again? At 157 pounds, Carr's numbers speak for themselves: 66-2 with last season's only blemish in 29 matches coming in the second round of the NCAA Championships, a tournament he stormed back in to earn bronze at 157 pounds; 20-0 in 2021; 18-1 and Big 12 champion before COVID forced the cancellation of the 2020 NCAA Championships.
"I wanted to train a little harder, eat a little bit more, and have a little bit more fun," Carr said of the weight shift. "This year I feel like I have a lot more peace … I'm the one going on the hunt, I'm hunting down the #1 guy. It's different than being the returning champ."
November matches differ significantly from those in March, but this weekend in Jacksonville there's a chance for an early-season marquee matchup – Carr versus Wisconsin's Dean Hamiti, who placed sixth in March at the NCAA Championships. The Big 12 also includes NCAA champion Keegan O'Toole of Missouri, who in March edged 2021 NCAA champion Shane Griffith on Stanford in the NCAA title bout. Taking a line from the movie Highlander (1986), "there can be only one," regarding three former NCAA champions in the 165-pound bracket in Tulsa.
Interesting Mix
The Cyclones' 2022 recruiting class has Dresser and Carr, excited. Casey Swiderski (141), M.J. Gaitan (174) and Manny Rojas (174) mix with a group of veterans with plenty of match experience, including 2022 All-Americans Marcus Coleman (seventh at 184) and Yonger Bastida (fifth at 197). Coleman is a four-time NCAA qualifier, joining Kysen Terukina (125) and Sam Schuyler (285) who have also been to the big show twice. Campbell transfer Nathan Kraisser will be among a group fighting Isaac Judge for Carr's old spot. Kraisser edged Judge on Oct. 29 in Iowa State's wrestle-offs. Like Carr adjusting to a new weight, Bastida, originally from Cuba, is still adjusting to folkstyle.
"He's becoming a better folkstyle wrestler," Dresser said of Bastida. "He likes to learn and a seven-minute folkstyle match is very different than freestyle; you have to be a strong competitor at this level. And he is."
"I think you can be born with toughness, but if you don't work hard you aren't going to be tough," said the 197-pounder. "You have to try to win every single thing you do."
How Many Up For Grabs?
Of the 10 weights, entering the season the Cyclones would appear to be set at 125, 133, 165, 184, 197, and 285 pounds. Early-season wrestle-offs do not always determine starters, but Gaitan, a California state champion, and Swiderski, a four-timer from Michigan who was 166-3 for his prep career, will be tough to keep off the mat at 174 and 141, respectively. New Yorker Zach Redding, a national qualifier in 2021, is expected to be the 133-pounder.