Big Ten
Match Notes: Ohio State 2022-23 Wrestle-Offs
Match Notes: Ohio State 2022-23 Wrestle-Offs
All the action from the Ohio State Buckeye wrestle-offs brought to you live in real-time!
Oct 27, 2022
by Andrew Spey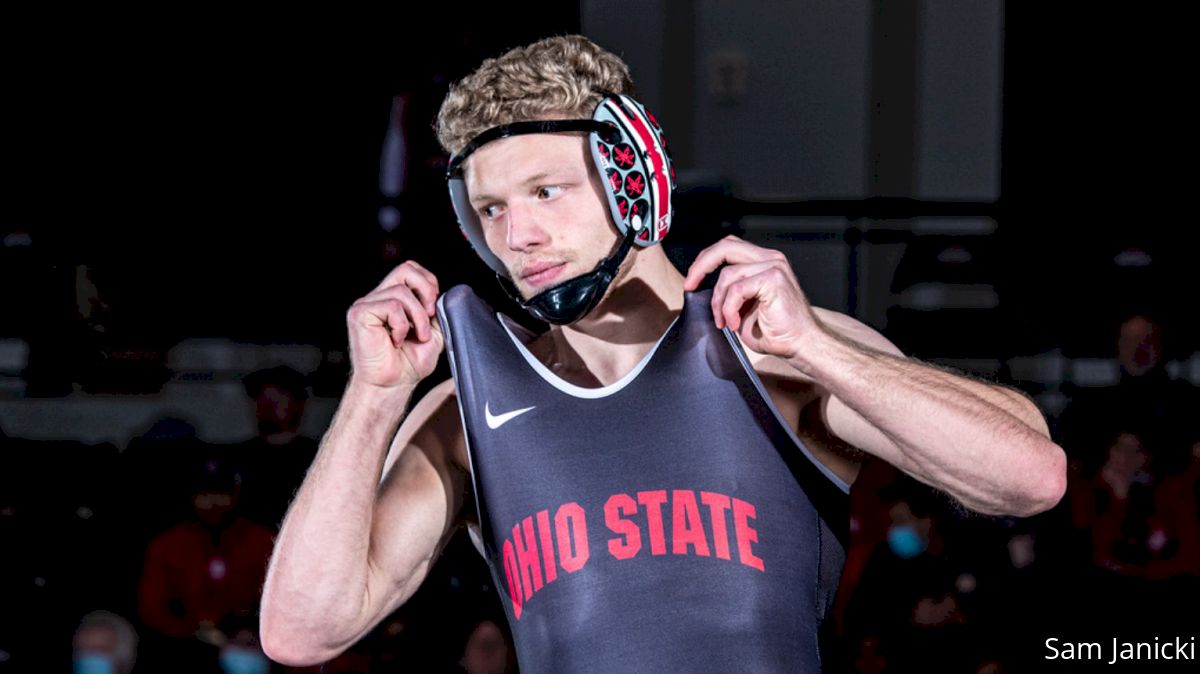 The 2022-23 NCAA wrestling season is nearly here! Can you believe it?
You better believe it, because we wouldn't be blogging the Ohio State wrestle-offs if it wasn't!
We're here to provide real updates in real-time that we hope you think are real good. You can also follow along live on BTN+ if you have a subscription (like I do, not tryna brag, just sayin).
Here's the bout order from the Buckeyes themselves.
𝙒𝙍𝙀𝙎𝙏𝙇𝙀-𝙊𝙁𝙁 𝙁𝙄𝙉𝘼𝙇𝙎

📍 Covelli Center | Columbus, OH
🚪 Doors @ 7:30 p.m.
🕗 8 p.m.
🎟️ 𝘍𝘙𝘌𝘌
💻 BTN+#GoBucks pic.twitter.com/tyOWPmM7ov

— Ohio State Wrestling (@wrestlingbucks) October 27, 2022
Earlier wrestle-off results from Tuesday:
125: Brady Koontz defeats Brendan McCrone, 5-3
125: Andre Gonzales defeats Brady Koontz, 6-4, SV
133: Dylan Koontz defeats Alex Flerlage, 7-0
165: Bryce Hepner defeats Carter Chase, Fall 3:44
197: Seth Shumate defeats Tyler Stein, InjDef
285: Nick Feldman defeats Mike Misita, 11-4
Final round varsity wrestle-offs are scheduled to start at 8:00PM ET.
125: #12 Malik Heinselman vs Andre Gonzales
Sammy Sasso in the booth to help with the announcing!
1st period: Slow start, then a single leg for Heinselman. He fights through a shin whizzer and picks up a takedown with 45 left in the period. Quick escape makes it 2-1. Period ends.
2nd period: Another escape by Gonzales makes it 2-2. Collar ties and not much else in this period.
3rd period: Heinselman's turn on bottom. He's out quickly. RT not a factor. And right in on another single leg but it's ruled potentially dangerous mid-scramble. That'll do it and Heinselman takes it. Good showing from the young Gonzales.
Heinselman defeats Gonzales, 3-2.
133: Jesse Mendez vs Dylan Koontz
1st period: Our first look at highly touted blue chip recruit Jesse Mendez in a Buckeye singlet. Snap down go behdind and Mendez controls the pace and scores the first takedown. Quick escape, 2-1. Snap down again, now in short offense, and Mendez horses Koontz over for a pancake and a pinfall! That's how you make a debut in the Covelli Center!
Mendez pins Koontz, 1:58
141: #9 Dylan D'Emilio vs Jordan Decatur
1st period: Decatur a former starter trying to work his way back into the lineup. His days down at 133 appear over. D'Emilio an NCAA qualifier at 141 the last two seasons. Decatur fins a single leg and he quickly converts to take an early lead. They go out of bounds and D'Emilio escapes off the restart. 2-1. D'Emilio in on a single, Decatur over the top, grabs some far ankles. D'Emilio trying to lean back and put Decatur in danger. Wild scramble eventually ruled potentially dangerous. Period ends, still 2-1.
2nd period: Decatur gets a mat return to start the period. D'Emilio stands and is free in his next attempt. No RT on the scoreboard but sounds like it reads about 40 some seconds in favor of Decatur, if I recall the commentary correctly. I believe Kollin Moore is also helping out in that regard. Short time in second, 2-2 the score. Period ends.
3rd period: Decatur's turn on bottom, he has the only takedown of the bout thus far. Mat return for D'Emilio almost catches Decatur mid-somersault and got a one-count but no nearfall. Out of bounds, 1:23 on the clock. A rideout would do it for D'Emilio but Decatur moots that strategy by a forward roll and stand to escape. Nice single from D'Emilio, switches to a double and he brings Decatur down to the mat. Decatur tries to step over but D'Emilio fights through and gets the takedown. Less than 30 to go. Can Decatur escape? They go out of bounds, saving D'Emio who was getting a count for hanging on a leg. 10 seconds left. Caution D'Emio. And Decatur is out! And he's got a takedown in the finals seconds! No review so the results stand. Decatur wins it in the final second of action.
In a bout that close you figure Coach Tom Ryan will keep this challenge series going but for now, the edge belongs to Jordan Decatur.
Decatur defeats D'Emilio, 6-4
157: HM Paddy Gallagher vs Isaac Wilcox
1st period: Gallagher a redshirt freshman, had enough results to earn an honorable mention in the rankings. Lots of handfighting in the first period but no scambles or much else after 2 minutes. It's a 0-0 first.
2nd period: Gallagher in the gray goes underneath. Wilcox in the scarlet on top. Gallagher is out in a hurry. Now Paddy starts firing off some low level shots. No takedowns, 45 seconds left in the period. Low shot with 20 on the clock, stall call on Wilcox, Gallagher with the low double leg finish for a 3-0 lead, and he rides out the period.
3rd period: Gallagher rides Wilcox out of bounds after 30 seconds of action. Gallagher gets RT over a minute with just over 60 seconds of mat time remaining in the third. Wilcox collects himself on bottom, stands and is out with 45 on the clock. 3-1 lead for Gallagher. 30 seconds left and riding time is locked for Paddy. Wilcox shoots, single leg, Gallagher shin whizzer defense and that eats up all but the last 6 seconds of the match. Gallagher closes it out for a 4-1 leads with the RT point added.
Gallagher defeats Wilcox, 4-1
165: #7 Carson Kharchla vs Bryce Hepner
1st period: That's Kharchla with a silent 'K' and aspirated 'H'. Kharchla placed 7th at last year's NCAAs. Hepner up from 157 where he started for the Buckeyes last season. No scores after the first minute. Kharchla keeping the pressure on, nearly hits a tricep control dump on a follow up shot. Still no scores after a second minute but Kharchla is in on a deep shot. Lots of exposures but he keeps Kharcla from gaining control so no scores in folkstyle. Now Hepner hit with a stall warning. Kharchla again through the head and hands defeanse but some good hips from Hepner and he successfully defends. Period ends 0-0.
2nd period: Hepner stands and runs out of Khrachla's grasp after about 30 seconds. Level change from Kharchla and Hepner dinged again to concede a point on the stall call. Kharchla cracks down and gives up the two. Hepner keeps fighting as if he's off the takedown still. Period ends, the referees will have a conference, no challenge bricks. And they're going to waive off the takedown but put more time back on the clock. 20 more seconds and they restart the match. Period ends (again) chest-to-chest and it's 1-1 going into the third (Hepner has been warned for stalling twice).
3rd period: Kharchla on bottom. Boot and a cross-body ride goes in immediately from Hepner. Kharchla can't free himself, and they go out of bounds after 70 seconds. Hepner could get it down with 50 more seconds of riding time. 30 seconds left in the period. RT over a minute for Hepner and potentially dangerous is called just when Kharchla is getting close to as escape. Restart definitely helped Hepner. Final 10 seconds and Hepner gets the rideout! All-American Carson Kharchla loses thanks to a fantastic third-period rideout from Bryce Hepner!
This is another battle I expect to continue throughout the year.
Hepner defeats Kharchla, 2-1
Team score is tied, Scarlet 9, Gray 9, although this score is entirely meaningless.
174: #6 Ethan Smith vs Bryer Hall
1st period: Another All-American for the Buckeyes, Ethan Smith, who placed 5th in 2021, will look to avoid the fate of Kharchla. Quick takedown for Smith. Hall out directly, Hall shoots in, it's defended and Smith witha go behind and a 4-1 lead. Another escape and a lightning quick go behind by Smith. Doesn't quite score at first but gets it on the second effort. Suck back attempt but no nearfall. More takedowns than I can keep up with and Smith runs the score up to 10-4, goes option start than his a cement job to plow Hall to his back and secures the fall. No doubt about that one, it was Smith all the way.
Smith pins Hall, 2:27
184: #4 Kaleb Romero vs Gavin Bell
1st period: All-American Romero not to be outdone gets a takedown in the first ten seconds. Escape make its 2-1 as Coach Ryan joins the award-winning commentary team. Low double makes it 4-1. Romero puts on a bit of a ride before cutting Bell with a little over a minute to go in the period. Single leg is converted to make it 6-2. Romero placed 6th last season by the way. Another takedown after a tough fight by Bell but Romero makes it 8-3 as the period ends with a short ride out.
2nd period: Romero chooses bottom. Sit out and Romero is quickly out. Blast double and Romero will keep Bell down on the mat to collect two more nearfall and its 13-3 just like that. An escape and it's 13-4. Double leg by Romero, 15-4 with a minute to go in the 2nd. Optional start, go behind, 17-5. Ride out.
3rd period: Romero cuts Bell again. Go behind and it's 19-6. Takedown, 21-7. Option start. Next takedown will cut this match short. From an underhook, its a takedown and a 23-8 technical fall.
Romero techs Bell, 23-8
197: #8 Gavin Hoffman vs Seth Shumate
1st period: Hoffman had his breakout season last year, his fourth in Columbus, finishing 6th at 197. Shumate is another talented young freshmen for the Buckeyes and a native Ohioan. Shumate in on a single leg, good defense from Hoffman and he wriggles free. Nice hi-c from Hoffman and he slides behind for the first points of the match. Shumate to his feet but Hoffman brings him back down at of bouts, 31 seconds left in the period. Hoffman stays glued to Shumate whose knees stay glued to the mat for the last half a minute and Hoffman gets the rideout and about 90 seconds of RT.
2nd period: Shumate wisely chooses neutral. Nice shot by Shumate but Hoffman defends after a nice scramble. Shot by Hoffman, Shumate defending but Hoffman battles through and collected two more to make it 4-0. Hoffman continues to frustrate Shumate on top. He rides out the rest of the second.
3rd period: Hoffman chooses down and leads 4-0. RT not locked up yet but likely will be. Escape after about 15 seconds makes it 5-0. Shumate with some nice attacks and counters but Hoffman is a step too fast for him. Nice sequence initiated by Hoffman. Shumate nearly had him on the reattacks but Hoffman makes it 7-0 after some nifty scrambling. 20 seconds remaining. And with the riding time point it'll be a clean 8-0 major decision for Gavin Hoffman!
Hoffman defeats Shumate, 8-0
285: #8 Tate Orndorff vs Mike Misita
1st period: Last bout of the evening. No 149 bout, Sasso appears to have that weight class locked up. No Feldman here either, even though the number recruit of the class of 2022 defeated Misita in the prelim match two days ago. Orndorff yet another returning All-American for Ohio State, as Orndorff placed 8th in 2021. Sounds like Feldman is dinged up with an injury, hopefully nothing serious. Not a lot of details on the commentary. Arm throw for Orndorff that would have scored at least four in Greco (or freestyle, though Orndorff excels in Greco and was the 2022 world team runnerup). Orndorff now secures the takedown in the ensuing scramble and its 2-0. Escape from Misita, snatch single by Orndorff, then a ride out and it's 4-1 in favor of Tate.
2nd period: Misita stands and is out quickly, 4-1. Throw by nearly gets Orndorff another takedown but it's ruled out of bounds. Another single leg by Orndorff fails to score. Shot by Misita, go behind by Orndorff. Misit tries to roll forward but Orndorff catches him and stacks him up for a pinfall. And that's all she wrote!
Orndorff pins Misita, 5:59
And best of all, that pin secured the victory for Team Scarlet! Scarlet 20, Gray 19.
So they'll be popping the champagne in the Scarlet locker room no doubt.
Some interesting results. Decatur over D'Emilio and Hepner over Kharchla will give coach Ryan and company plenty to think about. Thanks for reading, apologies for the typos and see you next time!