2022 U23 World Championship
Elor Makes History at U23 Worlds, U.S. Women Second
Elor Makes History at U23 Worlds, U.S. Women Second
Amit Elor made more history in Spain, winning the U23 World title to complete her Triple Crown of titles in 2022.
Oct 27, 2022
by Derek Levendusky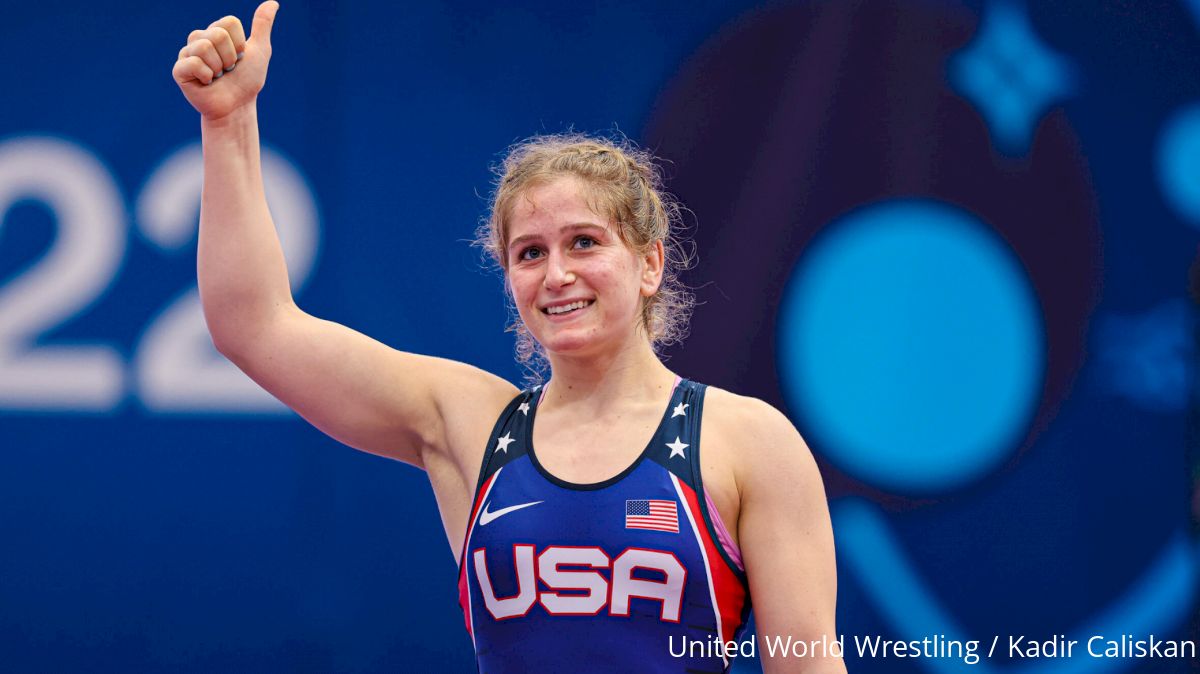 After becoming the youngest U.S. wrestler to win a Senior World title last month in Belgrade, 18-year-old Amit Elor continued to make history in Spain, winning the U23 World title to complete her Triple Crown of titles in 2022.
With the U20, U23 and Senior-level belts, Elor became the first Team USA wrestler to win all three titles in the same year. Add to this the fact that she did it all by earning a technical fall or pin in every match, and you'd have to conclude we're witnessing something historic.
Elor pinned her two other opponents en route to the finals, where she sealed the title with another superior performance, this time over Poland's two-time European U23 champion Wiktoria Choluj. From the first whistle, it was all Elor, dominating ties with underhooks and 2-on-1s, scoring takedowns and turns to earn an 11-0 technical fall with a second-period early termination.
"It felt unreal," Elor said after the finals. "Every time I win, it's hard to believe that I'm actually wrestling in a World Championship and I just won!"
In all, Team USA women scored four medals, with Alisha Howk winning bronze at 55 kg; Alexandra Hedrick bronze at 57 kg; and Dymond Guilford silver at 76 kg, losing 2-1 in the finals. In the end, it was one gold, one silver, and two bronze medals.
Guilford, who was also on the Senior World Team this year, danced on the mat after her semifinal win over Kazakhstan's Inkara Zhanatayeva. She lost in the final 2-1 to Colombia's Tatiana Renteria, but brings home her first World medal. Afterward, she was hungry for more.
"I appreciate my U23 silver medal because it's my first World medal," she wrote on Twitter, "but I want more for myself. I'll continue to double down on my wrestling and dance my way to becoming a Senior World Champ until the cows come home."
At 55 kg, Howk lost a heartbreaker in the semis, 9-8, to eventual silver medalist Mihaela Samoil of Moldova. Down 4-0 with two minutes left on the clock, Howk went on a flurry of scoring, taking the lead 8-6 with 10 seconds left on the clock. Samoil earned a takedown right at the buzzer to steal the victory away, but Howk would not be denied in the bronze match, scoring a convincing 13-5 win over Sri Lanka's Nethmi Poruthotage.
At 57 kg, Hedrick had a career performance in Spain. After falling to Poland's eventual silver medalist Patrycja Gil 9-6 in her second match, the two-time national champ from Simon Fraser was the beneficiary of a forfeit to advance to the bronze match, where she dominated Kazakhstan's 2022 Asian U23 silver medalist Laura Almaganbetova 13-2. Her top work was especially reliable, scoring multiple turns early on and in the second period to gain a victory by technical superiority and get a World bronze.
Other top U.S. finishes were Felicity Taylor fifth at 53 kg, Lexie Basham fifth at 59 kg, and Sienna Ramirez fifth at 68 kg. Young senior star Emma Bruntil had a shocking exit, going one-and-done, getting caught and pinned in her first match early in the first period, then getting eliminated when her opponent failed to reach the finals. At 50 kg Nyla Valencia and 62 kg Alex Liles also both went one-and-done, though they were both competitive in their losses.
At 53 kg, Taylor lost in dramatic fashion in the bronze match to Germany's 2022 European U23 silver medalist Anastasia Blayvas, holding a 3-2 lead late in the second only to give up a pushout point and fall 3-3 by criteria.
U.S. women took second in the team race, tied with Ukraine at 107 points, while Team Japan ran away with another title, over doubling the runner-up with 225 points.
U.S. Women's Results at 2022 U23 Worlds:
50 kg: Nyla Valencia, Morgan Hill, Calif. (Hawkeye WC/TMWC), dnp/19th
LOSS Sarra Hamdi (Tunisia), 3-0
53 kg: Felicity Taylor, Spillville, Iowa (Hawkeye WC/TMWC), Fifth place
WIN Aikaterini Vekri (Greece), pin 0:36
WIN Ellada Makhyaddinova (Kazakhstan), tech. fall 10-0
LOSS Haruna Okuno (Japan), tech. fall 11-0
LOSS Anastasia Blayvas (Germany), 3-3
55 kg: Alisha Howk, River Falls, Wis. (Victory School of Wrestling/Sunkist Kids) – Bronze Medal
WIN Erika Bognar (Hungary), 2-1
WIN Elnura Mammadova (Azerbaijan), injury default, 3:20
LOSS Mihaela Samoil (Moldova), 9-8
WIN Nethmi Poruthotage (Sri Lanka), 13-5
57 kg: Alexandra Hedrick, Colorado Springs, Colo. (Titan Mercury WC), Bronze medalist
WIN Melda Dernekci (Turkey), pin 3:28
LOSS Patrycja Gil (Poland), 9-6
WIN Welvima Vemba (Angola), forfeit
WIN Laura Almaganbetova (Kazakhstan), tech. fall 13-2
59 kg: Lexie Basham, Roanoke, Texas (Spartan Mat Club), Fifth place
WIN Karoline Ortiz Rosado (Puerto Rico), 8-4
WIN Anne Nuernberger (Germany), pin 5:44
LOSS Himeka Tokuhara (Japan), 9-0
LOSS Solomiia Vynnyk (Ukraine). tech. fall 10-0
62 kg: Alexandria Liles, Pueblo, Colo. (U.S. Army WCAP), dnp/11th
LOSS Astrid Montero Chirinos (Venezuela), 4-0
65 kg: Emma Bruntil, Colorado Springs, Colo. (Titan Mercury WC), 10th place
LOSS Katerina Zelenykh (Ukraine), pin 0:15
68 kg: Sienna Ramirez, Ashland, Ore. (Southern Oregon RTC), Fifth place
WIN Albina Kairgeldinov (Kazakhstan), 9-3
WIN Zsuzsanna Molnar (Slovakia), pin, 0:53
LOSS Nesrin Bas (Turkey), 9-4
LOSS Irina Ringaci (Moldova) , pin 2:33
72 kg: Amit Elor, New York, N.Y. (NYC RTC/TMWC), Champion
WIN Kendra Dacher (France), pin 5:31
WIN Maria Nitu (Romania), pin 0:34
WIN Wiktoria Choluj (Poland), tech. fall 11-0
76 kg: Dymond Guilford, Colorado Springs, Colo. (Titan Mercury WC), Silver Medal
WIN Daniela Tkachuk (Poland), tech. fall 10-0
WIN Yasuha Matsuyuki (Japan), 6-1
WIN Inkara Zhanatayeva (Kazakhstan), tech fall 11-0
LOSS Tatiana Renteria (Colombia), 2-1