2022 NCAA Freshmen Wish Lists
Flo's Freshman Wish List: Jordan Williams
Flo's Freshman Wish List: Jordan Williams
Jordan Williams has the type of up-side that Oklahoma State Cowboy fans have been waiting to root for.
Oct 24, 2022
by Michael Malinconico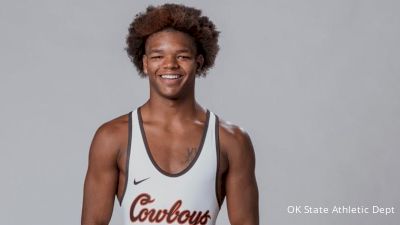 The Oklahoma State Cowboys have put together some impressive recruiting classes in the last few years. Check out their last #1 recruiting class here.
If Cowboy fans aren't excited about Jordan Williams, they should get excited. JW is about as complete a wrestler as you can get in a college freshman. He's functionally strong for the weight class. He's exceptionally quick. His wrestling IQ is noteworthy. Most important in my eyes, he has a sniper mentality; he's looking to identify and take out everyone that is perceived to be ahead of him. That is the type of thing that will go a long way in this sport.
The Tech Side Of Things
While having Ice in your veins as it pertains to come-from-behind wins is more tactical than it is technical, you can't talk about Jordan Williams' on-mat prowess without mentioning the fact that he is never out of a wrestling match. Jordan Williams has an intangible ability to make late-match heroics seems simply standard. En route to a Fargo run in 2019 he rattled off 3 wins all while losing in the last 10 seconds of the match. This series of matches would garner Williams the moniker "Ice Man". Check those matches out round by round.
Round of 16 - Williams was down by 1 and get the go-ahead point with just 9 ticks left on the clock
Quarterfinal - Jordan was trailing by 1 to PA's Rocco Welsh when he hits a chest wrap for the win with just 1 second left on the clock
Finals - Down by a point (again) JW finds his way on top with only 8seconds left to take home the stop sign.
On the actual technical side of things, Jordan Williams is young, but he's one of the few people around the country that has his own idiomatic wrestling moves. Despite his age, JW's duck under is legendary. Sometimes his ability to dust people on an over-hook-duck and his penchants for the dramatic collide. (If you only watch one video in this article make it this one).
Jordan Williams at Super 32 against Anthony Noto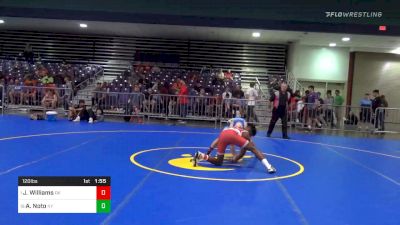 Unlock this video, live events, and more with a subscription!
Get Started
Already a subscriber? Log In
Wish List
The first potential test on Jordan Williams' calendar could be one of his toughest, stylistically. Lehigh's #9 Josh Humphreys is one of the nation's toughest on top, not necessarily an easy opportunity for a fresh-faced first-year, but that match would certainly test Williams' development on the mat. He'll also have the chance to see #12 Jacob Wright and #5 Brayton Lee before Christmas.
The Southern Scuffle offers a big opportunity for Williams to see 11 ranked wrestlers. His performance there could determine whether or not he's the starter at 157 lbs. He could also see #1 Will Lewan at Bout at the Ballpark in February. If the Cowboy coaching staff wants to see how prepared Williams is to compete at this level, this schedule gives them plenty of opportunities to find out.
Nov 12th vs Lehigh, #9 Josh Humphreys
Nov 18th vs Wyoming, #12 Jacob Wright
Dec 4th vs Minnesota, #5 Brayton Lee
Jan 1-2, Southern Scuffle, #4 Bryce Andonian, #5 Brayton Lee, #6 Jared Franek, #7 Ed Scott, #8 Austin O'Connor, #17 Jarett Jacques, #20 Chase Saldate, #22 Michael Petite, #23 Cody Bond, HM Kyle Mosher, HM Colton Yapoujian,
Feb 3rd vs Michigan, #1 Will Lewan